Have you been trying to find the best cat tree for kittens to keep them active and fulfilled?
Then all you need to do is read our article because we will help you find the best units for your lovely fur friends.
Also, don't miss reading the buyer's guide we have prepared to help you choose the right model.
The Summary
6 Best Cat Trees For Kittens
BEST OF BEST CAT TREE FOR KITTENS
Trixie Kitten Condo Cat Tower
2-Story Condo Tree
The reason that we liked Trixie's kitten tree is the fact that it is fun, functional, and cozy at the same time. This 2-story tower with condos measures 15.75 W x 15.75 D x 29 H Inch. It is ideal for kittens because it is simple to access and climb.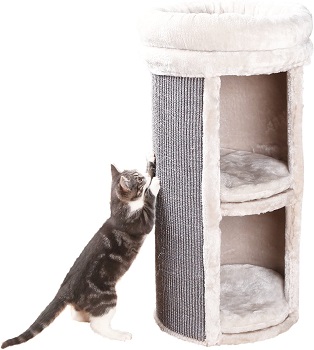 Spacious And Soft
Both condos are roomy and come with large access. Both very small kittens and young cats will fit. Also, the plushy cushions are included too and they keep your lovely fur balls warm and relaxed. Moreover, you will get to use this tree even when your kittens grow up into adult cats.
Large Scratching Post
There is one large sisal side scratching surface included. It will help both kittens and adult cats to maintain their claws healthy and strong. Moreover, cats love to leave a visual mark on things they consider their own. So, we are sure this kitten condo tower will meet your cat's needs immediately.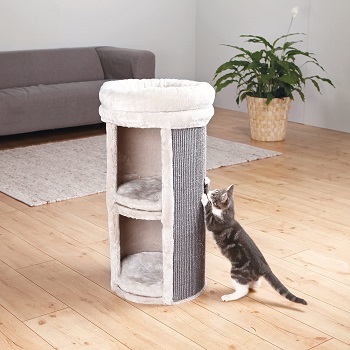 Useful Details
In the end, this unit comes in light gray and gray. It is a short cat tree and it saves space as well. It is ideal for small rooms and apartments. Also, the unit is easy to clean, which is very important. Simply remove the cushions and wash them in a washing machine.
In Short:
kitten condo tower tree in one
soft and warm cushions included
there is a large scratching board
short size allows it to fit anywhere
keeps cats warm and safe
BEST CLIMBING KITTEN TREE
Dimaka Kitten Climbing Tower
Stable And Well-Proportioned
Thanks to four columns, Dimaka's tree for kittens will stay stable and long-lasting. Also, its thick base helps the unit not to tip over easily. Dimaka's kitten tower also fun, functional, and allows you to customize it because one base part is flexible. The tree can be used even for small to medium-sized cats.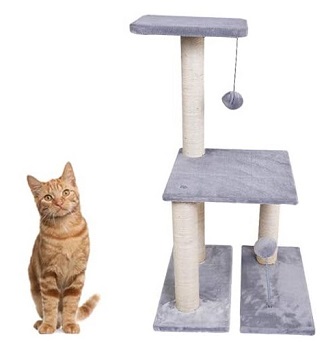 Natural Material
Thanks to the cardboard material and particleboard, this short cat tree will remain stable and long-lasting. Also, this material is completely pet-friendly and non-toxic. For this reason, your kittens will love it even more. Lastly, the scratching posts are wrapped in natural sisal rope to keep the kitten's claws healthy.
Great For Interaction
There are two interactive toys included. They attract your kitten's attention by swinging back and forth. Some kittens may stay occupied for hours. It is not hard to conclude that this is a fun cat tree that both kittens and cats simply love to spend time with.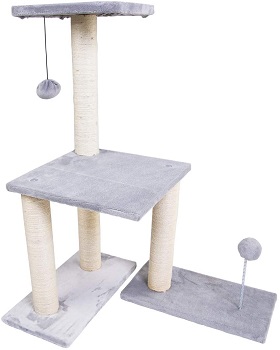 Simple To Set Up
When it comes to the size, this cat tree for kittens is another space-saving unit. Its overall size is: 17 11/16X 15 12/16″, height 30″. In the end, the unit needs to be set up. However, it will take no time to do so. Also, both instructions and screws are included in the package.
In Short:
stable small tree for kittens
interactive and keeps cats active
ideal for kittens and small cats
fun, stable, and sturdy unit
simple to assemble the pieces
BEST BIG CAT TREE FOR KITTENS
Furhaven Pet Cat Tree Playground
Multi-Level And Amusing
This kitten tree by FurHaven comes with multiple-levels. It is entertaining and fun. Such a great tree provides a lot of space for active kittens and indoor cats. Thanks to the wide base, Furhaven's tree will surely stay stable. This unit is almost fully covered with cozy and soft plush faux fur material.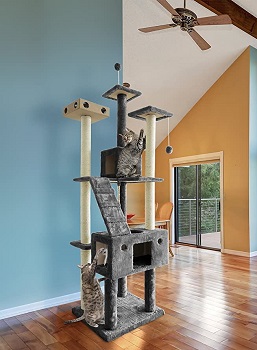 Fully Equipped
First of all, apart from the multiple levels, the unit includes perches, condos, sisal fiber scratching posts, and dangling toys. It is simple to conclude that the unit has all to make kittens happy. It is ideal for small kitty cats of 10 weeks and up.
Simple To Keep Clean
Be sure to keep your cat tree clean and tidy. We all know that it will be full of cat hair, but you can simply use a regular vacuum, hand vacuum, or lint roller to get rid of the hair. Maintain the unit clean regularly and your cats will stay happier that way.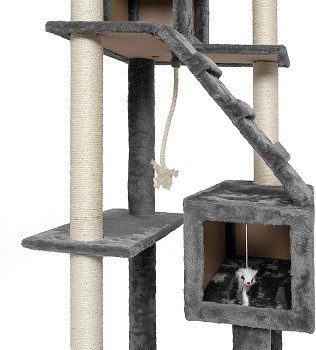 Price And Quality
When it comes to quality, we consider this unit a fine and sturdy cat tree. Also, it is made of non-toxic and pet-friendly materials. The unit's price is medium. There are certainly cheaper versions, but not all of them guarantee that the tree will last.
In Short:
fun and interactive tree for cats
for kittens 10 weeks and up
includes multiple levels
comes with sisal scratching posts
made of non-toxic materials
BEST MEDIUM CAT TREE FOR KITTENS
Go Pet Club Kitten Cat Tree Tower
About The Design
The Go Pet Club cat and kitten tree includes a wide base, five scratching columns, a large scratching board, and two top and elevated platforms. You can choose between brown and beige colors. In case you like simple decoration, then you may like this tree as well.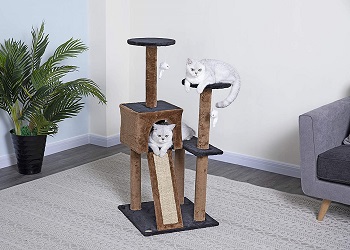 For Small Cats
Kittens 10 weeks and up, small, and medium cats will be satisfied with this tree. It is simple to access and playful kittens will love to learn to climb on it. This is a multi-cat tree. So, even if you have both adult cats and kittens at home, the tree will stay sturdy and firm with no problems.
Promotes Activity
In case you have indoor cats, then you probably know that they must stay active and play a lot since they have fewer climbing opportunities at home. Thanks to the multiple levels, posts, and perches, your lovely fur friends will get to stay active as well as sleep, groom, and perch on this tree.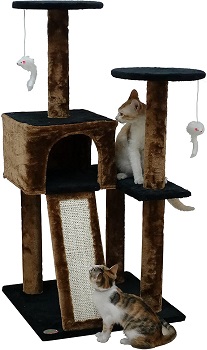 Stable And Safe
The material used for the construction of the Go Pet Club kitten condo tree is chipboard and natural jute rope material. Moreover, the tree is covered with a skin-safe plush material. Cats love such a fluffy material because it makes them feel safe and relaxed.
In Short:
simple and functional design
includes a large scratching board
there are posts and a condo
stable and well-balanced unit
keeps cats active and happy
BEST CARPETED KITTEN TREE
Yaheetech 51in Cat Tree Tower Condo
Well Constructed
First of all, this is a tall cat tree. It is ideal both for small cats and adult cats. Secondly, the unit is composed of particleboard material and skin-friendly plush covering. This is another example of a unit that can be used even when your kitten grows into a big adult cat.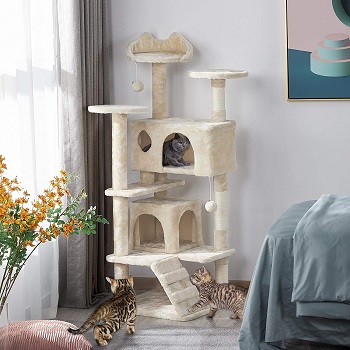 Two Spacious Condos
Cats are big sleepers and they spend most of the time relaxing, napping, or sleeping. This is why they need to have a private space to help them rest and prepare for hours of fun play. Yaheetech's kitten tower includes two roomy cat condos. They are cozy, warm, and keep cats safe.
Elevated Perch
Besides all of the listed equipment, Yaheetech's tree includes a spacious top perch. It is an ideal heavy-duty cat tree for cats that love to climb and perch in high locations. Your kitty cats will get to climb the scratching pillars to get to the top and observe the area around them.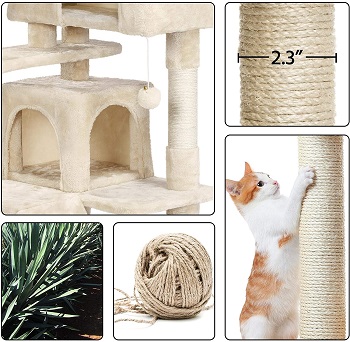 Last Details
Overall, this tree is another one that we liked a lot. Thanks to the dangling toys and scratching posts, your kittens and adult cats can play for hours. Before buying, check if you have enough space for this tree. The size of this cat tree for kittens is 11.2″L x 11.2″Wx 9.5''H.
In Short:
well-balanced and sturdy cat tree
comes with two roomy condos
it includes an elevated cat tree
covered in soft plush material
ideal for cats of almost all sizes
BEST SMALL KITTEN TREE
Petmaker Tree Tier Kitten Tower
Two Perches
Petmaker's cat tree includes a wide baseboard with three columns. There are two perches (one low and the other elevated) that are ideal for cozy nappings. They are supported by two columns. There is a play-wheel included. It is supported by the third column.
Fun Ball-Playing Wheel
The included ball-wheel comes with three balls. This feature is here to invite your cat to play and to stay occupied for hours. It helps your cats not to feel bored. This cat tree may help to reduce feline conflicts in households with more than one cat.
The Size And Material
The overall size of the Petmaker kitten climbing tower is approximately 19.5 inches L x 19.5 inches D x 27.5 inches H. It is a short cat tree that will easily fit almost anywhere in your home. The material used for the construction is particleboard. The tree is covered with polyester plush fabric and sisal.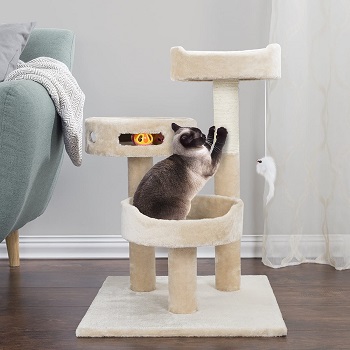 For All Cats
Kittens of 10 weeks and older can play with this cat tree for kittens. It is a unit that can accommodate cats of all ages, sizes, and breeds. It will hold up to two medium-sized cats or one large cat. This tree with cat tree toys is fun, cozy, and looks nice in any home.
In Short:
small with two perches
includes a fun play-wheel
comes with sisal scratching posts
ideal for cats 10 weeks and older
fun and cozy at the same time
How To Pick: Cat Trees For Kittens
If you want to make sure that you buy the best tree for your sweet kitty, read our buyer's guide. In order to buy the right unit, you must know which size of a cat tree is appropriate. Also, check the tree's maximum load. Another thing you should keep in mind is the content the unit comes with such as toys and posts. Read on and learn more.
Size And Capacity – Since we are talking about kittens, you must consider the fact that your little feline will grow up soon. So, if you have one kitten, we suggest you buy a small to the medium cat tree. On the other hand, if you have more than one or two kittens, then a medium to the large unit will be fine as well. After all, when your kittens turn into an adult, you won't need to buy another tree.
Fun Interactive Equipment – Before buying, make sure your new unit includes fun content such as platforms, scratching posts, tunnels, hammocks, interactive toys, and others. Some units will include all of that, while others will combine one or two pieces of the listed equipment. In any case, we advise you not to buy a tree without scratching posts.
Spacious Sleeping Space – Cozy equipment is as equally important as toys and posts. Even though kittens are active and love to play a lot, they will spend most of their time asleep. So, be sure your new unit includes condos, baskets, perches, or similar. They will keep your cat warm and provide them with private sleeping space.
The Ease Of Maintenance – In order to keep your cat healthy and happy all the time, you need to keep your cat tree clean and tidy. To get rid of cat hair, all you need to do is use a lint roller or a vacuum. This goes for carpeted trees. When it comes to non-carpeted units, simply use a cleaning cloth and dust off the surfaces.
Useful To Know – In the end, getting a cat tree for kittens is a great choice for your household. Especially if you have kittens that will spend most of the time indoors. A cat tree will surely help your little fur balls to stay active and healthy. Moreover, it will provide them with a great private sleeping space as well as a fun indoor playground.
To Sum Up
To summarize, before buying a kitten tree, make sure it comes in an appropriate size. It should be made of fine materials and accommodate all cats of your household. The indoor cat tree for kittens we loved most is the Go Pet Club Kitten Cat Tree Tower. It is a nice and functional cat tree for multiple cats and kittens. We consider it fun, safe, and long-lasting.