If you are in search of the best cat tree for older cats, then keep on reading our article because we will help you find the right model.
Here you can read about the best six models for households with one or more senior cats. Check out the six models we have prepared for you.
The Summary
6 Best Cat Trees For Older Cats
BEST OF BEST CAT TREE FOR OLDER CATS
Trixie Emil Senior Cat Tree
General Overview
Trixie's cat tree is ideal for both senior cats and other cats. This is a medium cat tree with mini platforms and a condo. This unit is ideal for climbing, scratching, and lounging. Also, it stands on a circular base which keeps it stable and makes it durable, and safe.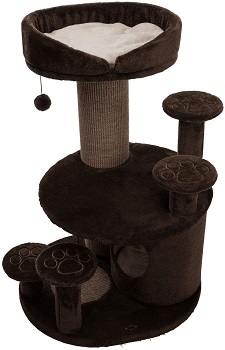 Soft Material
Thanks to the skin-friendly material, this cat tree is soft, warm, and keeps cats relaxed. All cats love to sleep on such material because it reminds them of their mother's fur. In order to keep the tree clean, we suggest you vacuum it regularly and get rid of cat hair.
Easy To Climb
A cat tree for senior cats should be easy to access. Thanks to the multiple mini platforms, your lovely fur friend can easily reach the top. Besides that, there is a ground-floor cat condo included as well. It invites cats to sleep and relax in a private environment.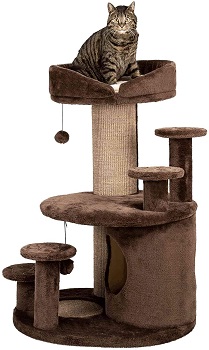 Size And Capacity
All in all, this is a medium cat tree that will fit in most homes. The overall measures are 27 x 23 x 38". The condo's size is 13 x 13 x 16". This unit will accommodate one or two senior cats with no problems. The unit's net weight is approximately 52 pounds.
In Short:
ideal for up to two senior cats
includes multiple mini platforms
comes with a condo
stable and durable unit
stands on a circular base
BEST MULTI-CAT SENIOR CAT TREE
Feandrea Cat Tree For Large Senior Cats
Households Multiple Cats Homes
Not every household has only one senior cat. If you are a multiple-cat owner, then this unit may be good for you. Feandrea's cat tree is both a cat tree for older cats and young cats. It is equipped with content that is simple to reach by cats of all ages and sizes.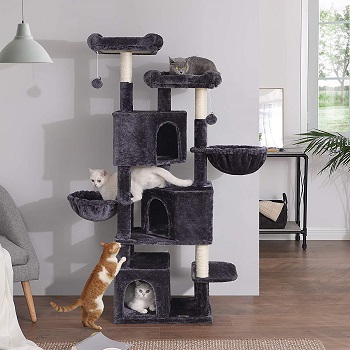 Three Cat Condos
The ground-floor cat condo is simple to access. It is ideal for old cats as well as the platform next to it. Moreover, there are two condos located on upper levels as well and they will be perfect for cats that can climb and jump with no problems.
Scratching Posts
Another important feature of Feandrea's multi-cat tree is the scratching posts. We are sure you know that cats need to scratch on a daily basis. They do it for multiple reasons. Posts will help to keep your furniture undamaged as well.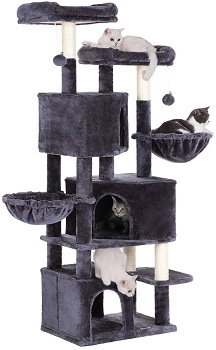 Tall And Spacious
This unit is ideal for cats of almost all sizes, breeds, and ages. Thanks to its size, it will satisfy the needs of senior and young cats at the same time. The size of this unit is 21.7" L x 15.7" W x 64.6" H. It has just enough space for three or four cats.
In Short:
easy to access by senior cats
great for multi-cat households
includes three cat condos
there are posts and perches
large and tall unit
BEST CONDO CAT TREE FOR SENIOR CATS
Prevue Cat Tree For Older Cats
Soft And Durable
Prevue's senior cat tree is almost fully covered in skin-friendly material. Firstly, this material is soft and warm. It keeps cats cozy and makes them feel relaxed. Secondly, the plush fabric keeps the tree's surfaces long-lasting and almost impossible to rip.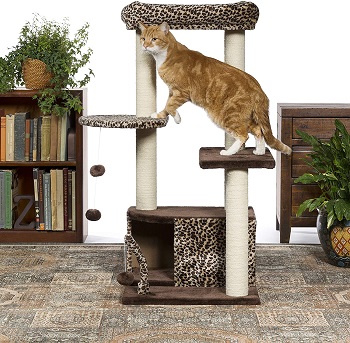 Jute Scratching Posts
The four pillars keep the tree stable and in one place even if your cat jumps on the tree from distance. Also, the pillars are completely wrapped in jute rope material which makes them ideal for scratching. This unit will surely meet your senior cat's needs.
Easy To Access
Thanks to the ground-floor condo, your lovely pet can access this cat tree for senior cats easily. It will get to enjoy its nap time in a private and warm environment. The platforms are simple to reach as well because they are not located too high. Cats can either jump on them or use the pillars to climb.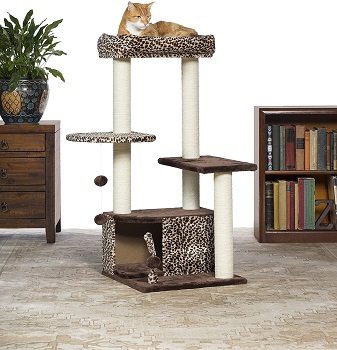 Useful Details
This leopard cat tree measures 29-1/4" long, 19-1/4" wide, 43" high. It is an unusual and cool unit that will fit in most modern households. An assembly is required. However, it is quick and simple. Also, the instructions are provided by the manufacturer.
In Short:
soft and warm cat tree
comes with a leopard pattern
ideal for sleep and scratch
easy to access and assemble
includes a ground-floor condo
BEST MODERN CAT TREE FOR OLDER CATS
Catry Senior Cat Tower Tree
One-Cat Tree
Catry's cat tree for senior cats ideal for households with one senior cat that can perform most activities well. It is another easy-to-access unit. Also, it includes all the important equipment to keep your cat satisfied and well-rested. There is even a dangling toy to keep its mind occupied.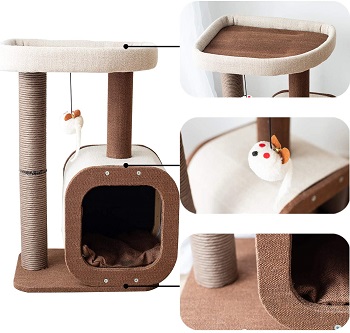 Good Quality
This senior cat tree by Catry is made of particleboards and jute fiber material. It is a sturdy and long-lasting material. Apart from that, this tree is heavy-based which will keep it stable all the time. We consider this unit a pet-friendly and non-toxic tree.
Nice Design
This nice cat tree includes a spacious cat condo. The condo comes with a large opening and allows your old cat to simply go in and out. Catry's cat tower for older cats also consists of a scratching pillar and an elevated perch. This tree looks nice in any household with both modern or rustic home decor.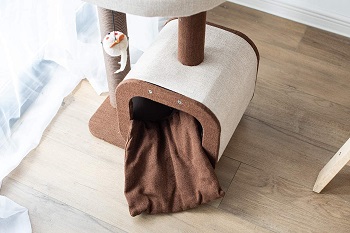 Good To Know
This is exclusively an indoor senior cat tower. It will satisfy your cat's needs of scratching and perching. The condo is spacious, warm, and keeps cats cozy. Apart from that, the cleaning is simple and quick as well as the setup.
In Short:
ideal for one senior cat
includes a cozy and private condo
there is a top perch as well
a scratching pillar is included
easy to set up and clean
BEST CARPETED CAT TREE FOR SENIOR CATS
Superjare Cat Tree For Elderly Cats
Simple Design
Choose between three different colors – light or dark grey and beige. This unit is a perfect example of a minimalist cat tree. It is simple but includes all the equipment cats and senior cats need – a condo, two easy-to-reach platforms, and a scratching board.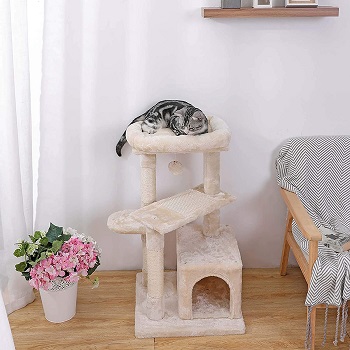 Plush Covering
Superjare's cat tree for large senior cats is covered with a soft and plush material. It is cozy and keeps cats relaxed, just like other models we have already talked about. Thanks to this skin-friendly material, your little pet will love to sleep and lounge on this unit.
Spacious Condo
Another great thing about this senior cat tree is definitely a ground-floor condo. You may have already noticed that we like to pick similar models. The reason for that is simple – not all senior cats are capable of reaching condos on higher levels.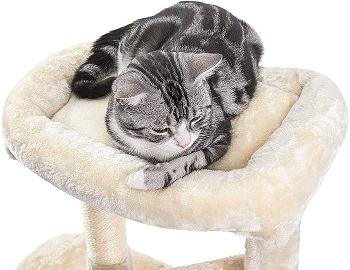 Good Balance
Thanks to the good construction and balance, we are sure this cat tree for elderly cats will last you a long time. It uses carb-certified particleboard and natural sisal. In the end, this unit will accommodate up to two senior cats with no problem.
In Short:
choose between three colors
simple and nice design
includes a spacious cat condo
made of good material
perfect for up to two cats
BEST SMALL SENIOR CAT TREE
Bewishome Senior Cat Tower
Small And Roomy
Although it may seem small, the unit is, in fact, spacious and comfortable both for small and large senior cats. Bewishome's senior cat condo tree is the last one on this list but definitely not the least. We loved it because it will fit in any home with no problems. Also, it will be your cat's favorite cozy spot.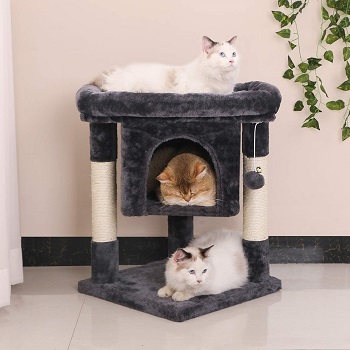 A Stable Unit
Thanks to the super solid construction, this senior cat tower will almost certainly be the sturdiest small unit you have seen. It will be hard to overturn. However, if you want to be sure, you can place it next to a wall for extra stability. It especially helps if you have a large or fact cat.
Easy To Reach And Set Up
Bewishome's senior cat tree is a great cat tree for fat cats as well. There is a condo with a large entrance included as well as a roomy elevated perch. As can be seen from the pictures, the tree is simple to access and the perch is easy to climb. Set the unit up in no time. Follow the instructions to help you out.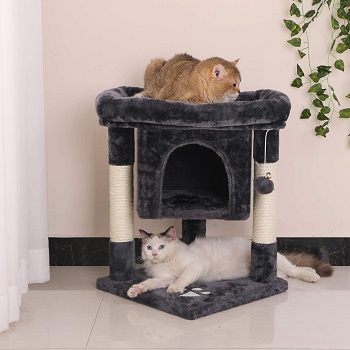 Size And Capacity
In the end, we must mention the tree's size. The unit measures approximately 15.75″L x 15.75″D x 23.23″H. It is able to accommodate two adult cats at the same time. The tree is perfect for households with one senior cat and another cat of any age, size, or breed.
In Short:
small but spacious senior tree
stable and hard to overturn
it is easy to put together
senior cats can simply access the tree
ideal for two cats
How To Pick: Cat Trees For Senior Cats
Households with one old cat and those with multiple felines require different models of cat trees. In order to buy the right cat tree for your older (senior) cats, we invite you to keep on reading. Find out which unit will meet your senior cat needs. Read more about cat condos, scratching posts, are other cat tree equipment.
One-Senior-Cat Households – In case you have only one cat in your home and it is an older cat, then we suggest you get a short or medium cat tree that is easy to access. Such units mostly include a ground-floor cat condo and another level with a perch. This way, your lovely senior cat won't have to jump and climb a lot.
Homes With Multiple Cats – If you live in a household with multiple cats and not all of them are old, then you will require a slightly different version of a cat tree to meet all of your cats' needs. For example, a tall cat tree with a ground-floor condo and easy-to-access equipment will be perfect. Also, such a unit must include multiple perches, levels, baskets, and toys to keep your other cats active. Lastly, be sure the unit is stable and durable.
The Importance Of Condos – It is very important that your cat tree for elderly cats includes cozy and spacious condos. They should have a large entrance door. Your lovely fur friend should be able to go in and out with no problems. Condos are private and comfortable sleeping spaces that cats love and need.
Plush And Warm Material – We suggest that you get a carpeted cat tree for your senior cat because cats love warm material. It makes them feel relaxed and comfortable. However, if you decide to get a non-carpeted cat tree, don't worry. All you need to do is have soft cushions for your cats. In the end, be sure to keep your tree clean and wash the pillows as much as possible.
Posts And Toys – Scratching posts are a must. No matter the age, your cat will surely feel the need to scratch and maintain its claws strong. Apart from that, you can get a cat tree for older cats with interactive and dangling balls. Some old cats will love to play with them, while others won't. Also, you can take them off and attach them back again whenever you please.
To Sum Up
In the end, we must conclude by saying that, among the six listed senior cat trees, we liked the Bewishome Senior Cat Tower most. The reason for that is its two-cat capacity. Moreover, this short cat tree may seem small, but it is actually spacious enough for cats of almost all sizes. If you liked this model as well, we invite you to check out more grey cat towers and read our buying guide to help you pick the best one for your household.