Have you been trying to find a Leopard print cat tree?
You might have found a few models on the market, but you are not sure which one to buy?
Don't worry because we have got you covered! Check out our top-six list of the best cat trees. Read on and find out all about the best of best, small, modern, for kittens, carpeted, and corner models. Also, go through our buying guide. It will help you bring the right decision.
The Summary
Best 6 Leopard Print Cat Trees
BEST OF BEST LEOPARD CAT TREE
Go Pet Club Leopard Cat Tower
Tall And High Cat Tree
The Go Pet Club is a multi-level cat tree. It is tall and includes various platforms, perches, and other fun content. The tree comes with two spacious cat condos. The size of this Leopard cat tree is 50″W x 26″L x 72″H. It has a wide base that keeps it stable (28″W x 24″L).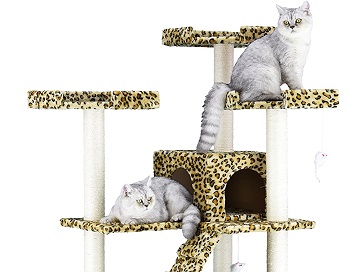 The Sturdy Material
This unit is made of compressed wood which keeps the tree sturdy and firm. It is covered in skin-friendly and soft faux fur. This material makes cats feel comfortable and relaxed. There are scratching posts that are wrapped in sisal rope. Sisal's rough texture will keep your feline's claws healthy.
For All Cats
Cats of all sizes, breeds, and ages can stay on this cat tree. But make sure that no more than 2 large or 3 medium-sized cats stay on the tree at the same time. The tree is pet-friendly and safe. It is well-proportioned and stable. For extra stability, place it near the wall.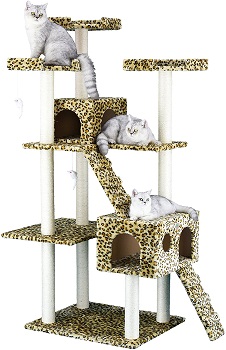 Easy To Assemble
Simple assembly is required. The instructions and the tools required are included in the package. One or two adults are enough to do the job with no hassle. This multi-level cat tree comes with 10 posts and 15 levels.
In Short:
tall and multi-level cat tower
this tree is made of compressed wood
the unit is covered in faux fur
there are 10 posts and 15 levels
cats of all sizes and breeds can climb the tree
BEST SMALL LEOPARD PRINT CAT TREE
Benjama Scratching Cat Tree Leopard
Short And Simple
The Benjama scratching tree is ideal for small cats or for cats that love to scratch a lot. If you are tired of your cats scratching and damaging your furniture, this unit will help a lot. This simple cat tree measures 11.81 x 11.81 x 19.69 (L x W x H).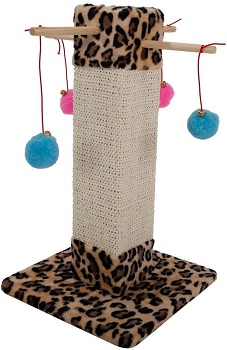 Interactive Tree
This small cat tree includes hanging cat balls. They swing from the top and attract your cat's attention by swinging back and forth. If your cat is often bored, this unit will keep it occupied and active. Also, this Leopard print cat tree is space-saving and convenient to put in an unoccupied corner.
The Material And Price
Benjama's small cat tower with a scratching column is made of wood which keeps the tree stable. Then there is sword rope and high-grade lamb wool. The material is of good quality and the tree is pet-friendly. The price is medium.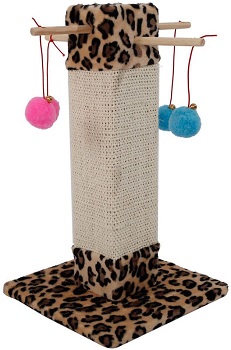 Why Buy This Unit?
This unit will encourage your cat's natural instinct of stcratching and satify its needs. We suggest you to get this unit if you have indoor cats. The rought texture will attract your felines and make sure that your sofas stay untouched.
In Short:
small and short cat tree
ideal for cats scratchers
this unit includes teasing toys
it will keep your cats occupied
the material is of good quality
this unit's cost is medium
BEST MODERN LEOPARD CAT TREE
Royal Cat Boutique Ginger Cat Tree
General Overview
The Royal Cat Boutique cat tree is modern and unusual. It includes a heavy and stable base that keeps the tree in one place. There are three tiers. The tree includes resting platforms and half-open cat condos. There are scratching posts included.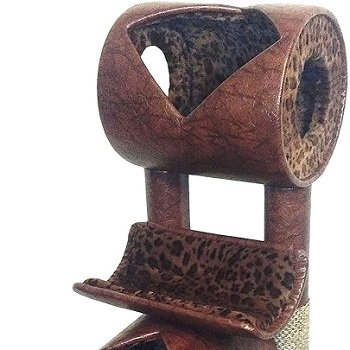 The Size And Capacity
This Leopard print cat tree by Royal Cat Boutique measures approximately 26 x 24 x 58 inches. The unit is of medium size. It is perfect for up to three small to medium-sized cats or for two large cats. This unit is heavy and it will not overturn easily.
The Construction
This cat tree is made of heavy wood. It is a durable and quality wood that will surely last a long time. The exterior of this cat tree is covered in faux bond leather and the solid posts are covered in faux fur. The tree uses sisal carpet as well.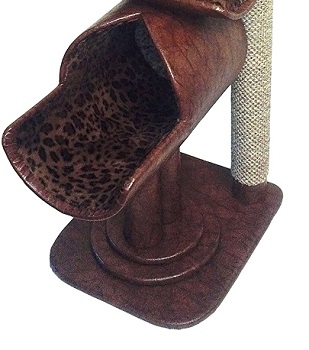 Comes Assembled
As opposed to most cat trees, this medium cat tree comes fully assembled which is great for a change! You won't need to spend time setting up the unit and your cats can start using the unit immediately. The size of the package is 27" L x 25" W x 60" H.
In Short:
this unit comes fully assembled
it is a perfect cat tree for up to three cats
its size is approximately 26 x 24 x 58 inches
the tree is made of wood, faux leather, and faux fur
sisal carpets are included too
BEST KITTEN LEOPARD PRINT CAT TREE
Prevue Leopard Print Cat Tower
For Small Cats And Kittens
If you have smaller-sized cats or kittens at home, you will surely like the Prevue's tree. The unit's size is 9-1/4" Long, 19-1/4" Wide, 43" High. It will fit in almost any household. Cats will love to climb or scratch this tree.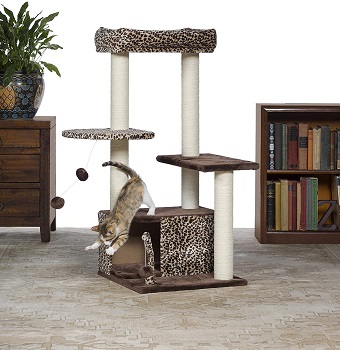 Soft And Cozy Cat Tree
Prevue's Leopard print cat tree is covered in super-soft plush material. Most cats love such material because it makes them feel comfortable and safe. The material is skin-friendly and easy to maintain. Vacuum the surfaces from time to time and get rid of cat hair.
Perfect For Scratchers
There are multiple scratching posts included. They are made of durable and rough jute. Your cats will get attracted to this material and choose to scratch on the tree's pillars, instead of your furniture.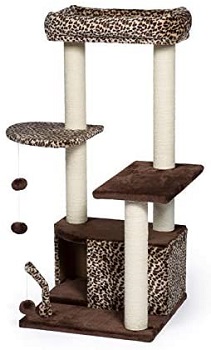 Last Details
This cat tree by Prevue manufacturer includes hanging toys that tease your cats and attract their attention. The toys will swing forth and back and keep your little felines occupied. This 3-tier cat tree will be your kittens' favorite new playground.
In Short:
ideal for smaller-sized cats and kittens
it is a medium 3-tier cat tree
a perfect unit for cats that scratch a lot
the tree includes teasing toys
it is a soft, warm, and cozy cat tree
BEST CARPETED LEOPARD CAT TREE
BestPet Leopard Condo Cat Tree
6-Level Leopard Cat Tower
The cat tree by BestPet includes multiple levels. It is ideal for households with more than active cats. The tree comes with a spacious cat condo as well. The condo has large entrances and it will fit two cats at the same time.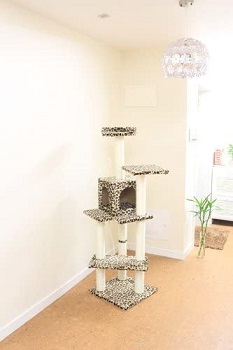 For Climbers And Scratchers
Households with active and playful cats will need a tall tree with scratching posts and multiple levels, such as BestPet's model. This cat tree includes carpeted, sturdy, and spacious 3.5" diameter posts. There are multiple scratching pillars included that are covered in strong sisal rope.
Wide And Heavy Base
The base measures 18" X 18". It is heavy and wide. This adult cat tree is well-balanced and supported by many scratching pillars. It will last you a long time and it will be difficult to tip over. This tree doesn't wobble. For extra stability, place it near a wall.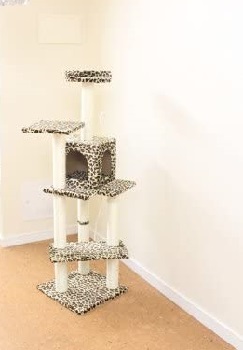 All Tools Included
The BestPet Leopard print cat tree is simple to set up. All the tools required are included in the package. The detailed instructions are provided by the manufacturer. Follow the instructions step by step and make sure the tree is assembled correctly.
In Short:
this is a 6-level cat tower
the unit includes solid carpeted platforms
BestPet's cat tree is sturdy and firm
tools for the assembly are included
ideal cat tree for scratchers and climbers
BEST CORNER LEOPARD PRINT CAT TREE
Go Pet Club Tree For Cats
Made Of Pressed Wood
The Go Pet Club's cat tree unit is made of quality materials: pressed wood, faux fur, and sisal rope. The tree comes with a spacious cat condo on the first floor and two more platforms above it. It is supported by multiple scratching posts.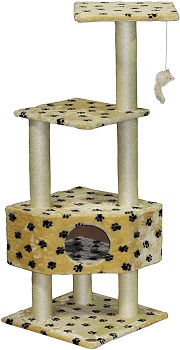 Four Types Of Tree
Apart from the Leopard print cat tree, there are three more neutral colors that you can choose from, in case you change your mind – gray, beige, and brown. The tree includes a teasing toy. It is a hanging mouse that is attached to the top platform. This tree can be placed in a corner as well.
Carrying Capacity And Size
The dimensions of the Go Pet Club tree is 19″ W x 19″ L x 51″ H. This unit will accommodate up to three medium-sized trees at the same time. The spacious condo can fit up to two small-sized cats as well. This artistic cat tree is simple and quick to assemble.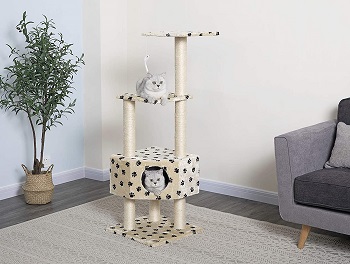 Ideal For Active Felines
Cats that love to jump, play, and climb will surely love spending time on this unit. Cats of almost all sizes will be able to jump between the levels and the tree will not collapse. If you have extra-playful cats, place the unit next to a wall. It will ensure stability.
In Short:
made of pressed wood, faux fur, and sisal
the tree has a spacious cat condo included
two large platforms are located above the condo
the size of this tree is 19″ W x 19″ L x 51″ H
it is simple and easy to set the unit up
the tree can be put in a corner
How To Pick: Leopard Cat Trees And Towers
If you still don't know which Leopard print model you want to buy, then stay a bit longer and read our buying guide. Besides the interesting design, there are other qualities every cat tree needs to include. In the following few paragraphs, we talk about your cat's needs, the Leopard cat tree's quality material, and we suggest you where to get the best and safest unit for your feline.
Unusual And Rare Design – Animal print cat trees are generally not so hard to find. But you will not find a wide variety of trees with Leopard print. If you like the Leopard pattern and it looks nice with your home decor, then just go for it! However, apart from the interesting design, be sure your cat tree includes other qualities that will make the unit durable and safe for your cats.
Know Your Cat's Habits And Needs – It is important that you consider your cat's nature before you buy a cat tree that you like. For example, households with a senior cat or cats with shy personalities will be satisfied with a smaller version of a cat tree. In this case, we recommend you to get a simple and short cat tree with a ground floor condo, posts, and fewer platforms. On the other hand, if you have multiple cats that love to play and climb, a tall cat tree should be your choice.
Quality And Durable Material – The material that will last the longest is wood. Cat trees made of wood will hold multiple cats and they will be hard to collapse. They may even last forever. They are perfect if you have more than two or three active and playful cats. However, getting a cat tree made of MDF, particleboards, or veneer will be just fine if you have up to two cats.
Sturdy Structure – Another important quality is sturdiness and stability. Your tree will be most stable if it comes with a wide base and if it is well-proportioned. Some trees can even be attached to the ceiling or should be placed against the wall. Make sure that the manufacturer guarantees stability. Not every cat tree is the same and cannot hold the same weight.
Where To Buy The Best Product? – In order to buy the best Leopard cat tree, we suggest you explore the online market. Read customer reviews. They will tell you most about the product. Also, buy a cat tree exclusively from a manufacturer that customers trust. Never order from unreliable websites but credible webshops such as Amazon.
To Sum Up
Out of the six listed, our favorite model of the Leopard print cat tree is the Go Pet Club Leopard Cat Tower. We liked this cat indoor tree a lot because it is tall and promotes healthy behavior. It keeps cats active and occupied. Also, this cat tree includes two big cat condos that will keep them safe and warm.