Do you think that a soft crate for puppies would be the best one for the new member in your family but you can't seem to find one?
Then we would recommend you continue reading this article because we are about to offer you an answer to your struggle. The article has some of the best soft puppy crates in it and for you to make your own judgement we reviewed them but we also categorized them into categories like best small, large, and medium so you won't have to waste your time reading through something that i the end won't interest you.
The Summary
Best 5 Soft Crates For Puppies
BEST OF BEST SOFT CRATE FOR PUPPY
Petnation Port-A-Crate Home for Pets
Firm And Durable Build
The fabric that surrounds the frame of this soft crate for puppies is firmly weaved together to give you a durable folding soft dog crate. Due to the frame that's made out of strong steel tubes, the crate can be folded down in second to store away.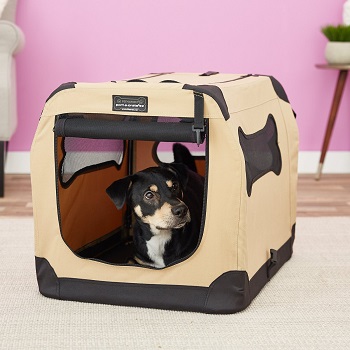 Lightweight Design
Don't worry if you're looking to get a crate that's not heavy. The crate only weighs around 6 lbs even though it's made with durable materials. Because of this, you can easily transport it or even travel with it if you'd like.
Cleaning Tips And Instructions
If you're worried about how you're going to clean the crate there's no need because the crate offers multiple cleaning options and tips. For one, you can take of the whole cover and machine wash it and if you need a short solution, the crate is water-resistant and only requires you to wipe it down with some kind of stain remover and let it dry after you've picked up the excess litter or dirt.

Sizing Instructions
What's great about choosing the right size for this puppy crate is the fact that the manufacturer focuses on the dogs' dimensions to determine it. The crate should be 2 inches taller than your dog and 4-6 inches longer than your dog.
In Short:
Made out of strong and durable steel frame
The fabric cover is tightly weaved together
Weighs Only 6 lbs
The cover is water-resistant and machine washable
The dog should be 2 inches lower and 4-6 inches shorter
BEST SMALL SOFT PUPPY CRATE
Petsfit Sturdy Soft Pet Crate
Color And Durability
This crate's fabric cover is colored in a beautiful light grey so it's not only functional but also quite stylish. Note that although it is a durable dog crate, it's not indestructible and puppies are known to chew on their crates often.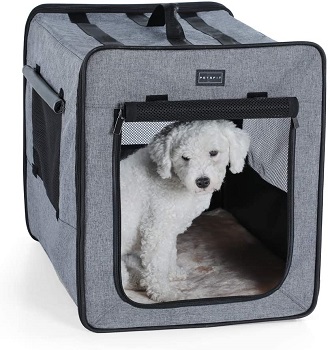 Frame Function
This soft crate for puppies will hold its shape thanks to the tough steel frame that is surrounded by the fabric. The frame is also foldable so you can store the crate like that and it won't take up too much of your storage room. You can also use its foldable construction to transport it quickly and simply.
Privacy Guaranteed
The crate will give your puppy good visibility which is very important for puppies to have and it'll do so by providing you with mesh fabric windows located on all sides of the crate. If you're dog would like some more privacy you can unroll the piece of fabric located just above the windows and cover it.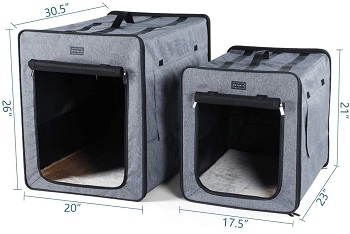 Coziness Like No Other
If you want to have some dog treats or any other accessories readily available to you, you can store them inside the back pocket. This will be especially useful if you're traveling with your puppy. The crate will be kept comfy for your puppy because it also comes with a fleece bed. The crate can be used by small and medium dogs.
In Short:
The fabric cover has a light grey color
Holds its shape well due to the steel frame
The frame can be folded down to store the crate
Can house small and medium dogs
Has a back pocket for storage
The mesh fabric windows can be covered with fabric flaps
BEST MEDIUM PUPPY CRATE SOFT
Akinerri Folding Soft Dog Crate
Entrance Amount
Sometimes it's important for a crate to have an entry point that won't allow your puppy to escape his crate and this one does this by giving you a top entry point with the front and side entry point. The side and front door can be rolled up to keep the crate open when you want it.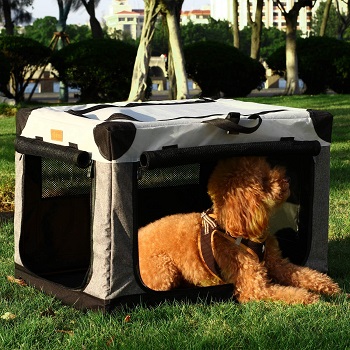 Double Function Windows
This soft crate for puppies' doors are also mesh fabric windows that will keep the crate well ventilated and visibility that is much-needed for puppies, especially the ones that suffer from separation anxiety so they need to see you to feel safe.
How To Clean The Crate
it's really important for soft puppy carriers for cars to have a fabric cover and preferably a bed that are both washable because puppies are more prone to littering while inside their crate. To clean this crates' cover and bed, you will be able to hand wash them and let them air dry. They are both leakproof so your car will stay clean as well.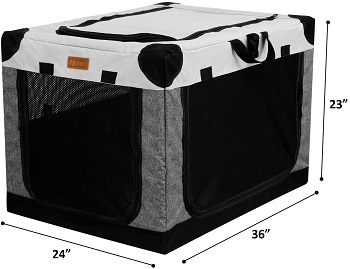 Dog Supervision
You shouldn't leave your dog without surveillance in this crate no matter how durable it is because it's soft. The corners of the crate are reinforced with corner protectors to give you extra durability. Make sure to measure your dog to see if he fits inside.
In Short:
It has 3 entry points
The fabric cover and bed are washable
The corners are protected with pads
Has mesh fabric windows on three sides and the top
BEST AIRLINE APPROVED SOFT CRATE FOR PUPPY
Morpilot Pet Travel Carrier Bag
How it Holds Its Shape
The polyester fabric of this crate is the only thing that makes its crate keep its shape since it's thick enough to do it. The bottom also shouldn't worry you too much because you'll get a hardboard to support it so that your dog doesn't cave in while he or she is inside.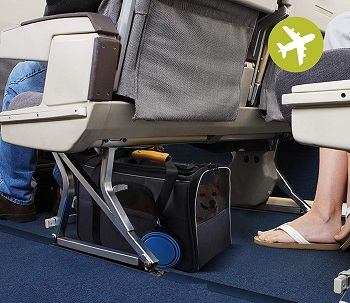 How To Clean It
You shouldn't have too much trouble with cleaning the crate because it' dark in color so any stains shouldn't be too noticeable. The cover can also be cleaned with some form of brush while the fleece bed that you get for the crate can either be handwashed or machine washed
Multiple Carrying Options
There are multiple options for you to carry or secure the crate while traveling. You can carry this soft crate for puppies with handles or shoulder straps and you can also attach it to your luggage. For car rides, you can secure it easily with a seatbelt so it can be a soft dog crate for cars.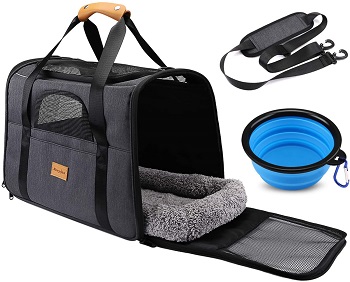 Water Bowl As an Extra
As an added bonus, you will also get a folding bowl that's colored blue so you're dog won't be thirsty when you're traveling, especially by air since the crate fits easily below the airplane seats. This also means that it's only good and of the perfect size for small dogs.
In Short:
The bottom holds its shape well because of the hardboard
Come switch a folding water bowl and a washable fleece bed
Fits well below airplane seats
Can house small dogs
Has with multiple carrying options
Can be secured with a seatbelt
BEST WITH DIVIDER SOFT CRATE FOR PUPPY
One for Pets  Double Pet Kennel
Soft Divider
This is a double dog crate with a divider and it is the closest you'll get to an actual soft crate puppy divider that are incredibly important for crates to have them. The divider like the rest of the crate is made out of fabric and can be removed by you unzipping it.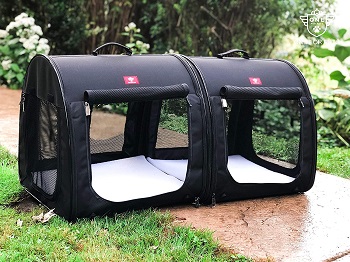 Multiple Usage Options
Why does this soft crate for puppy have a divider? It's actually here so you can use the crate in three different ways. You can use it as a single crate, you can use it as a crate to house two dogs as separate crate or to house two dogs as a single unit.
Safe Car Travels
You can use this crate to travel with your dog inside a car because of the straps that are built into it that which will allow you to safely connect it to your car's seatbelt. You can also go the crate down and put it in its own carry bag to store when you're not using it.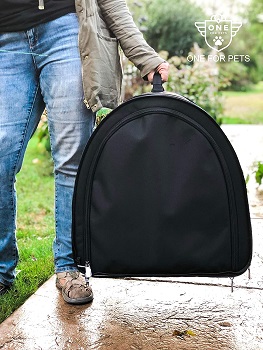 Access To The Crate
No matter how you choose to use the crate, you can only use it to house small dogs. To access them and for them to access the crate, you'll get 2 zipped mesh fabric doors that will, along with the other ones, serve as ventilation windows as well.
In Short:
Can be used to house 2 dogs
You can have one single crate or two separate ones
Can be connected to a seatbelt
Only houses small dogs
Has a foldable construction and comes with a carry bag
Each crate has two entrances
How To Pick A Soft Crate For Puppy
You might want to consider some things before getting a soft crate for your puppy like if the materials used to make them are even suitable for your dog's behavior and even how often do you plan on using them and in what situations. These are all important things to know because you might just find out that you need a different crate.
What Kind Of Puppies It's For – Unfortunately, soft dog crates can't be used as training cages for dogs. In order for your puppy to use them, they should already be crate trained because the soft fabric of these crates just won't survive much chewing coming from a puppy.
Traveling Crates – Another thing you should consider is that these crates are good for traveling but not as good as in-home crates. Your dog should be kept under constant supervision and shouldn't be in the crate for too long.
Choosing The Right Size – One of the more important things to do is to choose the right crate size. This will save you money and will keep your dog safe. You shouldn't look at the weight limits too much but instead, focus more on the dog's length and height and see if it's 3-4 inches below the crate's dimensions.
Soft Crate Alternatives – If you're just figuring out that these crates might not be for you but you still want a light and perhaps collapsible crate that you can travel with maybe look into some small, medium, or XL plastic dog crates. There are even airline-approved options and they are quite easy to transport just like these soft puppy crates.
To Sum Up
Sometimes it's hard to pick a winner but we had no problems choosing the Petnation Port-A-Crate Home for Pets as the best soft crate for puppies. The fabric surrounding the foldable frame is durable enough because it's tightly woven and what's really important is that you can easily wash it as well. If you haven't crate trained your puppy yet make sure to read the article about puppy crates with a divider and if your dog is just a bit too agressive than the article about tough dog crates might be the one for you to read.