Do you really need a puppy crate for a car so you can travel with your pup whether it's for short outings or those long car rides?
We've gathered ad reviewed both and even more in this article so continue reading if you want to make sure that you really find one that suits your and your dog's needs best. we reviewed only the best of best, airline-approved crates and that's definitely not all.
The Summary
Best 5 Puppy Crates For Cars
BEST OF BEST PUPPY CRATE FOR CAR
Diggs Revol Dog Crate
Safe And Simple
The reason why it's really simple to travel with this crate is that the crate can be collapsed, it features built-in wheels on the bottom and it has a top handle for carrying. All of this makes it an incredibly portable dog crate. It is also quite durable since it's made with reinforced plastic and the sides are made out of aluminum steel wire.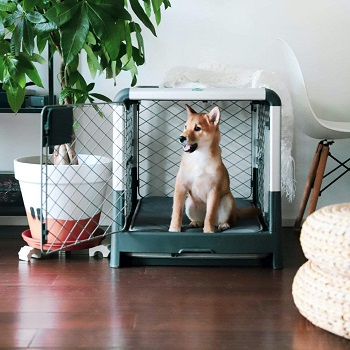 Safe Interior Design
Now the question is why is it a good puppy car travel crate and the answer lies in the way this crate is built. It's made with baby industry standards so it's completely safe for your puppy and it also comes with a puppy crate divider to adjust to your dog's size if he's still too small.
Bottom tray Purpose And Crate Size
Your car interior will be kept safe even if accidents do happen while traveling since it has a slide-out tray on the bottom that is supposed to keep any liquids or dirt on the tray and away from your car floors. When your dog grows into his full size, he should be a medium-sized dog to fit comfortably inside.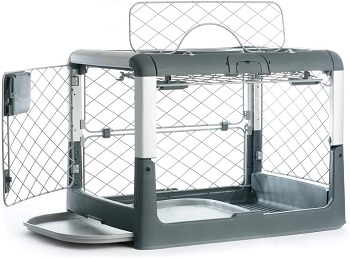 Entry Points Amount And Types
This puppy crate for cars features three doors for access to the crate. There's a front door that only you can open because the door handle is made to be open by squeezing it upwards, a side door that opens upwards and there's a top-load door for you to gain access to your pet without him trying to escape.
In Short:
Made with reinforced plastic and aluminum wire
Features a divider panel and bottom cleaning tray
Made for medium-sized dogs
Has 3 access points
Completely safe for the dog to be inside
Has built-in wheels and a top handle
Can be collapsed or easy transport
BEST FOLDING PUPPY TRAVEL CRATE FOR CAR
Pet Gear 4 Door Steel Crate
Safely Designed Interior
This puppy crate for car features a heavy-duty plastic frame that is blow-molded and its sides are made out of steel wire. This medium plastic dog crate ensured that the dog will be safe when he's inside with its rounded corners and the fact that there are no exposed steel edges.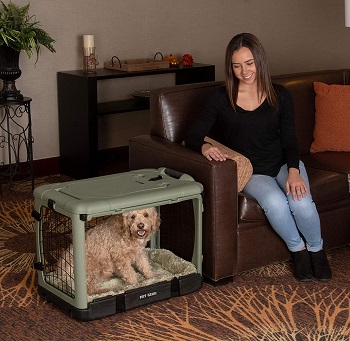 Base Features And Extras
The crate's bottom base is insulated which means that it is quite durable and won't crack when subject to cold temperatures. To make your puppy endure long travels the crate comes with a plush bed to keep him comfortable and if any accidents happen you can easily wash it.
Transport Necessities
The crate has built-in bottom wheels, a built-in top handle, and collapsible construction. Everything we mentioned will ensure that you transport the crate with ease when you need to. As an added bonus, you will also get a travel bag for it.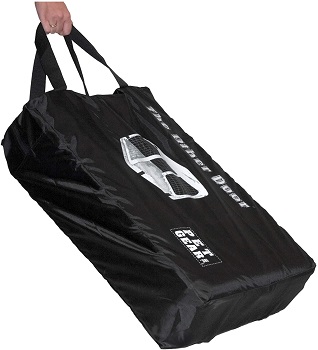 A Total Of 4 Entries
The crate has four doors for you and your pet to gain access to the crate. One is located on the top, one in the back, one I'm the front and there's also a side door that slides upwards to open. All doors can be locked with secure steel locks. The crate is made for medium dog breeds.
In Short:
Made out of heavy-duty blow-molded plastic
HAs steel wire sides
Has 4 door access
Features rounded corners and o exposed steel edges
Can be folded down
Has a built-in top handle and wheels
BEST WITH DIVIDER PUPPY CAR TRAVEL CRATE
Life Stages Folding Crate
At Home And Car Crate Positioning
Not only will this puppy crate for car make it so much easier to position the crate inside your car but it will also be easy to position it in your home because of the two-door design. You'll get a front and a side door and you will lock them with 2 slide bolt locks for each door.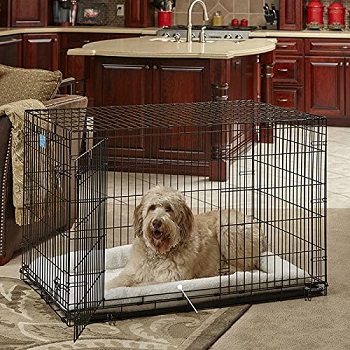 Adjustable Crate Size
If your puppy is still too young and small to fit comfortably inside this crate you will be able to make the crate smaller to fit his size using the divider that this potty training crate comes with. You will also get a plastic cleaning tray that will prevent any accidents from going onto your car floors.
Safe Edges
It's really simple to recognize that this puppy travel crate for cars is safe for the puppy and it's because of the patented rounded corner clips that this is made easy. What they do is that they eliminate the painful and often sharp edges of the crate that would otherwise easily hurt your dog or puppy.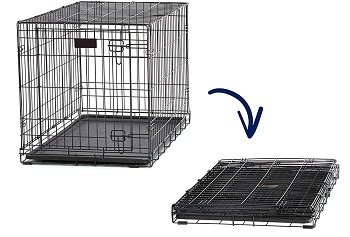 Size Options
Don't worry if your dog is too small or too big for this 36-in puppy cage for car that can house medium-sized dogs. You can choose to get it in 5 more sizes and if you're particularly fond of single door designs, you can choose to get that option as well.
In Short:
Has a 2 door design
The corners are rounded with corner clips
Comes with a divider
Has a bottom cleaning tray
Made for medium dogs
BEST AIRLINE APPROVED CAR CARRIER FOR PUPPY
SportPet Designs Plastic Kennels
Top And Bottom Shell
The crate's shell is made out of heavy-duty plastic and it's made up of two parts, the bottom and top shell. You can connect the two with locking plastic clips and double secure them with nuts and bolts that you get with the crate as well.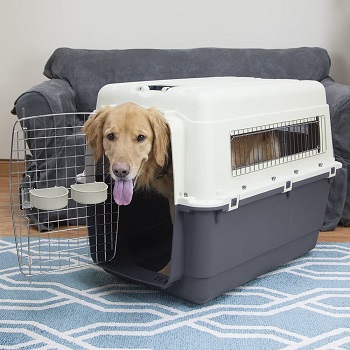 Regulations For Air Travel Crates
For a crate to be an IATA approved dog crate such as this one, it needs to comply with regulations and requirements of airlines. This one has everything that you might need for air travel and it includes, 2 water bowls, "live animal" stickers, metal bolts and nuts, and it also has holes for tying down with bungees. Please note that you still have to check with your specific airline for any other regulations.
Wheels Or Handle Moving
Crate transport will be very simple since it has a handle on top for carrying or you can use wheels that you can easily put on or off to pull it. it has one entry point and it has ventilation windows on all sides. The door won't slide open because of the pinch to unlock door lock.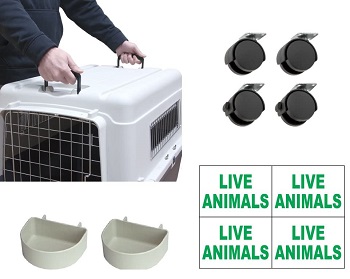 Age Restrictions
You can use it this puppy crate for car for travel as well but note that your puppy should be crate trained first. This is especially important if you're traveling by air. In this case, your dog should be at least 2 months old to fly with you. The crate is made for medium dogs.
In Short:
Has a durable plastic shell
Has one door access
Gets ventilated from all sides
Can be used to travel by air as well
Comes with everything needed to be IATA approved
BEST SOFT PUPPY CRATE FOR CAR
A4Pet Soft Collapsible Dog Crate
Unique Bottom Feature
You might be wondering how can a soft travel dog crate be a good puppy car travel crate and the answer is hidden on the bottom of it. You see, the bottom of this crate is leakproof which means that if your dog happens to urinate while he's inside, the liquids won't get onto your car floors.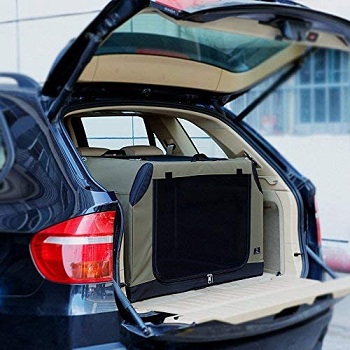 Cover And Frame Materials
The puppy crate for car is made with a strong steel tube frame that gives you the option to fold it down and has a durable oxford fabric cover. The corners on the outside are rounded so that it doesn't damage your car interior when you're traveling.
Large Mesh Fabric Holes
It will be easy for you to check on your dog and for your dog to see outside the crate, while also getting enough air coming into the crate because of its large mesh fabric windows. 3 of those, the top, side and front one can also be used as doors that close with zippers. The back doesn't feature a window but it does feature an accessory pocket.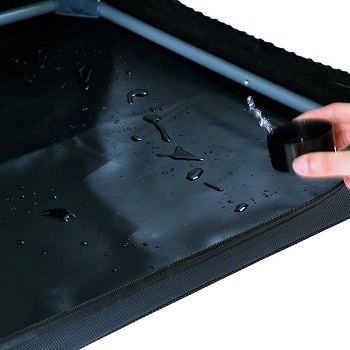 Crate Training As A Must
As with any kind of puppy car travel crate, your puppy should be crate trained before traveling with it, especially since it's a soft crate that can tear apart easily if your dog is anything but calm. When he reaches his adult size, he can fit inside if he's a medium-sized dog up to 50 lbs of weight.
In Short:
Маde with a steel tube frame and fabric cover
The bottom is leakproof
The crate's corners are round to protect car interior
Grown-up dogs shouldn't weigh over 50 lbs
Has three doors that close with zippers
Has an accessory pocket in the back
How To Pick A Puppy Crate For Car
You need to pay extra attention to materials, size, quality of build, and many other things when choosing a puppy crate for cars and car travel because we are talking about puppies that are the babies of the dog world. Make sure you read these few tips on what you should really focus when choosing one to get the safest option for your pup.
Puppy Behavior – Whether it's a durable medium wire dog crate or light and not as durable large soft dog crate one thing that will keep you, your puppy, and the crate safe is good puppy behavior. You shouldn't travel with your pup if he's not crate trained or at least, you shouldn't go on long trips. Crate training your dog can be easy if you do it right and if you start right away.
Your And Your Dog's Safety – If you've crate trained your puppy you can partially skip this tip but it's only partially because you can predict the entirety of your dog's behavior. To make sure that nothing bad happens, your crate should be made out of durable materials, have rounded corners so that's safe on the inside for your dog and have quality locks that wo't be easy to unlock.
Keeping The Car Clean – You really don't want to have to clean you whole car and pay a lot for it and there's a solution for it. For wire crates, the solution is the cleaning tray on the bottom, for plastic ones the hard deep base won't leakthrough and for soft dog crates, you'd want to make sure that the bottom is leak proof.
Crate Size Fit For Cars And Dogs – Your priority should be getting a size of the puppy crate for car according to your puppy's height and length but you should try and estimate his adult size and get a crate that's 3 to 4 inches taller and longer than that.
To Sum Up
It really wasn't hard to pick and recommend the best puppy crate for cars since it's incredible features like interior safety, built-in wheels, collapsible and durable construction and top carrying handle really stand out from the crowd and that is the Diggs Revol Dog Crate. If you've already crate trained your dog and are looking for a light dog crate for traveling you should definitely check out the article about collapsible travel dog crates and if you have a little extra cash and want to give your dog the best check out the article about the safest dog crates for cars.