Looking for crazy cat trees and towers?
Then stop here and read our article. We have explored this topic for you and found the six models that we consider best. We have divided these models into six categories and wrote a small buyer's guide to help you pick the right unit for your household.
The Summary
Best 6 Crazy Cat Trees And Towers
BEST OF BEST CRAZY CAT TREE
BWM.Co Crazy Large Huge Cat Tree
Huge Cat Playground
Make room for the BWM.Co crazy cat tree! This unit is made only for households with a lot of space. If you have multiple active cats at home, you can be sure that this tree will satisfy all of their needs. It is an indoor cat playground for small to medium-sized cats.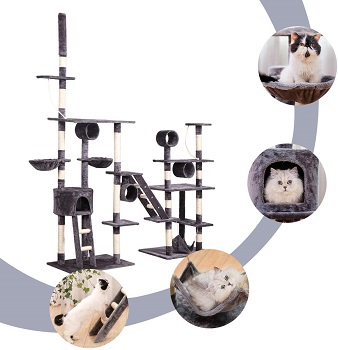 Includes All Fun Content
This is no ordinary cat tree. It comes with all the content that a cat tree can come with. The unit includes two heavy and wide baseboards, multiple levels and perches, scratching posts, baskets, tunnels, hammocks, a cat condo, ladders, and interactive hanging cat toys.
Perfect For Cozy Naps
This tree is almost entirely covered with soft and warm plushy material. Cats love such material because it reminds them of their mother's fur. The unit will make your cats feel cozy, relaxed, and safe. There is plenty of nap space to choose from.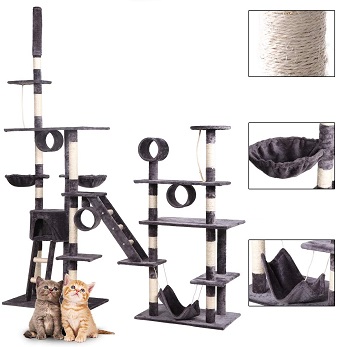 Quality Construction
The unit is constructed of strong and firm particleboard material. It is well-balanced and stable. The plush material is skin-friendly and completely safe for cats. Simple assembly is required. Place the tree next to a wall for extra stability.
In Short:
huge and massive cat tree construction
ideal for sleep, play, and more
includes all the fun and cozy content
for households with multiple cats
made of particleboards and plush
BEST FUN CRAZY CAT TOWER
Tottped Giraffe Fun Activity Tree
Fun Giraffe Design
This small cat tree by Tottped is here to make your cat happy and your room fun and colorful. This tree is highly adored by children. This crazy cat tower comes with a wide base, a tunnel-like condo, and three scratching columns.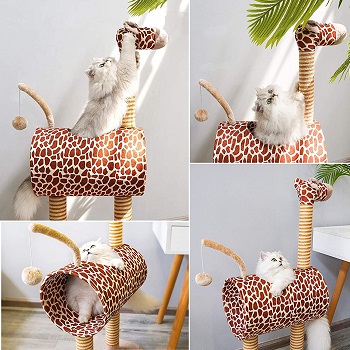 Well-Balanced Tree
The unit is well-proportioned and stable. The two columns make it hard to overturn and prevent wobbling. Also, the columns are wrapped in sisal which is an ideal material to meet your cat's scratching needs and prevent it from damaging your furniture.
For One Adult Cat
This fun cat tree is made for one adult cat. However, it is suitable for two kittens or smaller-sized cats as well. The overall dimensions are 13.5″ X 19″ X 40″ inches. The setup is quick and easy and the instructions for the assembly are included.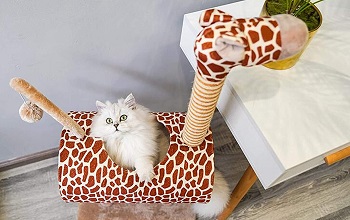 A Toy And Condo
The tunnel-like condo is ideal for playing or napping. It has a top entrance as well. It is cozy and provides your cat with a private environment. There is a dangling toy included. It hangs from the giraffe's elastic tails and attracts your cat's attention.
In Short:
fun and cool-looking giraffe cat tree
stable and well-proportioned unit
posts, toys, and tunnel-like condo included
soft and pet-friendly tree for 1 cat
stable and easy to set it up
BEST LARGE CRAZY CAT TREE
Kinbor Large Tall Cat Tree
Soft Plushy Cat Tree
Kinbor's tall and large cat tree is fully covered with soft and fluffy material. The unit is warm and cozy and apart from being a fun cat activity tree, it will be your cat's favorite resting space. It offers your cats a comfortable napping experience.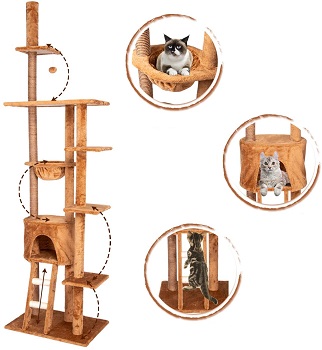 Floor-To-Ceiling Design
This unit can be attached to any ceiling. This keeps it stable and prevents overturning or wobbling. The unit measures approximately 26.7" L×18.9" W×98.4~116.1" H. It includes a condo, a basket, and a ladder.
Multiple Levels
This 5-level cat tree provides your cats with multiple jumping and climbing opportunities. Active cats will love to jump between levels and scratch on the scratching posts. The unit encourages cats to stay active and meets all of their exercising needs.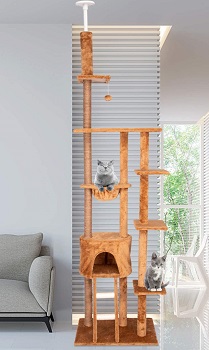 Premium Material
The material that is used to build the Kinbor crazy cat tree is MDF, sisal, and skin-friendly plush. The unit comes in brown color. It needs to be assembled. The set up is quick and easy. The required tools are included.
In Short:
large and tall multi-cat tree
made of MDF, sisal, and plush
floor-to-ceiling design keeps it stable
ideal for social and playful cats
covered in soft and warm material
BEST JUNGLE GYM CRAZY CAT TOWER
Scurrty Cat Tree With Leaves
Natural Forest Design
Scurrty's cat tree looks like a real small tree. It includes artificial leaves and branches. It stands on a green grass-like baseboard. It is supported by three columns. They are wrapped in natural sisal. It is an ideal material for a cat's scratching.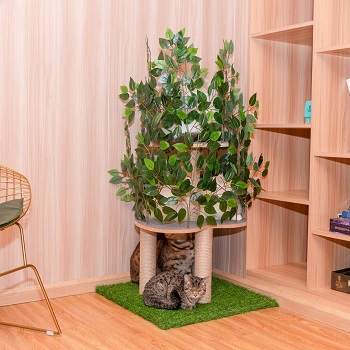 Solid Material
This forest cat tree is made of natural material – CARB-certified pine wood. The unit's base is thick and heavy and keeps the tree stable. This tree can be used indoors and outdoors. It will accommodate up to 35 pounds in the weight limit.
Multi-Functional Unit
Your cats can climb the tree, play on it and observe the surrounding from the top platform. When they get tired, they will love to nap and relax on one of the platforms. This tree will keep your cats entertained and rested. The platforms include a soft surface.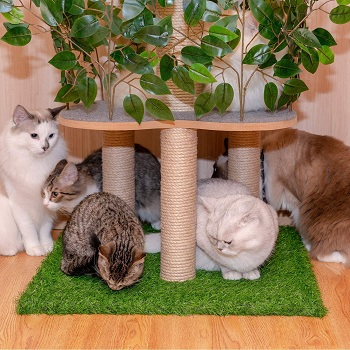 Useful Details
This is a 2-tier crazy cat tree. The overall size is approximately 40inch*23inch*23inches. This tree can fit large cats as well. It is simple to set it up and put the pieces together. The price of this unit is medium to high.
In Short:
forest cat tree with artificial leaves
made of pine wood material
includes sisal scratching posts
there are two platforms
thick baseboard makes it stable
BEST TALL CRAZY CAT TREE
PawHut Floor-To-Ceiling Cat Tree
Stable And Tall Tree
This is another floor-to-ceiling unit. It is an ideal crazy cat tree to meet all of your cat's needs. The unit gets attached to the ceiling. This is how it stands stable and in one place when two or more cats jump off of it or on it from distance.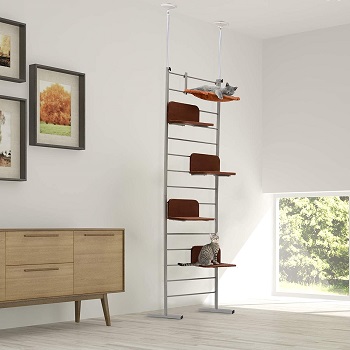 Firm And Sturdy
This tree is made of durable and long-lasting steel tubing. It is safe and strong. It is easy to attach and install and can be moved from room to room with no problems. The unit measures about 30.25″W x 12″ D x 89″ ~ 114.75″H.
Warm Plush Perches
Four soft and movable perches come included. Install them as you want and change their position whenever you wish. The unit comes with a hammock as well. Feel free to attach it on any level. Senior cats will prefer to nap on a lower level, while active cats will love to stay in a high location.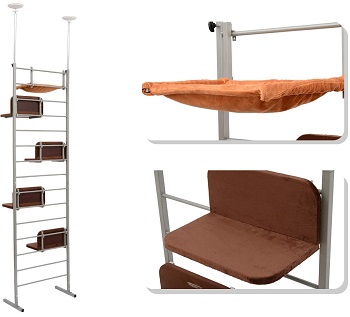 Easy To Clean
You can easily clean the content of this crazy tree. Remove the perches and the hammock, wash them and dry, and put them back on. Clean the surfaces of this washable cat tree with a cleaning cloth.
In Short:
tall and very easy to move
includes four removable perches
a hanging hammock is included too
simple to maintain clean
easy to set up and customize
BEST MULTI-CAT CRAZY CAT TOWER
Made4Pets Multi-Level Crazy Tree
Modern And Cool Design
Made4Pets' cat tree comes in gray. It is modern and stylish. It includes all the basic content for keeping cats happy and active. It is also comfortable for sleeping and napping. This tree will fit nicely into any elegant home decor.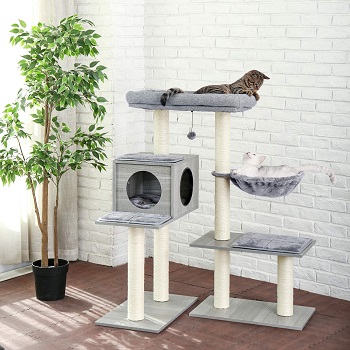 Movable Base Plate
We simply love this feature! Thanks to the base plate that you can easily move, this crazy cat tree can satisfy all of your requirements. There are 4 varied DIY styles. Keep the two bases together or separate them to create a larger unit. You choose!
Multiple Scratching Posts
There are various scratching posts included. They will keep your cat happy and satisfy their daily scratching needs. Apart from that, it will save your furniture from being damaged and keep your cat's claws healthy.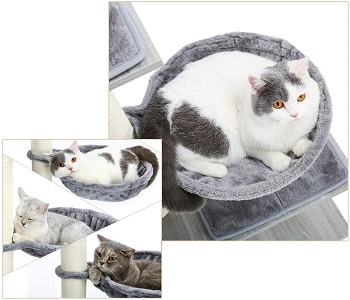 Fluffy Cushions
This unit by Made4Pets includes one large and fluffy cushion on the top perch. It is warm and keeps cats relaxed. This large-perch cat tree is simple to maintain clean. Use a lint roller or small vacuum to get rid of cat hair and dust off the surfaces with a cleaning cloth.
In Short:
cool and modern cat tree design
includes a movable base plate
comes with multiple posts
includes a large top perch
there is a soft and fluffy cushion
How To Pick: Crazy Cat Towers And Trees
Crazy cat trees are not so hard to find. There is a large variety of cool and unusual cat trees available on the online market. In order to find the safest unit, read our guide and find out more about the qualities that every unit must come with. Be sure the tree is made of quality materials. It should keep your cats safe and satisfied.
Interesting And Cool Design – More and more people are trying to find a functional and attractive cat tree with a unique design. Luckily, today you can buy a cat tree of any size and shape. Households with children adore cat trees shaped like an animal or a flower. Cat owners with a lack of space will prefer the wall-mounted units whereas people with big rooms will go for a tall or massive cat tree.
Fun And Interactive Content – Most trees and towers will include a dangling cat toy. Such a toy attracts the cat's attention by swinging back and forth. Some cats may play with an interactive toy for hours. Apart from the toys, fun cat trees will include hammocks, tunnels, perches, and multiple levels too.
Benefits Of Scratching Posts – We suggest that you get a cat tree with scratching posts, boards, or columns. The cat's natural instinct of scratching must be satisfied. In case you don't have a post at home, your fur friend will soon find an alternative. This often results in damaged furniture.
Stability And Sturdiness – Households with multiple cats need to get a unit that is made of firm and strong material. Wooden trees may be the best solution if you own more than two playful and active cats. Well-balanced cat trees or those that can be attached to the ceiling or a wall may be the best solution. When it comes to smaller-sized cat trees, cat towers made of MDF, veneer, or particleboards will be just fine.
Buy From A Reliable Webshop – Don't let the crazy cat tree design fool you. Such units are great only if they come from a manufacturer you trust. Be sure that you check out the customer reviews. Also, never buy from an unreliable website. Think twice and buy a unit that both you and your cat will be satisfied with.
To Sum Up
Between all of the listed pieces of crazy cat frees, there is one unit that we liked most. It is the BWM.Co Crazy cat tower. If you have enough space for such a unit, we are sure it will meet all of your cat's needs. It includes all the fun and cozy content and keeps cats active and happy. If you liked it, we invite you to check out our articles about the best massive cat trees and huge cat condos and towers.