Are you looking for forest cat trees?
Check out our article and find out more about the best six models there are on the market. Check out the buyer's guide we wrote to help you find the most appropriate model for your indoor cats.
The Summary
6 Best Cat Jungle Gym Forest Cat Trees
BEST OF BEST JUNGLE CAT TREE
Go Pet Club Cat Tree
Tall And Multi-Level
The Go Pet Club jungle rope cat tree is tall and narrow. It comes with multiple levels, perches, platforms, and two cat condos. This tree is cool and fun. It keeps cats active and occupied for hours. It is decorated with artificial leaves.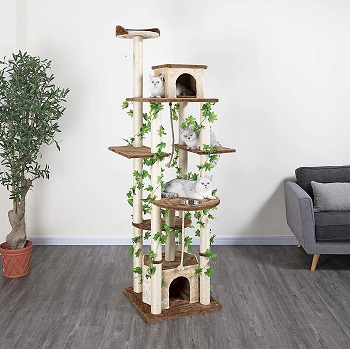 Size And Capacity
The tree measures approximately 33.5″W x 35″L x 85″H. It is very tall and you must check if it fits your household. Even the tree comes with a stable baseboard, we suggest you place it next to a wall for extra stability. This tree can accommodate up to three cats.
For Multiple Cats
This enchanted forest cat tree is ideal for you if you live with three adult cats. It will satisfy all of their needs and keep them healthy, happy, and active. Indoor cats need to stay active as much as possible. This unit includes toys and scratching posts and invites cats to play.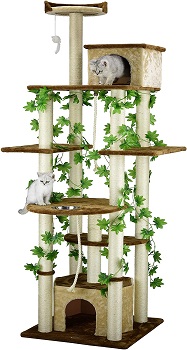 Useful Details
There are few elevated cat perches included. They are supported by columns. The columns are wrapped in safe and natural sisal rope. This cat tree is made of solid wood. It is a stable and long-lasting fantasy cat tree.
In Short:
cat tree with multiple levels
includes condos, perches, and toys
the unit is made of wood
it is stable and long-lasting
scratching columns are included
BEST WALL FOREST CAT TREE
On2Pets Cat Wall Jungle Gym
A Space-Saving Alternative
If you are looking for a forest cat tower that will not occupy too much of your space, why don't try with the On2Pets modern cat wall shelves? This is a set of two cat tree shelves. They get easily mounted on any wall and keep your cats active and safe.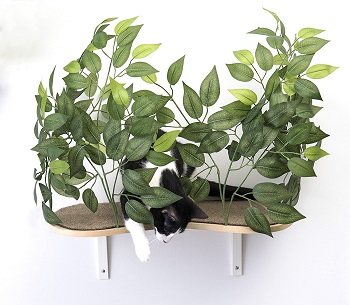 The Dimensions
The size of these two jungle gym cat tree units is 22 x 13 x 15 inches. The weight of each shelf is about 8 pounds. These units are perfect for households with a lack of space and multiple cats. The shelves will accommodate up to 32 pounds.
Different Types
If you don't like this model with green leaves, don't worry. There are three more models to choose from – summer, plum, or fall. Choose the model of these cat tree jungle gym wall shelves that best matches your home decor.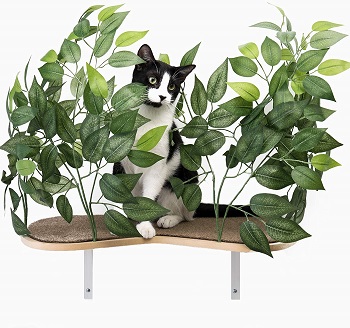 Fits All Cats
It doesn't matter if you have small and active cats or large senior cats. These enchanted forest cat tree shelves are suitable for cats of all breeds, ages, and sizes. If your cats love to climb, mount the shelves high. On the other hand, if you have senior cats, install them on a lower level.
In Short:
the alternative to large cat trees
ideal for small apartments
sturdy and durable material
shelves accommodate up to 8 lbs
ideal for cats of all sizes and ages
BEST HOUSE JUNGLE CAT TREE
Cozy Cat Furniture Cat Tree House
Three Levels And Perches
Cozy Cat Furniture's cat tree includes three large levels and three elevated top perches. This multi-level cat tree is tall and wide. It is spacious and it will accommodate up to three large cats. The unit is easy to climb. Place it in a corner if you wish and save space.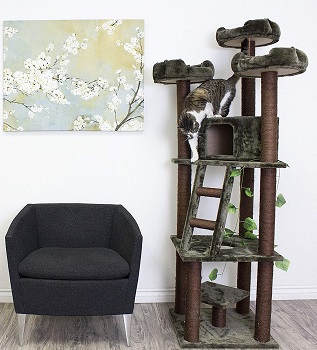 Green And Brown Forest
The unit looks just like a real jungle cat tree. It comes in brown and green neutral colors. This cat tree includes artificial leaves as well. The tree will look nice in any household that loves the forest or jungle theme.
Soft And Comfortable
This forest cat tree includes one spacious jungle gym cat tree condo. It is roomy and accommodates one large cat or two smaller-sized ones. This tree is entirely covered in skin-friendly plush. Cats love such material because it makes them feel warm and relaxed.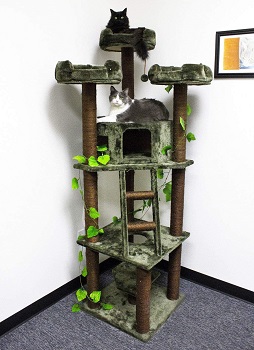 For Active Cats
The overall size of the Cozy Cat Furniture enchanted forest cat house is 75" H x 23" W x 23" D. It is a perfect cat tree for active cats that love to climb, stay in high places, and jump between levels. The unit includes dangling toys and scratching posts as well.
In Short:
three levels and three perches
the unit is tall and spacious
includes a jungle cat tree house
a dangling toy is included as well
the tree is covered in skin-safe plush
BEST TALL FOREST CAT TREE
DownTown Forest Cat Tower
Floor-To-Ceiling
DownTown's jungle cat tree is tall and comes with a floor-to-ceiling design. The unit will fit into any household nicely. It is from 93 to 97.5″ inches tall. Measure how high is your ceiling before buying this unit. This cat tree is multi-level and narrow.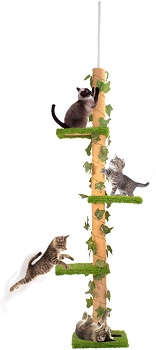 For Small Spaces
If you have a small apartment, a lack of space, or simply don't want your new forest cat tower to occupy a lot of space, then you will surely like this unit. The DownTown's tall skinny cat tree has four levels and allows your cats to play for hours.
Ideal For Climbing
Cats love to climb, exercise, jump and explore. Such a unit is ideal for playful and active felines. Its four levels and a scratching column allow cats to stay occupied and active for hours. The column is wrapped in sisal which eases cats' climbing and scratching.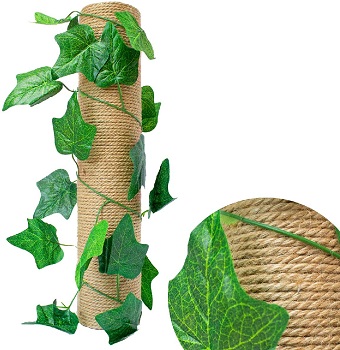 Easy To Assemble
The installation is quick and simple. The unit includes a 14" wide floor footprint. It gets attached to the ceiling which provides extra stability. The instructions are included within the package. This jungle cat tower can be placed almost anywhere in your home.
In Short:
tall floor-to-ceiling cat tree
includes four levels
ideal for climbers
the column is wrapped in sisal
perfect for scratching
BEST MODERN JUNGLE CAT TREE
CatastrophiCreations Wall Mounted Tree
Modern And Interesting
This unit is another alternative to cat trees for small spaces. It gets entirely mounted on the wall. It is attractive, modern, and unique. These cat tree shelves will fit on any wall in your home. They will catch the eye of every visitor.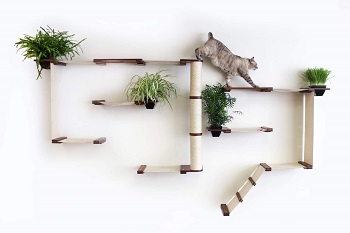 Safe And Sturdy
These forest cat tree shelves are made of eco-friendly materials – bamboo and hardwood. The unit is pet-friendly in every way. The shelves get easily installed and mounted. They are sturdy and long-lasting. You can mount this unit outdoors as well.
For Climbing And Lounging
Indoor cats need to climb and jump as much as cats that often stay outdoors. Mount this unit on your wall and allow your cats to climb and rest in high places. If you install the unit in your garden or balcony, your cats will love to observe nature and their surroundings too.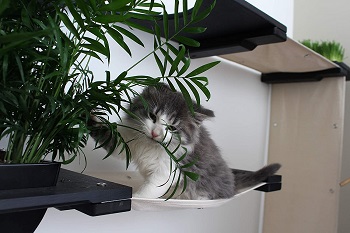 Customize The Tree
Feel free to mount the CatastrophiCreations jungle cat tree as you wish. Use your imagination and allow your cats to explore and stay active. The package includes a hidden bracket and an additional mounting point.
In Short:
wall-mounted cat tree jungle gym
made of bamboo and hardwood
easy to mount on any wall
it can be installed indoors and outdoors
sturdy and strong shelves
BEST HUGE FOREST CAT TREE
Go Pet Club Huge Cat Jungle Gym
Fun And Amusing
Another jungle cat tree manufactured by Go Pet Club. It has caught our eye immediately. Thanks to its big design, this huge cat jungle gym will keep cats entertained and occupied. It is suitable for felines of all ages, sizes, and breeds. It is stable and heavy-based.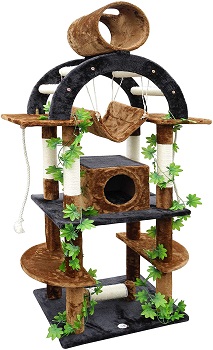 Covered In Plush
The entire jungle cat tree is covered in soft and pet-friendly plush. Cats love such material because it reminds them of the times when they used to knead their mother's fur in order to stimulate the milk flow. A spacious cat condo is included too and makes cats feel cozy and safe.
Multi-Level And Sturdy
This large cat jungle gym tree has multiple levels, platforms, large perches, ladders, a condo, a hammock, and a hanging rope. What more can a cat ask? It is stable and safe. It promotes healthy behavior. This indoor cat tree never makes your cats feel bored.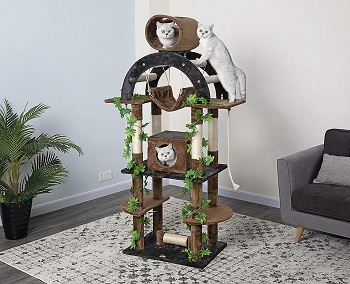 Ideal For Indoor Cats
Every indoor cat has the same needs as cats that often stay outdoors. If you don't have a cat tree and your cats are active and playful, they will quickly find an interactive and jump and run around the house. They may even damage your furniture. This unit helps to satisfy all cats' natural instincts.
In Short:
fun and large indoor cat tree
includes multiple levels and a rope
comes with a condo and perches
there are a hammock and a ladder
this tree is stable and long-lasting
How To Pick: Jungle & Forest Cat Tree
Before you buy a forest cat tree, follow our tips and get a unit that will keep your cats entertained, happy, active, and safe. Be sure you buy the model that fits nicely into your household. Buy only from reliable manufacturers and don't forget to read customer reviews as well.
Interesting Jungle Design – The product's design is what attracts us most. We want the new piece of cat furniture to match our home decor and to be functional at the same time. Cat trees with artificial leaves and branches and interesting and almost unique. They are especially attractive to households with children. Before buying, make sure the unit is not only beautiful but also functional and made of high quality.
Different Types Of Trees – You can choose between a large variety of models. If you have multiple cats and a lot of space at home, you will probably like to get a spacious, tall, and wide cat tree. If you have a lack of space at home, then a tall and narrow cat tree or a wall-mounted model could be the right unit for you. Know your cats' needs and buy accordingly.
Fun Content – Most cat trees will include platforms, scratching posts, or interactive toys. There are, however, more elaborate models. Such trees will include ladders, hammocks,  and more. Know what your cats like. Do your cats love to climb to high locations and play a lot, or they prefer grooming and lounging on a ground floor level? Not every cat will like the same content.
Condos And Perches – When it comes to sleeping and resting, cats love to stay in a safe and cozy place. If your fur friend loves to hide and sleep in a private environment, your new cat forest tree should definitely include a cat condo. On the other hand, trees with elevated perches are ideal for cats that choose to rest in high locations. They can keep an eye on their surrounding. It makes them feel confident.
Where To Buy? – We suggest that you look for jungle cat trees on reliable online webshops. Buy from a manufacturer that other customers trust. Also, we recommend that you read customer reviews and buy a unit that not only looks nice but is also made of quality and durable materials.