Having trouble finding the best narrow cat tree?
Do you feel like you want to know more about these units?
Our article might help you find the best model! By continuing reading, you will get to know all about the six cat tree models that are best rated on the internet. Besides that, you can read our buying guide as well and find out which qualities you should look for in a cat tree before you click "buy".
The Summary
Best 6 Narrow Cat Trees
BEST OF BEST SLIM CAT TREE
Kinbor Cat Tree Tall Slim
Pet-Friendly And Safe
Kinbor's tree is narrow, fun, and entertaining. It is made of a material that is completely safe for pets. The tree is constructed of solid wood. It is covered with soft and warm plush. Cats love to knead on such material. It makes them feel cozy and warm.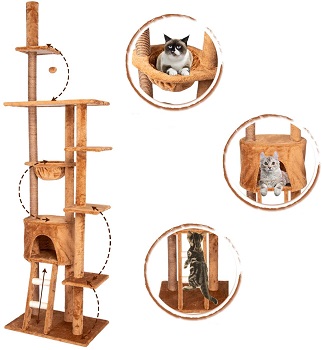 Stable And Sturdy
Thanks to the strong wooden material, this tree is stable and sturdy. It cannot collapse easily. Also, this is a floor-to-ceiling model which means that the unit can get additionally attached and secured. It will hold up to three medium-sized cats.
Soft And Cozy
The Kinbor narrow cat tree will be your cat's favorite resting space. The plush that the tree is covered with is warm and soft. Also, there is a spacious cat condo included. It keeps cats safe and relaxed. The condo includes one large entrance door.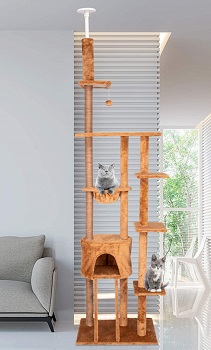 The Setup
This tall narrow cat tree needs to be assembled. The assembly is simple and fast. The tree is equipped with easy-to-follow instructions and all the tools that are required to set the unit up properly. In case you are in search of a model that comes with a slimmer design, read on.
In Short:
the Kinbor tree is made of solid wood
it is long-lasting and firm
this is a floor to ceiling model
attach the tree for extra stability
this unit is covered with soft plush
BEST FOR KITTENS SKINNY CAT TREE
67i Narrow Cat Tower
Medium-Sized Tree
In case a tall narrow cat tree is not the ideal type for your household, you may like the 67i medium cat tree. It is a perfect unit for kittens or smaller-sized cats. The overall dimensions of this medium slim cat tower are 17.9″L x17.9″W x 55.11″H.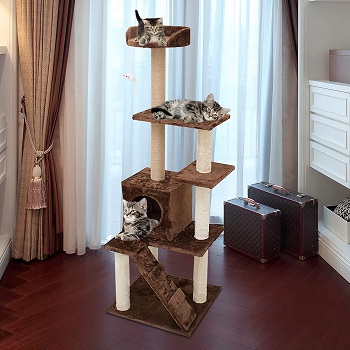 Made Of Fine Material
The material used for building this tree is quality particleboard. This is the reason why this tree is suitable only for cats of smaller size. However, if used properly, the tree will last and be perfectly functional for a long time. The platforms of this tree are covered in skin-friendly plush and provide cats with a cozy environment.
Multi-Purpose Cat Tree
This is a 5-level cat tree. The wide base keeps it stable and prevents wobbling. The tree is well-balanced. The first floor includes a spacious cat condo. The last level is raised perch. A teasing toy is attached to the perch. This is a tree that is ideal for lounging, sleeping, and playing.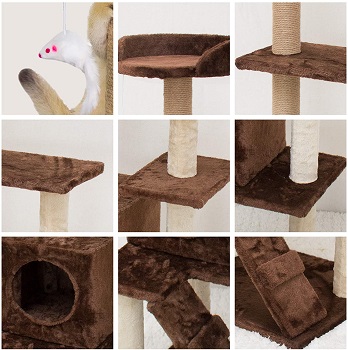 Easy To Set Up
Simple and fast assembly is required. All the instructions and tools are included. One or two adults are enough to do the job properly. It is recommended that you place the unit next to a wall or against a wall corner. It will add extra stability.
In Short:
this tree is of the medium size
it is suitable for small cats or kittens
quick assembly is required
this is a multi-level cat tree
ideal for lounging and playing
BEST TALL NARROW CAT TREE
PetFusion Wall Skinny Cat Tower
Attaches To The Wall
PetFusion is a skinny cat tree that is perfect for cats that love to climb and perch high. It promotes the cat's healthy living. It is suitable for all cats, no matter the size, breed, or age. It is a unit that stands on the ground but it also gets attached to the wall for extra stability.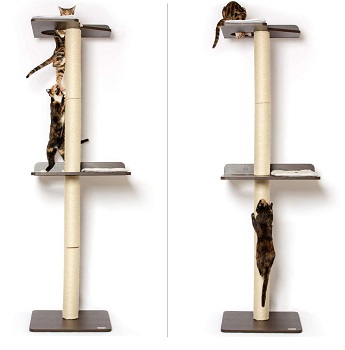 Modern And Space-Saving
The modern design of the PetFusion tree will attract you immediately. It looks nice in any household. The platforms are covered in a pet-friendly Espresso finish. Such a unit is ideal for small apartments or small spaces. It is a sturdy and space-saving cat tree.
Easy Assembly
You will need about 20 minutes to install this unit. First, put the pieces together. Follow the step-by-step instruction and do it properly. After that, secure the tree to a wall. Use a hammer and screwdriver. The installation requires no drilling (unless you want to anchor the tree into studs).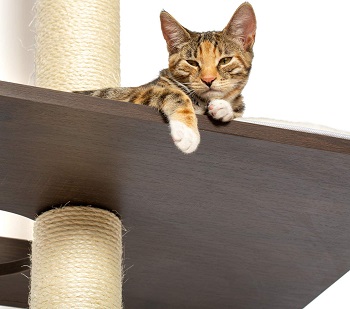 Useful Details
PetFusion cat tree's overall dimensions are 24 x 20. 8 x 76. 8 inches (LWH). This tall narrow cat tree suitable for up to two medium-sized cats. The replacement posts are available. The tree is made of E0 grade MDF. It passes European REACH standards.
In Short:
the PetFusion tree is slim and tall
it stands on the ground and attaches to a wall
extra-stable, durable, and long-lasting
suitable for up to 2 medium-sized cats
the installation is simple and fast
BEST WALL SLIM CAT TREE
Fukumaru Slim Cat Tower Wall Mount
Wall Mounted Design
Fukumaru is another wall cat tree. But unlike the previous model, this tall slim cat tree needs to be entirely mounted to the wall. The tree includes two small perches that make it the cat easier to climb the tree. It is a tall thin cat tree that is suitable for all cats.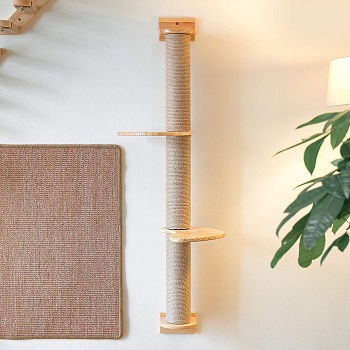 Large And Fun
The size of this tree is 36.6 inches. The tree enables the cat to fully stretch. Cats that love to climb and scratch will find this unit fun and entertaining. Forget about damaged furniture. Fukumaru's tall cat tree keeps your cat's claws healthy.
Safe, Sturdy, And Durable
Thanks to the fact that this slim and tall cat tree gets mounted on the wall, you can feel completely relaxed about your cat's safety. Your cats will get to jump to the tree from the distance or jump off of the tree and the unit will not collapse.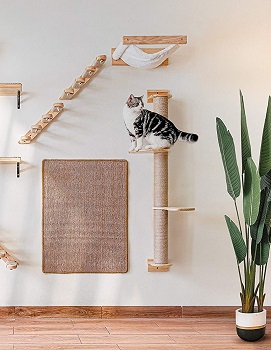 The Quality Material
This tree is made of pine and it is wrapped in pet-friendly jute. This is a natural cat tree. It can be adapted to any wall. It saves space and it is perfect for small households. The assembly is DIY. Set it up as you wish.
In Short:
this is a wall-mount tall tree
it is fun, safe, and entertaining
it keeps cats occupied and safe
the perfect tree for climber cats
made of natural and safe material
BEST FOR LARGE CATS SKINNY CAT TREE
Purrfect Fence Outdoor Thin Tree
For Outdoors
If you are in search of an outdoor skinny cat tree, check out the Purrfect Fence unit. This cat tree will make your garden or backyard more fun for your lovely cats. It will provide them with various climbing opportunities. It is made of strong and durable materials.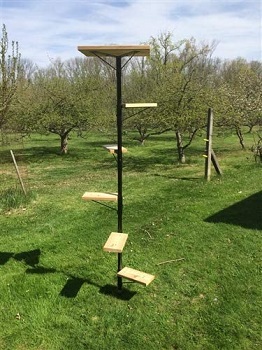 Weather-Resistant Material
This weatherproof cat tree by Purrfect fence is made of cedar stairs. They are covered in a water-resistant finish. The frame is made of durable metal. You can be sure this unit will last you a long time. Install this unit below ground. No digging is required.

Fun And Tall
The size of this cat tree is 47.2 x 12.1 x 7.8 inches. This tall narrow cat tree is pretty heavy, so be sure you install it with another adult. Also, set it up properly and make sure it is stable. This tall tree has multiple levels. It keeps your cats active and healthy.
In Short:
suitable for gardens and backyards
gets installed below the ground
it is tall and multi-level
the material is metal and cedar
this is a weather and water-resistant tree
BEST MODERN NARROW CAT TREE
Downtown Cat Tree Narrow
Four-Level Design
The Downtown attractive and fun cat tree comes with four levels that climber cats will love to play on. It attracts the pet's attention and keeps cats occupied and happy. The levels are covered in green grass-like material. The tree's column includes artificial leaves.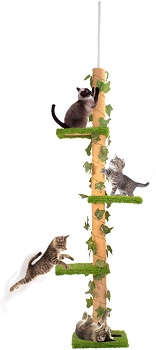 Tall And Safe
Downtown's tall slim cat tree is space-saving. It fits almost everywhere and it is perfect for all households. Even if you live in a small apartment or want to fit this tall narrow cat tree in a small space, you will find an appropriate corner for this tree.
Floor To Ceiling
This is another tree that gets attached to the ceiling. This adds extra stability to the tree. Ideally, place the tree in a corner and you will feel completely relaxed. Up to three adult cats can play on this tree. They will get to scratch on the column as much as they want.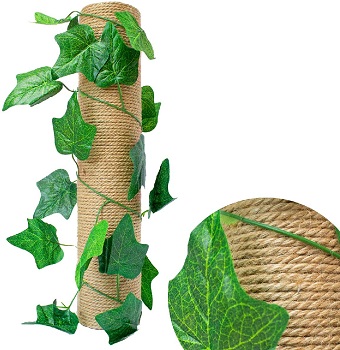 Affordable Price
If you liked this model, you can get it for an affordable price. We are sure that, if installed properly, the tree will last a long time. The quality is just fine and the tree is stable. Check it out and read customer reviews. The overall rating is pretty high.
In Short:
tall, safe, and sturdy narrow cat tree
interesting and fun floor-to-ceiling design
this tree includes artificial leaves
perches are covered in grass-like material
the price is affordable and the quality is good
How To Pick: Skinny Cat Trees
Smaller-sized narrow cat towers or tall slim cat trees are all space-saving. They are ideal for small spaces and help to keep your indoor cat happy, active, and occupied. The ideal size and capacity of narrow trees depend on a few things. Read on to find out more. Follow our simple tips and we promise that they will make it easier for you to find the right model for your fur friends!
Skinny Trees Save Space – If you live in a small apartment or you want to fit a cat tower tree into a small space, then a narrow unit is probably the best option for your household. Narrow trees are space-saving, simple to set up, and easy to maintain. Also, they are quite modern and attractively designed. They are often wall-mounted or placed in an unoccupied corner.
Tall Vs. Short Slim Trees – Climber and scratcher cats will adore tall narrow cat towers. They will get to play and jump up and down the tree. Also, they will stop damaging your furniture and use the tree's scratching posts instead. On the other hand, senior cats or cats with shy or calm personalities will prefer a short cat tree. Ideally, get your cuddly cat a tree with a ground floor cat condo.
Check The Tree's Material – Households with multiple playful and active cats should get a solid wood or sturdy cat tree. Such trees last a long time, they are difficult to break or overturn but come at a higher cost. If you have a limited budget, there are MDF or particleboard trees that are fine as well. They are suitable for homes with up to two adult cats. They can last long enough, as long as they are used properly.
Get A Stable Tree – The trees that are most stable are the ones with a wide base or trees that get mounted on the wall. Such units are well-balanced as well. The tree's stability is crucial. It prevents the tree from wobbling, overturning, or collapsing. The high-quality material will most often guarantee stability and durability.
Know Your Cat's Personality – In the end, the ideal type and design of a narrow cat tree that will meet all of your cat's needs depends on the number of cats you have in your household and their personality. Consider your cat's nature before buying. Know what your cats love, and make sure the tree you are buying is safe and entertaining enough for your lovely pets.
To Sum Up
As our fist-pick, we choose the Fukumaru slim cat tree tower tree. It a medium-to-tall cat tree for large cats. It is suitable for cats of all ages and breeds. The tree is extra stable. We liked the fact that it gets mounted to the wall. Fukumaru sturdy cat tree is also optimal for small apartments or homes with a lack of space. Lastly, its price is pretty affordable which is another reason why you should check it out!