Have you been trying to find a natural-looking cat tree?
Cat trees that look like real trees are attractive and safe. They are pleasing to the eye and made of quality material as well. In our article, we have gathered the 5 cat trees and reviewed each one of them. Read on and find our five tips on how to choose the right model for your household.
The Summary
Best 5 Cat Trees With Real Tree
BEST OF BEST NATURAL CAT TREE
On2 Pets Cat Tree With Branches
Amusing And Unusual
On2 Pets is a natural-looking cat tree. This unit is interesting and highly-adored by cats and households with children. It looks like a cat tree with real branches. The On2Pets tree comes with a wide base that keeps it steady. It includes three carpeted perches that make it easier to climb.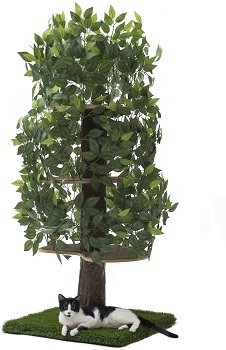 The Material Used
This tree is made from pressed wood, artificial leaves, and high-quality carpet. It is an indoor cat tree that keeps cats healthy and active. It invites cats to climb, play, and lounge. The tree is made in the USA. Simple assembly is required.
Size And Capacity
The overall size of this tree by On2 Pets is 24 x 24 x 60 inches. It is ideal for households with one adult cat of medium size or up to two smaller-sized cats. In that case, the tree will be completely safe and it will last longer. In case you have more than one adult cat or larger size, we suggest you get another funny cat tree.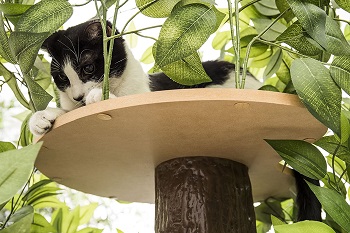 Perfect For Climbers
Not every cat loves to climb and stay in high places. This cat tree is suitable for cats of all personalities. It is ideal for climbers and scratchers, but also for shy and cuddly cats that like to hide or observe their surroundings. Lastly, your cats will almost always choose to scratch on this tree rather than on your furniture.
In Short:
On2 Pets tree looks like a natural tree
comes with artificial branches and leaves
it is made of pressed wood and carpet
simple and quick assembly is required
suitable for cats with all personalities
BEST FURNITURE CAT TREE WITH REAL TREE
Go Pet Club Cat Tree Furniture
Fun And Spacious
The Go Pet Club tree for cats is tall, wide, and spacious. It includes many levels, platforms, cat perches, baskets, and other content that will make your cat happy and entertained. This multi-cat tree is easy to climb and play on. Multiple cats can play on this tree at the same time.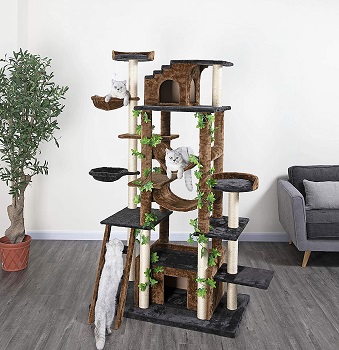 Scratching Posts
There are multiple sisal-covered scratching posts included. If you have been a cat owner without a cat tree for some time, then you probably know that one of cats' favorite thing to do is to scratch your sofas and couches. This tree will reduce furniture scratching.
Cat Condos
There are two cat condos included. The first one is located on the ground floor. This condo is roomy and perfect for senior cats or cats with shy personalities that prefer hiding under the bed, rather than climbing high places. On the other hand, the second condo is located on the very top of this cat tree.
Safe Material
The material used for building this natural-looking cat tree is pressed wood. The frame is sturdy and steady. This tree will not be easy to overturn. Moreover, the posts are covered in natural sisal rope and the tree's platforms are covered in soft faux fur. This material keeps cats safe and warm.
In Short:
fun, tall, wide, and a multi-level tree
suitable for more cats at the same time
covered in safe and pet-friendly material
this is a natural wood cat tree
it is made of pressed wood, sisal, and faux fur
BEST WALL NATURAL LOOKING CAT TREE
On2 Pets Natural Cat Climbing Shelves
Cat Wall Shelves
Cats that love climbing and exploring will love this unit. This is a set of two shelves that get mounted on the wall. Modern cat wall shelves have become more and more popular these days. They are sturdy, firm, and simple to mount on the wall.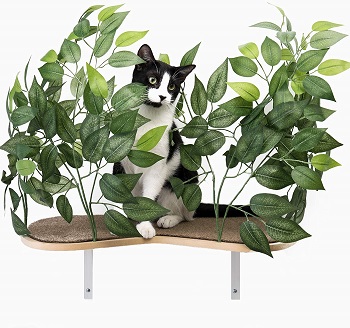 Size And Capacity
The carrying weight of these shelves is for cats up to 32 pounds. The overall measures of these shelves are 2 x 13 x 15 inches and the net weight is 8 pounds. If you have a lack of space or a small apartment, you should consider getting such a unit.
Choose The Model
You can choose between four models of the On2 Pets' cat tree shelves. There is the green shelf-cat tree with real tree branches model, and the summer, fall, or plum models as well. Choose the model and the type of natural-looking cat tree shelves you like most.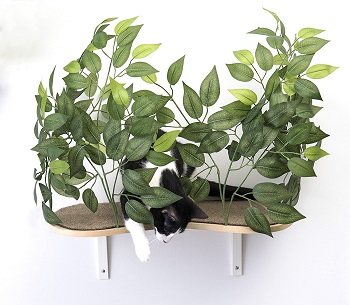 For All Cats
Cats of all sizes, breeds, and ages can use these shelves. It is a perfect solution for playful kittens and active small or young cats. Also, if you have a senior cat, you can mount the shelves low and let your cat climb with less of a hassle.
In Short:
this is a set of two wall shelves
suitable for all cat sizes and brees
choose between 4 attractive models
maximum bearing weight is 32 pounds per cat
easy to mount on the wall
BEST TALL NATURAL WOOD CAT TREE
Downtown Natural Cat Tower
Narrow And Tall Design
The tree by Downtown looks like a cat tree with real tree branches. It is fun, tall, and easy to climb. The unit has four levels. They are wrapped in green-grass material. This unit is perfect for climbers and scratchers and it looks nice and attractive in almost any household.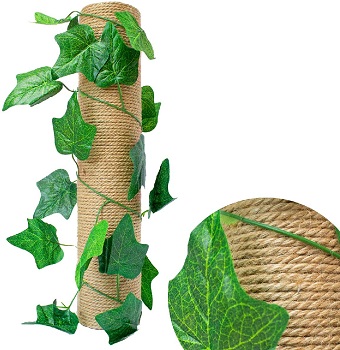 Safe And Saves Space
If you have a small apartment or want to fit a cat tree into a small room, then this unit could meet all of your needs. This space-saving tall narrow cat tree by Downtown will be easy to install. Just find a perfect corner or place the tree next to a wall.
Easy To Secure
This tree is a floor-to-ceiling model. It is stable and hard to collapse. The tree can be attached to the ceiling which gives extra stability. You can feel safe about your cats. The tree will hold up to three adult cats. This is a unit that will satisfy your cat's exercise needs.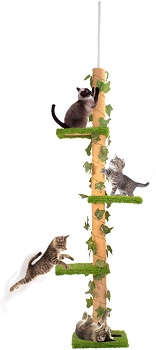 Budget-Friendly Price
You can get this tree at an affordable cost. This natural-looking cat tree is made of quality materials and we find it safe and secure. The overall customer satisfaction with the unit is high. Check it out and see if you like it as well.
In Short:
a narrow and tall tree for cats
it is space-saving and easy to secure
floor-to-ceiling cat tree design
the tree will hold up to 3 cats
cost is affordable and quality is fine
BEST SMALL NATURAL CAT TREE
On2 Pets Natural Home Cat Tree
Four Designs
Choose the design that you like most. This tree is shaped like a green natural wood cat tree. Apart from this type, there are fall, plum, or summer models. The On2 Pets natural wood cat tower is an attractive cat tree that will look interesting in your household.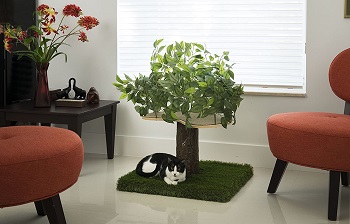 Small And Sturdy
The overall size of this small cat tree with real tree branches is 24 x 24 x 36 inches and the net weight is 22.25 pounds. In case you need a larger or taller model, the tree comes in three more sizes – medium, large round, and large square. Check them all out!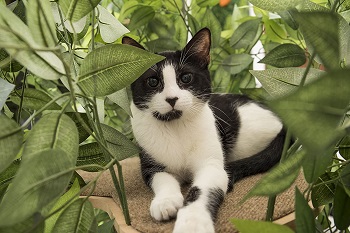 For Indoor Cats
This is a tree that is made exclusively for indoor use. Please, do not place this cat tree outdoors because it could break with time. The tree includes one spacious platform and a removable carpet. It is made of pressed wood which keeps the tree stable. Ideal for cats that love to hide and rest.
In Short:
comes with four different designs
the tree may be purchased in larger sizes
choose the model that suits you best
this tree is space-saving and small
it includes one carpeted platform
ideal for cats that love to hide and sleep
How To Pick: Natural-Looking Cat Tree
By now, you may have already found a model that you like most. In our buying guide, we invite you to check if the cat tree that you are about to get includes all the important qualities that make it worth buying. Make sure you know the difference between the cat tree types. Also, the right size, maximum capacity, and other safety features make the best wood cat tree unit.
Real Wood Tree Vs. Natural-Looking Tree – Cat trees made of natural material may be the best ones that you can get for your cat. Especially if you have more than two playful, active, or mischievous cats. Solid wood cat trees may last forever. They are hard to break and difficult to overturn. Trees that combine MDF, particleboard, real wood, or veneer with another material are fine enough as well. They are ideal for households with one or two cats with calmer personalities.
The Ideal Cat Tree Size – Before buying any cat tree, know your cat's nature. Do you have a shy and cuddly cat, or is your cat active and social? If you have a senior cat or a cat with a calm personality, a short or medium-sized cat tree will be fine. On the other hand, if you have multiple cats at home and they are climbers and scratchers, it is definitely advisable for you to get them a taller version of a cat tower.
Know The Maximum Holding Weight – Another important quality that you show remember to check is the carrying capacity. Not every cat tree will hold the same number of cats. Trees made of real wood will most often hold up to several cats, while the MDF, particleboard, or veneer wood cat trees and towers will be more suitable for up to two medium-sized cats.
Other Safety Features – Apart from all of the above-listed qualities, make sure that the tree you like is entirely made of non-toxic and pet-friendly material. Also, there should be no sharp edges that may harm your cat in any way. Lastly, if the cat tower or tree includes cushions, carpets, or pads, be sure they are skin-friendly and easy to clean.
Quality Vs. Price – Natural-looking cat trees are oftentimes a bit more expensive than other trees. After all, the material that manufacturers use for building these units is of high quality. Don't be afraid to spend more than a penny for a quality tree. Eventually, you will see that such units save money.
To Sum Up
All things considered, the Go Pet Club natural wood cat tree is our first pick! The reason we liked this unit so much is its wide and spacious size. It provides cats with everything they need – a fun, secure, sturdy, and safe environment. This indoor cat playground is simple to assemble and holds multiple cats. For more similar models, check out our article about the best forest cat trees.