If you are looking to buy a tall narrow cat tree, then you have come to the right place.
We have made an article about the six best models that you can find online. Read all about the best, for kittens, carpeted, wall, cheap, and big model. If you are unsure how to pick the right cat tree, go through our buying guide. We have listed several suggestions on how to choose the best and safest tall skinny cat tree model.
The Summary
Best 6 Tall Narrow Cat Trees
BEST OF BEST TALL NARROW CAT TREE
Made4Pets Tall Cat Tree
Stylish And Modern Appearance
If you are looking for a unit that will fit nicely into your home, then we suggest you check out the Made4Pets cat tree. It is stylish, well-proportioned, and elegant. It stands on a wide and heavy base which makes it stable and hard to overturn.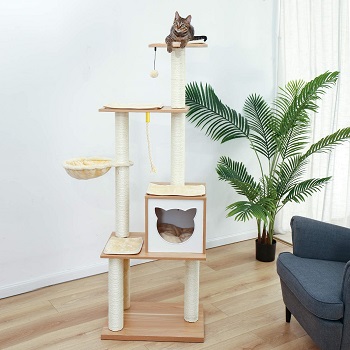 Solid And Firm
The material that this tree is made of is a CARB-certified board. It comes with thick scratching pillars and a double-layer base. For extra stability, use the safety straps. They come included and help you prevent this tree tower from collapsing.
The Scratching Posts
Scratching is cats' natural instinct. If you want to make your cats stop scratching your furniture, you have to find them an alternative. This tall skinny cat tree includes scratching pillars and boards. They are made of 100% high-quality and durable sisal.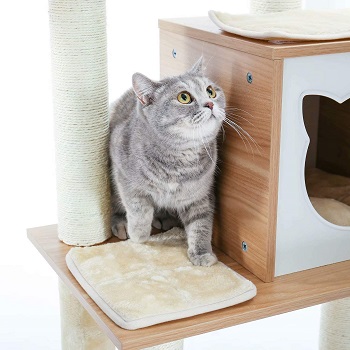 Tall And Multi-Level Tree
Made4Pets tall narrow cat tree measures 22.8''L x 15.7" W x 65.6" H. It weighs 38.4 lb. It has four levels. Apart from that, your cats will have a cat condo to rest in and hanging ropes and balls to play with. The capacity is up to three medium-sized cats.
In Short:
the design is modern and elegant
it fits perfectly into any home decor
this tree has four levels
Made4Pets tree includes a cat condo
there are hanging balls and a rope
it can carry up to 3 medium cats
BEST FOR KITTENS TALL SKINNY CAT TREE
67i Kitten And Small Cats Tree
For Small Cats
For households with kittens or smaller-sized cats, we suggest the 67i cat tree. This tree is made of quality particleboard. It can carry small cats, but not large and heavy ones. The bottom base is reinforced and makes this tree stable.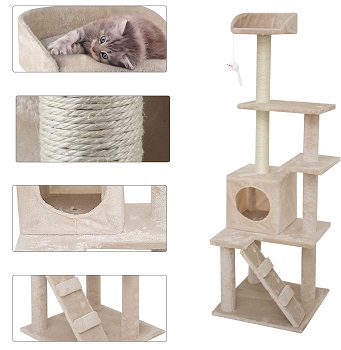 Multifunctional Purpose
Your kittens or small cats will have a lot of space for interaction, play, and rest. The tree is covered with soft, warm, and cozy plush and makes your cats feel safe and comfortable. There are five levels that your cats can climb. Also, a condo, a ramp, and hanging toys are included.
Dimension And Capacity
The dimensions of the 67i tall skinny cat tree for kittens is 17.9″L x17.9″W x 55.11″H. The cat condo measures 10.6″W x 10.6″L x 9.8″H. The capacity is up to three kittens or two small to medium-sized cats. For extra stability, place the tall narrow cat tree next to the wall.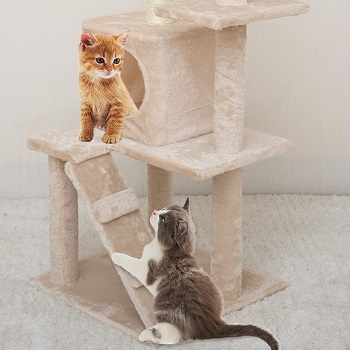 The Easy Setup
This white cat tree requires to be assembled. The package includes one tree and a user manual. The assembly is simple and fast and can be done by one adult. All the necessary parts for the setup are included as well as the necessary tools.
In Short:
this tree is ideal for three kittens
fine to use by up to 2 small adult cats
it is a comfy resting tree
this tree is multi-level and fun too
it requires to be assembled
the setup is simple and fast
BEST CARPETED TALL NARROW CAT TREE
FurHaven Pet Furniture Tree For Cats
Entertaining And Soft
The FurHaven tree for cats is tall, multi-level, and fun. It provides a lot of vertical space and it carries up to two medium cats. The wide base makes this tree incredibly stable. The tree is covered with soft and warm plush faux fur.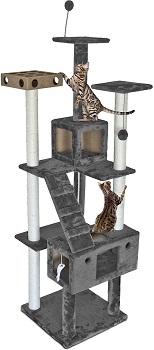 Included Accessories And Toys
This tall narrow cat tree will make your cats happy and occupied. There are different levels, two cozy and spacious cat condos, cat perches, hanging balls, and scratching pillars and posts. They are wrapped in durable and rough sisal fiber.
Easy To Clean
It is incredibly important for cats to live in a clean environment. They spend most of their waking time either playing or grooming. This is why getting them an easy-to-clean and washable cat tree is what you need to do. The FurHaven tall skinny cat tree is simple to clean.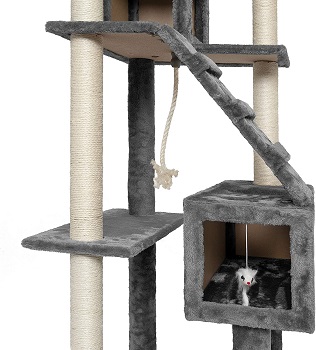 Quality And Price
This tree is made of quality and firm material. It is completely pet-friendly and claw-friendly. Your cats will feel safe and secure. The cost of this tree is medium. There are cheaper models, but not all of them are made for adult cats.
In Short:
multifunctional tall thin cat tree
soft and cozy resting places included
there are multiple levels and perches
a spacious cat condo is included
the price of this tree is medium
BEST WALL TALL SKINNY CAT TREE
SmartCat Wall Door Cat Tree Climber
The Wall-Mount Design
Looking for an extra-stable and slightly different tall narrow cat tree? Then you might like the SmartCat wall or door cat tree climber. It comes with four large levels. It fits on any door or wall from 79 to 82 inches high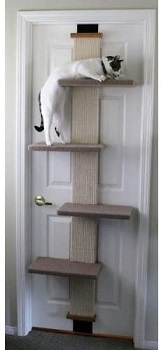 Beneficial For Cat's Health
Your cat will get to climb this cat tree, play or rest on different levels. Cats love to scratch as well, and this tall skinny cat tree includes natural sisal scratching posts. This tree will keep your cats occupied and make them active. It fits up to 2 adult cats.
The Assembly
The installation is very simple. This cat tree can be installed onto virtually any door or wall. The user manual is included and it will provide you with the setup instructions. Also, this cat tree is simple to move because of its spring-loaded bracket system.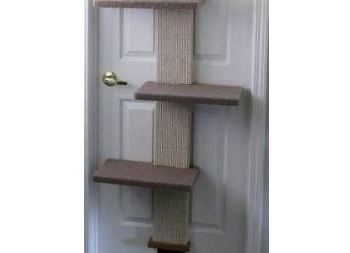 Size And Construction
The dimensions of this product are 9.00 x 6.00 x 82.00 inches. It weighs 28.6 pounds. Each platform measures approximately 17X8.5X1. This tree comes with rigid construction and it lasts a long time. It is space-saving and easy to assemble and disassemble.
In Short:
mount this tree on any door or wall
it is made of firm and rough material
the tree is long-lasting
it has four carpeted levels
includes sisal scratching posts
BEST CHEAP TALL NARROW CAT TREE
MWPO Tree Scratching Cat Tower
Pet-Friendly Material
The material that is used for the construction of the MWPO cat tree is high-quality and natural particleboards and pet-friendly plush covering that is safe for your cats' skin. There are scratching posts that are made of natural sisal.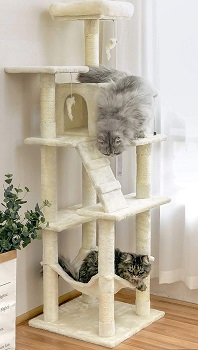 Tall And Thin Tree
The MWPO tall skinny cat tree measures 63.8" H x 19.7" W x 19.7" L. It has a wide base and it is very stable. It weighs 29 lbs. For extra stability, place it near the wall. The cat condo that is included is spacious and measures 10.2" H x 11" W x 11" L.
Cozy And Safe
Thanks to the soft plush, your cats will feel safe and warm when they decide to use the tall narrow cat tree for resting. On the other hand, they will also get to run up and down multiple levels, climb a ramp, or play with one of many hanging toys.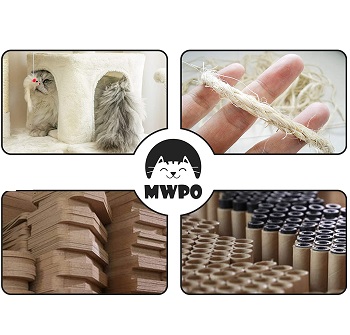 Useful Details
This tree is multi-functional. Your cats will get to climb the highest perch and keep an eye on their surrounding. There are scratching pillars for keeping the claws healthy. The tree's carrying capacity is up to 2 adult cats. The cost of this cat tree is affordable.
In Short:
made of safe and quality material
the tree has many levels
includes a safe and cozy condo
carrying capacity is 2 adult cats
hanging toys are included
BEST BIG TALL SKINNY CAT TREE
Pawz Tall Thin Cat Tree
General Overview
The tall skinny cat tree for cats that is made by Pawz manufacturer is another affordable and stable product that we decided to review. The general customer satisfaction is very high and this is why it has found a place on our top list as well. Read on to find out more.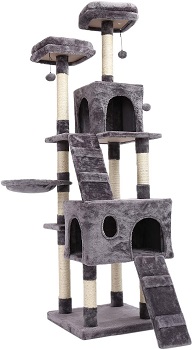 Firm And Stable
The Pawz tree is made of a batten-strengthened base that makes it stable and sturdy. All the material that is used is pet-friendly and firm. This tree will fit up to three adult cats of medium size. It is ideal for all of their activities.
Comfortable Sleeping Tree
This tall narrow cat tree is cozy and soft. It is carpeted and covered in soft plush. The two spacious condos will make sure your cats are well-rested. They come with multiple entrance and exit openings. There is one soft basket included as well.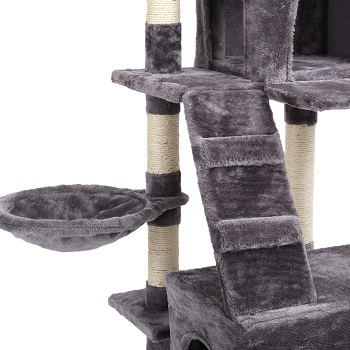 Fun And Entertaining
The tree is multi-level. Apart from the levels and platforms, there are two cat perches on the top of the tree. Your cats will get to observe the surrounding area. This tree includes two hanging balls and many scratching pillars. It fits two large cats or three smaller-sized ones.
In Short:
made of quality materials
it is pet-friendly and stable
the tree is covered in soft plush
includes condos and a cozy basket
there are two hanging balls
How To Pick: Tall Skinny Cat Trees
Getting a tall narrow cat tree is definitely the right choice. However, before buying, you should know what you are looking for. One tall thin cat tree model is not always safe enough for every size or number of cats. The carrying capacity of each model varies. Apart from that, you should check the tree's stability, safety, extra features, and other. Read on and learn how to choose the perfect model.
Perks Of Getting A Tall Cat Tree – Cats are animals that enjoy staying, sleeping, resting, and playing in high places. It is their natural instinct to observe their surrounding, feel confident and safe. Getting a tall cat tree will help your cats feel happy and occupied. It will be beneficial for their mental and physical health.
Cat Number And Size – You shouldn't get just any tall cat tree. If you have one cat of small to medium size, a simple tall tree made of particleboard will be just fine for you. On the other hand, if you have one or more large cats, then a tree made of solid wood should be your choice. Check the tree's carrying capacity and the number of cats it is made for.
Stability And Assembly – There are tall cat trees that are freestanding and the ones that can be installed onto a wall or a door. If you choose the freestanding model, make sure it comes with a wide and heavy base. Your tree shouldn't be easy to overturn. If you want to be extra careful, place your tree next to a wall.
Toys And Accessories – Many tall trees already include more than one content. Choose the right model according to your cat's personality. If you have playful and active cats, a tree with platforms, scratching posts, toys, and cat condos will be perfect. If you have cats that are not so active, we suggest you go with simpler tall narrow cat tree models.
The Right Material – Tall skinny cat trees can be made of solid wood or particleboard. If you go with the first one, you are sure you are getting a stable, firm, and sturdy model. For example, all wood cat trees no carpet are usually made for more than one medium to large cats. In case you need a simple model for one cat only, a particleboard cat tree will be just enough.