Are you looking for a cat tower house or an all-wood cat tree no carpet?
There are some cool models that you can choose from. Some of them include scratching boards, while the others have no accessories at all. Learn more about the top 6 units that we have divided into different categories. Don't miss reading our guide as well!
The Summary
Top 6 Wooden Cat Trees
BEST OF BEST ALL WOOD CAT TREE NO CARPET
Petsfit Large Cat Tower House Wooden
Indoor And Outdoor Use
Petsfit large cat tree house is suitable both for indoor and outdoor. We consider this house tree one of the best because it can carry 1-5 large cats. This unit is stable and made of durable wooden material. It is wide, tall, and spacious.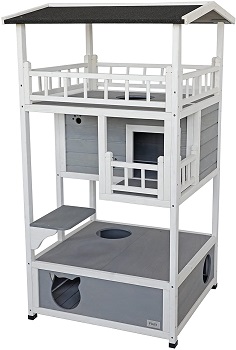 Sturdy Material
This wooden cat tree no carpet is made of natural cedar. It is painted in pet-friendly, non-toxic, and water-based paint. This cat tree house is incredibly study and it will last you a very long time. It stands on four rolling casters that can be secured when you don't want to move the tree house.
The Assembly
The setup is required. The easy-to-follow instructions come with the package. There are pre-drilled holes and the whole unit is simple to assemble. One adult will be able to put this house together in less than an hour. The outer dimensions are 31" L x 30" W x 56" H.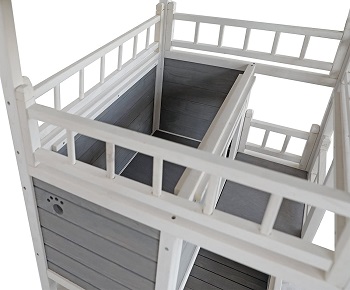 Easy To Maintain
The top is simple to open which helps a lot when you clean this wooden tree house for cats. The material is completely odor-resistant so if you decide to install this house indoors, you will have no problems with the bad smell.
In Short:
for indoor and outdoor use
made of study and natural cedar wood
painted in pet-friendly grey and white paint
capacity is 1 to 5 large cats
this unit is sturdy and durable
stands on casters and is easy to move
BEST SMALL WOODEN CAT TREE NO CARPET
AmazonBasics Tree With Posts No Carpet
Wooden With Scratching Posts
The AmazonBasics manufacturers have made a modern and contemporary wooden tree for cats. This is an all-wood cat tree no carpet. It includes one scratching post that is easy to remove. This small tree keeps your cat away from furniture and allows it to stay active.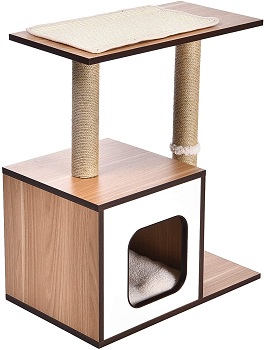 Interactive And Convenient
This small wooden tree is ideal for one cat of any size. The wooden material and wide base make this unit incredibly stable. At the base, your cat will get to rest and sleep inside of a spacious cat condo. There are two top platforms included and two scratching pillars.
Size And Weight
The overall dimensions of AmazonBasics wooden cat tree with no carpet are 23.62 x 14.57 x 28.74 inches. The unit is space-saving and will fit into any household. This wooden cat tree no carpet weighs 22.5 pounds. It is not easy to overturn so your cat can play peacefully.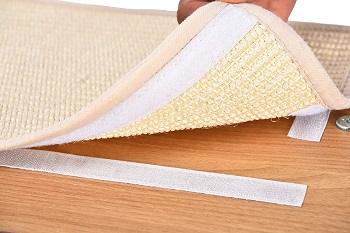 Quality And Price
This small unit for one cat is made of natural wood and claw-safe scratching and durable jute rope. The rough texture of the scratching board and pillars contributes to healthy cat nails and encourages the cat's natural instinct. The cost of this tree is medium. Not cheap, but neither very expensive.
In Short:
no carpet, but includes scratching posts
made of natural wooden material
there is one spacious condo at the base
this is a wide-based cat tree
its capacity is one cat of any size
BEST LARGE ALL WOOD CAT TREE NO CARPET
N/C Solid Wood Cat Tree
Multiple Playing Levels
This is a 4-level cat tree that is made of strong and sturdy solid wood. It comes with no carpets so you can add them yourself if you wish. This white cat tree's capacity is two cats. It includes a wide base, one spacious condo, a hammock, interactive hanging balls, and scratching pillars.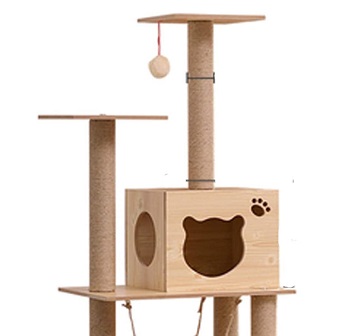 Durable And Stable
The wide base of this wooden cat trees no carpet guarantees its stability and two-cat carrying capacity. The solid wood material makes the tree long-lasting and safe for playing, running, climbing, and other cat's everyday activities such as sleeping and scratching.
The Carrying Capacity
We have already stated that this tree will ideally carry one or two cats. Please, do not buy wooden cat trees no carpet that are not safe enough for your cats. So, if you have more than two cats, be sure you check out other units. Otherwise, the unit may break and your cats might get hurt.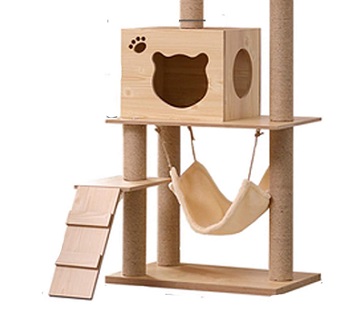 Clean The Tree Regularly
You already know that cats like hygiene. They are one of the cleanest animals and often spend 40-50% of their waking time grooming. If you don't maintain your tree clean, cats won't use it. So, to make your cats happy and keep them healthy, be sure you clean the tree often.
In Short:
this is a tall and 4-level cat tree
the tree is perfect for 2 cats
it is made of durable solid wood
the cleaning is simple and fast
fully-equipped, fun, and large
BEST MODERN ALL WOOD CAT TREE NO CARPET
Trixie Small Wooden Cat Tower House
Small And Modern Construction
Trixie's wooden unit for cats can be characterized as a tree house. It is a small, wide, and spacious wooden home for cats. It is modern and fancy. It features a spacious condo with a large top balcony and a side climbing wall. This unit comes in white and grey color.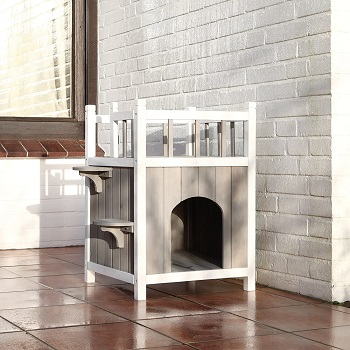 Climbing Wall
The side climbing gym wall will make your cat stay active. Your cat will get to decide how to climb the top latticework balcony – climbing the side wall or simply by jumping directly into it. This all-wood cat tree no carpet unit is freestanding and stable.
Customize The Tree House
Since there are no carpets and no scratching boards or pillars, you will be able to add them yourself, if you wish. Also, this wooden cat tree no carpet can be used indoor and outdoor. You can add a soft and warm cushion to the cat condo or attach hanging toys.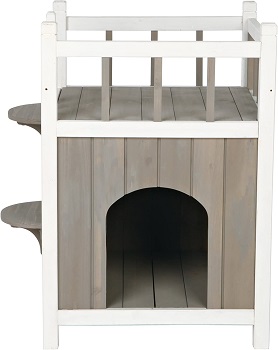 Air Circulation
The cat condo has one large front opening. This allows your cat to keep an eye on its surroundings and to feel safe about its environment. At the same time, the opening allows the fresh air to circulate the condo all the time.
In Short:
this is one wide and small cat tree house
it comes in grey and white color
there are no included toys
comes with a cat condo and a top balcony
it is perfect for one cat
BEST BIG WOODEN CAT TREE NO CARPET
Gutinneen Large Cat Tower House Outdoor
Large And Outdoor Use
Many people like to keep their cats outdoors. If you have more than one or two outdoor cats and you want to get them a large cat tower house playground, then consider buying the Gutinneen unit. It is a rather unusual cat tree house with two levels and a lot of space.
Water And Weather-Resistant
This wooden cat tree house is made of safe and natural material. It is painted in pet-friendly, anti-rust, and water-resistant paint. The unit can withstand all temperatures. It comes with a water-proof roof and it will last a long time.
Easy To Move
Thanks to the four strong rolling wheels that this unit stands on, you can move it and roll it easily. The wheels can be secured when not in use which makes this wooden cat tree no carpet by Gutinneen completely safe and stable.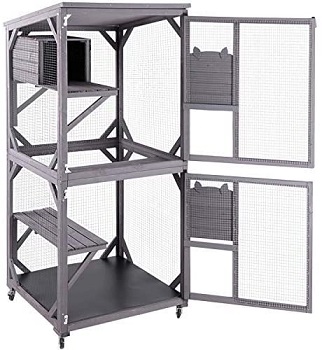 Inside Content And Material
The inside of this wooden tree house for cats includes two levels, an inside platform, and a wooden cat condo. There are two large openings, each on one level. The house is made of wood, metal, and robust wire. It is safe, secure, and well-ventilated.
In Short:
this is an outdoor cat tree house
it is spacious, large, and tall
the tower house is stable and durable
Gutinneen house stands on 4 casters
it is simple to move and roll
BEST WALL ALL WOOD CAT TREE NO CARPET
Cjupzi Wall Mounted Cat Tree Playground
Modern Wall-Mounted Tree
If you are searching for something special and unique, read on. This is a modern version of an all-wood cat tree no carpet. It is a wall-mounted cat playground that represents a cat tree. You can install it as you wish and with no hassle.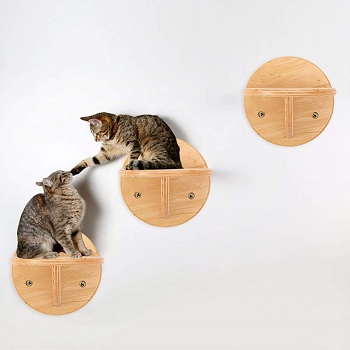 The Easy Installation
Install the wooden cat tree no carpet shelves to the wall as you want. Ideally, it should look like a cat tree waterfall or a tall narrow cat tree. All the accessories and hardware are included. You will need less than half an hour for installing this modern wood cat tree to the wall. The instructions are provided by the manufacturer.
Firm And Secure
Each platform will carry one cat, no matter the size. So, no matter how many cats you have at home, you can get this cool product. Each shelf measures approximately 5.12*5.12*4.72 inches and it is made of sturdy and strong solid wood.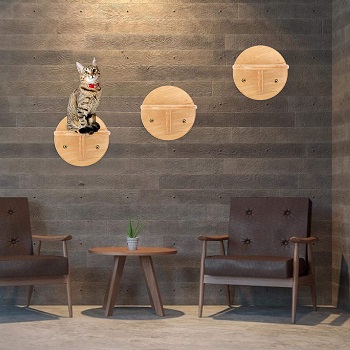 Useful Details
If you have a modern home and if you like to have something different and unique at home that will still have the same function as a classic cat tree, then this product is definitely for you. The price is very affordable and you can customize the platforms by adding scratching boards or hanging toys.
In Short:
install this modern cat tree as you wish
the installation is quick and simple
the shelves are sturdy and firm
each shelf fits any-sized cat
the shelves are easy to clean
How To Pick: All-Wood Cat Tree No Carpet
Whether you have indoor or outdoor cats, you can only benefit from owning a wooden cat tree. Cats are active animals and if you don't get them a tree or a tower house, they will easily find an alternative. Many times the replacement for a tree is your furniture, which can be annoying. Our guide will help you find the perfect wooden cat tree no carpet that will keep your cat happy, safe, and occupied.
Cat Tree Benefits – What makes cats happy and healthy, besides sleeping, is running, climbing, jumping, and other similar activities. If you have one cat, you need to keep it occupied by engaging with it. However, you may not always have enough time to play with your cat. This is why you'll need such a unit. If you have more than one cat, a tree may reduce possible cat conflicts.
Indoor And Outdoor Use – No matter where your cats are mostly staying – outside or inside of your home. They will definitely be happy to use a wood cat tree. It will be an additional piece of equipment for them to explore, sleep or play in. If you are buying an outdoor tree house, get the one made of anti-rust, weather-resistant, and water-proof material.
Stability And Capacity – A wide cat tree will definitely be the most stable one. However, there are many models that can be attached to the wall for extra stability. Also, you may like getting a modern cat tree that is made to be completely wall-mounted and looks like a shelf playground. Take into consideration the tree's maximum capacity and the number and size of your cats that it can carry.
Pet And Claw-Friendly – An ideal wooden tree or house tower comes with smooth surfaces and zero sharp edges. To be sure that your cats are completely safe, you must look for a tower or tree that is made of natural wood and other non-toxic and pet-friendly material. Also, if the tree includes a scratching board or pillars, your cat's nails will stay healthy and strong.
Extras And Cat Toys – Apart from the scratching accessories, when buying a wooden cat tree no carpet you will often find platforms, cat condos, balconies, and interactive toys such as balls or ropes. Since you will be getting an all-wood cat tree no carpet, you will be able to customize your tree or house and add the decorations, toys, and other equipment yourself.
To Sum Up
One of the best all-wood cat tree no carpet is surely the N/C Solid Wood Cat Tree model. It has got everything that cat need for their everyday activities. This is a wooden cat tree no carpet that is safe, secure, and stable. It is also an easily washable cat tree model. If you want to learn more about similar models, read our reviews of the best tall cat towers for large cats.