If you are in need of a 3-tier hamster cage, then you shouldn't miss reading our article.
We have prepared six reviews about the best of best, cute, with tunnels, portable, cat-proof, and blue 3-level hamster cages. Read and learn all the details that will help you choose the best cage for your hamster.
The Summary
6 Best 3-Tier Hamster Cages Reviews
BEST OF BEST 3-TIER HAMSTER CAGE
Aleko Deluxe Hamster Cage 3 Levels
Made Of Natural Material
Aleko hamster cage is made of fir wood frame, acrylic panels, and mesh top. The cage provides your hamster with a natural environment. There is plenty of space inside of this 3-tier hamster cage. Your one or two hamsters will feel safe and comfortable inside of this cage.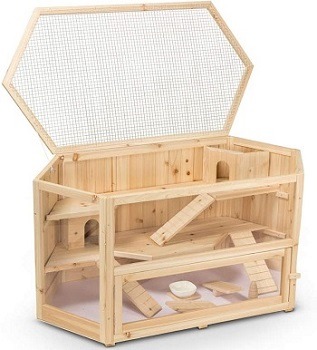 The Cage's Inside
Inside of the Aleko cage, you will find three levels, three small ladders, two wooden hideout houses, and a small food bowl. There is almost all that your hamster needs. Add a hamster litter box, a water bottle, fill the cage with bedding, etc.
Spacious And Cozy
The Aleko cage is large and wide. The overall dimensions are 44 x 24 x 23 inches. The cage is heavy-based and it weighs approx. 25.9 pounds. We are sure your hamster or two hamsters will feel comfortable, happy, and occupied inside of their new habitat.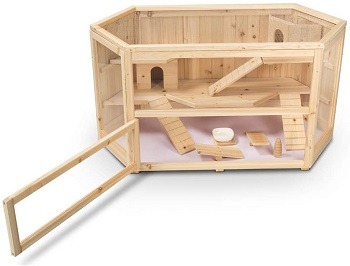 The 2 Openings
You can open the mesh top of this cage and the front acrylic panel as well. Choose which part you will open when you decide to clean the cage or refill the food bowl. We suggest you open the top. This is how your hamsters won't be able to escape the cage.
In Short:
Aleko cage is made of quality materials
made of fir wood, mesh top, and acrylic panels
there is a lot of space inside the cage
this enclosure fits up to 2 hamsters
there are 2 opening – top and front
BEST CUTE 3-TIER HAMSTER CAGE
Iris 3-Tier Hamster Cage
Choose Cage's Color
There are three top and base colors that you can choose from. The Iris 3-level hamster cage comes in pink, red, or blue color. Choose the color you like the most. The middle part of the Iris cute hamster cage is transparent and well-ventilated.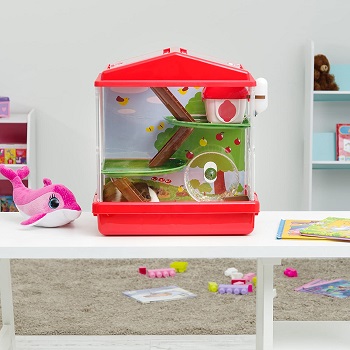 Comes With All Content
The Iris cage includes all that your hamster is going to need to live a happy and active life. There is a small and safe hamster treadmill, plastic platforms, a hamster hideout house, and ladders. Add bedding to the cage and allow your hamster to dig and play.
Small And Safe
If you have only one hamster, then this cage will be perfect for you. It is an ideal cage that keeps your hamster occupied and provides just enough space. The cage has smooth surfaces and is completely pet-friendly. The size is 17.72″L x 12.20″W x 19.29″H.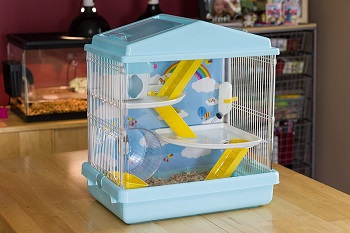 Useful Details
The bar spacing of this cage is tight (3/8") which makes it perfect for hamsters. Your pet hamster won't get stuck between the bars and won't get hurt. There are two openings that allow easy access – the top and front.
In Short:
comes in pink, red, or blue color
includes all important content
ideal for one small hamster
the bar spacing is only 3/8"
this cage is pet-friendly and long-lasting
BEST WITH TUNNELS 3-TIER HAMSTER CAGE
Mcage 3-Tier Hamster Cage
General Description
Mcage hamster cage comes with a blue non-leak plastic base and white wires. The wires are resistant to hamsters' bites. The bar spacing is tight and the cage is easy to expand and customize. It comes equipped and fits one hamster or two dwarf hamsters. Choose where to install the tunnels.
The Play Area
This three-level hamster cage includes internal-external play tubes and tunnels. Apart from that, the inside of the cage has multiple platforms, ladders, a hideout house, and a running wheel. Your hamster will stay healthy and occupied.
Circulation And Doors
You should avoid getting your hamster a cage that is not well-ventilated. The Mcage 3-tier hamster cage allows the fresh air to circulate all the time which is important for your hamster's health. There are two doors that allow you to access the cage with no hassle.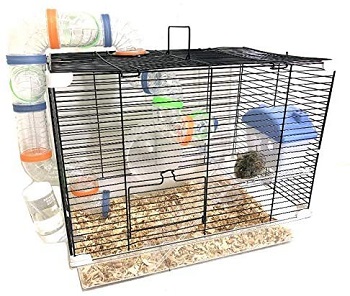 For All Hamsters
Mcage hamster cage will fit hamsters of any size. If you have a dwarf hamster or even two, this cage will be just fine. Also, you might have a Syrian hamster. This blue hamster cage is spacious enough and will fit a larger hamster as well. You can as well get a cage with transparent bottom if you prefer.
In Short:
blue plastic base and white wires
the cage is leak-proof and bite-resistant
it includes tunnels and play area
fits hamsters of any size
there are two access doors
BEST PORTABLE 3-TIER HAMSTER CAGE
Petzilla 3-Level Hamster Cage
Three Cage Colors
Petzilla cage is made in three different colors. The wires come in white, but the cage content comes in pink, blue, or brown. Choose between the Petzilla three-level hamster cage that you like the most or the one that fits your home decor.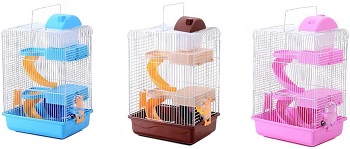 Tall And Fun
Petzilla multi-level hamster cage is a tall habitat for hamsters and other small animals. This 3-tier hamster cage will keep your pet occupied and active. It is made of safe and chew-proof wires and smooth and durable plastic cage content.
Easy To Carry
This cage is pretty lightweight. Also, it comes with a large top handle that makes the cage easy to carry. The Petzilla portable hamster cage will make the short trips or visits to the vet less stressful. You don't need to switch cages if you need to go somewhere.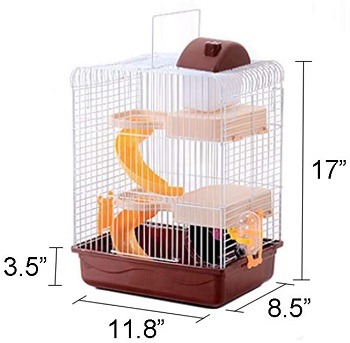 The Assembly
The cage needs to be put together. The assembly is simple and fast. You will do it in no time and the assembly requires no additional tools. If not in use, this cage is simple to de-assemble and put together back again when necessary.
In Short:
choose the content color you like most
cage is tall and multi-level
the inside is smooth and pet-friendly
this cage is easy to carry
it includes a large top handle
BEST CAT-PROOF 3-TIER HAMSTER CAGE
Aivituvin Three-Tier Hamster Cage
Wooden Frame
The Aivituvin is a large wooden hamster cage. It is made of a natural wooden frame and see-through front. The sides are made of secure mesh and allow the fresh air to access and circulate the cage. This cage is sturdy and heavy-based.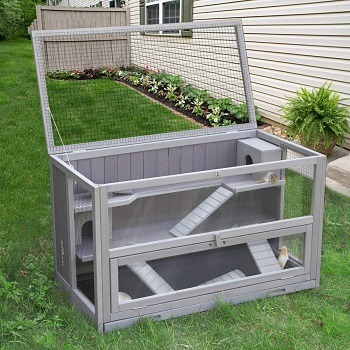 Fun Content Included
This 3-tier hamster cage by Aivituvin includes a chewing toy, ladders, and hideouts. You will need to add extra accessories, decorations, and toys for your hamster. We suggest you get a food bowl, drink bottle, a wheel, and play tubes.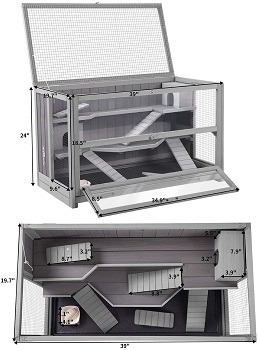 Fits Two Hamsters
This cage is quite large and spacious. So, if you have two or even three hamsters, you can get this three-level hamster cage and allow them to interac, live, and play together. Each hamster will have enough private space.
In Short:
made of wood and transparent front panel
the sides are made of safe mesh
this cage is well-ventilated
ideally fits two small hamsters
includes ladders, hideouts, and a chewing toy
BEST BLUE 3-TIER HAMSTER CAGE
Prevue Hamster Cage 3 Levels
Green, Yellow, And Blue
The base of the Prevue cage is deep and made of sturdy blue plastic. The wires come in white color. They are painted with pet-friendly paint. The inside of the cage comes with green plastic platforms and yellow spiral slides.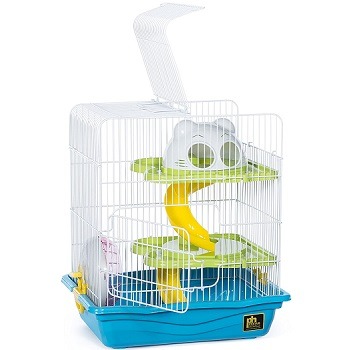 Ideal For One
The Prevue 3-tier hamster cage is perfect for one hamster. Its size is 14″ long, 10 1/2″ wide, and 16″ high. There is just enough private and play space for one hamster. The cage has all that a pet hamster needs.
Portable And Lightweight
Prevue 3-level hamster cage is lightweight and easy to lift and carry. There is a top handle so you can use this cage for traveling. Prevue portable hamster cage is convenient for those who don't want to get another cage just for traveling or visiting the vet.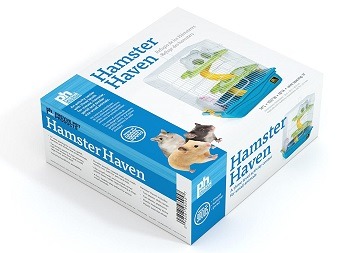 Why We Like It?
We consider this enclosure safe, secure, pet-friendly, and escape-proof. We suggest that you put it out of your other pets' reach. This cage by Prevue is simple to access and clean. It is made of non-toxic materials. The material is odor-free and anti-rust.
In Short:
comes in many different colors
the cage has a non-leak base
this cage includes a top handle
it is easy to carry when traveling
the cage is perfect for one hamster
How To Pick: 3-Tier Hamster Cages
Getting your little friend the right three-level hamster cage will make it feel happy, occupied, and cozy. There are several characteristics that make a hamster cage safe and fun. Read on and learn why the size, space, quality material, and other features are so important. We hope our guide will help you choose the right cage.
Size And Space – Do you need a cage for one or two hamsters? Do you have a dwarf hamster or a Syrian hamster that requires a lot of space? Are you going to need to move the cage often or you will have it in one place only? These are the kinds of questions that you should ask yourself in order to know the size of the cage you are looking to buy.
Cage Quality – Once you have figured out the right size for your hamster, you need to check its quality. The manufacturer must guarantee that the cage they have designed is pet-friendly and made of bite-resistant and non-toxic material. The cage must be escape-proof and safe.
Ensure Hamster's Safety – An ideal hamster cage comes with smooth surfaces and without sharp edges. Another characteristics that is of utmost importance is the bar spacing – the tighter the better. You wouldn't want your hamster's paws to get stuck between the bars, would you?
The Ease Of Cleaning – The cage you are looking to buy should have easy access to the inside. You will need to clean the cage and refill the food dish every day. Ensure that the cleaning time is short and look for a cage with a removable tray and large access doors.
Cage Extras – Some 3-tier hamster cages already come fully-equipped, while others have no cage content included. Hamster cages are easy to customize so, even if your cage comes without any equipment, you can easily add hamster cage decorations such as a litter box, food bowl, a running wheel, tubes, or platforms.
To Sum Up
Before we conclude this article, we will mention again a 3-tier hamster cage that we like the most. It is the Aivituvin Hamster Cage. The reason why we think this cage is the best is its wooden structure and natural environment. Also, it is large and spacious and fits hamsters of all sizes, even Syrian hamsters. For similar models, check out the article about large Syrian hamster cages. If you need a smaller model, find it in our article about 2-level hamster cages.