Are you in search of a portable hamster cage for traveling?
Great! We have gathered the six best models of the online market.
Check them all out and see one of the best, cute, or small cages could be the right for you. Don't miss our buying guide to help you choose the best model.
The Summary
Top 6 Portable Hamster Cages
BEST OF BEST PORTABLE HAMSTER CAGE
Misyue Hamster Travel Cage
General Overview
The Misyue travel hamster case is easy to carry. It comes with a water bottle. The cage is made of safe ABS material. It is odor-free and safe for your hamster. The material is non-toxic. This cage is designed to keep your hamster secure during travels.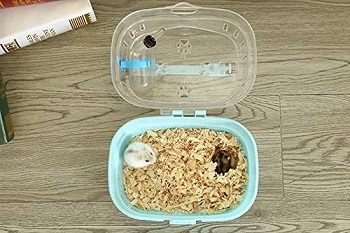 The Transparent Design
This portable hamster cage comes with blue plastic leak-free bottom and transparent top. The top will serve your hamster as a big window. It will get to curiously look around and you will be able to see it at all times. This cage comes with a grid design and allows your pet to breathe.
The Size And Price
This portable hamster enclosure measures 5.5 x 8 x 5.1". It comes with the top handle and it is very lightweight (0.44 pounds). The price of this carrier is very cheap and affordable for anyone. We consider this product one of the best hamster carriers on the online market.
Why Buy Misyue?
The reason why we consider the Misyue the best is because of its safety and price. The cage is lightweight and there is no hassle in carrying it. Moreover, it is very simple to clean. The cage is well-ventilated and completely secure.
In Short:
lightweight and easy to carry
small and fits one hamster
the cage's top is transparent
it is well-ventilated
the cleaning is hassle-free
this cage is odor-free, safe, and secure
BEST TRAVEL PORTABLE HAMSTER CAGE
Megawa Portable Hamster Enclosure
For Small Animals
Use this portable hamster cage for your small pet animals. The pets that fit into this cage are hamsters, dwarf hamsters, Syrian hamsters, mice, or gerbils. You can use this cage for multiple purposes. Make sure your hamster doesn't stay inside for too long.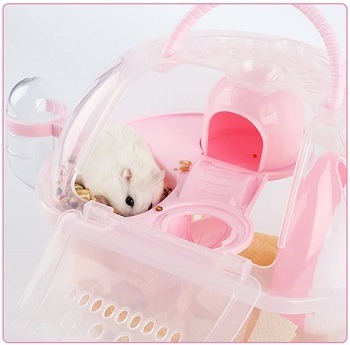 The Travel Design
The Megawa small hamster cage for traveling measures 11.42″X 9.05″ X 9.05″. This interesting travel carrier fits one hamster. It is ideal for temporary use like going to the vet. It is made of non-toxic plastic. It comes in blue, yellow, green, or pink color.
Safe And Fun
Your pet will stay safe and healthy in this cage. The cage is transparent and includes the vent holes. The fresh air is always coming in. The cage can be securely locked. It has no sharp edges, only smooth surfaces. It includes a hamster wheel and a cabin.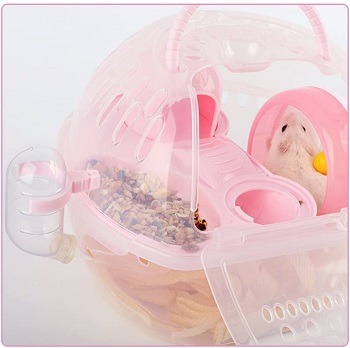 What More Is Included?
The package comes with the main hamster travel carrier that includes a cabin and a wheel. There is a small food bowl and a water bottle included too. This modern hamster cage allows you to travel easier and hassle-free.
In Short:
a safe and transparent cage
includes many vent holes
fresh air is coming in all the time
lightweight and easy to carry
comes with a small hamster wheel
includes water bottle and food bowl
BEST CUTE PORTABLE HAMSTER CAGE
Habitrail OVO Portable Cage
For Short Trips
This portable hamster cage by Habitrail is very small and is ideal for short travels. Use it when visiting the vet. The cage can be securely locked. It features a wide-opening door that allows you to access more easily.
Two Functions
This cage's functions are multiple. You can not only use it as a small hamster carrier but also expand it and make it a small and entertaining living space for your hamster. Get more add-ons, trails, mates, tubes, and tunnels, and expand this carrier to make it a long hamster cage.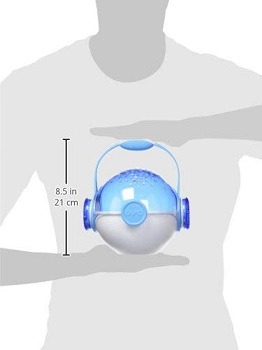 Cute And Small
The Habitrail OVO hamster portable cage comes as a very interesting and small carrier. It is perfect for your hamster or dwarf hamster. This carrier's overall dimensions are 7 x 7.8 x 5.4 inches. The product weight is 11.64 ounces.
In Short:
use it as a hamster carrier
Habitrail OVO is ideal for short trips
expand it and make it your hamster's home
attach tubes, tunnels, and other add-ons
the cage is cute and lightweight
comes with a large top handle
BEST SMALL PORTABLE HAMSTER CAGE
Iris Small Hamster Cage
The See-Through Design
The Iris small cage carrier for hamsters comes with a transparent top and leak-proof bottom. It provides enough space for your little buddy. The cage comes with many vent holes and the fresh air is coming in all the time. The top of the cage is see-through.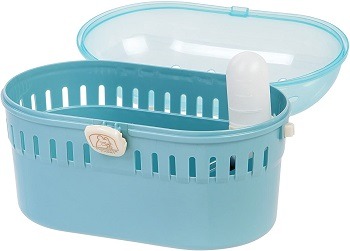 What To Have In Mind
Make sure you use this carrier only temporarily and for short travels such as visiting the vet or similar. You should have a large or tall hamster cage for your pet's everyday life and activities. The Iris portable hamster cage includes a bottle and makes your hamster feel comfortable during the travel.
Small And Lightweight
This cage is very lightweight and easy to carry. It comes with a top handle. The top opens easily. The weight of this product is 9.6 ounces. This hamster travel carrier's internal dimensions are 8 ¾ x 4 ¾, height of 4 ¼ to the top of the basket (excluding the dome).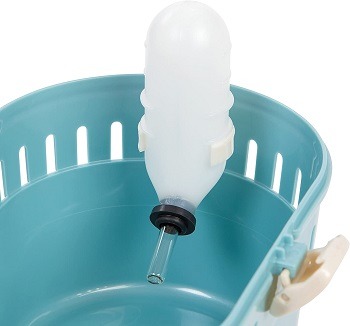 The Good Price
You can get the Iris small hamster travel carrier at a budget-friendly price. We consider this basket for traveling cheap and convenient for all the hamster owners to have. Check it out online and find out more about this great item.
In Short:
great for temporary travel use
very small and lightweight
the top can be opened
the cage is well-ventilated
the price is budget-friendly
BEST METAL PORTABLE HAMSTER CAGE
Petzilla Hamster Portable Carrier
The Metal Design
The Petzilla wire hamster cage is made of safe iron and plastic bottom. This cage is leak-free and chew-proof. It comes with a narrow space between the bars and the top handle. You can carry this cage easily. It measures 10.6" in length 8.2" in width and 11.8″ in height.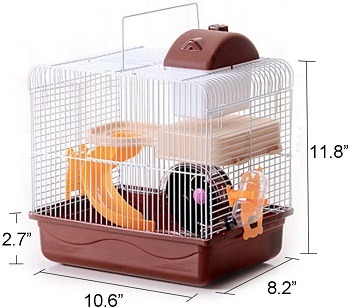 The Fun Activity Accessories
The Petzilla portable hamster cage is a 2-tier enclosure. It includes an exercise wheel, a spiral slide, a plastic water bottle, and a food dish. Your hamster will have enough space for all of its fun activities and it will feel comfy and safe.
Easy To Access The Cage
There are the top and front doors that provide you with easy access to the cage. You can feed and play with your hamster as much as you want. Moreover, this cage is easy to clean as well. You can use it as your hamsters home as well.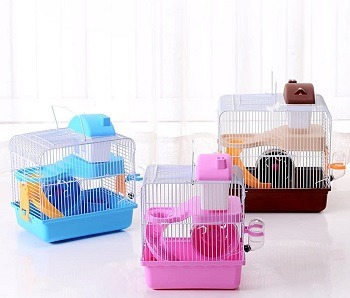 For Everyday Use
Thanks to the larger dimensions of this cage, your hamster will get to live in it as well. This cage is 2 in 1. It is your hamster's habitat and a travel enclosure. The top handle will make the travel easier. The cage is lightweight and the price is pretty cheap.
In Short:
this is a 2 in 1 hamster cage
serves as a portable and everyday cage
comes with a convenient top handle
the cage provides enough space
includes the activity area
comes with a water bottle and food bowl
BEST BLUE PORTABLE HAMSTER CAGE
Alfie Pet Hamster Travel Cage
Small And Easy To Carry
The Alfie hamster portable cage is another small and lightweight enclosure. Use this cage for short periods. The cage is ideal for taking your hamster to visit the vet. It comes with a blue plastic leak-free bottom, a transparent top, and a handle.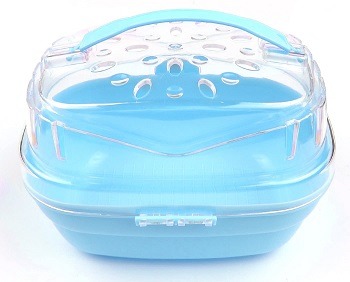 The Quality And Price
The Alfie cage for hamster is very cheap. It is convenient to have such an item at home. The quality of the cage is pretty good. It is made of hard plastics and it will last you a long time. This cage has only smooth surfaces and can be securely locked.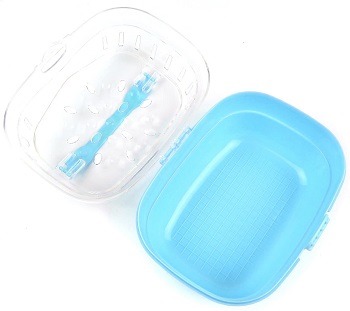 The Maintenance And Ventilation
The Alfie portable hamster cage is very simple to maintain clean. It is odor-free and can be accessed easily. The top of the cage can be opened. The cage comes with many vent-holes so your little friend will have the fresh air coming in. Add it a small plastic hamster house or other mini toys.
In Short:
made of sturdy and durable plastics
it is non-toxic and safe for hamsters
lightweight and easy to carry
it is cheap and convenient to have
includes the ventilation holes
How To Pick: Portable Hamster Cages
What you should have in mind before buying a portable hamster cage is not only the size but the weight. Then, your new travel cage should be sturdy and must include a strong top handle. Read on to learn which other things you should check out before buying such a model.
The Cage Should Be Small And Lightweight – You will need to use the travel hamster cage only from time to time. This is why a small-sized cage is the perfect one. The cage shouldn't' weigh too much because you will need to carry it. You wouldn't' want it to be a hassle.
The Sturdy Design – Most of the travel and portable cages are made out of plastics or metal. It is important that your cage is sturdy and durable. It should have a large top handle to make it easy to carry. The cage made of strong material will last you longer and won't break easily during transport.
The Space – Don't forget that, even though you are going to use such an item for a short period, your hamster still needs to have enough space. It is advisable to get a cage that fits a water bottle and possibly a hamster toy, plastic or wooden hamster hideout, or another fun accessory.
Safe And Secure – Buy a cage the can be securely locked, but also easily unlocked by you. The wire spacing of your hamster cage should be narrow. There should be no sharp edges that could harm your pet. The ideal cage is the one that can be opened and maintained easily.
The Price And Where To Buy – The price of all of these products is very affordable and we consider that such an item is convenient to have at home. Buy the travel cages in any pet shop, or even better, check them out online. Make sure to buy from a reliable retailer!
To Sum Up
In the end, we would like to say that we liked a lot the Habitrail OVO Portable Cage. It is great to be used as a portable hamster cage. We love the fact that you can expand it easily and use it as a fun everyday habitat with many hamster toys. We find it a cool and modern hamster cage. For more similar models, we suggest you check out our reviews about the hamster play houses.