Are you looking for a tall hamster cage?
Great! Your little fur friend will love the idea of running up and down a tall enclosure. Read our article and find out all you need to know about the best six tall cages from the online market. Don't miss our buying guide as well.
The Summary
Best 6 Tall Hamster Cages
BEST OF BEST TALL HAMSTER CAGE
Aivituvin Tall Hamster Cage
The Natural Design
This hamster cage made by Aivituvin is constructed out of fir wood. It is water-resistant. Your hamster will love to hang out in it and it will feel safe and comfortable. This is one of the most natural habitats for your hamster. It includes a storage shelf under the cage for convenience.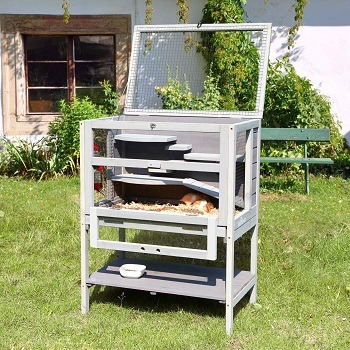 Safe And Tall
This hamster cage's dimensions are 23.6″L x 15.7″W x 31.5″H. This cage is tall which will make it easier for you as well. You will get to access the cage without hassle whenever you need to. The cage comes with no sharp edges.
The Activity Area
There are six platforms included in this cage which provide your hamster with a large activity zone. There is a ladder as well so your hamster will get to climb. There is a lot of additional space for you to add a hamster igloo, litter box, or a small hideout house.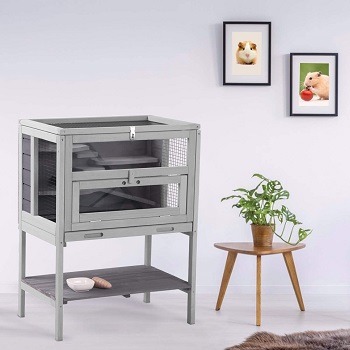 It Is Well-Ventilated
There is a large top made of wire. The wire is chew-proof, but also hard to reach. The air circulation will allow your hamster to feel well all the time. There is also a front opening so you can reach for your pet or clean the inside.
In Short:
this cage is tall and safe
it is made of fir wood
the cage provides a lot of space
allows your hamster to stay active
it is easy to open and clean
BEST BLACK TALL HAMSTER CAGE
Little Friends Hamster Enclosure
The Budget-Friendly Cage
This tall hamster cage comes at an affordable price. It is of good quality and well-ventilated. This cage fits one or two hamsters. Its budget-friendly cost makes it one of the best hamster cages of the online market.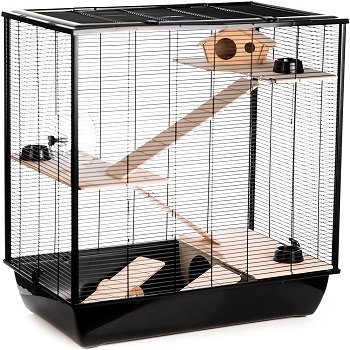 The Hamster Toys And Accessories
There are many different toys and decorations included in this cage. They will provide your hamster a comfortable and fun active life. What comes included are the small wooden hamster hideout, two platforms, three ladders, a wheel, and more.
The Size And Wire Spacing
This tall cage's size is 30.71 x 18.9 x 31.5 inches. The cage is large and tall enough for one or two hamsters. The space between this cage's bar is less than half an inch which makes it completely safe.
How To Access The Inside?
It is important that your new cage has a good access door. The Little Friends tall cage for hamsters includes one access door. The door is not too large, but the maintenance of the inside of the cage is still hassle-free. The door can be secured.
In Short:
tall and made of safe material
the size is 30.71 x 18.9 x 31.5 inches
this cage fits 1 or 2 hamsters
it includes platforms and ladders
it comes in black color
BEST MULTI-LEVEL TALL HAMSTER CAGE
Mcage Cage For Hamsters
The Transparent Design
This Mcage's model of a hamster cage comes with a transparent deign for better visibility of your pet. The cage has three levels and a lot of vertical space. Your hamster will have all the fun inside of its new habitat.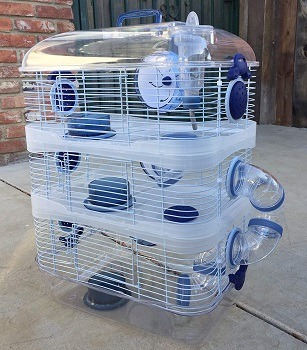 Fits Two Hamsters
Since there are three levels, you can fit two hamsters inside of the Mcage tall hamster cage. There are plastic shelves that are completely safe for your pets. This cage is made of non-toxic materials and it measures 16″Length x 11″Depth x 22″Height.
Use It For Travel
In case you need to move or take your hamster to the vet, you won't need to change the cage. The Mcage enclosure is portable and suitable for carrying. This portable hamster cage includes a top handle. The cage is lightweight and easy to carry.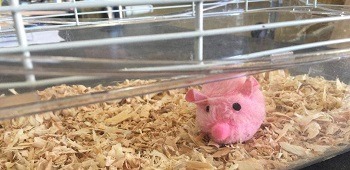 Last Useful Details
In case you want to expand your hamster's habitat, you don't need to change the cage. This cage can be connected to other Mcage (or any other brand) cages, tubes, and tunnels and thus create even more space. It is simple to set it up.
In Short:
the cage is tall and lightweight
it is easily portable
use it for travel or vet visits
expand it and create more space
easy to assemble the cage
BEST CUTE TALL HAMSTER CAGE
Prevue Small Animal Cage
Colorful And Modern
The Prevue modern hamster cage comes with a colorful and fun hamster play area. There are three colors of the cage that you can choose from – green, orange, or blue. This cage has a lot of space for all of your hamster's everyday activities.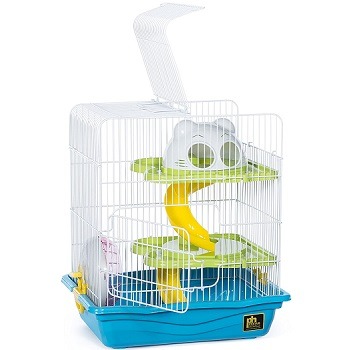 The Play Zone
This cage comes with fun platforms, plastic slides, a running hamster wheel, and a small plastic hamster house to use as a hideout. The cage allows you to add a few more smaller-sized hamster toys.
The Material Used
The cage is made of chew-proof wires that are coated in non-toxic powder. The cage is well-ventilated. It has got a plastic bottom that is completely leak-proof. This cage is simple to maintain clean and easy to access.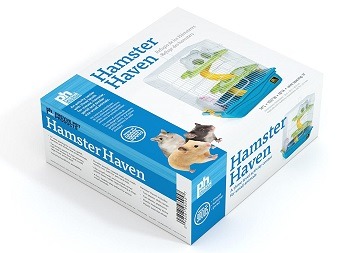 More Characteristics
The cage can be secured. The space between the bars is narrow so your hamster won't have the chance to escape it. The size of this tall hamster cage is 14″ L, 10 1/2″ W, and 16″ H. The cost of the Prevue hamster cage is budget-friendly.
In Short:
the cage is fun and modern
it is made of wires and plastics
includes slides and platforms
simple to access and maintain
BEST WITH TUNNELS TALL HAMSTER CAGE
Kaytee Tall Fun Cage
The Colorful And Tall Design
Get this cage by Kaytee if you want to have something different. This tall hamster cage comes in many different and fun colors. It already includes all that your hamster will ever need. It is fun, safe, and ideal for smaller-sized hamsters.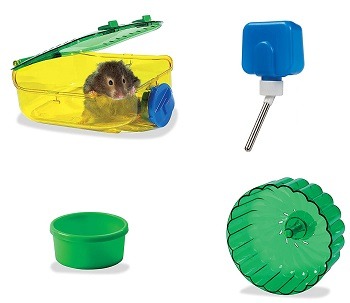 The Included Decorations
What you get with this cage are the running wheel that you install on the exterior, a look-out fun tower, a petting zone, tubes, and tunnels. There are the food bowl and plastic water kettle included.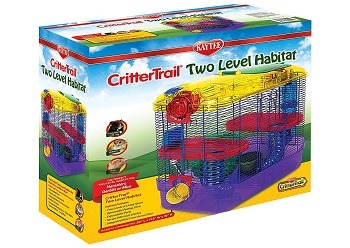 Expand This Cage
You can get more Kaytee products and expand the cage. Make it this hamster play house a large, cool, fancy, and multi-level hamster cage. In case you want to fit more hamsters into this cage, you will get to do it. Be creative and use your imagination.
In Short:
this cage can be expanded
already includes fun tubes and tunnels
this cage has platforms
the cage is made of colorful plastics
a food bowl and water bottle are included
BEST AQUARIUM TALL HAMSTER CAGE
You And Me Wire High Rise
Why Get This High Rise?
If you want to make your tank a tall hamster cage, then try combining the aquarium or any 10-gallon tank with this high rise. The You And Me wire hamster cage is a perfect addition to your glass or acrylic aquarium and provides a lot of space.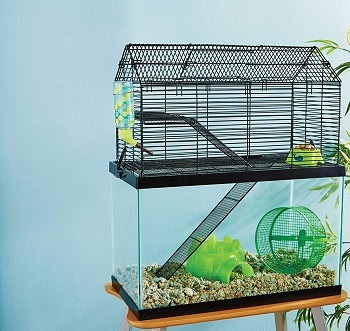 Safe And Ventilated
The cage is made of metal wires which allow the fresh air to come in. The wires are coated in non-toxic powder and the bar spacing is narrow. This high rise is ideal for medium to large-sized hamsters. It is much safer for them than for the small ones.
The Size And Set Up
The cage's dimensions are 19.25″ L X 9.75″ W X 11.5″ H. This tank topper gets easily installed onto any 10-gallon aquarium. It creates a double living space and gives your hamsters more opportunities for activities. The set up is quick and simple. You can attach the topper to the aquarium easily and in no time.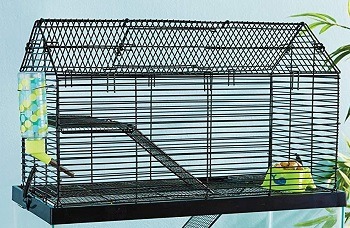 The Price
The You And Me tank topper high rise is a quality wire topper that almost anyone can afford. If you want your hamster to feel comfortable, happy, and live in a spacious habitat, then you should definitely get this cage. It is convenient and budget-friendly.
In Short:
easy to install to the aquarium
made of safe and non-chew wire
provides a lot of space
measures 19.25″ L x 9.75″ W x 11.5″ H
the price is very affordable
How To Pick: Tall Hamster Cages
What makes a good hamster owner? Well, the most important thing is to get your hamster a good and tall hamster enclosure. It should have enough space, be safe and secured. Moreover, a cage that fits a lot of activity accessories is an ideal one. Read on to find out which other features you should look for in a tall hamster cage.
The Space– The taller the cage, the more vertical space there will be for your hamster. They are curious and active little animals that like to climb, run, jump, and explore. Never get your hamster a cage that is too small and doesn't have the space for all of their activities.
Safety And Security – What is a safe cage? A safe and secure cage is one that is made of toxic-free and sturdy material. Also, your hamster will want to chew on the wires, so make sure that your new enclosure is chew.proof. The access doors must have the possibility of being secured.
The Play And Activity Area – If your new enclosure does not already include a play zone or other hamster activity decorations, then no problem. Get an empty tall cage and customize it as you wish. The important thing is that your hamster stays active. This will make it healthier.
Additional Accessories  – Some of the toys and accessories that you can get are different hamster balls or bells. There are several types of slides, tubes, and tunnels that you can install in your hamster's cage. Moreover, you can get a hanging hammock or an external bathroom too.
Where To Buy? – The products that we have reviewed are all available online. Check them out on any reliable retail website such as Amazon or Walmart. Make sure the product has a lot of good customer reviews as well.
To Sum Up
In the end, we want to say that we liked the Little Friends Hamster Enclosure the most. The reason why is because it is tall and large. It fits larger hamsters or two small ones. It includes a lot of space for additional decorations, plastic or wooden hideouts, a hamster litter box, and other fun accessories. For similar models, read our article about large Syrian hamster cages.