If you are considering buying a hamster igloo for your hamster to play in, keep on reading.
We have listed the six best igloo houses to put inside of your hamster enclosure. Read all about the mini, blue, plastic, small, and other models and choose the one you like the most. Our buying guide is here to help you as well. Check it out.
The Summary
Best 6 Hamster Igloos
BEST OF BEST HAMSTER IGLOO
Kaytee Mini Igloo Hideout
The Ideal Size
This particular model of Kaytee's igloo is suitable for hamsters of all sizes. It fits smaller-sized hamsters and Syrian hamsters as well. It makes them feel comfortable and provides them with a perfectly safe resting zone.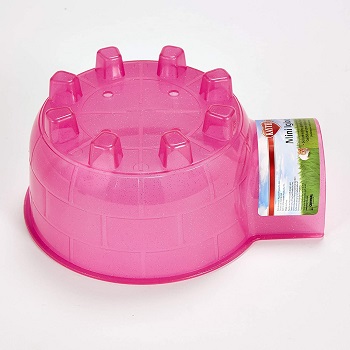 The Safe Material
This hideout is made of safe and toxic-free plastic. It is durable and pet-friendly. This plastic hamster house has no sharp edges that could ever harm your hamster. This igloo is easy to clean. It is odor-resistant as well.
Different Colors
You can choose between different colors. There is pink, blue, purple, and green. All of the igloos are translucent so you will be able to see your hamster while it is resting. These igloos encourage the natural instinct of nesting.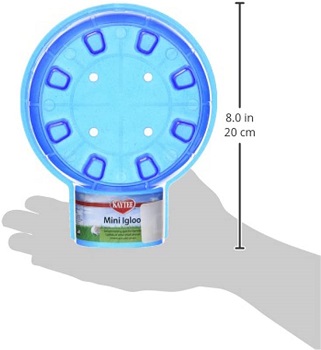 The Price And Quality
We consider this small igloo for hamsters very safe. It is made of good quality plastic that will not harm your hamster in any way. The cost of this hamster igloo house is incredibly affordable and convenient.
In Short:
suitable for all hamster sizes
fits into every hamster cage and enclosure
encourages the natural nesting instinct
the price is affordable
the house is made of toxic-free plastics
BEST BLUE HAMSTER IGLOO
Savic Hamster House
The Circular Design
The Savic igloo house comes circularly-shaped. It provides a lot of cozy and comfortable space on the inside. The house is made of durable and strong plastics. It is another house that is made of 100% pet-friendly material.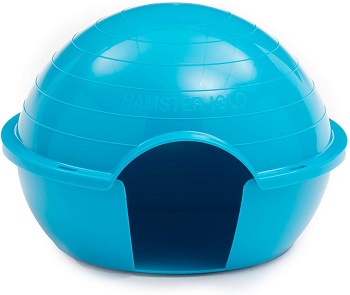 The Maintenance
Whenever you need to clean this Savic igloo house for hamsters, you can simply de-attach it. After the cleaning, just attach the upper and lower sides together again. You will notice that the igloo is completely odor-resistant and easy to clean.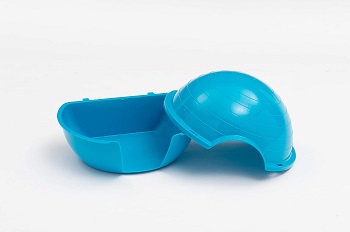 A Cute And Cozy Resting Area
We are that your hamster will love to rest in this hamster igloo house. It is cozy and spacious enough. It is suitable for small or dwarf hamsters. Choose between the blue or green color or simply get both of them and make your regular cage a fun hamster cage.
In Short:
comes as a circular-shaped igloo
suitable for small and dwarf hamsters
it converts your cage into a fun one
choose between the blue or green igloo
attaches and de-attaches easily
BEST PLASTIC HAMSTER IGLOO
You And Me Transparent Igloo House
The Product Overview
The You And Me igloo comes in translucent green or grey. Choose the color you like most. This igloo house is made of plastics and fits most of the hamster enclosures. The size is medium and fits all hamsters sizes.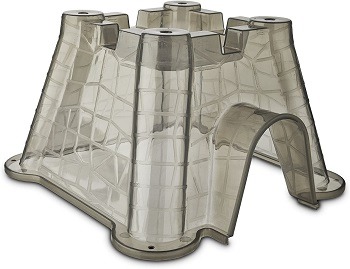 Stackable Design
If you want to make a fun play zone for your hamster, get two or more of the You And Me igloos and stack them. Make sure there is a way for them to reach the top house. For example, you can add a small hamster ladder or a platform.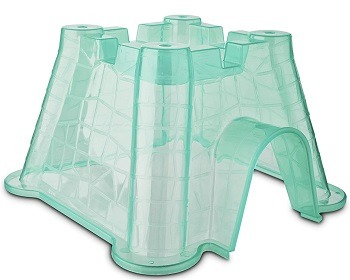 The Size And Cleaning
Each You And Me hamster igloo house measures 12 x 10 x 6.5 inches. The houses are very lightweight and they are easy to lift up and clean. Make sure to maintain the inside of the cage regularly and don't forget to clean the accessories as well.
In Short:
each igloo comes in translucent color
choose between the grey or green igloo
this house is stackable
easy to maintain and odor-resistant
suitable for all hamster sizes
BEST SMALL HAMSTER IGLOO
Living World Small Hamster Igloo
A Safe And Secure Place
Your little fur friend will surely like to hide inside of the Living World plastic hideout. Choose between the blue and red and put them inside of any enclosure, whether it is a small or tall hamster cage.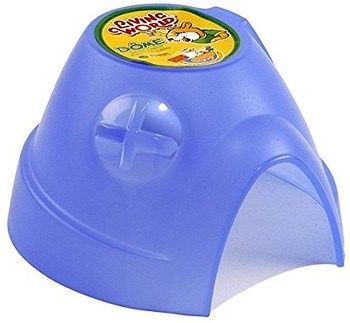 Durable And Odor-Free
The plastic used for making the Living World hamster igloo house is strong and long-lasting. It is not only odor-resistant but stain-resistant. It is simple to clean and comes with a smooth surface on the outside and inside.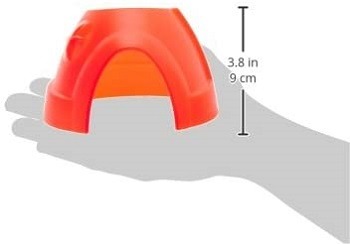 A Fun And Natural Option
Your pet hamster will probably hide its food inside of the hideout, apart from resting in it. Any hideout house will encourage the hamster's natural nesting instincts. Make sure your cage has at least one hideout.
In Short:
choose between the read or blue
this igloo is safe and durable
it fits into any hamster enclosure
your hamster will rest in this igloo
made of odor-free material
Living World igloo is easy to clean
BEST CERAMIC HAMSTER IGLOO
Niteangel Ceramic Hamster Hideout
A Cute Design
If you are looking to customize your new empty hamster cage why not consider an igloo with a cool and cute design? The Living World hamster igloo is shaped like a cupcake and converts your cage into an adorable hamster play house habitat.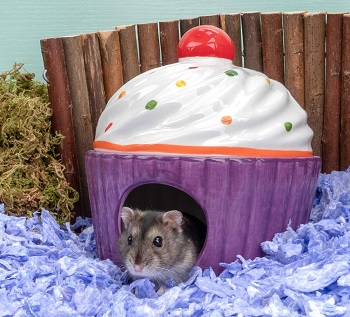 Choose The Color
This hamster house is made of safe and double-baked ceramic. You can choose between four colors of the cupcake. There are purple, yellow, blue, or pink models. Each house has a top that opens.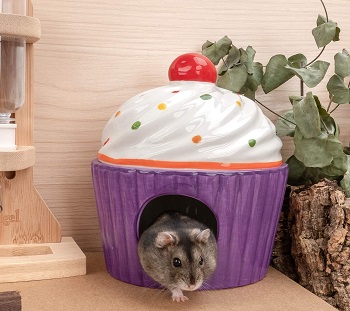 Roomy And Cozy
Your little hamster will love to sleep, rest, or hide food in this cupcake igloo. The igloo is heavy-duty and its design prevents it from overturning. The igloo is a great cooling hideout during warm summer days.
In Short:
made of safe and heavy-based ceramics
it has no sharp edges
it is cute and colorful
your hamster will love to rest in it
the cupcake is hard to overturn
it has a removable rooftop
BEST CUTE HAMSTER IGLOO
Gutongyuan Cute Strawberry Hideout
The Strawberry Design
If you like the cool and cute hideouts, you will also like this model by Gutongyuan. This igloo is made of safe, chew-proof ceramics. The size of it is 3.54*3.54*4.72 inches. It fits into any hamster enclosure and makes it a fun and fancy hamster cage.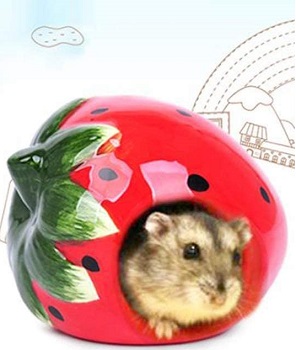 The Cooling Effect
The Strawberry igloo house for hamsters is another ceramic hideout that will have a cooling effect on your hamster's body during the warm summer days. It reduces the body's temperature and makes an ideal resting hideout house even during other seasons.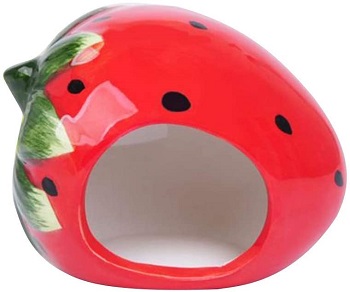 Good To Know
Your little buddy will love to rest in a secret and finding place, but still keep an eye on the outside. This ceramic hamster igloo hideout is a perfectly safe harbor for your hamster. It has lookout holes so your hamster can check its surrounding area.
In Short:
comes as a cute strawberry hideout
this igloo is made of safe ceramics
it is odor-free and easy to clean
there are lookout holes includes
it is safe and chew-proof
How To Pick: Hamster Igloo House
If you have gotten an empty hamster cage or you simply want to change it or customize it, then you should definitely think about getting a hamster igloo house. There are a few things that you should consider before buying just any model. In the following paragraphs, read more about the size, weight, material, maintenance, and learn which places are for buying.
Why Get An Igloo House For Your Hamster? – All hamsters like to play a lot and stay active. However, they will need a safe and tranquil place to rest and sleep in. The hamster houses encourage your pet's natural nesting instincts and make them hide and keep their favorite snacks for later.
The Safe Igloo Material – In this article, we have reviewed the igloos made of plastics and ceramics. All of the models that we have listed are made of safe and non-toxic material. Moreover, the inside and the outside has a smooth surface and is 100% harmless.
The House's Size And Weight – The size of the igloo house depends on your hamster's house. If you have a larger-sized hamster or a Syrian hamster, you will need to consider getting it a bigger igloo. However, a small or dwarf hamster needs lesser space so have that in mind as well.
The Easy Maintenance – An ideal hiding house for your hamster should be stain-free and odor-free. It needs to be easy to clean and you need to do it regularity. Some of the igloos have an openable top and allow you to clean them in detail more easily.
Where To Buy An Ideal Igloo? – We are sure that any pet shop near you has great hideout models. The ones we have listed and reviewed in this article are all available online. We must say that we consider them safe and fun, so check them all out and choose the one you like the most. Buy only from reliable online retail websites.
To Sum Up
In the end, we will say that the model we liked the most is the Niteangel Ceramic hamster igloo. It is a cute and safe hideout at the same time. It is long-lasting and easy to clean. It makes an ideal hamster cage accessory. There are many more hideouts available online. We suggest you check out our article about the wooden hamster hideouts and see if there is another model you like better.