If you are looking to buy fancy hamster cages, make sure to read our six reviews.
Getting a hamster cage that looks fancy and modern is cool, but not enough. We have reviewed 6 models that are both fancy and functional at the same time. See which one among these six is the right for you. Let our buying guide help you. Find it at the end of the article.
The Summary
Best 6 Fancy Hamster Cages
BEST OF BEST FANCY HAMSTER CAGE
Midwest Critterville Arcade Cage
Product Overview
The Critterville Arcade cage by Midwest is cool, simple to put together, and includes a large playing zone. The overall size of this fancy hamster cage is 18.11L x 11.61W x 21.26H inches. It has multiple levels. We consider this cage safe and fun.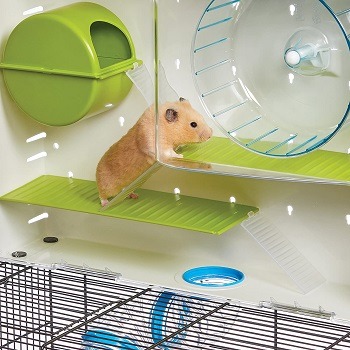 The Activity Area
These fancy hamster cages are designed in a unique way. There is a deep base that includes a top door for easier access. It comes with tubes, a water bottle, and a hamster food dish. Also, there is a vertical playing area with platforms, ramps, a running wheel, and a plastic hideout house.
The Cage Is Expandable
If you will ever find that this cage is not enough for your hamster or if you decide to get another hamster, you won't need to buy another cage. The Midwest Critterville Arcade cage can easily be expanded with tubes and tunnels and connected to another hamster habitat.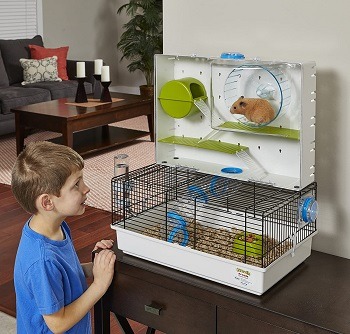 Prepare Your Hamster For A New Cage
Before you put your pet hamster in a new environment, make sure it gets to know the area in peace. This is why it is advisable you cover the cage with a light cloth and leave it on for a few days. Your hamster will explore the cage in privacy.
In Short:
cage combines deep base with vertical PlaySpace
it is easy to assemble the cage
the top door provides a simple access
this cage comes fully equipped
you can expand this cage
BEST CUTE FANCY HAMSTER CAGE
Penthouse Cage For Hamsters
The Modern Design
This 3-level fancy hamster cage comes in pink and purple or blue and lime. Choose the color you like more. The Penthouse cage is made of leak-proof deep plastic base and non-chew wire. There is a large top handle included so you can lift the cage up.
What Is Included?
The Penthouse cage is another fun cage that includes all sorts of hamster cage accessories. There are platforms, ladders, tubes, and tunnels. You will also find a cool hamster running wheel that allows your hamster to stay active and a small hideout house for resting.
Safe And Secure
Don't forget that your new modern hamster cage must not only be fancy, but also safe. The Penthouse hamster enclosure is made of non-toxic wire and plastic. The bars are chew-proof and the space between them is narrow enough. This is an escape-proof hamster cage that will make you feel safe.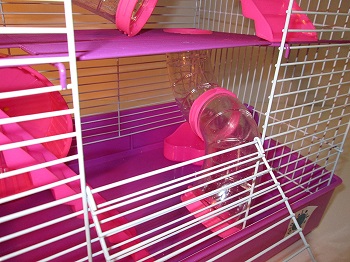 More Useful Details
You must be curious about the cage's size. This cage's dimensions are 25.35 x 18.98 x 4.96 inches. The fancy hamster cages are lightweight and easy to carry. You can use it as a travel hamster cage as well. The cage's contents can be customized and re-arranged to your liking.
In Short:
comes in pink-purple or blue-lime
the cage is made of plastic and wires
space between the bars is narrow
this cage includes a top handle
it is lightweight and easy to carry
it includes fun activity contents
BEST 2-LEVEL FANCY HAMSTER CAGE
Ferplast Favola Enclosure Cage
The Two-Level Design
Ferplast Favola is a hamster enclosure that is made of a deep (4.75" H) transparent plastic base which is considered to be the first level. The second level is made of wire mesh. There is a pet-friendly ramp that leads from one floor to the other.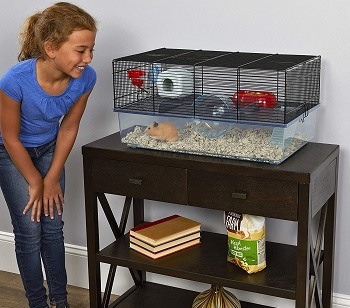 The Cage's Contents
Apart from the small ladders, there is a large exercise wheel that will make sure your hamster stays active. Moreover, the cage includes a plastic hamster house that will serve as a hideout. Lastly, there are odor-free and stain-resistant water bottle and a food bowl included.
Allows You To Be Creative
This is another cage that can easily be expanded and upgraded. Connect the Ferplast cage with another one via tubes if you need a larger living space for your hamsters. There are many cool extra hamster cage accessories by Ferplast that you can purchase separately.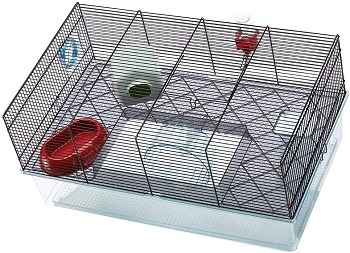 Easy To Clean
The Favola fancy hamster cage can be cleaned without hassle. Simply remove the wire top and the hamster ramps and wipe the plastic base. It does not take a lot of time to disassemble the cage and assemble it back again.
In Short:
made of plastic base and wire top
includes all sorts of activity contents
the cage can easily be upgraded
it takes no time to clean
assembly is quick and simple
BEST WITH TUNNELS FANCY HAMSTER CAGE
Kaytee Fun Modern Cage
The Modern Appearance
Kaytee manufacturers are known to design colorful and fun cages and hamster decorations. The modern hamster cage we are presenting to you in this article comes with a plastic top and bottom. The front, back, and sides are made of chew-proof wires.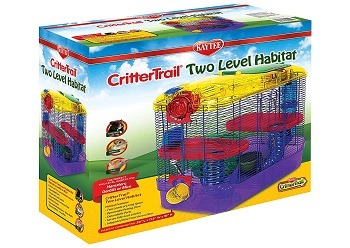 Fun Activity Contents
We are sure your hamster will love to live in this hamster cage with tunnels. The cage includes all that your pet hamster is ever going to need. There are tubes and tunnels, platforms, a running wheel, and a petting zone. The water bottle and a food bowl are included as well.
The Air Circulation
Getting a cage that is well-ventilated is very important for your hamster's health. In case you decide to get Kaytee's fancy hamster cage, you can be sure that the fresh air will constantly circulate the cage. The space between the wires is ideal for ventilation and most importantly, safe for your hamster's paws.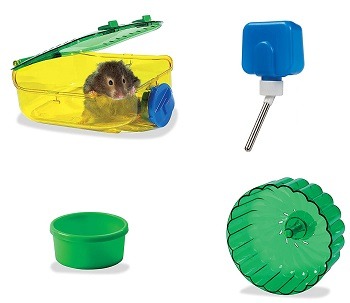 Important To Know
Lastly, before you buy this cage, you will need to know its dimensions. The Kaytee's cage measures 20 Inches x 11.5 Inches x 16 Inches. The quality of the cage is high and the cost of this cage, in our opinion, is very convenient. Make sure you check this cage out.
In Short:
the cage is colorful, cool, and modern
includes tubes, platforms, and a wheel
there is a safe petting zone too
this cage is well-ventilated
made of high-quality materials
the cage is pet-friendly and 100% safe
BEST MULTI-LEVEL FANCY HAMSTER CAGE
Mcage Cool Multiple Level Cage
Tall And Large
This cage by Mcage comes with multiple levels. It is tall and comes as a twin-tower fancy hamster cage. It is made of safe plastic and wires. The cage is sturdy and long-lasting. It is quiet and fits one or two hamsters. The cage comes already equipped.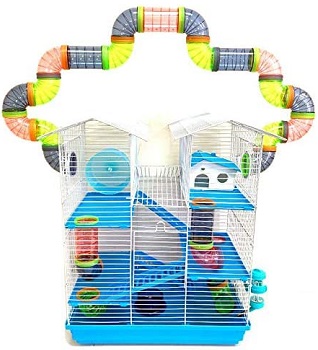 Interesting And Fun
We are sure your hamster will love this cage. It will get to go through the internal and external tubes and run on a hamster wheel. There are many ramps and platforms and the two towers are connected by a bridge. The resting zone is included as well.
The Access Doors
There are three doors – the front, right, and left. This tall hamster cage is incredibly easy to access. This helps you with cleaning and refilling the food bowl or water bottle. Don't forget to clean the hamster accessories and other contents as well.
Cat-Proof And Secure
If you have another domestic animal at home, getting a pet hamster shouldn't worry you as long as you have a secure, sturdy, and escape-proof hamster cage. The Mcage hamster cage will make you feel relaxed and keep your hamster in a safe place.
In Short:
this cage is tall and multi-level
includes a lot of activity contents
there are three access doors
this cage is secure and pet-friendly
fits up to two hamsters
BEST AQUARIUM FANCY HAMSTER CAGE
Savic Aquarium Hamster Enclosure
Sophisticated And Fancy
We find the Savic hamster enclosure very modern. The design of this cage is completely see-through. The bottom tank part is made of transparent plastic and the upper part is made of wires. Fill the bottom with bedding and let your hamster dig and have fun.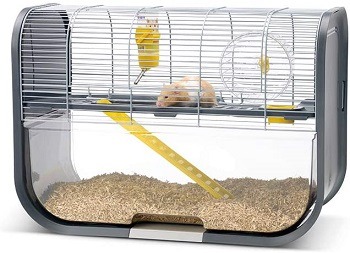 Includes All Necessary Content
There are two levels inside of this fancy hamster cage. The cage includes a ladder that connects the two floors. Moreover, your hamster will get to play inside of the running wheel. There is a water bottle and a food dish. There is space for additional toys.
The Size And Maintenance
This cage by Savic will surely fit into any corner of your home. The size of it is 23. 5in x 11. 5 x 17. 5 inches. It provides just enough space for one pet hamster. The tank is easy to slide out and the top door will allow you to easily access and clean the cage.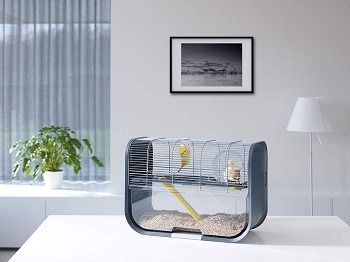 Why Buy?
This cage is well-ventilated and provides a constant circulation of fresh air. The cage is transparent and allows you to check on your hamster at any time. The material that is used is of premium quality. The cage's price is high. This cage is made in Belgium.
In Short:
this cage is modern and sophisticated
ideal for one pet hamster
it comes with a transparent design
the cage is made of quality materials
the cost of the cage is high
How To Pick: Fancy Hamster Cage
Before you choose to buy just any fancy hamster cage, consider the cage's functionality. Is the cage you are thinking to buy meeting all of your needs? Is it safe and secure enough? Make sure your new enclosure provides enough space for all of your hamster's necessary activities. Read on to find out more.
Multi-Purpose And Functional – Your new cage needs to be suitable for your hamster in every way. It needs to be made of safe material and it needs to provide your hamster with a lot of space. The cage you are buying should be sturdy and long-lasting.
No Sharp Edges – What makes a hamster cage safe? First of all, the inside and outside surfaces should be smooth. There must be no sharp edges that could possibly harm your hamster. Moreover, the material needs to be chew-proof and non-toxic.
The Size And Design – The cool and modern design is something that makes a hamster cage special and fancy. However, don't forget that your little pet needs to have enough space for its activities. Logically, get a smaller-sized cage for dwarf hamsters, but make sure to buy a large and tall hamster cage if you have a Syrian hamster.
The Activity Zone – Many cages already include a playing area. There are so many fully-equipped fancy and cool hamster cages on the market that you can choose from. If you prefer getting an empty cage, then expand and customize the cage and create your hamster a fun activity zone.
Ventilation Holes – Don't forget the fact that it is very important your hamster cage has fresh air circulating all the time. This is why the cage that you are looking to buy needs to be well-ventilated. Make sure the space between the bar is narrow enough!
To Sum Up
In our opinion, the best fancy hamster cage that you can get is the Savic Aquarium Hamster Enclosure. The overall quality of the cage is high and it includes all that your hamster is going to need for a happy life. The Savic hamster cage reminds us of a transparent terrarium for hamster. For more similar models, check out our article about the modern hamster cages.