If you are in search of a hamster enclosure, then you should read our article!
We have gathered six different models from dwarf, Syrian, or large hamster cage enclosures. In the following paragraphs read our six reviews and learn all about cute, small, multi-level models, and many more. Also, have a look at our buying guide. We have tried to help you out as much as possible.
The Summary
6 Best Hamster Enclosures
BEST OF BEST HAMSTER ENCLOSURE
Pawhut Large Hamster Enclosure
The Design And Material
The Pawhut enclosure for hamsters comes in black color. It is made of sturdy toxic-free metal wires and a non-leak plastic bottom. This is a tall hamster cage that includes four levels, three platforms, and three ramps. The cage stands on rolling casters.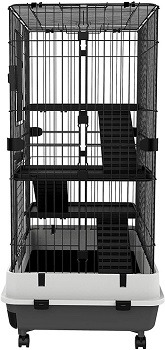 Fits Two Or More Hamsters
You can use this cage for two hamsters or Syrian hamsters. There is enough space for them to live together, interact, rest and play. This hamster cage for 2 is sturdy and pretty quiet. It is pet-friendly and won't harm your pets in any way.
Customize The Cage
Apart from the platforms and ramps, your hamsters will need more toys and activity decorations. We advise you to install the tubes and tunnels so that your hamsters could explore. There is enough space for a running wheel as well. Customize it and make it a fun cage.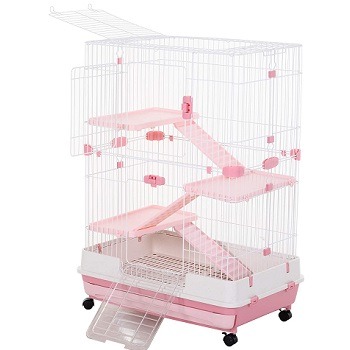 Multiple Doors
There are two doors on the front side of this cage. This allows you to access the cage more easily. For example, if you need to take out your hamster, you will get to do it without hassle. Also, it will be easy for you to clean the cage and refill the hamster water and food bowls.
In Short:
made of metal wires and plastic bottom
the material used is harmless
the cage is tall and multi-level
it is sturdy, quiet, and easy to move
includes multiple access doors
two hamsters can fit this cage
BEST CUTE HAMSTER ENCLOSURE
Habitrail Dwarf Hamster Enclosure
Small And Fun
Unlike the previous hamster cage enclosure, this one is small and more suitable for dwarf hamsters. The cage includes a food dish and water bottle. There is the play zone so your hamster can run on the wheel, climb the platform, or rest in the hideout.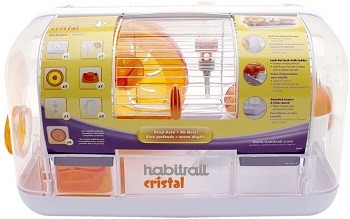 Comfortable And Pet-Friendly
This cage by Habitrail is made of sturdy and long-lasting materials. The plastic leak-proof bottom will help you maintain the area around the cage clean. The cage is well-ventilated and it uses chew-proof metal wires on the front side.
Expand The Cage
The dimensions of this small hamster cage are 16 L x 10 W x 9.5 H inches. In case you get another hamster or simply need more space for the hamster you already have, this Habitrail cage can easily be expanded. Get Habitrail tubes and connect them to another habitat.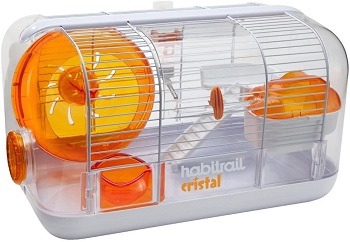 The Price And Quality
The quality of this cage is pretty high. We consider the cage safe, harmless, and pet-friendly. However, make sure you use it only for a dwarf hamster. The cage does not provide a lot of space for larger-sized hamsters. The price of the enclosure is affordable.
In Short:
small and perfect for dwarf hamsters
it comes already equipped
it can easily be expanded
the cage is made of wire and plastic
it is pet-friendly and harmless
BEST SMALL HAMSTER ENCLOSURE
Prevue Small Hamster Cage
Product Overview
The Prevue model is another smaller-sized cage. It fits one dwarf hamster or a regular-sized hamster. The cage has one platform on each side of the cage. On each platform, there is a small plastic hamster house that will make your hamster rest.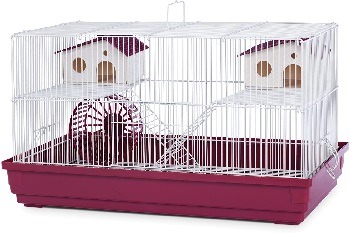 The Space And Ventilation
This hamster enclosure cage has enough space for all of your hamster's activities. Its size is  22 1/2-inch long, 12-inch wide, 12 1/2-inch high. The bar spacing is 5/16-inch which makes it safe for your hamster's paws and lets the fresh air circulate all the time.
Easy To Assemble
You will need to attach the top wire side with the plastic bottom side of the cage. The cage easily clips so the set up is fast and easy. Unclip the enclosure when you need to clean it or refill the hamster dish.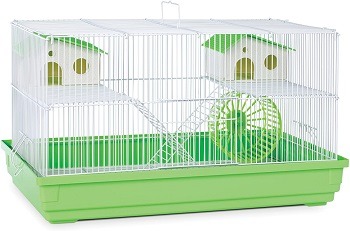 Clean The Cage Regularly
Don't forget to maintain the cage clean every day. Hamster love clean spaces and they will be grateful to you. Access the cage through the door or unclip it when cleaning. Change the litter box and refill the water bottle and food bowls.
In Short:
the cage is small but spacious
there are two inside platforms
each platform has a hideout house
the cage assembles easily
it is easy to clean
BEST MULTI-LEVEL HAMSTER ENCLOSURE
Mcage Syrian Hamster Enclosure
The Tall And Multiple Level Enclosure
The reason why the Mcage enclosure is great for Syrian hamsters is because it is large and tall. Your Syrian hamster will have enough space for all of its activities. The cage is fun and provides three levels for running and playing.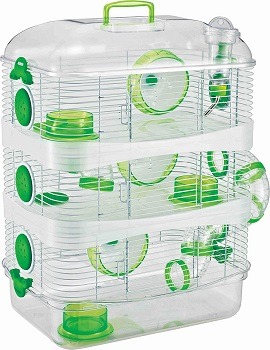 What Is Included
This tall hamster cage includes a plastic water bottle and a food bowl. There are three running wheels, each on one level. Also, your hamster will get to play inside of the internal and external tunnels. This cage is can be extended as well.
The Transparent Design
Mcage Syrian hamster enclosure is made of transparent plastic and white metal wires. The material used for the construction is completely safe and chew-proof. The accessories are made of transparent and green plastic. The top has a carrying handle.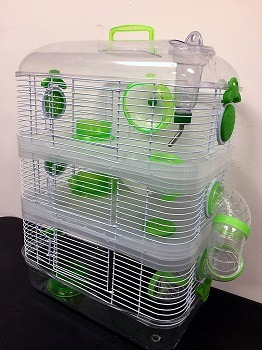 Useful Details
This cage by Mcage makes sure your hamster feels safe and comfortable. The construction is sturdy and long-lasting. The size of the cage is 16″Length x 11″Depth x 22″Height. You can get this cage at an affordable price.
In Short:
this is a tall and multi-level cage
it is perfect for a Syrian hamster
the cage can be extended
made of wires and transparent-green plastic
it is well-ventilated
BEST 2-LEVEL HAMSTER ENCLOSURE
Robud Small 2-Level Cage For Hamsters
The Cute Design
The Robud hamster enclosure is a small and cute cage. It comes in blue, pink, or white color. It is fully-equipped and very fun. This playhouse will make your hamster happy and safe. It will feel comfortable and get to stay as active as it wants.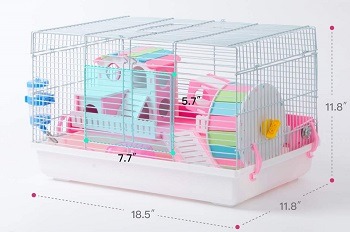 The Equipment
A fully-equipped cage can be great for first-time owners. Robud manufacturers have included a colorful running wheel, a small hideout house, a ladder, and one platform. This 2-level fun hamster cage has a non-leak plastic bottom.
Easy To Maintain
In order to clean any hamster cage, you will need to access it easily. There is a convenient front door that will make you clean the cage with no hassle. Moreover, the cage has a locking side latches to help you dump the litter.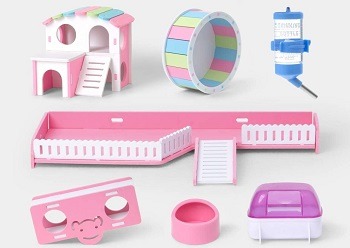 For One Hamster
This cage fits one pet hamster. In this enclosure, your hamster will have just enough space for all of the necessary activities. The cage is small and lightweight. We find it modern, fun, and harmless.
In Short:
a cage for one hamster
there are 2 levels
the cage is completely equipped
it is ideal for first-time owners
the cage is easy to maintain
BEST TRAVEL HAMSTER ENCLOSURE
Living World Enclosure Carrier
For Short Trips
In case you need to go traveling or moving, you will need a high-quality portable cage for your hamster. The Living World hamster enclosure will come in handy if you are visiting the vet as well. This cage fits a hamster of any size.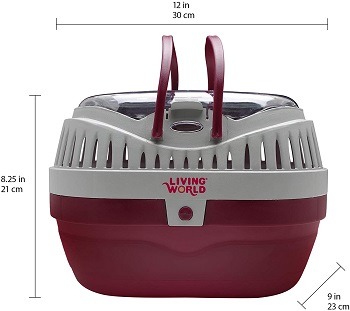 How To Use?
Use this cage only temporarily and from time to time. Do not use it as a hamster's permanent habitat. This cage is small and has no enough space for all of the daily hamster's activities. Don't leave your hamster inside of a small cage for too long.
Sturdy And Durable
The Living World portable hamster cage is made of long-lasting and strong plastic. It has no sharp edges and its top tope has a transparent part and ventilation holes. The fresh air circulates the cage at all times.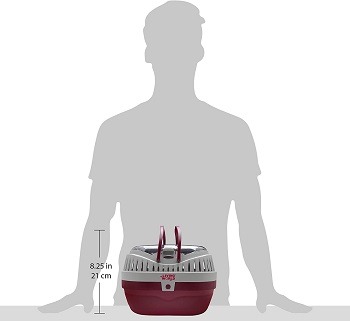 Small And Lightweight
This cage measures 12-inch length by 9-inch width by 8.25-inch height. The weight of this cage is only 1.1 pounds which makes it easy to carry. The cage has two strong handles on the top of it.
In Short:
ideal for temporary use
use it only for short trips
there are two handles on the top
the cage is ventilated
How To Pick: Hamster Enclosures
If you are still in doubt, don't worry. Our buying guide is here to help you find the best hamster enclosure. Keep on reading to find out which features one should look for before buying. We talk about the cage's size, quality, security, paying area, and price.
The Size Of The Enclosure – Do you have one hamster, two, or more? Is your hamster of regular size, dwarf, or Syrian? These are facts that you should consider before you get a hamster cage. Not every hamster is suitable for a small cage, and not every small hamster needs too much space unless you want a few of them to live together.
The High-Quality Material – Have in mind that you shouldn't buy just any hamster cage. To be sure that your fur friend is going to live in a safe and comfortable environment, the material that the cage is made of should be non-leak, chew-proof, and toxic-free.
Security And Safety – Your cage shouldn't be easy to open by children. Also, you will need to ensure that no other domestic animal will be able to access it. The cage's access doors need to be secured. Moreover, the cage should have no sharp edges or too much space between the wires.
The Fun Playing Zone – In case you are a first-time owner, why not buy a fun hamster play-house? They already include all the hamster equipment – a running wheel, platform, ladders, etc. On the other hand, you can get an empty enclosure for your hamster and customize it on your own.
The Price And Where To Buy Best Enclosure? – There are different models that come at different prices. Many times, the high price does not guarantee good cage quality. This is why you should always read the reviews and buy from a reliable manufacturer. Search for best enclosures on trustworthy online retail websites.
To Sum Up
To conclude this article, we want to point out one hamster enclosure that caught our eye most. It is the Robud Cage. The reason we liked it is because it comes fully equipped. It is a fun, and modern hamster cage. You can choose between three colors as well and buy either a blue, pink, or white hamster cage by Robud manufacturer.