Do you need a small hamster cage for your little pet?
If are looking to buy a mini hamster cage, then read our reviews.
We have found the best models and divided them into six different categories – best of best, cat-proof, blue, mini, travel, and metal. Keep on reading to find out everything you need to know about mini hamster cages. Scroll down to read our buying guide too.
The Summary
Best 6 Small Hamster Cages
BEST OF BEST SMALL HAMSTER CAGE
Abode Enclosure Hamster Cage
The Small And Fun Cage
The Abode smallest hamster cage is made of hard and non-toxic plastics. It has narrow and powder-coated bars. The space between them is ideal for a hamster of any size. Your little pet won't get the chance to escape it. The bars allow the fresh air to come in all the time.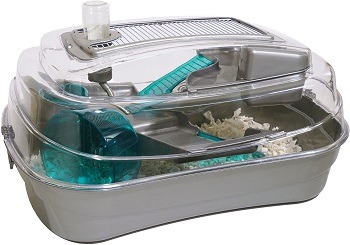 What Is Included?
The cage includes a hamster running wheel, a ladder, a hamster food dish, and a water bottle. There is enough space for a resting area. Your hamster will get to have fun, play, run, and jump around this small cage. It will feel comfortable and cozy.
Safe With Smooth Surfaces
When buying your hamster a cage, make sure it is completely safe. This means that the surfaces should all be smooth. There shouldn't' be any sharp edges that would harm your hamster. Also, the cage needs to be securely locked and easy to maintain clean.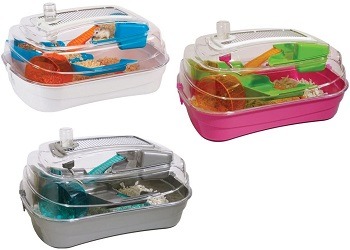 Why We Think The Abode Is The Best?
We find this cage extremely safe and fun. Moreover, it is simple to clean. The cage is small and lightweight. It is well-ventilated and the space between the top wires is narrow. The cage includes all that your little fur buddy is ever going to need and the price is very affordable.
In Short:
the Abode cage is small and fun
easy to clean and safe for your hamster
there are no sharp edges
the cage's bottom is leak-proof
the top is well-ventilated with wires
the wire spacing is narrow
BEST BLUE SMALL HAMSTER CAGE
Kaytee Crittertrail Habitat For Hamsters
Color And Material
The Kaytee's cage comes in blue. This is a plastic and wire hamster cage. It is small but spacious enough for all of your hamster's everyday activities. The plastic that is used to make this cage is hard and sturdy. It is non-toxic and completely safe.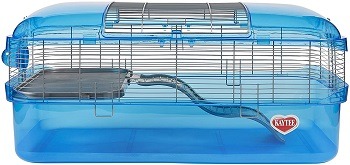 For Two Dwarf Hamsters
This is another model that can fit two hamsters. It is long and provides them with a safe environment. Your two hamsters will get to interact, sleep, jump, and run together. This small dwarf hamster cage doesn't occupy too much space and it is easy to clean.
Interesting Design
We find that the Kaytee Crittertrail small animal super habitat has a cool design. It includes one platform and a spiral ramp. There is enough space for you to add other hamster toys and accessories. The cage is easily expandable so you can make it pretty large.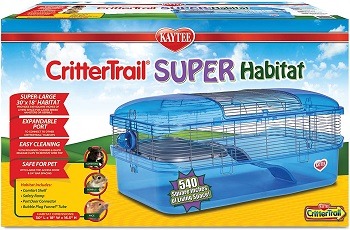 The Best Features
This small hamster cage comes with a port door connector. Expand it easily. The cleaning is simple – open the top door and access the cage without hassle. This cage is large for one hamster but just right for two hamsters.
In Short:
it is made of blue plastics and wires
it is an ideal two-dwarf-hamster cage
it can be expanded to make a long cage
the top access door opens easily
includes a platform and a ramp
BEST MINI SMALL HAMSTER CAGE
Ferplast Mini Duna Hamster Cage
General Product Overview
The Ferplast Duna hamster cage is made of strong and long-lasting plastic. It is non-toxic and transparent. It allows you to see your hamster and it to see you and the surrounding area. This is a 2-level white hamster cage with a roof wire mesh.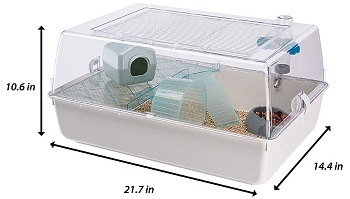 What Comes Inside?
Inside this small hamster cage, you will find a plastic feeder and a water bottle with a suction cup fixing. There are a small shelf and a hamster ladder. A nest and a running wheel are included as well.
The Ventilation
You probably know how important it is for your little fur friend to have the air coming in all the time. The Ferplast cage's mesh roof allows your hamster to breathe the fresh air and to stay healthy mentally and physically.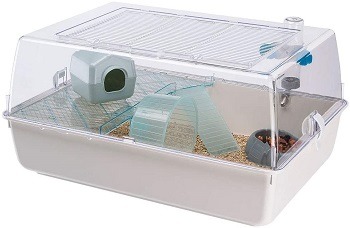 Last Details
The dimensions of this cage are 21.65 x 15.35 x 10.63 inches. The cage is very lightweight and easy to lift so you can clean the area around it easily. The cage cover and the bottom can be separated. Simply release the lateral fixing clips.
In Short:
made of durable and strong plastic
the cage comes in white color
the top is well-ventilated
the cage is ideal for one small hamster
it is easy to clean and lift up
BEST FOR TWO SMALL HAMSTER CAGE
Pico Small Animal Hamster Cage
For Two Hamsters
The Pico cage is a perfect cage for two hamsters. If you don't want to buy your two hamsters a very large enclosure, then this cage is the one for you. Given the fact that this is a hamster cage fits two hamsters, we consider it quite small.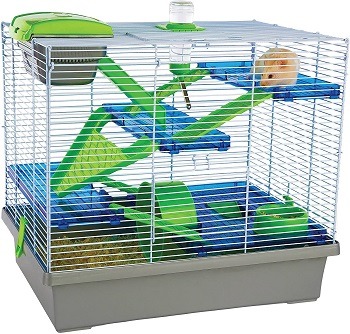 Fun And Multi-Level
The Pico hamster cage is definitely space-saving for you but provides a lot of vertical space for two hamsters. This cage is multi-level and includes all that your hamsters need. It can be used as your first-time hamster cage.
The Hamster Play Accessories
The Pico cage includes multiple platforms and small hamster ramps/ladders. There is a small running wheel that keeps your little buddy active. A small plastic hamster house is located on the top and it will serve as a relax zone or a hideout.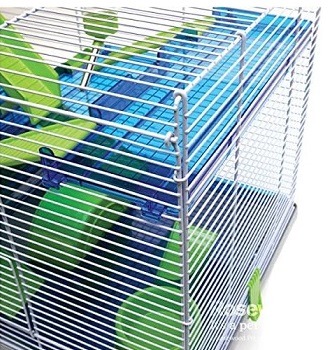 The Safe Design
This cage is made of safe wires and plastic bottom. The space between the bars is narrow and the bottom is completely leak-free. The water bottle is located on the top of the cage. There is a food bowl included that you can put anywhere. The cage comes in pink, green, and grey.
In Short:
ideal small cage for two hamsters
includes all the important pet accessories
cage's design is safe and leak-free
a plastic bottle and a food bowl is included
the price is affordable
the cage comes in three different colors
BEST TRAVEL SMALL HAMSTER CAGE
Iris Small Dwarf Hamster Cage
Use It For Shor Travel
You are probably going to need a small hamster cage that you can easily take on your trips. Use the Iris portable hamster cage when visiting the vet as well. This cage is perfect for short-term use. It is very small, well-ventilated, and lightweight.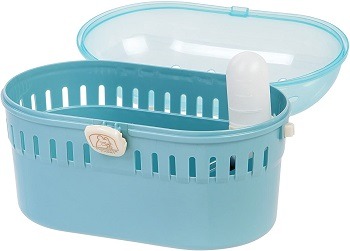 The Safe Design
Your hamster will feel cozy and relaxed in this cage. It does not provide a lot of space and this is why it is advisable to use it only from time to time. The cage is safe and can be securely locked. There are no sharp edges and the plastic is non-toxic.
What To Know About Such Items
You should have in mind that miniature hamster cages such as this one are not here for everyday use. They do not make a good hamster habitat. Your hamster needs to have more space to stay active. So, make sure to use this cage only for short trips.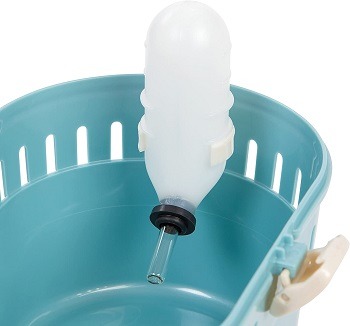 The Price And More Details
Iris portable carrier for hamsters comes with a top handle. It is easy to carry and it is lightweight. The cage's quality is pretty good. It includes a small water bottle for your hamster. The price is cheap and this cage is convenient to have at home.
In Short:
small and easy to carry
includes a large top handle
the cage is well-ventilated
comes with a transparent top
the bottom is leak-free
use it for short trips only
BEST METAL SMALL HAMSTER CAGE
AmazonBasics Small Hamster Carrier
The Wire And Plastic Design
This cage is made of metal wires and a plastic non-leak bottom. The wires are chew-proof and the bar spacing is narrow which makes you feel safe. The material used is non-toxic. This cage is well-ventilated and allows the fresh air in.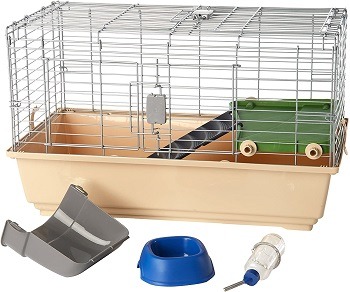 The Play Zone
This cage includes a platform and small hamster ladders that lead to it. Your hamster will get to play, run, and have a resting area. You can simply add a running wheel, a hamster igloo, or other hamster toys. There is a bottle and a food bowl as well.
The Quick Setup
To assemble this cage you will need no more than a few minutes. No additional tools are required. This case is simple to set up. The cage is durable and it will last you a long time. It comes with front and top opening for easier maintenance.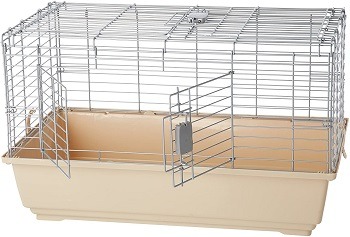 Indoor Use
Even though this cage uses anti-rust and durable material, it is not recommended to use it outdoors, especially at very low temperatures. If you want to take your hamster to your backyard, you can do so, but make sure to use this cage indoors most of the time.
In Short:
quick and easy to assemble
no tools are required for the setup
there are front and top openings
the cafe includes a platform and ladder
is it made of wire and plastic
How To Pick: Small Hamster Cages
Which features make an ideal small hamster cage? Keep on reading to find out everything about the ideal size, cage material, the additional hamster accessories, and more. Make sure your cage is made of durable and non-toxic material. The price of each of these models is budget-friendly.
The Ideal Small Cage Size – If you are looking to buy a small cage for your little pet, then make sure it still has some space for its everyday activities. Your hamster will love to run and play, not just rest. In case you are looking for a travel hamster cage, don't use it too often and never make a mini cage your hamster's home.
The Safe Material – Always get a cage that is made of non-chew, safe, toxic-free, and leak-free material. It doesn't matter if your cage is completely made of plastics or wires. The important thing is that that your hamster stays healthy both physically and mentally.
The Activity Area – A great plus is if your cage has hamster accessories already included. If you get an empty get, then make sure that you get your hamster a running wheel, platforms, ladder, and more. Even though small, your new cage should have space for a food bowl, a water bottle, and a hamster litter box.
The Ventilation – The cage with bad ventilation is not a good and safe hamster cage. A cage that is well-ventilated is an ideal one. It does not matter if the air is coming in through the wires or the holes. The point is that your hamster needs to breathe the fresh air.
Where To Buy? – The cages that we have reviewed in this article are all available online. Before buying, read the customer reviews. Check out these products on reliable retail websites such as Amazon webshop.