Have you been thinking about buying a metal hamster cage?
If your answer is yes, then make sure to read this article. Find out every detail about the six best wire hamster cages in 2021. We have reviewed the best of best, long, multi-level, with tunnels, cute, and travel. Our buying is here to help you choose the right one.
The Summary
Top 6 Metal Hamster Cages
BEST OF BEST WIRE HAMSTER CAGE
MidWest Large Wire Hamster Cage
The Combined Design
This MidWest wire hamster cage is made of non-leak plastic bottom and metal wires. The cage is spacious and safe. There are no sharp edges that could possibly harm your hamster. This is a large and long hamster cage.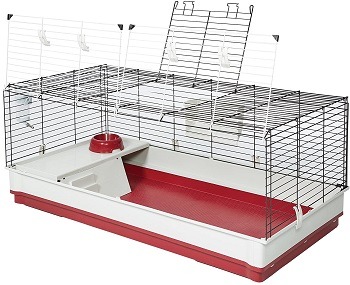 The Play Zone
On one side of the cage, you will find a plastic platform with a small hamster ladder. The ladder is safe for your hamster's paws. Add your hamster more accessories and chewing toys and create a fun activity area for your little buddy.
Expand The Cage
In case you have two or more hamsters and you really like this cage – no problem. You can easily expand it and create an even larger metal hamster cage. No tools are required for the assembly or expansion of the cage.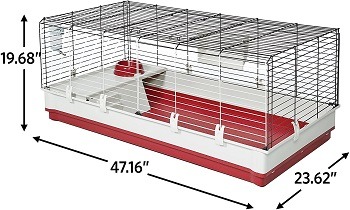 Useful Details
The cage's size is  47.16L x 23.62W x 19.68H. It provides maximum comfort. The cage includes a water bottle and a plastic food dish. It has enough space for you to add the litter box, a running wheel, or other interesting decorations. It opens on the top.
In Short:
made of safe wire and plastic bottom
includes a platform and a small ladder
comes with a bottle for the water
there is a food bowl included as well
easy to expand the cage
BEST LONG METAL HAMSTER CAGE
Songmics Long Wire Cage
The Metal Construction
This cage by Songmics is long and tall at the same time. It has so much space. It easily fits two hamsters. Since the cage comes empty, you will get a chance to customize it to your preferences. The metal design makes it sturdy, durable, and heavy.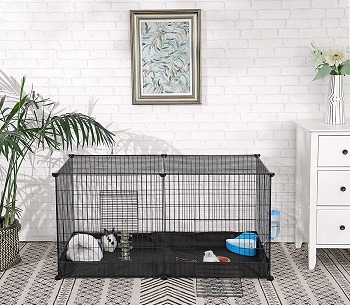 Leak-Proof And Water-Resistant
Songmics long wire hamster cage comes with a plain non-leak bottom. This cage needs to be used indoors, but it can withstand the humid environment and hot or cold temperatures. It is water-resistant and easy to clean.
Comes With A Rubber Mallet
The assembly is quick and easy. The package includes a rubber mallet that will help you set up the cage. The instructions for the set up are included within the user manual. This hamster enclosure sets up in no time.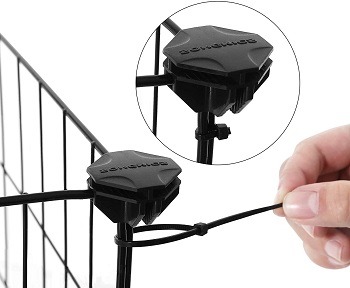 Anti-Slip Pads And More
The cage can easily be secured. There are the anti-slip pads included that protect your floor and at the same time prevent your metal cage from moving. Also, you will find the zip-ties to help you strengthen the construction.
In Short:
made completely out of metal
cage is well-ventilated
includes anti-slip pads and zip ties
customize it yourself
fits two or more hamsters
BEST MULTI-LEVEL WIRE HAMSTER CAGE
Ware Metal Hamster Cage
The Design And Material
This is a tall hamster cage made by Ware manufacturer. It is another cool metal hamster cage that provides a lot of safe and fun space. This cage measures 12.75 x 17 x 24 inches. The weight of the cage is 6.5 pounds.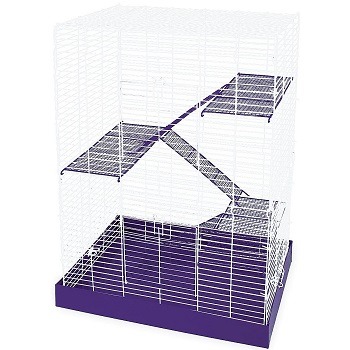 The Perks Of Multiple Floor Cage
The more space your hamster has, the better. Remember that your pet needs to stay active and play a lot. This is important for its physical and mental health. The Ware multi-level hamster cage has three platforms and three ramps.
How To Set It Up?
The set is pretty simple. It doesn't require additional tools. The five-step instructions are provided within the user guide. You will get to do it on your own or with another adult.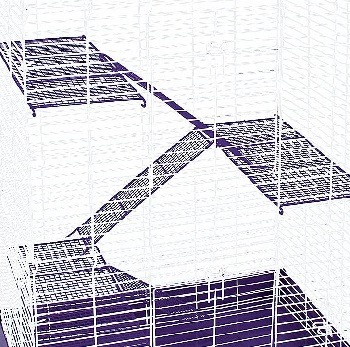 The Cheap Price
This wire hamster cage by Ware is very affordable and budget-friendly. It is one of the cheapest multi-level cages on the market. Still, in our opinion, its quality is pretty good and we find this cage convenient.
In Short:
tall and safe multi-level cage
has three platforms and three ramps
the assembly is done in 5 steps
the price is very affordable
fits two or more hamsters
BEST WITH TUNNELS METAL HAMSTER CAGE
Mcage Fun Hamster Enclosure
About Mcage Fun Enclosure
This is a 5-level wire hamster cage that is completely safe for your pet. It is fully equipped and has got everything that your hamster will ever need. The size of this multi-level hamster cage is L21.25 x W14 x H23.5 inches.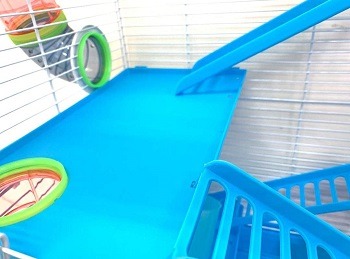 The Equipment And Play Zone
The cage includes solid plastic flooring that allows your hamster to jump up and down. There are safe ladders, play tubes and tunnels, a hideout, and a running wheel. The package includes a water bottle and a food bowl.
Narrow Bar Spacing
This cage is safe not only because it is made of non-toxic wires. The space between the bars is narrow (3/8″) and this prevents your hamster to escape it. It keep you hamster or two hamsters completely secure.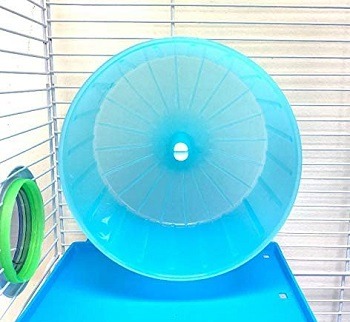 Ideal For Small Hamsters
It is suggested to use this cage for dwarf Syrian hamsters or other hamsters of small sizes. It is suitable for mice and gerbils as well. Make sure your hamster is not too big for the accessories that the cage includes.
In Short:
fun and colorful design
the cage is tall and multi-level
the construction is sturdy and safe
narrow space between the bars
ideal for smaller-sized hamsters
BEST CUTE WIRE HAMSTER CAGE
Pawhut Metal Wire Cage
The Combined Design
This Pawhut metal hamster cage comes with a non-leak plastic bottom. It is sturdy and durable. The metal wires of the cage have small bar spacing. The cage is well-ventilated and allows the fresh air to come in constantly.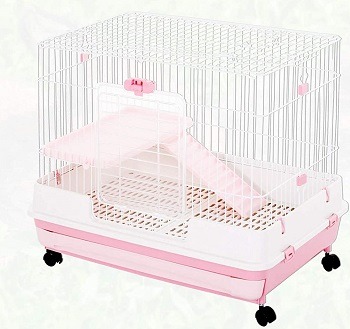 The Rolling Casters
This cage includes four rolling casters. It is easy to move from room to room or from one corner to the other. This feature helps you when you decide to clean the area around the cage as well.
The Color And Access
Choose between the cute pink or dark black color of the cage. This Pawhut small hamster cage comes with two access doors – front and top. It allows you to reach for your pet easily and to clean the inside of the cage.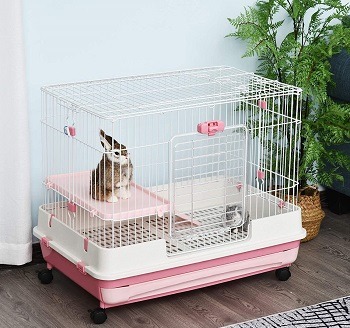 A Pet-Friendly Cage
We consider this plastic and wire hamster cage very pet-friendly. It is ideal for small animals. We find it safe. The material used is not harmful and the wires and chew-proof. The high-quality wires are chew-proof. The price of the cage is medium.
In Short:
comes in pink and black
it is ideal for one hamster
the cage stands on four casters
it is easy to access the cage
the cage is safe and pet-friendly
BEST TRAVEL METAL HAMSTER CAGE
Prevue 528 Metal Cage
The 2 In 1 Purpose
The Prevue 528 cage for hamsters is small and lightweight. This cage is 2 in 1. It is ideal for traveling and it can be used as a portable hamster cage. It is small and lightweight but provides enough space for one hamster.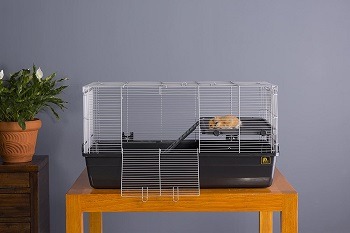 Black And Sturdy Design
This model of a metal hamster cage by Prevue comes in black. Its size is 2 ½'' L x 19'' W x 17 ½'' H with 3/8'' wire spacing. The narrow space between the bars make this cage completely safe for hamsters. It is sturdy and durable.
The Small Platform
There are small plastic ladders that lead to a platform. Your hamster will get to hide under the platform when it needs to get some rest. The cage allows you to add a running wheel as well as chewing toys.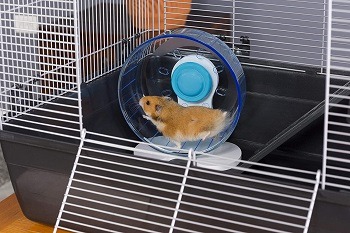 How To Clean?
There are two large entry points- the roof door and the front door. This allows you to access the inside of the cage with no hassle. Clean the cage regularly. Don't forget to clean the area around the cage as well.
In Short:
this cage can be a travel cage
ideal for one hamster
there is one plastic platform
a small hamster ladder is included
comes with a front and top access door
How To Pick: Wire Hamster Cage
How to know which metal hamster cage is the best for your little buddy? Our buying guide will help you make the right decision. Before buying, make sure the cage is safe and made of good quality. Choose between the empty cage and customize it on your own, or buy the fully-equipped cage. It is up to you. Keep on reading and learn more.
Cage Safety And Security – A great metal hamster cage must be pet-friendly and completely safe. This means that it has a narrow space between the bars. Also, it needs to have doors that can be secured. The cage must have smooth surfaces and no sharp edges.
The Good Quality – Your hamster will try to chew on the wires. This is why make sure your cage is chew-proof. Also, the material used should be 100% non-toxic and safe for your hamster. The leak-proof plastic or metal bottom is a great plus too.
When To Buy An Empty Cage? – If you are an expert hamster owner and you want to buy a new cage, why not get an empty cage and customize it completely on your own? You already know which toys and accessories your pet hamster likes most.
Should I Get A Fully Equipped Cage? – We suggest that you get a cage with all the equipment if you are a new hamster owner. Such models offer a great play zone and activity area. We are sure your hamster will feel happy and comfortable in a fun and modern hamster cage.
The Expandable Cages – This extra feature can come in handy. If you have a baby hamster or one hamster, you may want to buy them a cage that can be expanded. Once your hamster has grown up, or once you get another hamster, you will get to create a larger enclosure.
To Sum Up
Out of the six reviewed wire hamster cages, we will conclude by saying that the one we liked most is Mcage Fun Hamster Enclosure. This cage includes all that you will ever need – the fun hamster activity zone, a water bottle, and a hamster food dish. It reminds us of a hamster play house because it is fun and cool.