If you are in search of the best long hamster cage,  this article will help you find the best model.
We have listed the six long cages that we find worth reviewing and divided them into different categories. Check out all about the best of best, metal, 2-level, and three others. Make sure to read our buying guide as well.
The Summary
Best 6 Long Hamster Cages Reviews
BEST OF BEST LONG HAMSTER CAGE
Living World Deluxe Cage
The Main Characteristics
This cage by Living World is ideal for hamsters. Other small animals can fit as well. This cage combines the non-leak plastic bottom with a metal wire. The cage is well-ventilated all the time. The access door is on the top of this cage.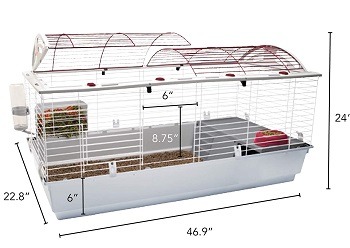 Space And Activities
This cage measures 46.9 L x 22.8 W x 24 H inches. It is long and has a lot of space for your hamster. The cage already includes some of the activity accessories. There is a small plastic hamster house, a balcony, a food bowl, a water bottle, and a hay feeder.
How To Assemble?
The set up of this long hamster cage is pretty simple and quick. No tools are required for the assembly. You will need no more than five minutes to set it up. There are 8 plastic clips that help you attach the cage (or detach if necessary).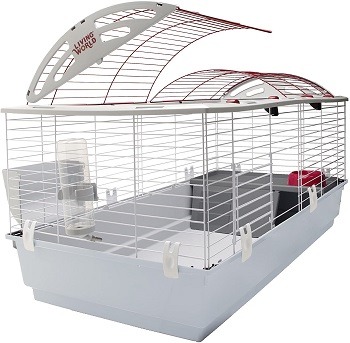 Safe And Secure
This cage comes with smooth surfaces. There are no sharp edges. The material used for the construction is completely safe. The wire is chew-proof and this cage will surely protect your hamster from any other domestic animals.
In Short:
ideal for small animals
perfect for hamsters of all sizes
the cage is safe and secure
the material used is non-toxic
cage's bottom is made of non-leak plastic
includes a balcony and a ramp
BEST WITH METAL LONG HAMSTER CAGE
MidWest Metal Long Hamster Crate
The Best Features
This cage is great for larger-sized hamsters and Guinea pigs. There is enough space for your pet to exercise and run around the cage. The cage comes with a multi-access folding top. It includes removable PVC-lined canvas bottom. It is easy to clean.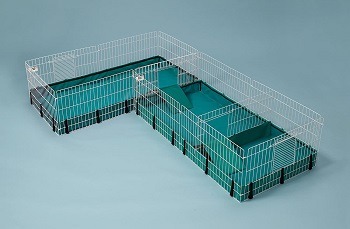 The Cage Spaciousness
The overall dimensions of this cage are 47 x 24 x 14 inches (Length x Width x Height). Your little buddy will have all the room for its everyday activities. You can easily add more chewable toys and other activity accessories and create a play area. 
The Material Used
MidWest cages are generally made out of safe and non-toxic materials. This long hamster cage uses a plastic bottom (it is leak-proof) and metal wires. The MidWest plastic – metal hamster cage is durable, sturdy, washable, and it will last you a long time.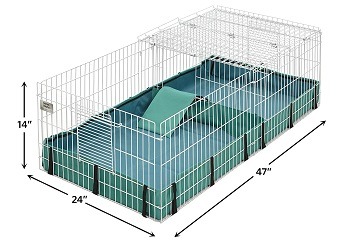 Why Get This Cage?
You can get this cage if you have a larger-sized hamster or even two of them. They will both have enough space to interact and play together. The cage is easy to maintain. There is a dividing panel included that helps you clean the other side of the habitat.
In Short:
great for larger-sized hamsters
fits one or two hamsters
provides a lot of space for all activities
customize the cage and create an activity zone
includes a PVC-lined canvas bottom
durable, sturdy, and easy to clean
BEST 2-LEVEL LONG HAMSTER CAGE
Ferplast Favola Cage For Hamsters
The Two Floors
Ferplast Favola cage is made for hamsters. It makes them feel safe and comfortable. The cage comes with two floors so that your hamster could explore, run, and play around the cage. There is enough space for all of its daily activities.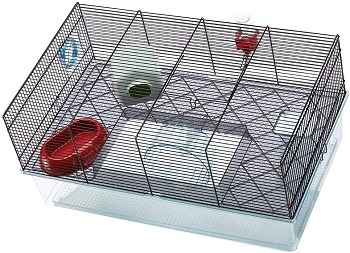 What Is Included
This cage comes with a bottom and first floor. There is a small plastic hamster ladder that is completely safe for your pet's paws. The running wheel and a hideout are included as well. With this cage, you will also get a food bowl and a water bottle.
The Maintenance
There is a top door that allows you to access the cage with ease. The cleaning of the cage won't be a hassle. Moreover, the top access will help you reach out to your pet. You will get to refill the food bowl and water bottle easily.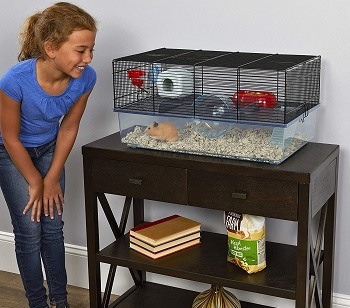 The Quality Vs Price
This long hamster cage is made of safe, durable, sturdy, and toxic-free plastic and non-chew wire. The cage is ventilated all the time. The price of this hamster enclosure is medium. We consider it a good and worthy hamster cage.
In Short:
the cage has two floors
a running wheel and hideout are included
the bottom is made of non-leak plastic
the upper part is made of wire
metal wires are completely chew-proof
a water bottle and food bowl are included
the top access door allows for easy maintenance
BEST MULTI-LEVEL LONG HAMSTER CAGE
Savic Heaven Metro Enclosure
A Fully Equipped Cage
The Savic Heaven cage comes with all that your hamster needs for a happy and safe life. There is a running wheel for daily exercise, two small houses, a penthouse, a litter boy, and a water bottle. This long hamster cage is a perfect starter kit for new hamster owners.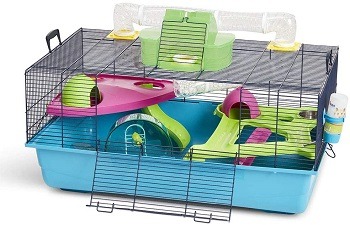 The Size And Space
The hamster play house overall dimensions are 31 and 1/2 x 20 x 20 inches. This cage is ideal for one hamster or a dwarf hamster. It provides just enough space for it. There is an external tube that your little pet buddy will love to use.
Portable And Easy To Clean
This enclosure can be used as a portable hamster cage. Use it as a travel cage if you need to. It is not heavy and it will be easy for you to lift it up. Its access door will allow you to clean the inside of the cage easily and the low weight will help you maintain the area around the cage.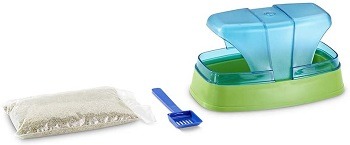 The Good Material And Price
This cage is made of safe material – plastic and metal. It is safe and secure. It doesn't have sharp edges and it is chew-proof. The cage provides your hamster with fresh air. The price is high, but in our opinion, it is definitely a high-quality cage that is worth the price.
In Short:
comes fully equipped
its size is 31 and 1/2 x 20 x 20 inches
there is enough space for play
you can use this cage for travel
high price and high-quality
BEST ENCLOSURE LONG HAMSTER CAGE
Kaytee Long Hamster Enclosure
The Safe Design
The Kaytee hamster cage is another model that combines plastic and wire. The cage is long and spacious. It will make your hamster feel safe and cozy. This cage is blue. The top of it combines plastic and wire. There is access on the top as well.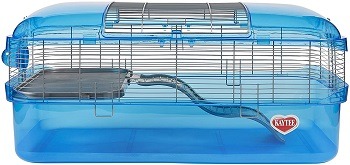 Fits Two Hamsters
This Kaytee long hamster cage is ideal for one larger hamster or two smaller-sized or dwarf hamsters. If you have two hamsters, this cage will make them feel safe. They will have a lot of horizontal space for interacting, resting, and playing.
The Activity Area
The cage includes a plastic ramp that leads to a platform. The ramp is safe for your hamster's little paws. The cage has enough room for you to put it a hamster litter box, food dish, water bottle, and other chewing toys.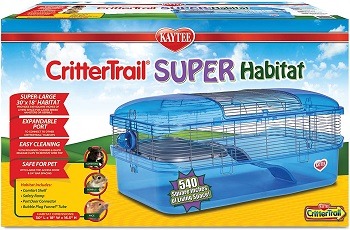 Expandable And Customizable
In case you want to make your cage larger, don't worry. There is a port door connector that allows you to expand it easily. Get more Kaytee products and cages, and make this cage even longer or taller.
In Short:
safe and chew-proof cage
includes a ramp and a platform
cage can easily be expanded
add additional hamster toys
has enough space for two small hamsters
BEST BLACK LONG HAMSTER CAGE
Songmics Long Black Cage
The Black Wire Design
The Songmics hamster cage is made of metal wires. The wires are chew-proof and the bottom is leak-free. This is a long and tall hamster cage at the same time. It comes empty so you can customize it as you wish.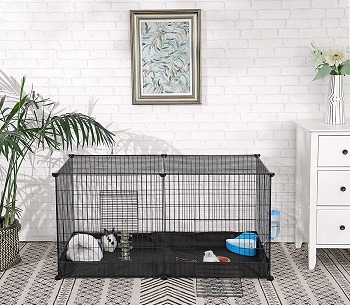 Sturdy And Heavy
This cage is made of durable and sturdy material. The cage cannot be knocked over. There is a floor mat included. The fabric is water-resistant. The cage is made of non-toxic material and provides your hamster with a safe new habitat.
The Access Doors
This cage comes with 2 access doors. The size of the doors is 9.8 x 9.8 inches. This is large enough for you to clean the cage easily. Also, you can pet your hamster and refill the food bowl, or change the litter box without hassle.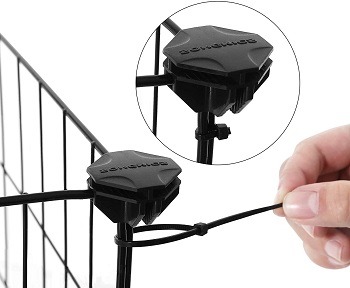 Cage's Zip Ties
This long hamster cage comes with zip ties that will strengthen the construction. There are also non-slip mats included. They prevent the hamster cage from moving and protect the floor at the same time.
In Short:
cage is made of heavy and sturdy metal
you can customize it completely
fits two hamsters
includes two access doors
comes with zip ties and non-slip mats
How To Pick: Long Hamster Cage
Before buying, have a look at our guide. We will list a few features that you must have in mind in order to buy a safe long hamster cage. Apart from the safety and security, the non-leak and easy-to-maintain cage is a must. Some of the models include an activity zone that will help your hamster stay active.
Buy A Secure Cage – A secure, pet-friendly, and safe cage is what you need to look for. This means that the material should be non-toxic and wires need to be chew-proof. The access doors should be secured to prevent your hamster from escaping the cage.
Choose The Leak-Free Cage – Why should you get a leak-free cage? The cleaning of the cage and the area around it should be easy if the water gets spilled. Get a cage that allows you to have as little maintenance problems as possible.
It Needs To Be Easy To Maintain – How to maintain the cage easily? Simply look for an enclosure that has large access doors. This will help you not only with cleaning but also with petting your hamster and refilling the bottle and the food dish.
Play Zone – With Or Without? – In case you are buying an empty cage, you will get to customize it on your own. If you are a first-time hamster owner, then look for a cage that is already equipped with the hamster accessories and decorations.
The Cage Ventilation – A wire hamster cage or the one with vent holes will make the air circulate all the time. It is important for your hamster's health that the fresh air enters your cage. Whether you buy a small hamster cage, long, or tall, don't forget that it always needs to be well-ventilated.