Are you in search of the best large wooden hamster cage?
Then look no more because you have come to the right place.
In our article, we have prepared the six best models of wooden hamster cages. Check them all out and see if the wooden-metal cage, the one with multiple levels, or another type could be the right for you. Our buying guide will surely help too. Find it at the end of the article.
The Summary
Top 6 Large Wooden Hamster Cages
BEST OF BEST LARGE WOODEN HAMSTER CAGE
Niteangel Large Natural Hamster Cage
Safe And Natural Habitat
The Niteangle wooden cage for hamsters is made from natural and eco-friendly material. There is no lacquer on the surface. There are no sharp edges that may harm your hamster. This is a large hamster cage with anti-rust wire mesh.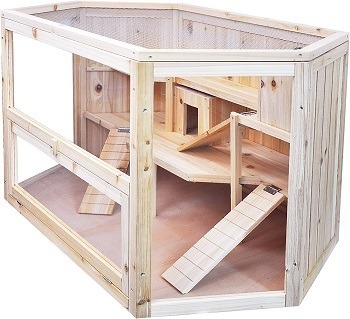 Space For Two
This cage is large enough for one or two hamsters. There is the rest area, platforms, and ladders for everyday activities. The cage provides a lot of space for additional toys or accessories as well. The dimension is 45.5 x 23.5 x 23 inches.
Indoor Use
Use this cage inside of your home. You can take your hamster out in this cage from time to time, but don't leave it in a humid area for too long. The cage is made of high-quality materials, but it is not waterproof.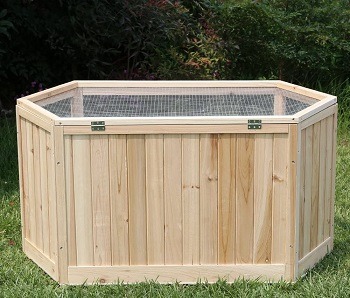 The Openings
There are two cage openings. The top one and the front one. Both openings are pretty large and ensure that you maintain the cage with no hassle. Moreover, you will get to refill water bottles and food bowls easily or clean the hamster litter box too.
In Short:
made of safe and eco-friendly material
provides a lot of space
fits two hamsters as well
easy to open and clean
made for indoor use
BEST WITH METAL LARGE WOODEN HAMSTER CAGE
Ferplast Hamsterville Cage
The Combined Design
The Ferplast cage for hamsters is made of a wooden frame and metal wires. The cage is completely safe and has smooth surfaces. This cage will protect your pet hamster at all times. It can be secured easily. It is fun and spacious.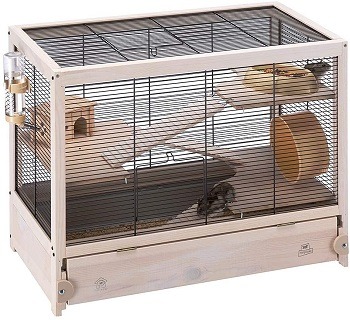 What Comes With The Cage
This large wooden hamster cage by Ferplast already comes with three platforms and three ladders. There is a small hideout house that your hamster will use as a resting area. The package includes a running wheel, wooden hamster hideout, a plastic bottle, and a food bowl.
The Size And Bar Spacing
The Ferplast Hamsterville wooden-metal hamster cage is a great cage for one hamster. The size of this enclosure is 22.75L x 12.25W x 2.6H inches. The space between the bars is narrow, which is very important for the hamster's paws safety.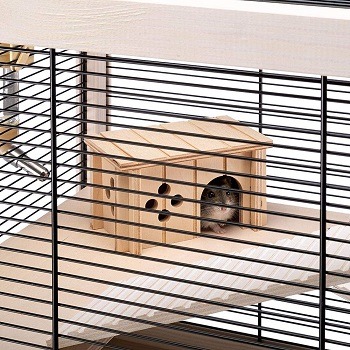 Easy To Maintain
The maintenance of this cage is very simple. It includes a plastic tray that is easily removable. Simply unfasten the locks and extract the tray. There are doors on the front and top of the cage that help with daily maintenance.
In Short:
the material used is wood and metal
this is a sturdy and long-lasting cage
the cage includes a removable plastic tray
it is simple to extract and clean the tray
this cage is safe and spacious
platforms, ladders, wheel, and hideout are included
BEST MULTI-LEVEL LARGE WOODEN HAMSTER CAGE
Aivituvin Wooden Hutch
Multiple Floors
Having a large, spacious, or multi-level hamster cage is perfect for your hamster. They are small animals that like to explore and stay active. This is very important for their mental and physical health. The Aivituvin cage comes with three levels and provides a lot of space.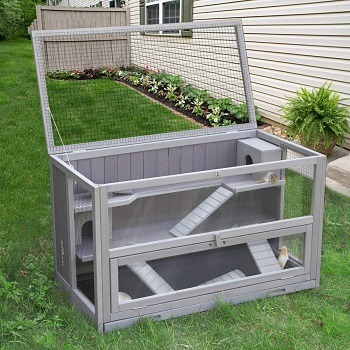 Comes Fully Equipped
The package doesn't only include the cage, but also a no-leak plastic tray that will allow you to clean the litter more easily. There are the feeding bowl, hideouts, seesaws, ramps, and chewing toys included. The water bottle and the wheel are not included but there is enough space for them.
Indoor And Outdoor Use
This large wooden hamster cage by Aivituvin can be used both indoors and outdoors. However, the cage is not completely waterproof so we suggest you leave it outdoor only from time to time and in sunny weather. The cage is better to be used in a non-humid environment.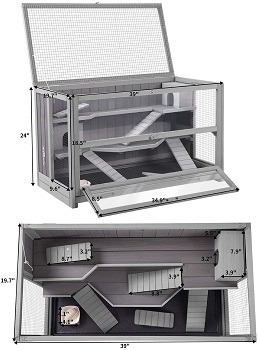 Last Useful Details
The overall size of this cage is 38.98″L x 19.69″W x 24.02″H. The cage is constructed out of non-toxic material. It is made of wood and wire mesh. The wires are safe for your hamster's paws. Their paws won't get stuck. The cost of this enclosure is medium.
In Short:
the Aivituvin cage is fully equipped
the cage provides a lot of space
the size is 38.98″L x 19.69″W x 24.02″H
it can be used outdoor for a while
the removable tray is easy to clean
BEST ENCLOSURE LARGE WOODEN HAMSTER CAGE
Petsfit Wooden Hamster Cage
Indoor Use
The Petsfit cage is ideal for larger-sized hamsters. The cage provides a lot of space and makes your hamster have a lot of fun. Due to the large and tall size of this cage, it can easily fit two or more pet hamsters. Use it exclusively indoors.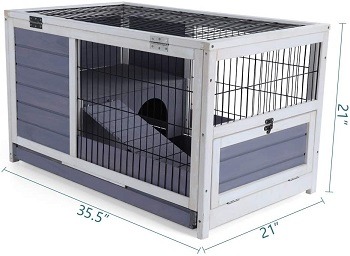 The Interesting Design
This cage is made of wood and metal wires. It comes in dark and light grey. There is a removable tray under the cage. The cage is opened on the top. It comes with one large platform and hideout. This cage can fit other accessories such as additional hideouts, a hamster food dish, a running wheel, etc.
The Assembly
The Petsfit large wooden hamster cage comes with pre-drilled doles. The setup is simple and quick. There is a user manual with the instructions included. Read it before you start with the assembly.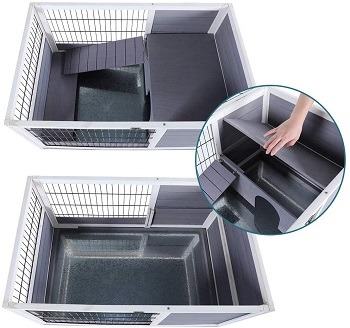 For Small Animals
This cage can be used for other small animals as well, such as bunnies or rabbits, guinea pigs, etc. The cage is safe and harmless. It is odor-free. Make sure your hamster is not too small for this cage. Don't use it for baby hamsters.
In Short:
it is made for small animals
fits larger-sized hamsters
made for indoor use
easy to assemble the cage
it comes with pre-drilled holes
fits a lot of additional accessories
BEST CUTE ARGE WOODEN HAMSTER CAGE
Lonabr Hamster Wood Cage
General Overview
In case you want your little pet to live in a natural enclosure that looks like a terrarium for hamsters, then consider getting this model. The Lonabr wooden cage is made of natural materials and provides your hamster with a safe environment.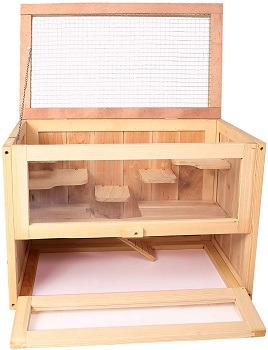 The Design And Material
This large wooden hamster cage can be used as a hamster terrarium for one hamster. The enclosure is cute and spacious enough. It is made of wood, robust wire, and acrylic. The design is see-through. The material is completely safe and toxic-free.
The Levels
Your hamster will love the idea of running around and jumping up and down the cage. There are multiple platforms that this cage includes. This cage has two layers. One small hamster ladder is here to help your hamster climb easily.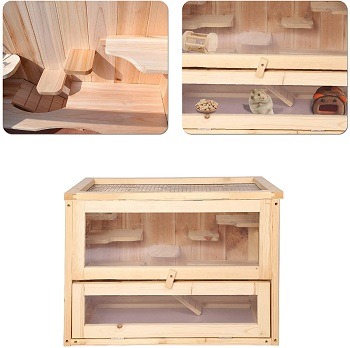 Provides Space
The Lonabr hamster hutch is ideal for one hamster. Even though it is not very large, this cage provides enough space that will make your pet stay active and happy. You can add other toys, decorations, or accessories, and make the playing zone even larger.
In Short:
made of wood, wire, and acrylic
all of the material is non-toxic
this cage is see-through
makes your hamster safe, active, and happy
provides a lot of space for activities
fits additional hamster toys
BEST CAT-PROOF LARGE WOODEN HAMSTER CAGE
New Age Hamster Enclosure
The Material Used
This cage is a great hamster enclosure that protects your pet from other animals. It is completely cat-proof. It is made of natural wood and eco-flex. This is another see-through large wooden hamster cage. It uses toxic-free material.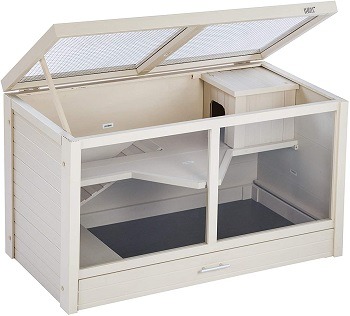 The Cat-Proof Design
This wooden cage is secured and safe. The inside of the cage has no sharp edges, only smooth surfaces. The top of this cage comes with wire mesh that makes the cage well-ventilated. Thanks to the eco-flex, no cat or other domestic animal will be able to open the cage.
The Activity Area
New Age enclosure for hamster includes a large ladder and a platform with a wooden hideout. Your hamster will get to climb the ladder. The cage has enough space for you to install a running wheel, hanging hammock, or other toy or accessory.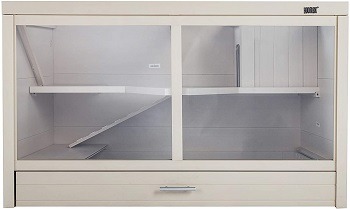 The Large Dimensions And Price
We consider this model a large and tall hamster cage. The cage measures 43.3 x 23.6 x 23.6 inches. It is sturdy and heavy. It weighs 43.78 pounds. It fits two or even three hamsters. The cage is of great quality and its price is pretty high.
In Short:
the cage is made of quality materials
its cost is pretty high
this enclosure is tall and large
the cage is well-ventilated
includes a ladder, platform, and a hideout
fits two or more hamsters
How To Pick: Large Wooden Hamster Cage
If you still don't know which model of a wood cage for hamsters is the safest one for your little fur buddy, then check out our suggestions on the features that you should look for. Other than being safe, your new cage should be made of good quality. It needs to provide your hamster with a lot of space for everyday activities. Read on to learn about this in detail.
Safety And Security – It is very important that your new enclosure is safe and comes with no sharp edges. The mesh wire or metal wire must be chew-proof. Moreover, the cage must have the possibility of being securely locked. Get a cage that makes it unable for other animals (cats, dogs) to enter the inside.
The Quality Material – The wood, metal, acrylic, and other material that is generally used for making large wooden hamster cage should be non-toxic. The wood needs to be eco-friendly and the overall quality should be high. This will make your hamster happy. It will get to live a happy life.
Spaciousness And Play Area – Hamsters like to stay active, run, and jump around the cage. They love playing with chewing hamster toys as well. Your new cage needs to have enough space for all of that. If you have two or more hamsters, get them a large and tall enclosure.
The Accessories Included – Many times, you will find a wooden cage for hamsters that already includes the platforms, ladders, hideouts, etc. Sometimes, the package will include a food bowl and a water bottle. Even if you like a cage that comes empty, don't worry. Make sure it provides a lot of space and customize it on your own.
Customize Your Cage – Create a playing zone for your hamster and customize the cage completely. Get a running wheel, hanging hammock, hideouts, chewing toys, or other accessories. Change the toys and add new ones from time to time. Let your little pet stay as active as possible.
To Sum Up
In the end, we must say that out of these six models, there is one that we especially like. It is the Ferplast Hamsterville large wooden hamster cage. The reason we like it is because it combines the two sturdy materials – wood and metal. This wood and wire hamster cage is long-lasting, made of safe and natural material, and provides enough space. It is a fun hamster enclosure that is very convenient to have at home.