Have you been trying to find a 3-tier wooden hamster cage?
Great! Then you shouldn't miss reading our article. We have listed the 5 best models and divided them into different categories. Also, we made a small buying guide and we hope it will help you choose the perfect model for your hamster.
The Summary
5 Best 3-Tier Wooden Hamster Cages
BEST OF BEST 3-TIER WOODEN HAMSTER CAGE
Aleko Deluxe Hamster Cage
General Description
Aleko's cage is made of fir wood, a mesh top, and see-through acrylic front and side panels. It allows you to watch your hamster play. The cage is heavy-based and sturdy. It is spacious and secure. The cage is made of quality materials and its price is high.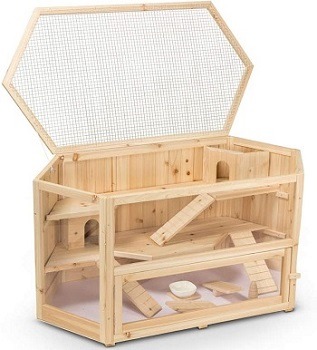 The Ventilation
The wire mesh top allows the fresh air to circulate the Aleko 3-tier wooden hamster cage all the time. This is extremely important for your hamster's health, so always check if the cage you are looking to buy is well-ventilated.
Access To The Cage
There are two large openings. Both the top and front sides can easily be opened but secured as well when closed. Choose how you want to access the cage when cleaning. We suggest you to open the top door when cleaning to prevent your hamster from escaping.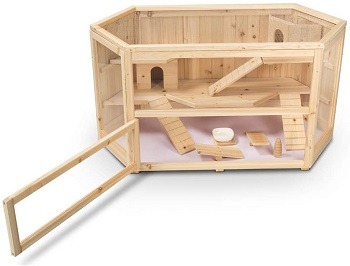 Fits Two Hamsters
In case you have two hamsters or dwarf hamsters, you can fit them both. Aleko hamster cage for 2 hamsters will be their ideal home. The cage provides them with a lot of space for all of their activities – rest, play, run, and other.
In Short:
made of fir wood, acrylic, and mesh
the top and front side can be opened
Aleko cage fits two hamsters
this cage is very well ventilated
cage's quality and price and high
BEST ENCLOSURE 3-TIER WOODEN HAMSTER CAGE
Aivituvin 3-Tier Cage For Hamsters
Product Overview
Aivituvin hamster cage with three floors is similar to the previous model. It looks like an upgraded version. It also comes with a see-through front and sides. The main difference is in color and vent openings. The Aivituvin cage is grey and has a wire mesh top and sides.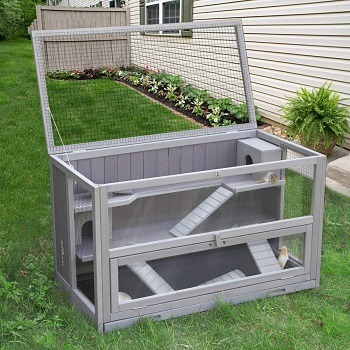 The Included Cage Content
The Aivituvin multi-level hamster cage, apart from the floors, includes hamster hideout houses. There are small ramps that are safe for hamster's paws. A hamster food bowl is included as well. Get more hamster accessories and make your hamster happier and occupied.
Eco-Friendly And Durable
This cage is made of natural wood, wire mesh, and acrylic. It is painted in eco-friendly paint. Even though this cage is waterproof, we recommend you to use it indoors. Aivituvin 3-tier wooden hamster cage will last you a long time and make your hamster feel cozy and safe.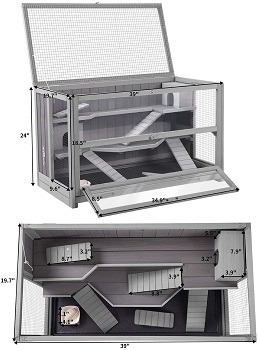 Useful Details
This cage will fit two hamsters or dwarf hamsters as well. The overall dimensions of this cage are 39″L x 19.7″W x 24.02″H. To access the cage, simply open the top or front door. The cage is spacious, pet-friendly, and secure. The price is medium to high.
In Short:
cage's frame is made of fir wood
comes with mesh top and sides
the front is made of acrylic
includes hideouts and ramps
the cage is spacious and durable
BEST WITH METAL 3-TIER WOODEN HAMSTER CAGE
Ferplast Hamsterville Enclosure
Wooden And Metal Construction
Ferplast cage for hamsters is made of a wooden frame and metal wire top. The cage is long-lasting and 100% pet-friendly. All the material is natural and non-toxic. The wires make this cage sturdy and we are sure that it lasts a long time.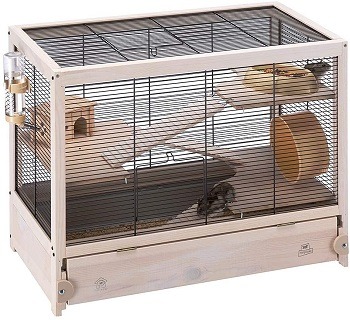 The Equipment
The Ferplast 3-tier wooden hamster cage comes fully equipped. The inside content is made of wood as well. You will find three platforms, three ramps, an exercise wheel, a hideout house, and a food bowl. There is more space for adding other toys or accessories.
Secure And Chew-Proof
The wire spacing is tight so this cage is pet-friendly. It is safe for your hamster's paws. Also, it is resistant to hamster's bites. The cage is escape-proof and it will make you feel relaxed about your hamster's safety.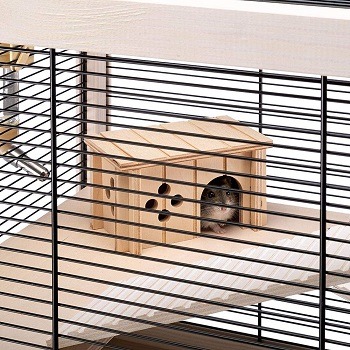 The Cleaning And Tray
A removable tray is included. Simply pull it out when it requires cleaning. Apart from the tray, there are two doors – the top and front. It will make the cleaning and refilling the food bowl much easier. Ferplast escape-proof hamster cage is a quality hamster habitat.
In Short:
made of wood and metal wires
the cage is chew-proof and durable
includes platforms and ramps
there is a hideout and a wheel
cage comes with a removable tray
BEST CAT-PROOF 3-TIER WOODEN HAMSTER CAGE
New Age Pet Hamster Cage
Large And Spacious
If you have a Syrian hamster then you will require a larger habitat. This 3-tier hamster cage by New Age will fit even two Syrian hamsters. It has a lot of space and it will make your pet hamsters happy, active, and cozy.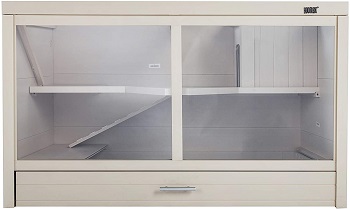 Easy To Maintain
The material that the cage is made of is non-absorbent. Moreover, the cage is resistant to odors and stains. It is very easy to maintain and clean. There is a removable tray under the cage. Simply pull the tray out when you need to clean the litter or bedding.
The Dimensions
This large Syrian hamster cage measures 43.3 x 23.6 x 23.6 inches. The cage is heavy-based and it weighs about 43 pounds. Find the best place for your new unit. We recommend you keep this habitat indoors.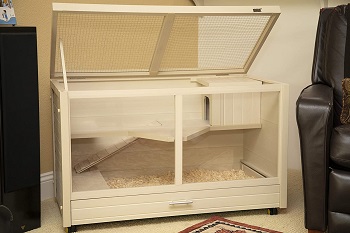 The Assembly
The New Age 3-tier wooden hamster cage ships unassembled. You will need to set this cage up. We suggest that another adult helps you out. The assembly is simple, it takes about 10 minutes and requires no tools.
In Short:
the cage is spacious and big
it is made of safe and natural wood
this cage is heavy-based
it needs to be assembeled
the cage is perfect for Syrian hamsters
BEST LARGE 3-TIER WOODEN HAMSTER CAGE
Aluora Syrian Hamster Habitat
For Small Animals
The 3-tier hamster cage by Aluora is ideal for chinchillas, guinea pigs, or Syrian hamsters. It is not recommendable for small or dwarf hamsters. The cage is tall, large, and spacious. It will fit two or more Syrian hamsters and make them cozy and happy.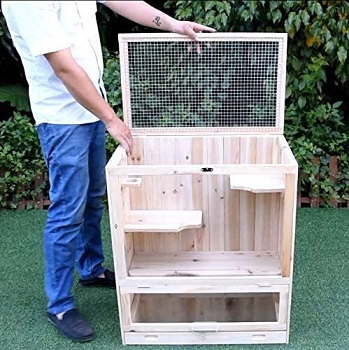 The Natural Material
The cage's frame is made of natural fir wood, plexiglass front, and a wire mesh top. This tall hamster cage is non-toxic and completely pet-friendly. It is sturdy, resistant to bites, and long-lasting. This cage will keep your pet hamsters safe.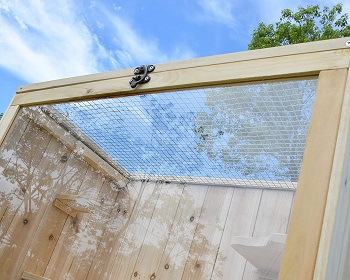 Clear And Ventilated
Aluora 3-tier wooden hamster cage is another see-through large habitat for hamsters. The wire mesh top allows the fresh air to circulate in the cage which is very important for your pet's health. The cage is weather-proof, but we recommend you keep it indoors.
In Short:
the cage is made of natural wood
it has a clear front made of plexiglass
wire mesh top makes it well-ventilated
Aluora cage is made for Syrian hamsters
the cage is tall and spacious
How To Pick: 3-Tier Wooden Hamster Cage
There are several cage characteristics that you should look for if you want to be sure you'll get a perfect 3-tier wooden hamster cage. First of all, know if your hamster requires a lot or less space. Then, check the cage's quality. Also, your hamster's new habitat must be safe and secure. Keep on reading and learn more.
The Right Size – Do you have a small hamster or a dwarf hamster? Then your new habitat should be spacious, but not necessarily too big. However, in case you have one or two Syrian hamsters, you will require a large wooden hamster cage.
Pet-Friendly Material – The cage that you are looking to buy should always be made of safe, natural, non-toxic, and anti-rust material. The surfaces need to be smooth so your hamster's paws don't get stuck. This is why a wooden cage is one of the best cages that you can get for your hamster.
Security And Safety – What makes a cage safe? The ideal safe wooden cage has access doors that can be secured. If your cage includes wires, they must be chew-proof. Also, the bar spacing between them must be narrow. Make sure to buy a cage that will provide your hamster with a healthy environment.
Space For Play Area – Whether you require a small or large hamster cage, keep in mind that your hamster needs to have enough space for playing and running. Staying active keeps hamsters healthy and makes them happier and occupied. Create an activity area and get your pet play tubes, a wheel, play houses, etc.
Ventilation And Maintenance – Last, but not least. Always check if the cage you are looking to buy has ventilation openings or wire mesh. Breathing fresh air, as well as hygiene, is extremely important for your hamster's overall health. Make sure you clean the cage, litter box, and the inside content regularly.
To Sum Up
If we were to buy a 3-tier wooden hamster cage, we would go with the Ferplast Hamsterville Enclosure. The cage combines two sturdy materials – wood and metal. Ferplast wooden-metal hamster cage comes fully-equipped and provides just enough space for one hamster of almost any size. In case you like it as well, check similar models and read our article about the best hamster enclosures.