Are metal wire crates not sturdy enough for you so you're looking for a truly tough dog crate?
The search doesn't have to worry you anymore because you have reached your final destination regarding it. In this article, we reviewed the toughest and best ones that money can buy and even sorted them into different groups like the best one, heavy-duty one, and more so it'll be much easier for you to find what you're looking for.
The Summary
Best 5 Tough Dog Crates
BEST OF BEST TOUGH DOG CRATE
Impact Aluminum Dog Crate
Heavy-Duty Build
The crate is made out of heavy-duty aluminum which makes it a tough dog crate. It is coated with a rustproof powder, the corners are crush-proof and the lock on the door is made with marine-grade stainless steel. All of this speaks for itself when you think about if this is an unbreakable dog crate.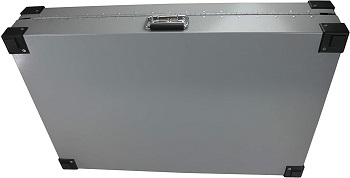 The Quality Of Visibility
Visibility is achieved with the holes on each side except for the front where you'll find located a door and bars on it. It might not provide your dog with the best visibility or you for that matter but ventilation will still be good and there's not a chance of your dog chewing on the sides
Collapsing And Stacking The Crate
It easily collapses to 8-in tall and it's easy to set it up back again. On top, you'll get a handle for carrying when it's in its collapsed form. It is shaped like a briefcase in this case and can be carried like one. More crates can be stacked on top of one another because of the reinforced corner which makes it a stackable dog crate.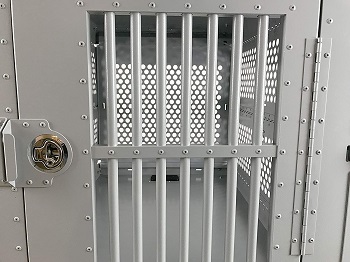 Crate Size And Cleaning It
There's even a drain hole on the bottom to easily clean the crate when your dog's living space is dirty. The crate is best for large dogs and dog breeds weighing up to 70 lbs. If you're looking to get a smaller or larger crate there are other sizes available as well.
In Short:
Made out of heavy-duty aluminum
There are ventilation holes on each side and bars on the front
Can be collapsed to 8-in tall and carried like a briefcase
Made for large dog breeds
BEST HEAVY DUTY TOUGH CRATE FOR DOGS
ProSelect Empire Dog Cage
Steel Thickness
The material that makes this crate is 20 gauge steel. Steel gauge represents the thickness of the material and as the gauge rises, the thickness gets smaller but even though the steel gauge of this tough dog crate is 20, it's durable enough to function as a sturdy dog crate.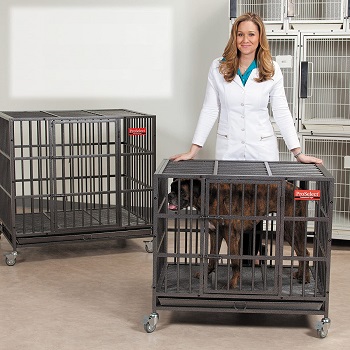 Crate Weight
The crate weighs around 100 lbs so it is pretty heavy and would be hard to move around if not for the wheels on the bottom. They can be locked when you're not moving the crate but if you want more stability than that, you can choose to remove the wheels.
Cleaning The Crate
You don't need to worry about how you'll clean the crate or if it will get dirty fast because the bottom has a gridded floor and below it, you'll find a deep bottom tray. Dirt, food, and anything similar will fall onto the bottom tray that you can then pull out to clean and place back.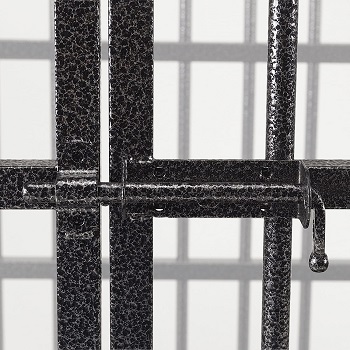 Max Weight Of Dog To Use It
Since the crate is 42.25- in long, 30.75-in wide, and 41.25-in tall and crate materials that make it a tough dog cage, dogs that can live inside are dogs weighing from 41 to 70 lbs. This means that it's best for medium dog breeds
In Short:
It's made out of 20 gauge steel which makes it heavy duty
Sits on wheels that can be removed if you want to
Has a gridded floor and a tray for cleaning below it
Dogs weighing up to 70 lbs can use it
BEST PLASTIC TOUGH DOG CAGE
Diggs Revol Dog Crate
Double Materials
The crate is made out of more than one material that makes it a tough dog crate. The frame is made out of reinforced plastic and the sides have aluminum steel wire that is high grade. It's designed to meet baby industry standards meaning that it will keep your puppy or small dog completely safe inside. This feature makes it a good training cage for dogs.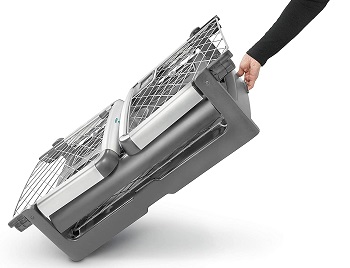 Fit For Travel
Not only will this crate serve you well as an indoor dog crate but you can also use it as a small dog travel crate. The reason for it is you can easily collapse it to carry to your car using the provided handle on top for example or you can even push it because it can have wheels on the bottom.
Puppy Training Crate
The thing that makes this tough crate so good for puppies is the fact that it has a tray on the bottom that comes out easily to keep the clean crate, it also features a divider which is known to be good for puppies that have to be crate trained.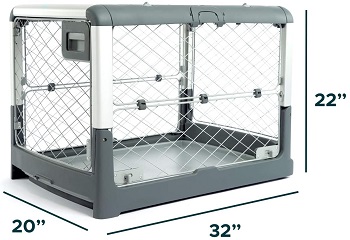 Dogs It Can House
The crate weighs around 31 lbs so it's not that heavy and it is 34.7-in long, 26.2-in wide, and 24.5-in high. It is made to house medium dog breeds like Australian shepherds or perhaps border collies and let's not forget it's god for puppies.
In Short:
Made out of reinforced plastic and aluminum steel
Safe for puppies because it meets baby industry standards
Best for medium dog breeds
Can be used for traveling because of wheels and collapsible construction
BEST AIRLINE APPROVED TOUGH DOG CRATE
Ruff Maxx Camouflage Pet Kennel
Tough Plastic Build
Just because a crate is made out of plastic, it does not necessarily mean that it can't be a tough dog crate and this one is an example of that. It is made out of heavy-duty plastic and the door is made out of steel wire and it is made for traveling by air.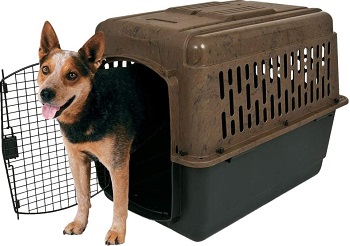 Traveling With The Crate
Crates made for travel have to meet the TSA guideline for air travel with your dog and this one meets them. You'll get nuts and bolts with the crate to makes sure that the bottom and top are securely attached, it has ventilation holes on every side of the crate that makes it fit even for international travel. Just make sure you check out if it meets the rest of the crate guidelines before traveling by air.
Door And Door Lock
The wire door can be locked with a squeezing lock so you can be sure that the lock will not slide during travel whether it is by air or car. On the door, you can easily attach a detachable bowl if you ever need to use it but it doesn't come with the crate.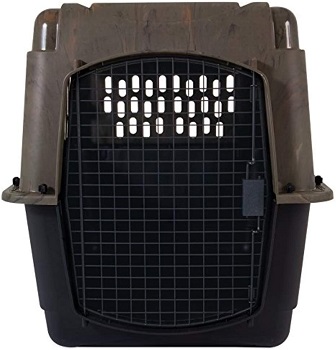 Dog Weight Limit
it is 36-in long, 27-in wide, and 25-in high and the weight limit that the crate can stand is 70 lbs. because of its dimensions, it's best to use it with dogs weighing from 50 to 70 lbs which means that it's good for medium dog breeds.
In Short:
Made out of heavy-duty plastic
Meets most TSA air travel guidelines
Can be used by dogs weighing from 50 to 70 lbs
The door lock with a squeezing lock
BEST FOR PUPPIES TOUGH DOG CAGE
You & Me Ultra Tough Dog Crate
Steel Wire Strenght
The steel wire used to make this tough crate for dogs is one of professional strength so you can be sure that your dog is not gonna bend it or chew through it. The only plastic you'll find on this crate is the bottom tray.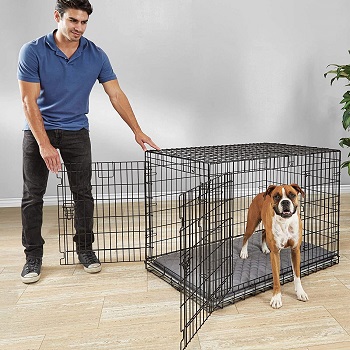 The Divider Panel
The You & Me ultra-tough dog crate features a divider. This is a good thing to have if your dog is still a puppy and the crate is sized in a way to fit him well when he grows into his full size. The reason why you should have a divider for your puppy is that it will prevent the dog from littering inside the crate since dogs like a clean sleeping space.
Reinforced Door And Locks
There are two access doors on this crate and they both lock with sliding bolt locks. They also feature paw block and alap lock to really make sure that your dog doesn't figure his way out of the crate without you letting him out. You will also get a training guide to accustom your dog to living in a crate.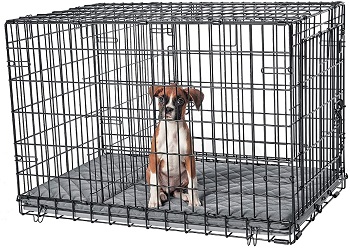 Required Length And Height Of Dog
The bottom tray is leak proof and you can easily take it out to clean when need be. When inside, a pen stop blocks it from sliding out of the crate. When your dog is fully grown, he should not be taller than 28-in and longer than 40-in.
In Short:
Made out of professional-grade steel wire
Has 2 doors that lock with sliding bolt locks
On the bottom, there is a tray that doesn't slide out
Good training cage for puppies
When fully grown, the dog can be a large dog breed
How To Pick A Tough Dog Crate
Tough Materials – Almost any type of crate can be tough and durable as long as the materials are reinforced or heavy-duty. You can easily find durable and tough XL wire dog crates as well as XL plastic dog crates since plastic is becoming more and more versatile and has multiple applications these days.
Calming Your Dog – Although the crates are tough, they might not be able to handle excessive chewing by a dog that also has a lot of anxiety. Crate training your dog is important because you want your dog to feel safe and you'd want your crate to last you a long time since you already made the effort to buy it.
Traveling With The Crate – tough crates can usually also do well as travel dog crates since they are made more durable. The only issue you might have is if the crate is too heavy but other than that, a collapsible construction, wheels, and a carrying handle are all signs that you can use it for travel.
Puppy Training – A lot of these crates are also good for puppy training cages. Puppy training crates should have a bottom tray for cleaning, have multiple doors, one preferably being on top, have a divider, and of course, be made tough and durable.
To Sum Up
There's a lot of good crates in this category but there is always a clear winner and the tough dog crate category is no exception so the one that we'd recommend is definitely the Diggs Revol Dog Crate. It's a great puppy training crate since it has a divider and a bottom tray while also being made with baby industry standards and you can even travel with it. If these crates don't fit well into your decor and you want then we'd definitely recommend that you read the article about XL wooden dog crates and if you want something made for puppies and crate training your dog then definitely read the article about training cages for dogs.