Is your dog big so you have the need to buy a tall dog crate to fit his size well?
Not to worry because we reviewed the best ones we could find and categorized them to make it easier for you to find the crate that's perfect for the situation you're in. Here, you'll find crates that are made out of wood, plastic, heavy-duty steel and so much more so definitely continue reading because you are sure to find something for yourself
The Summary
Best 5 Tall Dog Crates
BEST OF BEST TALL DOG CRATE
MidWest Homes For Pets
Preventing Inward Bending
Since the side panels of this crate are so tall, measuring at 45 inches, if not for the L-shaped bar on top of the crate that is patent-pending, the sides would be in danger of bending inward but luckily, with this crate, that's not the case.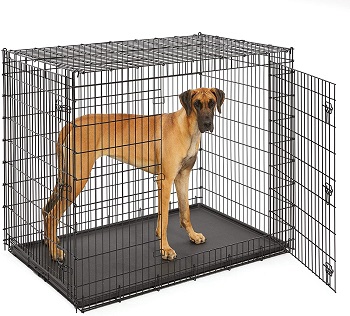 2 People assembly And Crate Strength
It needs two people to assemble it but when it's done, you can be sure that you're getting a durable and long-lasting crate since it has 4 dropping pins on each corner to ensure that the sides are stable and well connected.
6 Locks, 2 Doors
It has two access points for your pet to access the crate and for you to access him. Each door can be locked safely with 3 heavy-duty slide bolt locks so you can be sure that your dog won't escape the crate if he ever tries it. On the bottom, you'll find located an ABS plastic tray that you can take out to clean if need be.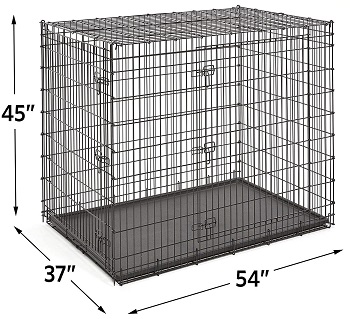 Dogs It Can Contain
This tall dog crate is extra tall meaning that it can easily house even the largest of dog breeds. These include great Danes, Dogas, and other dogs of similar height, length, and weight.
In Short:
Made for extra-large dog breeds like Great Danes
Has two doors that each lock with 2 slide bolt locks
Needs two people for the assembly
Has L bars on top to prevent the sides room from bending inwards
BEST WOODEN TALL DOG KENNEL
Casual Home Wooden Pet Crate
Complete Solid Wood Build
The whole crate except for the lock is built out of solid wood. Solid wood, unlike wood polymers like medium density fibreboard or ecoFlex that are typically used to make these types of crates, is chew resistant which means that it will endure a perhaps chewing puppy or a dog that is not used to crates and needs to be crate trained.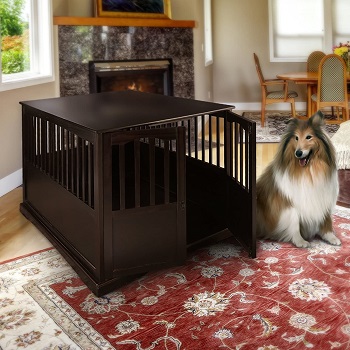 Visibility Windows
The fact that this crate is a tall dog crate with the side panels being 30-in high and can also function as an end table makes it an XL dog crate furniture. There are no metal wire pieces so visibility might not be as good as with crates that have wire side panels.
Door Lock And Escaping The Crate
It has a double door in the front for access to the crate and it locks with a single hasp latch lock. The lock is unreachable to your pet so unless your dog can break the entrance solely with his body strength, there's no way he could unlock the door by himself.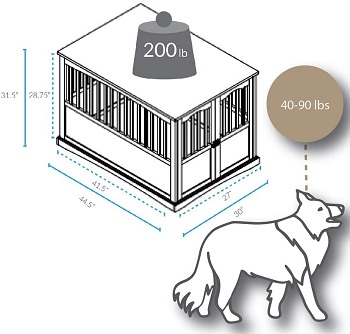 Dogs It can House
Apart from the side panels being 30-in high, the crate is also 31.5-in long and 44.5-in wide. This makes it great to be used by large dog breeds like German shepherds. To double confirm that, the weight limit is 90 lbs.
In Short:
Built out of solid wood
The solid wood can survive chewing coming from the dog
Can contain dogs weighing up to 90 lbs
Also functions as a piece of furniture
BEST STACKABLE TALL NARROW DOG CRATE
Homey Pet 43 inch Stackable Cage
Stackable Construction
This crate is not only 36-in tall but you can also stack 2 of the same type. This makes it a stackable dog crate. When two crates are stacked, you will get a tall construction of 5'8". When you buy the crate, you will only get one so any other crates have to be bought separately.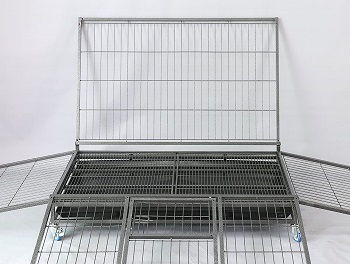 Crate Weight And Moving It
The crate's approximate weight is 60 lbs so it would be difficult to move around if you ever needed to but it has caster wheels that you can install on the bottom of it so that you can move it with ease if you ever need to. They can also be locked so that your dog can safely live inside.
Bottom Features Of The Crate
On the bottom, you'll find a gridded floor that doesn't bend even if there's a weight of 150 lbs pressuring it. Below the grided floor, there is a removable, durable, and firm tray that comes out easily for cleaning if your dog ever litters inside the crate.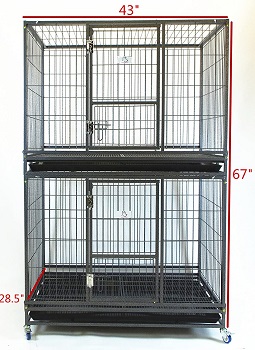 Access And Dogs It's Suitable For
The doors are located on the side of the crate and the top for full crate access. There's also a feeding door for you to feed your pet without risking him possibly getting out. This is also the reason why it's not suitable for small dogs but instead, for large dogs up to 90 lbs.
In Short:
Suitable for dogs weighing up to 90 lbs
Has a gridded floor and a bottom tray below it
Stands on lockable caster wheels
2 crates can be stacked on one another
BEST HEAVY DUTY EXTRA TALL DOG CRATE
Polar Aurora Pet Dog Cage
Chew Resistant Frame
The crate is made out of heavy-duty steel. Every bar is welded to really ensure you that the crate is durable, sturdy, and long-lasting even with dogs that are highly aggressive or tend to chew on things more than others.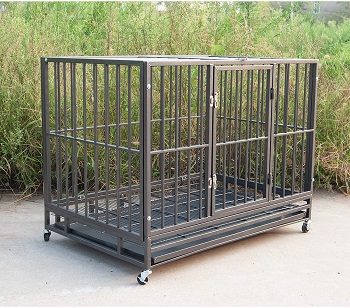 Double Lock System
The side door that is here for you and your dog to gain access to the crate can be locked with 2, double hasp latch locks. The top can also be opened for you to access your pet without him trying and succeeding to escape.
Easy Crate Cleaning
Located on the bottom you'll find two removable poles that make the cage even stronger. the bottom also has gridded flooring and just below it, there is a removable tray that will easily can any litter, hair, food, or liquids. this will ensure that the crate is clean and easy to clean.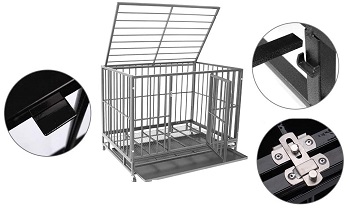 Crate Mobility
On the bottom, you'll also find located caster wheels that have a 360-degree flexible rotation and will serve well if you're moving the crate somewhere else. It is a 36-in tall dog crate so it can easily house large dogs and dog breeds like German shepherds for example.
In Short:
Built of heavy-duty steel
You'll get access from the top and side of the crate
The doors lock with 2 double hasp latch locks
Fit for use by large dogs
Sits on 4 caster wheels for easy movement of the crate
BEST PLASTIC TALL DOG CRATE
IRIS USA Wire Open Pet Pen
Open Top Access
The crate doesn't have a closed top so it might be best to consider it a playpen or a training cage for dogs. The frame and bottom are made out of plastic but the frame is intended to look like wood while the side panels are made out of white epoxy coated wire.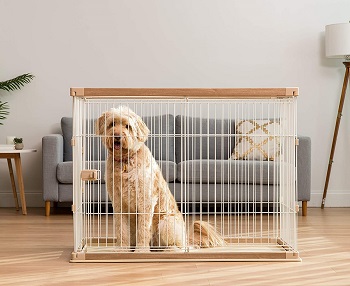 Positive Lock Sliding Door
There's single door access to this tall dog crate and it locks with a positive lock system. The door also doesn't open like a traditional door but instead, it slides open.
Firm Plastic Tray
The bottom plastic tray is molded to fit the edges of the crate perfectly. this will keep the tray from sliding or moving and it will also keep the frame undamaged and your floors as well. You can easily take it off to clean since the crate weighs 40 lbs.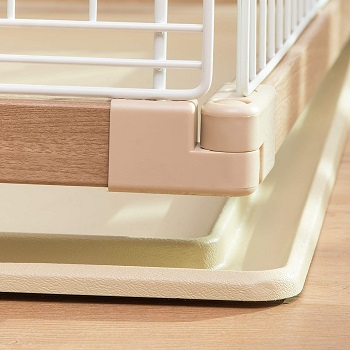 Tall Build
You can get the same crate but a bit shorter than this one as well. The difference is only the height. This one though has a height of 35-in, a length of 47.24-in, and a width of
In Short:
 Has an open top
Frame and bottom are made out of plastic
The side panels are made from epoxy coated metal wire
Suitable for large dogs
How To Pick A Tall Dog Crate
Except for being tall dog crates, they have to be made sturdy and lock well since they are usually made to be used by large and extra-large dog breeds so thinking about that, along with why the crate is sturdy and what are some of the differences between kennels and them is something you should concern yourself with before deciding to buy.
Tall Equals Large – In most cases, tall crates that go above 30-in in height will be made for large and extra-large dog breeds. There will be times when a crate will purposely have larger sides but they are intended to be used by large dogs.
Measuring Your Dog – except for tallness, the factor that also comes into play when picking a tall crate for your dog is the length. the way you measure your dog is by measuring his height from the floor to the top of his head and from his nose to his rear. You should add 3-4 inches to both of those and if it's equal or a bit higher when comparing it to the crate you've found one.
Crate Sturdiness – Since they are made for large dog breeds, your dog should be crate trained and of course, the crate still has to be sturdy. For getting the best out of these two factors, we suggest getting an XL wire dog crate or an XL metal dog crate.
Tall Dog Crate VS Kennel – You could easily confuse a tall dog crate for a kennel since kennels are also large and tall but the one things that separate them from one another is the fact that kennels are made to be used outdoor so they will have some additions to them that enable them to withstand different weather conditions and a kennel will most likely not fit into your house because they are so large that they can have inside them dog crates.
To Sum Up
Not every tall dog crate can beat the strength and durability of the MidWest Homes For Pets. It has a patent-pending L bar on top to prevent the side from bending inward, it is large enough to fit inside extra large dogs and the fact that you need two people two assemble speaks for itself when talking about how tall and large it is. If you came here looking for a wooden tall dog crate, we suggest your read the article about XL wooden dog crates and if you're more concerned about your crate being sturdy enough, definitely read the article about sturdy dog crates.