Are you looking to get a portable crate for large dogs because you tend to move your dog crate a lot?
We understand what such a crate should have and be so by continuing to read this article you are almost guaranteed to find one that suits you since we've only reviewed the best. Not only that but we've made sure to review a variety of different crates such as soft ones, airline-approved ones, and a lot more.
The Summary
Best 5 Portable Crates For Large Dogs
BEST OF BEST PORTABLE CRATE FOR LARGE DOG
Midwest Double Door SUV Crate
Narrow Build
The first thing that comes to mind when we give it a second and think about why this is a portable crate for large dogs is the fact that it's an SUV dog crate. It can fit into almost any vehicle because it has a narrow design so it won't take up as much cargo space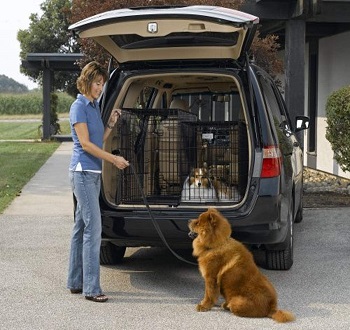 Briefcase Like Carrying
Another thing that you can do with the narrow design is that you can place the crate in the back seat of your car so that your dog can ride right beside you. The crate can be collapsed and you can carry it conveniently with a provided handle. You can also use the collapsible construction to store it when it's not in use.
E-Coating Wire Properties
The wire is coated with a black e-coat that gives it a rust-resistant property and the plastic liner on the bottom is made in a way that it is leakproof so if any urine gets on the pan, it won't get on your car or home floors.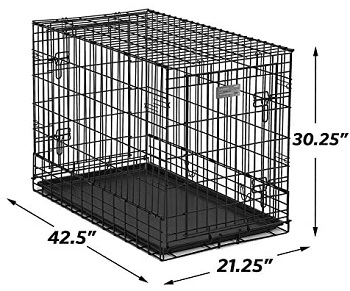 Weight Limit And Entrances Location
The crate has 2 entrances, one in the back and one in the front and you can safely lock them with the standard wire sliding bolt locks. The weight limit for the crate is 90 lbs but you should focus more on its dimensions when you're trying to figure out if your large dog will fit inside comfortably.
In Short:
Made out of steel wire and coated with an e-coat
The crate is rust-resistant
Has a narrow design to fit most vehicles and SUV's
The bottom pan is leakproof
Has a front and a back door
The crate's weight limit is 90 lbs
BEST SOFT PORTABLE DOG CRATE FOR LARGE DOGS
EliteField Soft Dog Crate
Big And Light
No matter how large soft-sided dog crates are, there's one thing that they'll always be and that is light. This one weighs only 17 lbs. This portable dog crate for large dogs is also wider and taller than most brands of soft dog crates so picking a size that fits your dog will be much easier.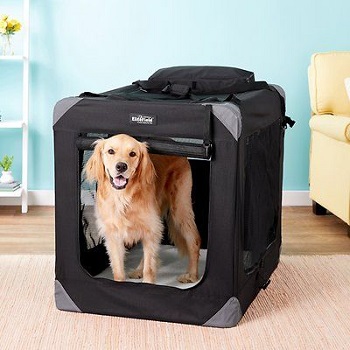 Cleaning Its Parts
For the frame, so that this portable crate for large dog can hold its shape well and be folded down when it's needed, it used stainless steel tubes and the o600D Oxford fabric cover that can be taken off to wash. The pad on the bottom of the crate is waterproof and can also be taken out to wash.
Options For Carrying
As we've already mentioned, the crate's steel tube frame gives you the option of folding down the crate. You can then store the crate inside its' own bag and carry it with the provided shoulder straps or you can carry the crate itself with the provided handles when it's unfolded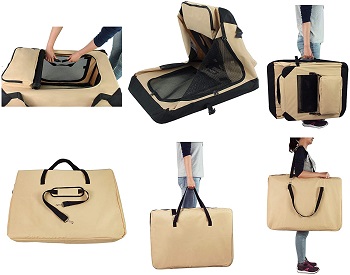 Openings Location
The crate's windows are made out of breathable mesh fabric and they are located on the top, the fron,t and all sides. Three out of all are also doors ad they are the top, front and side windows. The crate also has an accessory pocket located on top and a removable one in the back.
In Short:
Holds its shape using the steel tube frame
Has an oxford fabric cover
The cover and provided fleece pad are washable
Wider and taller than most soft dog crates
Comes with a carry bag
Can be folded down
Has three doors for accessing the crate
BEST AIRLINE PORTABLE CRATE FOR LARGE DOGS
Petmate Sky Kennel Pet Carrier
The Steel Wire Door
This large dog airline crate will give your dog the ability to go in using only one steel wire door but that shouldn't concern you since this is a typical requirement for airline approved crates to have. What't so special about it is the lock that's a vault type one. This means that you don't have to worry about the door opening on its own because of vibrations and turbulence.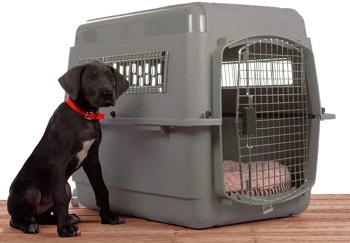 Securing The Plastic Shell
The portable kennel for large dogs as a whole is made up of two separate parts that you can connect together using the provided winged bolts and nuts. This is another requirement for crates that are airline approved. The windows for ventilation are sealed with steel wire just like the door is.
Air Travel Necessities
The bolts and nuts that it comes with are not the only things you need for you to travel by air with it. The crate also includes a couple of "live animal' stickers, ID cards, holes for tying down the crate with bungees, and 2 clip-on water bowls as well.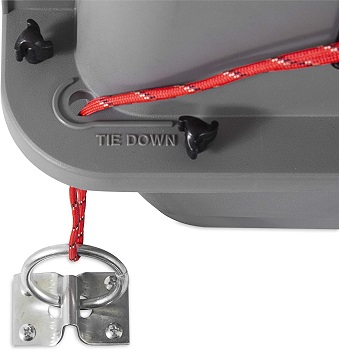 Carrying Limitations
The crate doesn't have a top handle for carrying but there is a reason for that. Since this is a portable crate for large dogs, the handles wouldn't be able to handle the weight of a large dog being inside. You also don't have to limit yourself and use it just for air travel. the crate can be a perfect fit for car travel or work well as an in-home crate but you do need to make sure that your dog is crate trained before traveling.
In Short:
Made out of a bottom and top plastic shell
The two shells can be connected with winged nuts
Has one door for access
The vault type lock won't slip or slide during travel
Comes with most things needed for air travel
Doesn't have a top handle for carrying
BEST FOLDING PORTABLE CRATE FOR LARGE DOG
You & Me Portable Canvas Dog Crate
Diagonal Mesh Windows Design
We just love how the You & Me portable canvas crate large looks. It uses light grey and black for colors but that's not the reason why. You see, the mesh fabric windows are not shaped like on your typical large soft-sided dog crate but instead, there's a diagonal wavey line that separates the fabric cover on the top side from the mesh window on the bottom.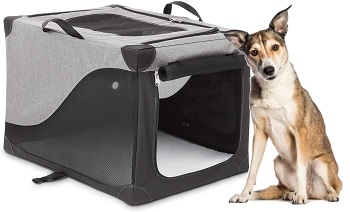 More Windows
Apart from the diagonal mesh fabric windows on two sides of the crate, there's also windows in the front and on top. Both are also doors that you can open with zippers. When the doors are opened you can curl them up and attach them to the piece of velcro fabric so that they stay open. There's one more door on the side of the crate.
Durable Cover And Bonuses
The portable crate for large dog has a foldable steel tube frame and a washable cover. The cover is thick and durable and it has padded corners to protect your car interior. For the bottom, you'll get a really soft plush pad that you can also wash so that your dog feels comfier during those long trips.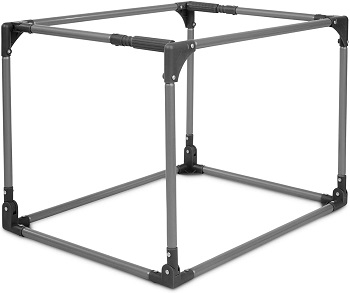 Back Features And Transport
The back doesn't feature windows but it's still put to good use because it holds an accessory pocket for you to store inside any dog-related accessories. You will be able to carry the crate either when it's folded down or using the two provided handles on top.
In Short:
Has diagonal mesh fabric windows on the sides
The top, front, and one side window are doors
Has a durable fabric cover and a steel frame
Can be folded down
Has padded corners to protect your car interior
Comes with a plush pad for the bottom
BEST PLASTIC LARGE DOG PORTABLE CRATEPet Gear 4 Door Steel Crate
Plastic Frame, Rounded Corners
The blow-molded heavy-duty plastic frame of this XL plastic dog crate ensures that the corners of the crate are rounded which means that your dog won't get hurt while he's inside. The sides of this portable crate for large dogs are made out of steel wire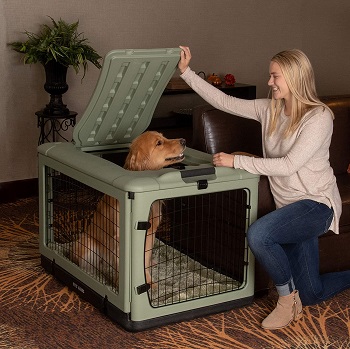 Door Quantity And Qualities
The crate will allow you to position the crate inside your home or car in a variety of ways. This is due to the 4 door design that it has. The doors are located in the front and back, on the side and on top. each door can be locked with provided steel locks and the side door that's also the largest door can be opened by sliding up.
Add-Ons For The Crate
There are some neat extras that you'll get with the crate and they include the plush bed that will, if you get your dog familiar with it, make it easier for your dog to be inside the crate and you also get a travel bag for it to store inside when the crate is collapsed.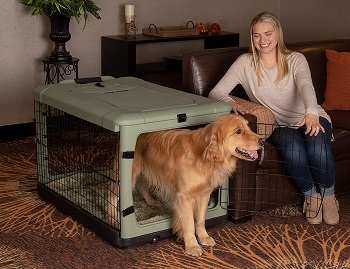 Shifting Help
What will also become quite useful to you when you wish to transport this portable dog crate for large dogs are the built-in wheels on the bottom and top handle. The crate is not as light as you might think with a weight of 40 lbs but since you can fold it down to transport and use the travel bag to do so it will be much easier.
In Short:
Has a heavy-duty plastic frame
The sides are made out of steel wire
Has rounded corners on the inside for safety
Comes with a travel bag and a plush bed
Can be collapsed
Weighs 40 lbs
Has a top handle and built-in wheels
How To Pick A Portable Crate For Large Dogs
When you want to get a portable dog crate for large dogs you have to think about a few things like the crate's materials, durability, size, and a lot more than you might think at first so to make sure you choose the right one we've made some tips to make the buying experience easier and better for you.
What Large Means – In some cases, you might get a large dog crate like a large soft dog crate and get one that can only house small or medium dogs. You can prevent this from happening if you buy these portable crates for large dogs by dimensions. The easiest way to determine what size to get is to compare your dog's height and length with the crate's and see if the crate is a few inches bigger than your dog's. If it is, you've got yourself a crate.
Light Materials – What really makes a crate highly portable is if it's light. You can have all the handles in the world but if it's too heavy, you'll have difficulties carrying it, especially if your dog is inside when you're trying to move it.
Most Wanted Dog Conduct – There are some flaws when it comes to light crates. The lightest crate will always be soft ones but your dog will be expected to behave when he's inside since they can break so easily if not. If you have a bit of a chewer it might be best to get a large wire dog crate since they are still pretty portable but more durable
Portable Crate For Large Dogs VS Kennel – Some crates might be marketed as kennels but they're anything but so it's important to know the difference. The biggest difference is that kennels are not really portable. They are made extremely large and are made to be placed outdoors. You'll usually find more of them in a single line since they are often used by dog professionals like breeders or shelters. If you're wondering just how large they are, You can easily put an XL metal dog crate inside them and you'll still have room left.
To Sum Up
What we thinks might be the best portable crate for large dogs and that's why we recommend it is the Midwest Double Door SUV Crate. It's made out of wire so it's durable but not as heavy with 36 lbs to it, You can fold it down easily, carry it with a provided handle and it has a narrow design to fit most vehicles. If you've decided that your dog can be inside a soft dog crate since he's calm you might want to read through the article about soft portable dog crates and if your main focus is to travel by car but want to be safe then the article for you is the one about the safest dog crates for cars.