Are you having difficulties finding a large soft-sided dog crate because most are made for medium and small dogs?
we've got you covered because we found the ones made for large dogs and reviewed them so you'd know what you're buying if you decide on it. We didn't stop there, because we put them into categories like best indoor, outdoor, and more so continue reading what we have in store for you.
The Summary
Best 5 Soft Sided Dog Crates Large
BEST OF BEST SOFT SIDED DOG CRATE LARGE
MidWest Portable Tent Crate
Light But Strong
Although this crate is light, it surely doesn't mean that it's not a sturdy dog crate. The frame is made out of steel that you can easily fold to fold the whole crate because the rest is made of fabric. The fabric used is waterproof so the crate won't mind getting wet every once in a while.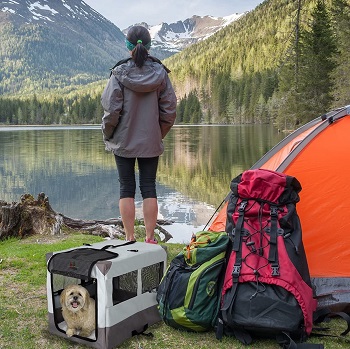 Synthetic Padding
For the bottom of the crate, and to make your dog's sleeping area more comfortable for him, you'll get a sheepskin dog pad. It's not real sheepskin but rather, it is made out of synthetic materials.
Ventilation Holes
This soft sided dog crate large model is well ventilated because, on each side of the crate, there are tiny holes in form of mesh fabric. Not only will this serve you well as ventilation windows but it will also make it easier for your dog to see you when he's inside the crate.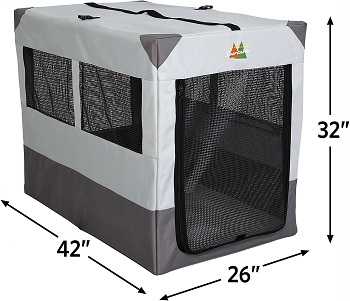 Size Of The Crate
The crate is 42-in long, 26-in wide, and 32-in tall. This makes it perfect for large dogs because you can easily fit inside a 32-in long and 25-in tall dog but also leave room for him so that he doesn't feel cramped when he's inside.
In Short:
The material that makes the frame is steel that can be folded
The fabric of the crate is waterproof
You get a synthetic sheepskin dog pad for the bottom
Ventilation is provided through mesh fabric holes
BEST FOR TRAVEL SOFT DOG CRATE EXTRA LARGE
EliteField 3-Door Folding Soft Dog Crate
Wider And Taller
Although this is a large soft-sided dog crate, it is made to be 4-in wider and 2-in taller than other brands of 42-in dog crates. This is so that your dog can sit more comfortably inside. This will especially come in handy when you're using it as a soft travel dog crate.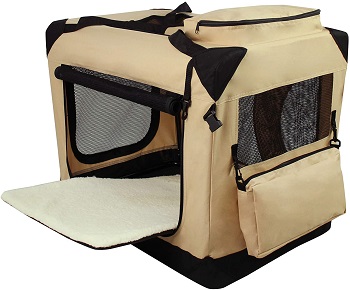 Classic Steel Frame
As with most soft crates, this one also has a steel tube frame that can easily be folded for you to store the crate when you're not using it. The rest of the crate is made out of 600D oxford fabric. It is the most common fabric used in making bags and it is polyester.
How Well It's Ventilated
For access to this crate, you'll get three doors but they are not only doors. They also serve the purpose of ventilation windows because they are made out of holed mesh fabric. Mesh fabric is very breathable so it's no wonder that it's used for ventilation on this crate.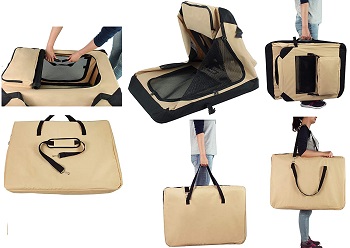 Travel Accessories
The crate comes with some useful additions for travel. It has carrying handles and a padded shoulder strap so you can carry the bag however you'd like. It also comes with a fleece bed so your dog can feel comfortable when he's inside that's easily removable and you can even wash it. It also has 2 pockets for you to place inside accessories like a dog leash and treats.
In Short:
 It is 4-in wider and 2-in taller than most crates of this type
Has a steel tube frame and the rest is made out of 600D oxford fabric
Ventilation windows are made out of mesh fabric
Comes with a fleece bed
Has 2 pockets for accessories
Comes with a carrying handed and a shoulder strap
BEST FOR PUPPIES SOFT DOG CRATE LARGE
2PET Foldable Dog Crate
The Frame And Washable Fabric
The steel that makes the frame of this crate is light but don't be mistaken, it is still a strong steel tube frame. You can easily take off the fabric cover that is the oxford 600D fabric to wash and clean it if it ever gets dirty. It's a nylon variant of the fabric and it is water-resistant.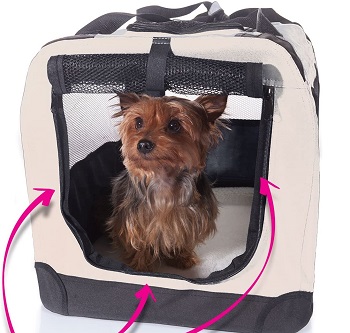 Training Your Dog
Although it's not completely conventional, this large soft-sided dog crate can easily be used as a training cage for dogs. The main reason why is that this crate features a full-frontal zipper so your dog will not be able to chew it or escape the crate that easily
360 Ventilation
Another thing that makes it good for puppies is that it offers 360-degree ventilation. That means that the crate is well ventilated on all sides because of the mesh fabric and it will even give your dog good visibility so that he can see you at all times.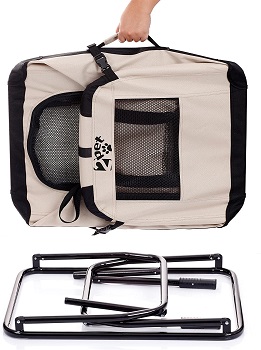 The Sizing Chart
Although this crate is said to be large, it can't house large dog breeds. This is a common problem with dog crates because the sizes are not standardized in some cases including this one so it'll be best to use it with dog weighing up to 35 lbs.
In Short:
The frame is made out of light but strong steel
The fabric crate cover can be taken off to wash
The crate cover is water-resistant
Made for dogs up to 35 lbs
Features full-frontal zippers that are not easy to chew through
BEST INDOOR SOFT SIDED DOG CRATE LARGE
A4Pet Soft Collapsible Dog Crate
Fabric And Frame Features
This is an excellent XL dog travel crate because it is so easy to fold and transport. The reason you can easily fold it is that the frame made out of steel tubes is foldable. The fabric cover is oxford fabric which makes the crate water-resistant but you can easily use it as a hideaway for your dog inside your home.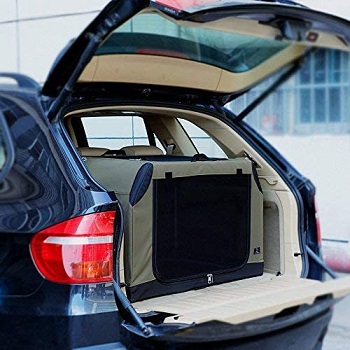 Bottom Specs And Use
It's safe to use it for travel because the bottom is leak-proof and waterproof. This bottom feature will protect your car which is really important because it can be tricky to get the smell out of a dirty car and the cleaning can be expensive.
2 Point Access
It features two doors for your dog to enter this soft sided dog crate large model and for you to access him without him trying to get out because, besides the front door, there is top door access as well. Both doors can be closed shut with an auto-lock zipper.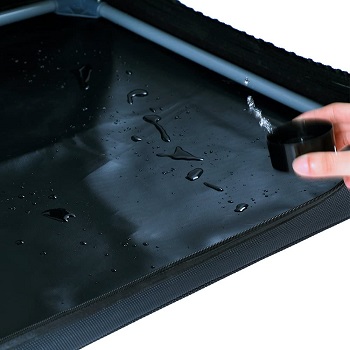 Ventilation And Accessory Pocket
The top and front access points, along with all sides except for the back, are ventilation windows made out of fabric mesh. On the back of the crate, you'll find a pocket for you to place any accessories inside of it.
In Short:
Has ventilation windows on all sides except for the back
In the back, there is a pocket for storing accessories
Has a door in the front and on top
The fabric used to make it is water-resistant
BEST FOLDING LARGE SOFT SIDED DOG CRATE
AmazonBasics Folding  Dog Crate
PVC And Polyester Build
This crate is even lighter than most of this type. It's because it is made out of PVC rather than steel and the fabric cover is a polyester fabric that can be washed by hand in low temperatures.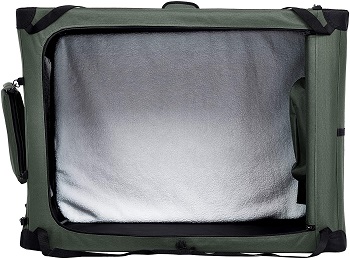 Dogs It Can House
This extra-large soft-sided dog crate is 42-in long and 30.7-in high which makes it available for use by breeds such as German shepherds and German Boxers. To put it simply, the weight of the dog can range from 76 to 90 lbs. You can choose to buy small soft dog crate of the same type because there are other sizes available as well.
Secure Feel When Inside
Your dog should feel secure when inside of this crate since it has multiple ventilation windows. In fact, there are ventilation windows on all sides and they not only provide good airflow but also give your dog excellent visibility.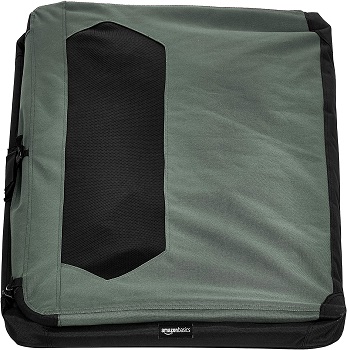 Traveling With Your Dog
It will perform well if you're traveling with your dog because it has handles and shoulder strap handles for you to transport it and it even has pockets for you to store any dog accessories that you might have. Keep in mind that this crate should only be used by dogs that are already crate trained.
In Short:
Made out of PVC and polyester fabric
Dogs weight can range from 76 up to 90 lbs
Has pockets for accessories
Has carrying handles and shoulder straps to transport it
How To Pick A Soft Sided Dog Crate Large
There isn't much that separates one large soft-sided dog crate from another but it's still worth finding out about what you should worry yourself with before deciding to buy because the material differences, crate weight, and other specs might make you need another crate type altogether.
Chewing And Scratching – Because of the way that most of these crates are closed and the fabric they are made of, they don't do well with dogs that aren't used to crates. You can definitely crate train your dog in some of these crates but you have to be aware of the risk that the crate might end up destroyed anyway.
Lighter Than Most – Unlike XL metal dog crates and XL wire dog crates, these crates are exceptionally light even though some of them use steel tubes for the frame. This is great if you move your dog crate around a lot or you can use it when you're going to the vet.
Exceptional For Travel – These crates can be used as travel carriers. It is because of their weight, the fact that you can fold them with ease, and because they come with shoulder straps that you can do this. If you're looking for a simple travel crate or carrier, these soft-sided dog crate large models are ideal for you.
Price Range – You will not spend more than up to $100 for these crates. They are a cheaper alternative to SUV dog crates so if you're a bit low on cash or just want a cheaper crate for you to contain your dog somehow when you travel, these are the way to go.
Large Soft Crates – If you search on the internet to find a soft-sided dog crate in large size, you'll probably get a crate that can't really house large dog breeds. Usually, these crates will be fit for large dogs if they are extra-large or above. A large dog is defined as a dog that is at least 24-in tall and weighs 50 lbs so be sure to weigh and measure your dog before buying.
To Sum Up
When thinking about large soft-sided dog crates it's safer to go with the obvious choice so the one that we'd recommend is the MidWest Portable Tent Crate. There's not much to differentiate these types of crates but it surely stands out because of its frame, fabric cover, size, and other functions. If you're more interested in getting a crate that won't have you worried if it will break after prolonged use, the article about unbreakable dog crates is sure to find you an answer to your worries and if you want a crate that's similar to those but slightly different, definitely check out the article about reinforced dog crates.