Is your dog not the best-behaved one so you need a reinforced dog crate to endure the chewing and biting?
well, lucky for you, we found and reviewed the best ones on the internet right now. We've done our research and made sure we categorize them according to what they're best for. Here you will find crates for puppies, heavy-duty ones and so much more if you keep reading this article.
The Summary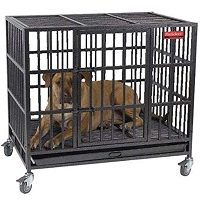 Best Of Best:
ProSelect Empire Dog Cage
Since the crate weighs 75 lbs which would be rather inconvenient for moving the crate, you can choose to have wheels on it to move it with ease.
Jump To Review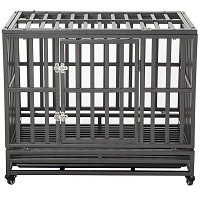 Best Heavy-Duty:
LUCKUP Heavy Duty Dog Crate
The crate is made out of corrosion-resistant steel and its finish isn't toxic so if you have a dog that tends to chew on their crate, it's safe for them too.
Jump To Review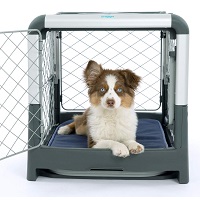 Best For Puppy:
Diggs Revol Dog Crate
The crate is an outstanding puppy crate because it's completely safe for them to be inside of it and you'll get a puppy divider with it as well.
Jump To Review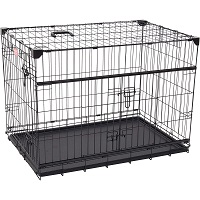 Best Extra Large:
Lucky Dog Sliding Door Dog Crate
The most unique feature of this crate is the fact that with the regular front door you will also get a sliding double door to open it.
Jump To Review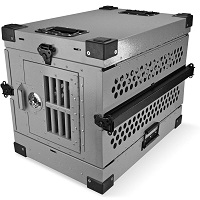 Best Folding:
Extreme Consumer Products Dog Crate
The crate's corner pads make stacking multiple crate's possible and you can easily transport it because you can fold it down to carry like a briefcase.
Jump To Review
Best 5 Reinforced Dog Crates
Best Of Best: ProSelect Empire Dog Cage
Steel Tube Thickness And Diameter
The reinforced steel tubes of this crate have a 0.5-in diameter and the thing that speaks most of how much of a sturdy dog crate is the 20 gauge steel. Steel gauge typically determines how thick the steel is. The bigger the gauge, the less thick the steel is but 20 gauge is still quite thick.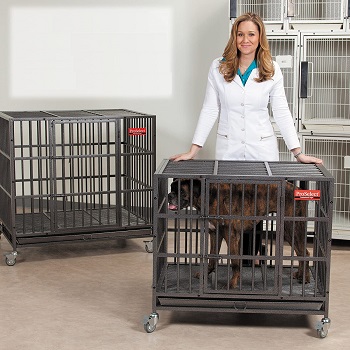 Crate Access
The single door is located on the lengthy side of this reinforced dog crate and you will be able to lock it with 2 sliding bolt locks. You don't have to worry about the troubles of cleaning the crate through only one door since the slide-out cleaning tray is located beneath the bottom that's gridded.
Heavy But Portable
The crate is quite heavy with its weight measuring 75 lbs. This makes it hard to move but the manufacturer provides you with a solution for it. The solution is the caster wheels that the crate comes with and you can either decide to attach them or keep them off the crate.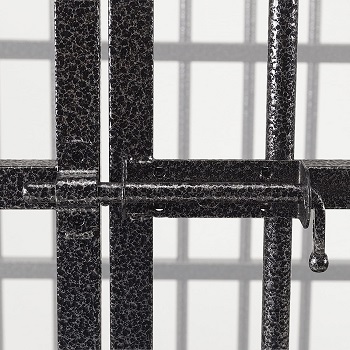 Crate Sizing
Since the crate is reinforced you don't really have to worry about your dog's weight and its weight limit but what you do need to worry about is your dog's and crate's dimensions. Generally, this crate will be a great fit for medium-sized dogs.
In Short:
Made with reinforced 20 gauge steel
Weighs 75 lbs
Can stand on caster wheels for easy movement
Made to house medium dog breeds
Has a single door for access
Cleaning is easy because of the pan below the bottom
Best Heavy-Duty: LUCKUP Heavy Duty Dog Crate
Stainless Metal Crate
The crate is in fact a stainless steel dog crate because the steel used to make the crate is corrosion resistant. It is coated with a non-toxic finish which what you should always look for in a crate made for more aggressive dogs that tend to chew on their crate.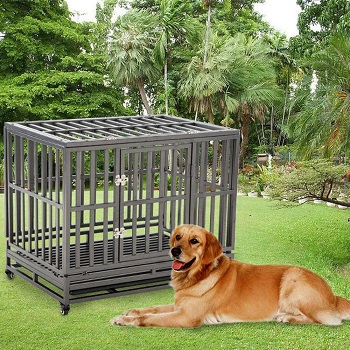 Safety Buckle Locks On Door
There's a front door for your dog to access the crate and there's a top-load door for you to access your dog. They lock with two hasp latch locks that are double secured with buckles that will make escape hard even for the best escape artist dogs because they will have no success unlocking the door on their own.
Crate Bottom Contents
The bottom of the reinforced dog crate features gridded flooring and below it, you'll find a deep tray that you can pull out to clean any dirt and dog excrements that would have otherwise accumulate inside the crate. You can also attach caster wheels to it that can be locked to set the crate into place.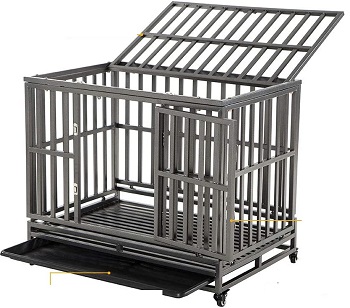 Breeds That Fit Inside
The crate is 37.5-in long and 32-in tall. This is important to know because using this you'll determine whether the crate is the right size for your dog. This crate can fit inside dogs of similar size to mastiffs, German shepherds, and rottweilers.
In Short:
Made with corrosion-resistant steel
Has a top and front access door
The hasp latch locks are secured with safety buckles
Made for large dog breeds
Cleaning is easy because of the pullout tray below
Best For Puppy: Diggs Revol Dog Crate
Plastic But Tough
Although this crate is a small plastic dog crate it definitely doesn't mean that it can't compete with the rest of these reinforced dog crates. The plastic that's used for the frame is reinforced and the sides are built out of high-grade aluminum wire.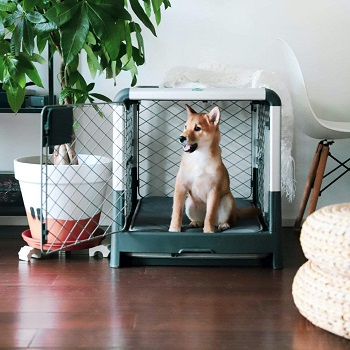 Puppy Safe
It's a perfect puppy crate since it's made with baby industry standards. What this means for your dog is that your dog won't get hurt in any way while he's inside the crate. It also comes with a puppy divider that will be put to good use if you need to potty train your new puppy.
Safe Entry Points
There are three doors for you to access the crate, and you won't have any trouble with your dog managing to open the doors on his own because of the way they open. There's a top and a front door and the side door opens up just like a garage door would.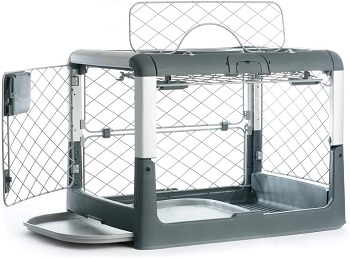 Perfect For Traveling
This dog crate doesn't stop here because you can collapse it to store or transport or you can use the built-in wheels and top handle to do so. It makes traveling with your dog so easy. When your dog is fully grown, he should be a small dog to fit comfortably inside.
In Short:
Has a reinforced plastic frame
The sides are made out of aluminum steel wire
Safe for puppies to be in
You can potty train your pup because of the divider
Can be collapsed
Has built-in wheels on the bottom and a top handle
Best Extra Large: Lucky Dog Sliding Door Dog Crate
Sliding And regular Door Access
What makes it stand out is definitely the fact that it's a sliding door dog crate. This will save you some space around the crate if you decide to leave it open. The sliding double door locks with sliding bolt locks with additional safety buckles and if that's not enough access for you, you can also choose to use the front access door.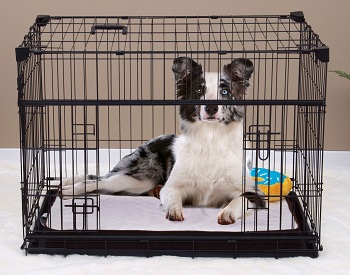 Stable Construction
The wire panels of the crate are reinforced and are coated with a rust-resistant finish. The crate is additionally reinforced with stabilizers for corners that will help prevent this reinforced dog crate from collapsing accidentally
Potty Training Crate
The crate will come with a divider panel for you to potty train your growing puppy if you need to. To protect your floors from getting damaged if the crate moves or you're moving it, comes with rubber feet located on the bottom wire.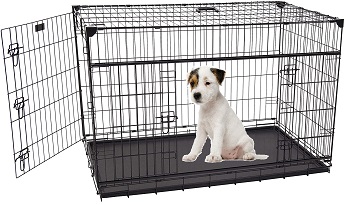 Moving The Crate Around
If you want to move the crate around the top handle will allow you to do so. The crate can house dogs u to 85 lbs. your dog shouldn't be taller than 24-in and longer than 34-in to fit inside comfortably.
In Short:
The crate has a sliding door and a regular door access
Has corner stabilizers to prevent accidental collapsing
Made for dogs up to 24-in tall and 34-in long
The top handle will allow you to move the crate around
Has a rust-resistant finish
Best Folding: Extreme Consumer Products Dog Crate
Supported Construction Sides
You will rarely find a stacking dog crate like this one that can also be collapsed safely without ruining the construction integrity of the crate. the reason why are the metal rods on the sides that you remove when you're folding the crate down and they can also be locked. They support the crate's construction pretty well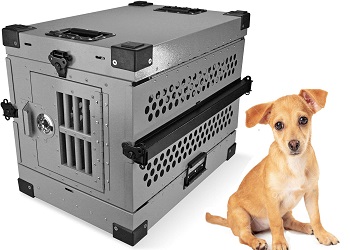 Crate Transportability
There are two ways that you can carry this reinforced dog crate. It's either when the crate is folded down with a handle that's conveniently located on the edge to make it look like a briefcase or with two top handles when the crate is assembled. Either way, the handles won't break because they are made to be heavy-duty.
Limited Visibility
The crate provides your dog with good airflow but as good enough visibility since the dog with thick metal rods is small and the hole on the sides are as well. The limited open space on the single door will make the lock on the door unreachable to your dog.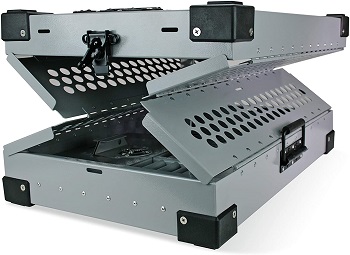 Cool Crate, Stackable Design
This reinforced dog cage will provide shade and keep your dog cool enough if it's exposed to the sun. On the edges of the crate, you'll find located the reinforced corner pads that will not only save the corners of the crate but are also the reason why you can stack multiple crates on top of each other.
In Short:
You can carry while fully assembled or when folded down
You can stack more crates on top
Keeps your dog cool when the crate's exposed to the sun
Has one door access
How To Pick A Reinforced Dog Crate
You should know that not everyone should get this type of dog crate and here we explain why. We also got to the crate's sizes, their weight, and another important thing you should know before spending money on one so make sure you keep reading before making a mistake of buying one or by buying a bad or wrong one.
Who Should Get It – Of course, not everyone who has a dog should get a reinforced or an unbreakable dog crate. Reinforce dog kennels are here to endure the behavior of a rather aggressive dog. Aggressive behavior means excessive biting and scratching so if your dog is one to behave like that, you should definitely give them a go.
How To Pick A Size – With every crate you have to pick the right size and these are no exception. the only difference with these is that you should focus on inside dimensions rather than external ones since there is a difference here because of the thick tubes. Always get one that is 3-4-in taller and longer than your dog.
Heavy Crate Limitations – More often than not, these crates are a lot heavier than your average plastic dog crate or any other one and this includes even wire crates. They offer a solution to the problem by having wheels on the bottom but if you are one to travel with your dog, know that these crates aren't exactly large portable dog crates.
Reinforced Dog Crate VS Kennel – Although some reinforced crates can be used outdoors because of their rust-resistant features they can't be used outdoor all the time. They are first and foremost indoor crates. Dog kennels are only meant to be used outside and they can easily hold any dog crate inside of them which also means that you can't fit them inside. Think of them as large and extremely durable playpens.
To Sum Up
It just has to be the ProSelect Empire Dog Cage that stands out the most out of all the reinforced dog crates mentioned here. The steel tubes that make it have a 0.5-in diameter and the steel has a 20 gauge which is pretty thick for steel that makes a dog crate. If you don't like the fact that you can't travel with most of these crates since they are so heavy and big we suggest you look into the SUV dog crates article to find one and if you simply want an incredibly light large dog crate then we'd recommend you give the article about large soft dog crates a read.