Is your dog quite heavy and it's not as easily transportable so you're looking to get a portable dog crate large to help with that?
Look no more and continue reading this article because we put together our choices for the best ones. We went a little further though and determined what every crate is best for so you'll find an airline-approved crate, the best one for travel, and so on.
The Summary
Best 5 Portable Dog Crates Large Models
BEST OF BEST POTABLE DOG CRATE LARGE
Petnation Port-A-Crate
Dog Requirements For The Crate
A large soft-sided dog crate such as this one can be a portable dog crate large model. There are a few things you'll have to make sure of to make it work though. Your dog shouldn't weigh more than 70 lbs and he should be an already crate trained dog.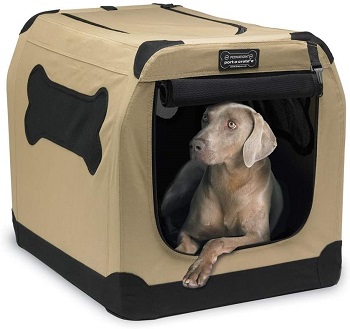 Weight Distribution
The crate weighs 10 lbs which is a little bit more than other crates of this type but it's still highly portable. Most of its weight comes from the strong steel tube frame that will allow you to fold down the crate and the rest of the weight comes from the fabric cover.
Entrances And Their Shape
It has 2 entrances with one being located on the top and the other in the front of the crate. You can actually secure the zipper that opens the door with a clip so that it doesn't open on its own. The mesh fabric windows that provide good airflow are shaped like dog bones.

Washing Steps
The crate, like many others, makes it really easy for you to clean it. YOu can remove the tightly woven fabric cover and machine wash it or you can do a quick wipe with a stain removes after collecting any dog dirt that might have found itself on it.
In Short:
Made out of tightly-woven fabric
Has a foldable steel tube frame
The cover can be machine washed
Fits dogs up to 70 lbs
Best for crate trained dogs
The mesh fabric windows are shaped like bones
Has a top and front entrance
BEST HEAVY DUTY PORTABLE DOG CRATE LARGE
ProSelect Empire Dog Cage
Hefty Design
This crate is the other end of the stick when it comes to the best portable dog crate large models. The reason why is because it's really heavy with its weight of around 100 lbs but it is still quite portable. Why? It has wheels on the bottom that make moving the crate easier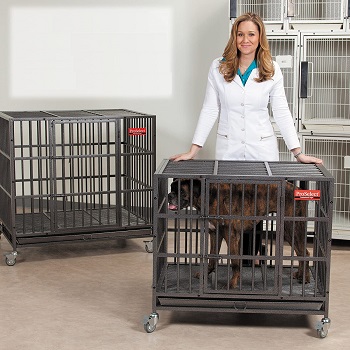 Why It's Heavy
You won't be able to use it as an XL dog travel crate but you can move it around your house or anywhere else when you need to. Its build materials explain why it's so heavy. It is made with 20 gauge steel tubes that are reinforced and have a 0.5-i diameter.
Access For Cleaning
It has only one entry point but it locks with 2 slide bolt locks and it would be rather difficult to access the crate this way for you to clean but the solution to this problem is the deep pan below the gridded floor that will collect dog urine and other dirt for you to just clean the tray to keep the crate clean.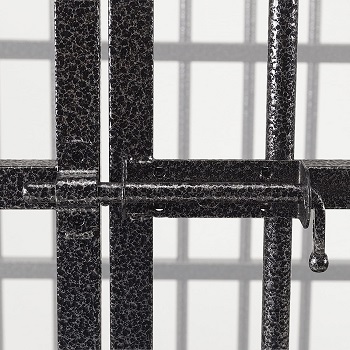 Internal Measurements
Since the steel is so thick you need to look at the internal dimensions of the crate to determine whether it's large enough for your dog. Your dog shouldn't be taller than 28-in and longer 37-in to fit comfortably inside. If you want to rely on other sources of information to find the correct size, your dog should somewhere around 41-70 lbs.
In Short:
Made with reinforced steel tubes
Weighs around 100 lbs
Can be moved using the provided bottom wheels
Has one door that locks with 2 slide bolt locks
Comes with a cleaning tray located below
Can house dogs up to 70 lbs
BEST FOR TRAVEL PORTABLE KENNEL FOR LARGE DOGS
Midwest Side-by-Side SUV Crate
Durable And Portable
The crate's steel wire build makes it durable enough to handle chewing but you don't want that if you decide to travel with it. In that case, you want your dog to be on his best behavior so that you and him are kept as safe as possible.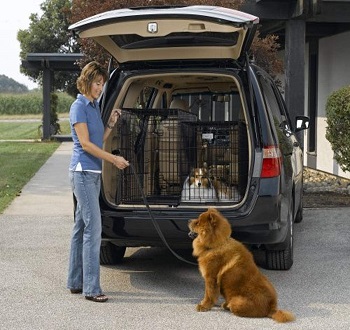 Narrow Design For Vehicles
This large portable kennel crate can fit inside most vehicles and that also means that it's an SUV dog crate. Even though it's large, it will take u less space than normal large crates since it's a bit narrower. This feature will also allow you to place your dog in the back seat ad keep him close to you at all times.
Rust Resistant And Leak Proof
The crate is coated in black but it's an e-coat which gives it a rust-resistant feature. The plastic pan on the bottom is leakproof so that if your dog happens to urinate while in the car and his crate, the liquids will stay on the pan and away from your car floor and interior.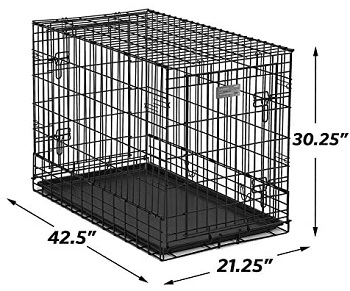 Doors And Transport
The portable dog crate large has two access points. One is located in the front and one in the rear and you can lock them both with 2 slide bolt locks. The crate also has a top handle and you can fold it down to carry like a briefcase. The crate can house dogs up to 90 lbs.
In Short:
Made out of steel wire
The black e-coat makes it rust-resistant
Has a narrower design to fit most vehicles
Can house dogs up to 90 lbs
Has a front and rear access door
Can be folded down
Has a carry handle
BEST WITH DIVIDER EXTRA LARGE PORTABLE DOG CRATE
Best Pet Portable Dog Crate
High Carbon Content Wire
The steel wire parts of this portable dog crate for large dogs are high tensile. This means that the wire is very tough because high tensile wire has a higher carbon content and the higher the carbon content, the stronger the wire is so you can easily consider this crate to be a sturdy dog crate.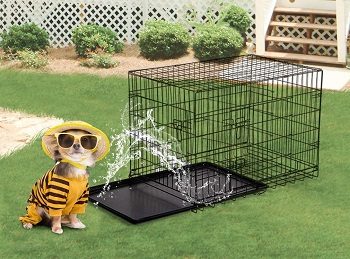 Deeper Pan And Potty Train Divider
The bottom pan on this crate is a bit deeper than what you're gonna see in many crates of the same type which will become useful since it will retain liquids better. The pan is made out of ABS composite materials and it won't stain and absorb nasty urine or dirt odors. If your puppy has trouble with potty training you can use the provided divider to adjust the crate to his size. This will make urinating inside the crate less frequent.
Withstanding Rain
The black epoxy coating makes the crate resistant to rust and corrosion which means it will survive different weather conditions like rain if you ever find yourself running to the car in the rain. It has a door in the front and on the side and they can be locked with the typical slide bolt locks.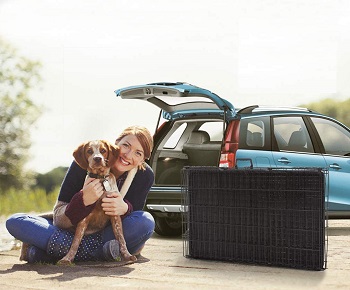 Briefcase Like Shape
This portable dog crate large model, like many, can be folded down for you to store when you don't need it but you can also use this feature to easily transport it since you'll get a top handle to carry it like a briefcase when it's collapsed down.
In Short:
Made out of high-tensile wire
HAs a front and side access door
Comes with a puppy divider
The bottom pan is deep to prevent leaks
The crate is rust and corrosion resistant
BEST AIRLINE APPROVED LARGE PORTABLE KENNEL
SportPet Designs Plastic Kennel
Connecting The Plastic Shell
The SportPet portable dog kennel is made out of two separate pieces that come together as one with plastic locking clips. It's a durable plastic material and apart from connecting them with the plastic clips, you can also double the security of connectedness with the provided nuts and bolts.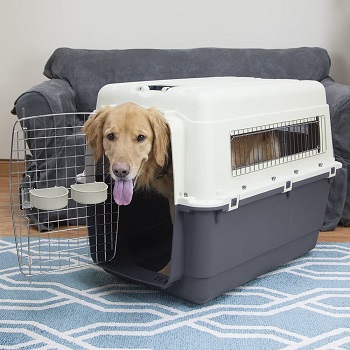 IATA Requirements
This is an IATA approved dog crate which means that you can travel with your dog with most airlines. For the crate to be this way it has 2 water bowls, stickers that say "live animals" holes for tying down with bungees, and can be double connected with nuts and bolts. Please make sure that you check with your specific airline about any additional requirements and regulations for dog crates.
Lock And Windows
There's only one access door but that is also a requirement for air travel. The lock on the door is a pinch to open lock so it won't slide open during your flight like a simple slide bolt lock would. There are ventilation windows on all sides of the crate which means that you can travel internationally with the crate.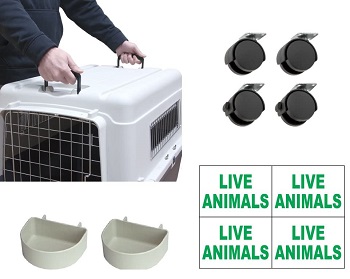 Extra Large Dog Portability
The portability of this portable dog crate large model is not to be questioned. You'll get wheels for it that you can easily snap on or off the crate and two top handles to make it easier for you to carry your extra-large dog if need be.
In Short:
It's made out of durable plastic
The two plastic wheels connect with plastic clips
You can secure the crate with nuts and bolts
Comes with most things needed for air travel like water bowls
Made for extra large dogs
The door lock won't slide open during air or car travels
How To Pick A Portable Dog Crate Large
Not every large crate is a portable and suitable for large dogs so to make sure that the one you're choosing is appropriate for your dog, you need to focus on a few things. You have to think about the weight of the crate, what kind of features it has to make transport easy, are they big enough for large dogs and more.
Portability Accessories And Features – The easiest way to recognize a portable dog crate is if the crate has accessories and transportable features. XL wire dog crates will usually be foldable and some will even come with a handle on top for ease of carrying, XXL plastic dog crates on the other hand will either have wheels on the bottom for pulling or they will also be collapsible, large heavy duty dog crates aren't that portable because of their weight but you'll get some portability if you can get them with wheels
Crate Weight – The crates will be much easier to transport if they are lighter. the lightest portable dog crate large models that you can get are large soft-sided dog crates with the weight of around 5 to 10 lbs but there's a reason why they are so light. they are not exactly durable since their primary build material is fabric. Metal dog crates on the other hand are the heaviest with their ranging anywhere from 50 to 100 lbs and they are the least portable ones but can be moved using wheels.
Training Is A Must – No matter how portable one dog crate is, it will all go to waste if your dog is not crate trained. Without it, you will put your and your dog's life at risk, or if not, the dog will be rather uncomfortable inside the crate so this is imperative.
How To Pick A Size – Although large dog crates are targeted at large dogs this is a very general description so making sure that you measure your dog's length and height, giving him three to four inches, and seeing if it matches the crate is very important to do. Generally speaking, large dog crates will usually be 36 to 42-in long while the differences in terms of height will vary much more, especially with different crate types.
Portable Dog Crate VS Kennel – Some crate manufacturers will classify their crates as kennels but if that kennel is made small enough to fit inside your home it is not a kennel but a crate. Kennels are made to be used outside and you can see them as very large playpens that have a function of a home while a crate can be considered a bed or a room.
To Sum Up
The absolute top portable dog crate large models that we chose to recommend is the Midwest Side-by-Side SUV Crate. You can collapse it to carry with ease, it's not that heavy but it's still durable and it's a bit narrower than most dog crates of this type so that you can choose to have it places in your back seats and it won't take up as much cargo space. If you're looking for a lighter version of these definitely check out the article about soft portable dog crates and if that's not your thing and you wouldn't mind a tough indestructible dog crate for your dog's aggressive behavior check out the article about XL metal dog crates.