Do you wish your dog crate isn't an eyesore in your home so you thought you might try to find a luxury dog crate to do the job?
You're on the right path to finding one. All that's left for you to do is to keep on reading this article where we only reviewed the best ones we could find. Along the way, you are sure to learn a few things about these and the reason why we think one is bound to fit you is that we reviewed different types like small, medium, large, and even puppy crates.
The Summary
Best 10 Luxury Dog Crate
BEST OF BEST LUXURY DOG CRATE
Unipaws Furniture Style Dog Crate
Materials Used
The two main materials that make up this crate are MDF wood and wire. The wire, which is found on the sides is chew-resistant while the MDF wooden frame isn't. It's colored white and has three doors for versatile crate placement inside your home. The double door and single door of this high-end dog crate feature 3 locks.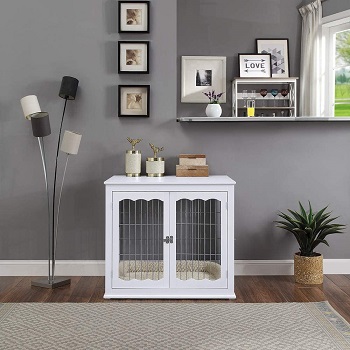 Double Function And Price
These crates don't have to be expensive but you will pay over 250 dollars for this one. In the price, a waterproof bed is included and the top makes it act as a furniture piece with a weight limit of 200 lbs. If white dog crate furniture would fit your home decor but you want a different look, you might just find one in the article linked.
In Short:
Made out of MDF wood and wire
Comes with a waterproof bed
Has 2 entry points and 3 doors
The entrances lock with 3 locks each
The wire is chew-resistant while the wood is not
The weight limit for the top is 200 lbs
BEST FURNITURE LUXURY DOG CRATE
Casual Home Wooden Lattice Crate
How it Looks
The wooden bars on the door and windows for ventilation form the shape of an X and are placed diagonally to give the crate a unique look. It's colored with a taupe gray color and will fit easily in homes as luxury dog crate furniture. For more, read the article we mentioned.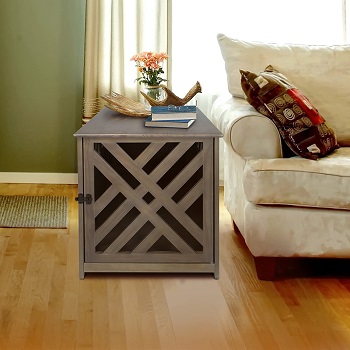 Crate Construction
It's made with solid wood that's chew-resistant so that your medium-sized dog has less of a chance to destroy it prematurely. The top allows it to work as a piece of furniture with a weight limit of up to 200 lbs. It's 36.5-in long, and 23.5-in wide so the top is smaller, hence you can put a little less stuff on top.
In Short:
Has diagonally placed wooden bars
Comes in a taupe gray color
Made with chew-resistant solid wood
Intended to house medium-sized dogs
It's 36.5-in long and 23.5-in wide
The top has a 200 lbs weight limit
BEST PUPPY LUXURY DOG CRATE
Diggs Revol Dog Crate
Crate Design
These crates don't have to be furniture crates to compliment your home design well. This one is colored with different tones and shades of grey and is made out of durable reinforced plastic and aluminum wire netting. The top corners of this high-end dog crate are curved so that it looks less boxed in.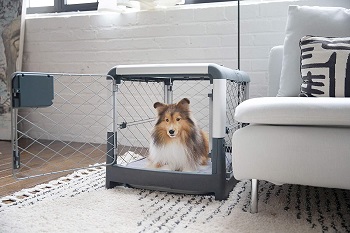 Crate Abilities And Features
It's easy to collapse and transport it with built-in wheels. It's the perfect puppy crate because of the divider it comes with and because it's incredibly safe for puppies due to the standards it's made with. It has 3 doors in total but the side door will save space since it slides open. This designer dog crate can train dogs so if you want to check out others, you're most likely to find them in the article previously mentioned or linked below.
In Short:
Made with reinforced plastic and aluminum wire
Cna be collapsed
Has built-in bottom wheels
It's made to keep puppies safe
Comes with a potty training puppy divider
Has 3 entrances, the side one saves space
It's colored with different shades of grey
BEST WOODEN LUXURY DOG CRATE
Feandrea Wooden Dog Crate
Wire And Wood Bits
The particleboard which is the wood used to make it is wonderfully stained with an unusual pattern of black and brown. Instead of 4, it has 3 wire sides while the back has a wooden panel so you can place it next to a wall. This luxury dog cage takes into account the space you can place it in and you're sure to find more in the contemporary dog crate article.
Bottom, Interior, And Top
The interior bottom has a wire grid and a cleaning tray below it that you can easily slide out for cleaning. That's why it's also elevated from the ground. On top, you'll get to pus 154 lbs worth of things and you'll get to house medium or large-sized dogs inside since it's 38.6-in long.
In Short:
Made with particleboard and wire
The backside has a wooden panel
It's 38.6-in long
Can house both medium and large dogs
The weight limit for the top is 154 lbs
The interior bottom has a wire grid and a cleaning tray
BEST END TABLE LUXURY DOG CRATE
Ecoflex Dog Crate
Ecoflex Material Info
The crate is made out of a special, wood and plastic polymer composite material. This material doesn't absorb liquids to get damaged and it also won't split, crack, nor warp. This is why cleaning by taking off the top will be easy. If you'd a more simplified build and looks check out other minimalist dog crates.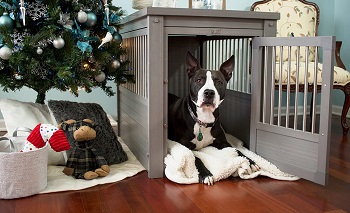 Dogs To House And Metal Features
Since this luxury dog cage can house medium-sized dogs due to its length of 35.4-in, the single front entrance features only one, bone-shaped stainless steel lock. Other stainless steel bits include the tubes placed on the windows and the door. Apart from being removable, the top can also hold your personal items.
In Short:
Made with ecoflex that doesn't split, warp, or crack
The crate won't absorb liquids
The top comes off for cleaning
You can place your personal items on top
Made to house medium-sized dogs
Has stainless steel tubing on the windows and door
It's 35.4-in long
BEST INDOOR LUXURY DOG CRATE
BarkWood Large Pet Crate
Distinguishing Features
The two distinguishing features of this crate can be found inside and on its door. The door opens fully to the side to save you some space while the interior bottom is rubberized so you don't have to worry about liquid absorption. Indoor dog crate furniture pieces tend to save home space so check others out for more intricate space-saving designs.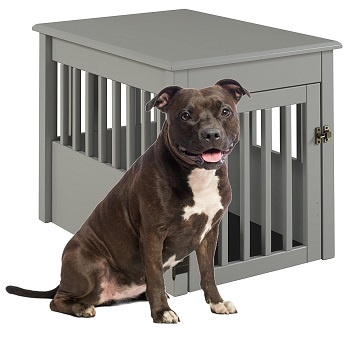 Rest Of The Crate
Other than the rubberized bottom, the rest of this high-end dod cage is made exclusively out of solid wood. Each panel is connected with mortise and tenon joints that improve its structural stability. The dogs you'll get to house inside should be medium or large due to its 36-in in length.
In Short:
Made with solid wood
Panels are connected with mortise and tenon joints
The front door opens fully to the side
Has a rubberized bottom
It's 36-in long
Able to house medium and large dogs
BEST SMALL LUXURY DOG CRATE
Simply Plus Wood & Wire Dog Crate
Lovely Screws
To match the fact that it can house small dogs, the screws and the slide-out tray blocker are shaped like dog paws and dog bones. They are located in the front so you are sure to notice them. The luxury crate for dogs has a white MDF wooden frame and top while the sides are made out of wire.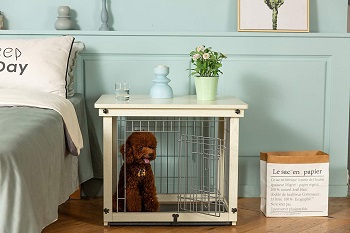 Human Access, Size, And Cleaning
The top can be opened but for cleaning, you will get a plastic slide-out tray. It has one door that locks with a sliding bolt lock and the top is 3 inches wide than the actual 25.2-in long crate. Since it's small dog crate furniture, it only weighs 26 lbs so if you'd like them a bit lighter or heavier, read the article about them next.
In Short:
Made with white finished MDF wood and wire
The top is 3-in wider than the rest
It's 25.2-in long
Comes with paw and bone-shaped screws
Able to house small dogs
The top comes off easily
BEST MEDIUM LUXURY DOG CRATE
PawHut Furniture Style Crate
Design And Entry Points
This is another successfully made modern diagonally placed wooden bars dog crate. It's colored grey and features a large entrance that will allow you to access the interior for cleaning. The door also has a single hasp latch lock. The wood it's made out of is fir wood.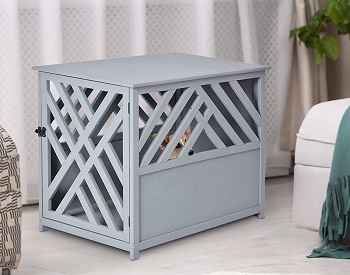 Size And Assembly
Simplicity in assembly is guaranteed with this crate that can house medium-sized dogs like bulldogs. If you'd prefer your medium wood dog crate in a different color and design, check out others we have reviewed in the article linked. The luxury cage for dogs is around 35-in long, 23.5-in wide, and 29-in tall.
In Short:
It's colored grey
Made out of fir wood
Has diagonally placed slanted bars on the windows
It's around 35-in long, 23.5-in wide, and 29-in tall
Designed to house medium-sized dogs
The top makes it double as a furniture piece
The large entrance allows you to access the inside
BEST EXTRA LARGE LUXURY DOG CRATE
Zoovilla Dog Crate
Size And Build
Although it's 43.4-in long and considered extra-large, it can still only house large dogs. It has an MDF wood frame and wire sides. On the inside, you'll find a plastic cleaning tray which is hidden with a magnetic wood frame board. The high-end dog crate has one entrance in the front that locks with a sliding bolt lock.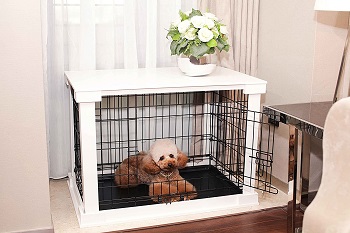 Assembly And Top Function
It's easy to assemble and it won't take long to do so. On top, you can store all your favourite personal items but make sure you don't go overboard with them. If you'd like to check out different designs extra large dog crate furniture be sure to read the article about them.
In Short:
It's 43.4-in long
Can house large dogs
HAs one, sliding bolt locking entrance
Has an MDF wooden frame and wire sides
The top makes it function as furniture
Has a hidden interior plastic cleaning tray
BEST MID CENTURY LUXURY DOG CRATE
Staart Wooden Indoor Crate
Size And Safety First
Intermediate dog crates or 36-in long dog crates are designed to house both medium and large dogs. This one is also 25-in wide, and 28-in tall. It's made out of materials that are safe for dogs like wood and metal mesh windows. it's also safe because of the bottom rounded edges and corners.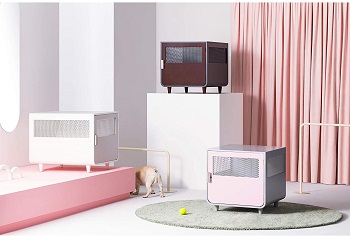 Design Details
This luxury cage has one entrance in the front and sits on 4 legs for that elevated design. the interior features a waterproof coating and the whole crate looks like a mid-century dog crate so be sure to check others out if you happen to like this one. The top, as with most crates so far, allows you to place your items on it.
In Short:
Made with pet-safe materials
Has 3 metal mesh windows
The interior has a waterproof coating
The bottom edges and corners are rounded for safety
Can house some medium and large dogs
Sits on 4 legs
How To Pick A Luxury Dog Crate
A Luxury dog crate doesn't have to be expensive to be considered one. The qualification we took into consideration is how well they fit inside homes and in what ways. We'll talk about the most common types, sizing methods, and a lot more in this simple buying guide we advise you to continue reading.
Most Common Luxury Crate Types – With the exception of just one crate, all of the other crates we reviewed were wooden dog crates that can act as furniture pieces. All you need to make sure one can function as furniture is a flat wood board top and you're all set.
Main Benefit – the main benefit of these crates is that they don't look like dog crates. Depending on the color you choose, they can easily blend well with the rest of your furniture. They're also incredible space savers because of their top and sometimes even unique door opening designs.
Luxury Crate Cons – Most, if not all dog furniture style crates are only able to house crate trained and calm dogs. Even with the addition of wire sides or a durable solid wood and chew-resistant build, your dog should be crate trained and calm for the most part
Puppy Issues – The most common puppy housing issue is littering inside the crate. Liquids tend to damage wood so make sure you get a crate with a protected bottom or with a bottom that's not wooden. You should also make sure you buy a wire dog crate since they are the greatest crate training tools out there.
Standard Sizes – We reviewed small,  medium, intermediate large, and extra-large crates but with furniture crates, the sizing is a bit different. You should always check the dimension to know truly how big a crate is. A 42-in long crate is large, a 36-in long is intermediate, a 30-in crate is medium and a 24-in is small.
Getting The Appropriate Crate Size – Unless the manufacturer of the crate states otherwise, your dog should be at least 3-4 inches shorter in height and length than the crate to fit inside comfortably. You also shouldn't worry too much about dog weight limits. The main focus should always be on dimensions.
Are They Expensive – Saying that something is expensive is subjective but considering the price of other crate types, yes, these models are a little more expensive. Their price can easily climb up to over 300 dollars. Smaller crates are going to be somewhat cheaper though.
To Sum Up
If you wanted us to recommend one luxury dog crate as the best, unfortunately, we can't do that because each crate should be tailored to your needs, dogs' size, and your dog's behavior, and no two are alike in this article. If you're only interested in large crates of this kind we advise you to read the article about large dog crate furniture and if you'd rather have a good quality wire dog crate, we have an article about them too. To fully understand just how many different crates and crate types are out there you can read the post about dog crates.