Is pink one of your favorite colors?
Would you like to buy a pink dog crate for your lovely pet?
You can find one that will fit your dog best fast if you continue reading this article. The reason why is because we only reviewed crates that fit into the pink category and we also reviewed nothing but the best. We even made sure to include a large variety of crate types like small, large, metal, plastic, and many more so one is bound to be the perfect fit for you.
The Summary
Best 10 Pink Dog Crates
BEST OF BEST PINK DOG CRATE
Pet Expressions Large Dog Crate
Color Specifics
Specifically, the color used to make this crate is magenta so it's a very vibrant pink. It's made out of steel wire so it's a good dog training crate. You can easily fold it down so that way you can transport it or store it away for future use. It can be carried folded down with the top handle.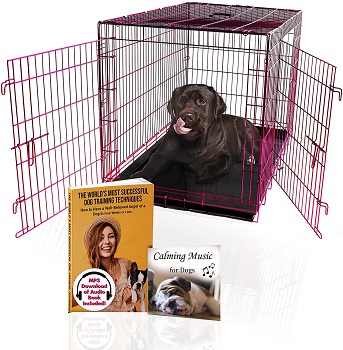 Size, Safety, And Training
This pink cage for dogs is around 48-in long so it can house extra large dogs. The locks on the two doors interlock to make escape-proof doors as well. It even comes with a book that talks about dog training techniques so it will be easy to use as a crate training crate. If for some reason you'd like to check out more of the large dog crates you can simply read the article about them.
In Short:
HAs a magenta color
Made out of wire
Can be folded down
The two doors feature interlocking locks
Comes with a book on dog training techniques
Can house extra large dogs
Has a carrying handle on top
BEST LARGE PINK DOG CRATE
Iris USA Wire Dog Crate
Pink And White Features
The only pink thing on it is its plastic edges and the door lock. the rest of it is made out of wire that's white and it also features a mesh fabric roof. It's 44.5-in wide but it's best to use it to house medium-sized dogs like beagles and french bulldogs.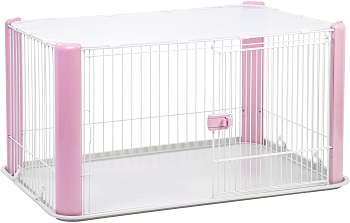 Door And Bottom
The single door on this crate is a sliding door so you'll be saving space if you choose to leave it open. The bottom is equipped with a molded tray so that it doesn't slip. if you'd like a large pink dog crate that can truly house large dogs, be sure to read the article about them.
In Short:
Made out of wire and plastic
The corners and lock are pink
Has a mesh fabric roof
It's 44.5-in wide
Best used for housing medium-sized dogs
Has a bottom molded cleaning tray
The door slides open
BEST SMALL PINK DOG CRATE
MidWest Homes For Pets Dog Crate
Puppy Housing
The divider this crate comes with will allow you to potty and crate train a puppy. It's 24-in long so it can house small dogs and ones that are going to grow up to be small dogs. If you've already crate trained your dog and would like a small pink dog crate that can exclusively house crate trained dogs, check out the article linked below.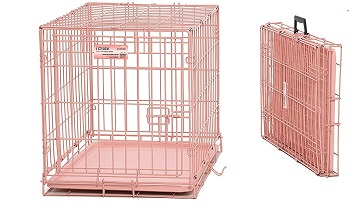 Wire Crate Details
The crate is fully made out of wire except for the slide-out cleaning tray on the bottom that's made out of plastic but also colored pink. It features a single entrance in the front that can be locked with a single sliding bolt lock. You won't have to assemble it since it's easy to fold down and unfold.
In Short:
Comes with a puppy divider
Even the slide-out cleaning tray is pink
It's made out of wire
Can be easily folded and unfolded
It's 24-in long so it can house small dogs
Has one, sliding bolt locking doors
BEST FOLDING PINK DOG CRATE
Carlson Pink Secure Dog Crate
Juvenile Product Safety
The best way to describe this crate is secure. This is due to the single door that locks from 5 different points and the fact that it's is certified to two standards: ASTM and JMPA.  They concern themselves with juvenile products' safety. It's made out of steel wire in case you're wondering.
Size And Other Abilities
As a standard small pink folding crate, it's 24-in long. You can house puppies inside since it's safe for them but it doesn't come with a divider. It can also serve well as a travel crate since it's easy to fold down. This is a pretty dog crate but there are more pretty ones that come in different colors so check them out.
In Short:
Certified to ASTM and JMPA standards
The single door locks from 5 different points
Can house small dogs
It's easy to unfold and fold
Can be used as a travel crate
Can safely house puppies
Made out of wire
BEST METAL PINK DOG CRATE
Precision Pet ProValu Crate
Finish Details
The pink finish on this crate is not just any old finish. It's an electro coat finish that makes this crate rust and corrosion-resistant. This is definitely not the only small pink dog crate with a quality finish like this so you can read all about them in the next article.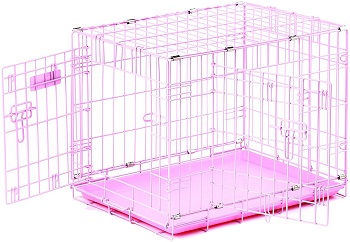 Crate Safety
The safety of the pink metal dog crate is found in its rounded corners, 2 entrances that lock with a sliding bolt lock but also 4 other points, and the clips that make its construction more stable. The divider panel will allow you to house small puppies inside. We said small because it's a small 24-in long dog crate.
In Short:
Has a pink e-coat finish
The crate is rust and corrosion resistant
Comes with a puppy divider
Can house small dogs
Has 2 doors that lock from 5 points
Has safe rounded corners
The clips on the wire provide more structural stability
BEST PLASTIC PINK DOG CRATE
Pawd Plastic Dog Crate Pink
Easily Portable
This is a fully collapsible pink plastic dog crate. It's also fully made out of plastic. When collapsed, it looks like a briefcase and can be carried with a handle that's built into it. Apart from pink, it also comes in a grey color and has the same features as the pink one.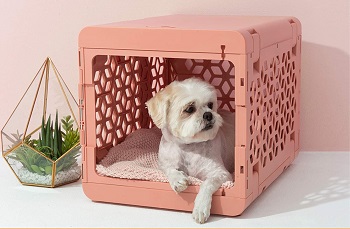 Looks And Safety
For ventilation, this crate has holes in it that are designed to make it look even nicer than it already is. It doesn't have sharp edges or corners so it's very safe for dogs. The single door in the front can stay open if you'd like as well. This is a pink collapsible plastic dog crate small model but for more colors and different sizes, check out the article below.
In Short:
Completely made out of plastic
Has beautifully pattered holes for ventilation
Can be collapsed and carried with a built-in handle
The door can stay open if you'd like
Doesn't have sharp corners or edges
BEST PUPPY PINK DOG CRATE
Petmate Retreat Kennel
Black Things And Size
On top of the crate, there is a black plastic handle and on the bottom, it has a black plastic cleaning tray. It's a 24-in long pink puppy cage and comes with a divider for housing puppies. If you'd prefer your  puppy apartment crate in a different color check out the article we listed below to find one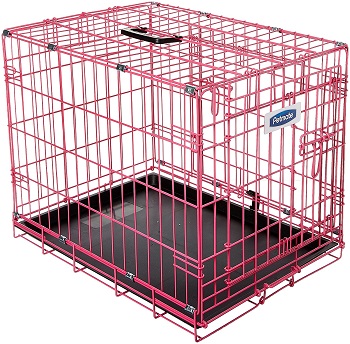 Door Locking Mechanism
The front and side entrance of this crate will help you easily position it in your home in multiple ways. These doors are also incredibly safe because they lock from 5 different points. The pink finish is a powder coat finish that helps make it rust and corrosion-resistant.
In Short:
Has rust and corrosion resistant powder coat finish
The top handle and cleaning tray are black and plastic
Comes with a puppy divider
It's 24-in long so it can house small dogs
Has 2 doors that lock from a total of 10 points
BEST SOFT PINK DOG CRATE
Pet Life Capacious Expandable Dog Crate
Expandable Features
Due to the 2 side windows, this is an expandable dog crate. They zip open and you spread them on the ground. They're covered with mesh fabric for a closed design. The soft mat on the interior can also expand so that your dog is comfortable no matter where he or she lies down.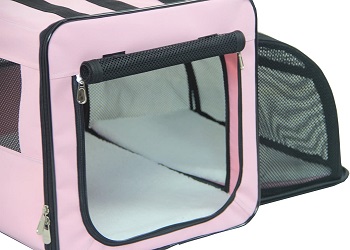 Build Materials
Apart from the mesh fabric, it's made out of ballistic nylon that's heavy-duty. Without the expanded sides it's around 32-in long and 23-in wide and tall. For regular colored or more pink soft dog crates and larger or smaller models, we advise you to check out the article about them all.
In Short:
Has expandable right and left sides
The sides are covered with mesh fabric
Made out of heavy-duty ballistic nylon
Made to house medium dogs
It's around 32-in long and 23-in wide and tall
Has an expandable interior comfort mat
BEST TRAVEL PINK DOG CRATE
Petmate Two Door Top Load Crate
Build Details
Like any old travel plastic dog crate, it has 2 plastic shells build, and you can connect and keep connected the two by screwing in the nuts and bolts. Its top is why it's pink and the bottom is black. The top shell features holes for ventilation and the wire door also helps with that. The pink dog cage is 19-in long so it's made to house extra small dogs.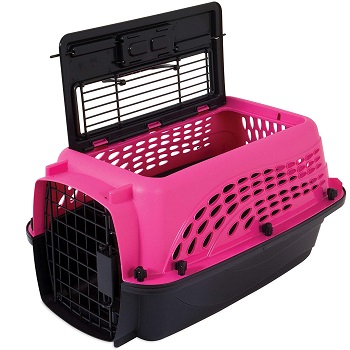 More Doors For Interaction
On the very top, you'll find a carrying handle but also a top-load door apart from the wire front door. This will allow you to better interact with your dog style inside this small dog travel crate. As you can see, there's a link to the article about more of them if you want to make sure you get the one you really want.
In Short:
It's 19-in long
Made to house extra small dogs
Has a top load and front door
Has a 2 plastic shell build
The shells connect with nuts and bolts
Has a vibrant pink top and a black bottom
BEST HEAVY DUTY PINK DOG CRATE
Asunxl Heavy Duty Metal Dog Crate
Frame And Sides Construction
This crate is made up of a combination of metal tubes and metal wire. The metal tube frame makes it more sturdy and allows you to house anxiety-ridden dogs or dogs prone to aggression. They're typically an eyesore but since this is a large pink dog crate, it's definitely not so check others out that will blend wonderfully inside homes.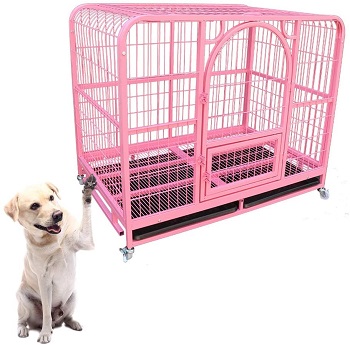 Finish, Movement, And Size
The finish makes this heavy-duty metal dog crate water-resistant which also makes it rust and corrosion resistant We can't say how much it weighs but it's enough to require wheels for you to move it around. It's large so you'll get to house large dogs inside it and it has anti-collision locks on the front entrance. This door also has a built-in smaller feeding door.
In Short:
Made out of heavy-duty metal tubes and wire
It can house large dogs
Has anti-collision locks for safety
Features a built-in small feeding door
Sits on wheels for easy moving
How To Pick A Pink Dog Crate
We wish that picking out a pink dog crate was as easy as simply finding a crate that's colored pink. Since it's not, we prepared for you this simple buying guide that will let you make sure that you choose the right size, crate type, and a lot more than just that.
Pink Dog Kennel – Have you seen a dog crat that's said to be a kennel? You can be sure that there are no kennels in this article. Kennels are big construction made to house dogs exclusively in an outdoor environment. They're made to withstand outdoor weather conditions and they're often so large that they can fit a dog crate inside them.
Easily Accessible Pink Dog Crates – We would argue that the easiest to find pink crates for dogs are soft-sided dog crates since they always come in the most variety of colors due to their fabric cover builds but we didn't prove it in this article where there are more wire crates
Most Common Size – Pink is easily associated with small dogs so that's why the most common size you'll find are small crates. They're usually 24-in long since that's the standard small-sized crate but who is to say that you can't find larger models as well. Apart from being small, they're also commonly made out of wire.
Other Crate Sizes – Apart from the small, 24-in crates, there are also medium 30-in crates, large, 42-in crates, and extra-large, 48-in crates. You'll be able to find smaller and larger ones but these are made to house toy dog breeds and giant dog breeds. The ones previously mentioned are the most standard and common sizes of crates.
Dog Measuring – Before you choose a size, you'll have to measure your dog. Your dog should be at least 3-4 inches shorter in both length and width to fit inside a crate comfortably. This can vary depending on the crate's durability so if the manufacturer states otherwise, make sure you follow through with the advice.
Crate Training Crates – The training pink crates we reviewed here are all wire crates. If they come with a divider, and wire crates most commonly do, you'll even be able to house and potty train puppies inside. Other crate types like soft crates specifically ask of you to house only the crate trained dogs inside and they're only meant to be used as a containment housing solution for when you're traveling.
Does Price Go Up With Color – For us to truly say if a dog crate is more expensive because of its unique color we'd have to have the same crate in the standard black color but for all we know, price is determined mostly by size and crate type. Metal dog crates are going to be more expensive than soft-sided dog crates.
To Sum Up
We can't truly recommend one pink dog crate as the best because you can see that they're all different in terms of size, safety, and type. That's why you'll have to pick one out on your own but with our advice, you shouldn't have any problems doing so. If you'd like a crate with a more fancy look you can read the article about either luxury dog crates or wooden dog crate furniture and if you'd prefer to read about all of the crate types available in general, there's an article about the best-rated dog crates ready to be read by you.