Do you happen to know that aluminum is a great metal so you want to get your dog an aluminum crate?
Even if you know nothing about aluminum, make sure you continue reading this article with reviews for our top picks to see why many other people love these crates. You'll get to read about collapsible and even truck crates. The moral of the story is, there is definitely a crate for you in this article.
The Summary
Best 6 Aluminum Crates
BEST OF BEST ALUMINUM DOG CRATE
Diggs Revol Dog Crate
Materials Used
Although not entirely, this crate is mainly made out of reinforced plastic. Don't worry, it's still an aluminum crate because of its sides that are made with aluminum steel wire that is high-grade. this is definitely one durable dog crate if you ask us.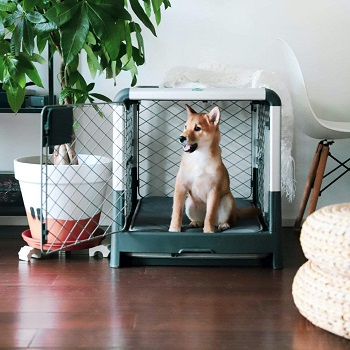 Housing A Puppy
There's a lot going on with this crate and the first important thing we feel should be mentioned is that it can house puppies. This is due to the adjustable puppy crate divider that will help you potty train your pup. It's also incredibly safe for puppies since it's built to comply with baby industry standards.
Dog Travels Ease
Another great thing about it is that you'll easily get to transport it and travel with it first because you'll get to collapse it and secondly because the bottom holds built-in dragging wheels. The top features a built-in handle if you ever want to carry this 31.3 lbs dog crate.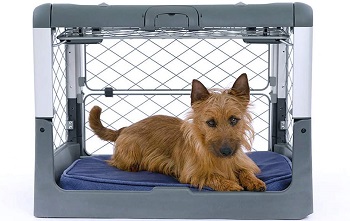 Indoor Use Benefits
It's not only a great travel crate but also an indoor one because of its doors and door types. There's a door on top, in the front and on the side. The side door opens in an upwards direction so it won't get in your way if you leave it open. An adult dog that can fit inside this crate should be a medium-sized one.
In Short:
The sides are made out of aluminum steel wire
The rest of the crate is made out of plastic
Comes with a divider for housing puppies
Features built-in wheels, a handle and can be folded
Has 3 entrances
Can be used to house medium-sized adult dogs
BEST COLLAPSIBLE ALUMINUM CRATE
Extreme Consumer Products
Unique Metal Crate Features
Not only is it rare to find a metal crate that can be folded down but what's also rare is to find one that's light enough for you to easily transport it. This crate is all of these things and more than that. It weighs 30 lbs and when it's folded down, you'll get to carry it like a briefcase.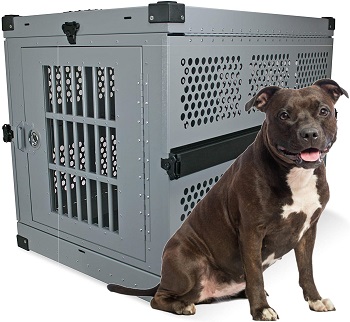 Stacking Build
The corners on this collapsible dog crate are protected with caps. This will protect both the crate's corners ad your car or home. Another thing that they do is make it a stacking dog crate. You'll get to stack multiple same models on top.
Sun Protection
The great thing about its all-aluminum build is that it won't heat up on the inside to make your dog hot. instead, it will keep him cool at all times if he gets into contact with the sun. This is true also due to its vent holes positioning on the sides of this aluminum dog crate.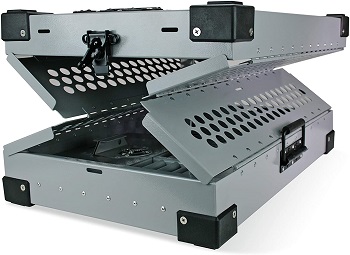 Dog Size Recommendation
When you need to lift the crate up, you'll do it using the two heavy-duty handle found on top. The crate's sized as a medium so the dogs that you'll get to contain inside it should be medium-sized dogs. Typically, they will weigh up to 40 lbs but that's always subject to change.
In Short:
It's lightweight with only 30 lbs
Can be folded down
You can carry it like a briefcase
Can be used to house medium-sized dogs
You can stack multiple crates on top
BEST FOR TRUCKS ALUMINUM DOG CRATE
Owens 55019 Dog Box
Looks And Vents
To make it more interesting than just having aluminum sheets as its build material, these sheets are also treaded with a diamond shape. This definitely gives this crate a more interesting look. The ventilation windows will provide your dog with good airflow during all seasons.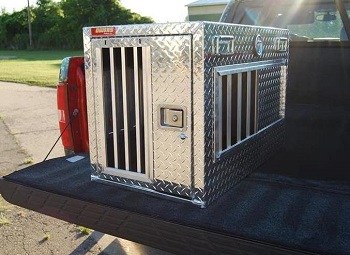 Interior Materials
On the inside, there aren't any aluminum parts that might become a safety hazard for your dog but instead, the interior is lined with plastic that is corrugated. This model specifically only comes with a dog housing compartment but you can also get it with a storage compartment.
Door And Its Lock
The lock on the single access door is a slam lock that you can lock with a key. Additionally, for more safety and security that your dog won't exit the crate on his own, there's also an additional turn-lock right below the regular lock. This is a feature of all Owens aluminum crates hunter series.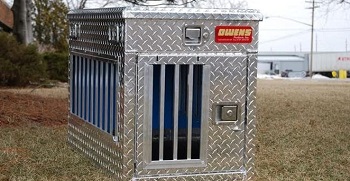 Common Use
Typically, this sort of aluminum dog kennel is most commonly used as a hunting dog crate for trucks so it's no surprise that it comes with some features just for that. on top there is a metal loop so that you can tie it down when it's in the back of your truck. on the left and to the right of it, you'll find spring-loaded handles for carrying it.
In Short:
The outside is made with diamond treaded aluminum
The interior is lined with corrugated plastic
Has vents fit for all seasons
Typically used as a truck dog crate
Has a door that locks with a key and an additional turn-lock
Features loops on top for tying it down
BEST FOR SUV ALUMINUM CRATE
Cool Runners Car Crate
True Size
Although this crate is sized as an XL metal dog crate it's not exactly true when it comes down to what size of dog can actually fit inside. It's 35-in long which means that it fits inside the category of intermediate dog crate that can house both medium and large dogs.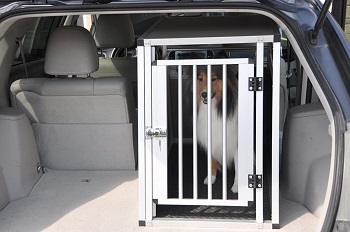 Interior Cover
Its interior is covered with fibreboard panels for two reasons. One is so that you don't have to struggle when you're cleaning it and the second reason is so that the actual aluminum parts don't get damaged since they won't get into contact with your dog's urine or other excrements.
Low Noise, Safe Locks
This dog crate for SUV, unlike many others, doesn't produce as much noise. This means that you won't hear those rattling sounds either when you're using it indoors or when traveling with your dog. It features a single access door that you can lock safely with a key
Great Visibility
Typically, aluminum crates are designed with little vent holes that won't do your dog any good in terms of visibility. If your dog is one that needs to keep an eye on you at all times, this crate will allow him to do so since it's designed to increase airflow and visibility.
In Short:
The interior is covered with fibredboard panels
Can house both medium and large dogs
The door locks with a key
Has increased airflow and visibility
Produces less rattling noises
BEST HEAVY DUTY ALUMINUM DOG CRATE
ActiveDogs Full Ventilation Dog Crate
Build Exceptions
The only exceptions to how the crate is built are its top, bottom, and its door.  The rest, which means its sides, are made with metal bars. This is intentional because this way your dog will get proper ventilation no matter what and will even have good enough visibility.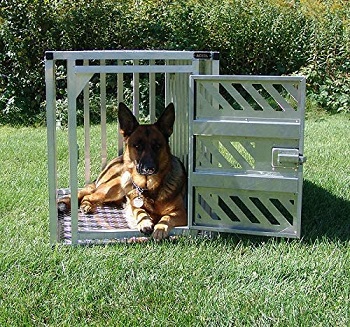 Door Design And Build
The door was laser cut in the manufacturing process and it's reinforced but make double. The exception to the all-aluminum door build is its lock that's made out of stainless steel and locks with a key. You can still close the door on this heavy-duty crate without locking it.
Top, Bottom, And Door Features
The top, bottom, and the door of this aluminum dog crate are also polished and are made with diamond-plated and tread-britted aluminum. This is definitely an amazing hunting dog crate because the aluminum won't conduct heat so that your dog gets overheated while inside.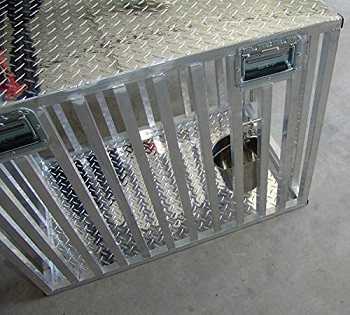 Inside Edge
On the inside, there is an edge that 1-in tall. This is very clever since you can't always predict if your dog is going to urinate inside the crate. If it happens, the liquids won't go on either your car floors or floors of your house. The dogs that you'll get to house inside can be both medium and large dogs.
In Short:
The sides are made out of metal bars
The top, bottom, and door are polished
The door locks with a stainless steel lock
Can house both medium and large dogs
The 1-in interior lip edge prevents liquids from leaving the crate
BEST FOR CAR ALUMINUM CRATE
Secure Aluminum Car Crate
Assembly Process
If you're feeling crafty, you might enjoy assembling this crate that comes with all the things needed for assembly and detailed instructions on how to do it. Both the small and large bolts that you'll need to screw in can be screwed with the provided Allen key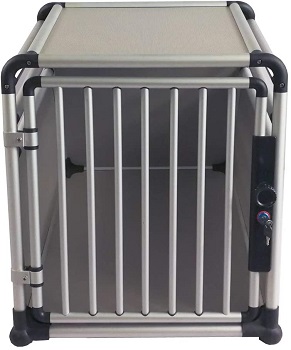 Plastic Bits
The side panel and gate panel come preassembled but you'll still have to assemble them partially. It's not entirely made out of aluminum though. Each corner is rounded because it's made out of some type of plastic. this is great because your dog won't get to pinch his paws if it were the other way around.
Single Door Details
There's a single door in front from which your dog will get to access the crate. From this same point, you will get to clean the crate. This single door on the aluminum dog crate for cars can be locked using a key and easily opened by one hand with a twist knob.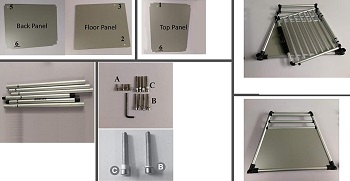 Low Maintenance And Noise Medium Crate
It's not only a low noise-producing but this crate is also low-maintenance mainly because the door hinges will self-lubricate. since it's around 30-in long, we advise you to use it to house medium-sized dogs like border collies or you can use it as a crate for french bulldog.
In Short:
Required assembly
It comes with everything, including the Allen key for assembly
Can house medium-sized dogs
The door hinges self-lubricate
Produces low noise
The corners are rounded for safety.
How To Pick An Aluminum Dog Crate
Whether it's for hunting or for traveling, aluminum crates are built to last but there are some things that you should keep in mind before purchasing one. In order to choose the best one for your needs, we'll have to take a deeper look into their differences like size, purpose, and durability.
Most Common Use – The number one most common use for these crates is to use them as the safest dog crates for cars or any other type of vehicle. This is mostly due to the fact that they're extremely portable because of their weight, and other design features like foldability.
Aluminum As A Material – Aluminum can easily be considered one of the lightest materials. This makes sense since all of these crates are really light even though most of them are heavy-duty metal dog crates. Just because it's light doesn't mean that these crates are not durable dog crates though. It's incredibly flexible, strong and it's even corrosion resistant.
Indoor Use – If you want to get both an indoor dog crate and a travel one you might have some difficulties finding one but if you do, you should look out for how they look, the number of doors they have, and other things that should make them indoor crates like if they can house puppies.
Crate Issues – The only issue that might come up is their interior safety. If you want your dog to be safe inside leaving you worry-free make sure that the inside is either lined with other materials or that they feature rounded corners. Some of them might even be made with standards that focus on dog safety like baby industry standards.
Aluminum Dog Crate Vs Kennel – We won't say that you cant find an aluminum dog kennel. In fact, it's quite easy to do so but the differences between them are great. For instance, you wouldn't get to travel with a kennel because they're too large, too heavy and their main functon is to contain a dog outdoor. Think of them as dog houses while the crate is a rooom in that house.
To Sum Up
Since most aluminum crates are only designed for traveling, we decided to recommend the Diggs Revol Dog Crate since you can also use it indoors. You'll get to safely potty train and house a puppy inside and for traveling you'll get built-in wheels, a handle, and collapsible construction. If you want your dog crate to be made out of stainless steel, we have an article about stainless steel dog crates that you might wanna check out to find one and if you want to get your dog a durable plastic crate, check out the article about heavy-duty plastic dog crates.