Are you a new or an old owner of a french bulldog that you want to get the right french bulldog cage?
We can help you pick one both for a puppy or an adult dog. All that's left for you to do is to continue reading this article if yu want to go through reviews of the best we could find. We've even categorized them and made the selection versatile by reviewing puppy crates, travel crates, and even indoor crates.
The Summary
Best 6 Crates For French Bulldogs
BEST OF BEST CRATE FOR FRENCH BULLDOG
Ultima Pro MidWest Dog Crate
Safe To Assume It's Durable
Unless your dog is really aggressive which we don't think is all that common, you can be sure that you're choosing a durable dog crate if you're reading about this one. A heavy-duty metal dog crate would cost you a lot more while this crate still gets the job done because it's made with heavy gauge steel wire.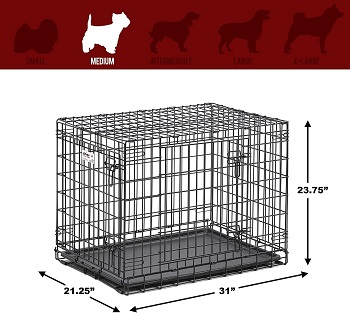 Build Specifics
Like we've said. it's made with heavy gauge wire. To be more specific, it has an 11, 9, 7, and 3 gauge wire. The bar spacing is also smaller and the whole steel wire is coated with an e-coat that has a satin black color. This e-coat makes the crate resist rusting.
Versatile Training
It would be a shame to waste such a durable crate on only the ability to crate train adult dogs. That's why this french bulldog cage also comes with an adjustable divider so that you can house and potty train a puppy inside. You should make sure you get the crate according to his adult size.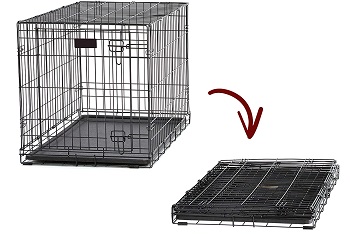 Folding Design And Door Amount
It has 2 entries and 2 doors for entry located in the front and on the side. Both can be locked using 2 sliding bolt locks. As a whole, the crate can also be folded down flat either for you to store it away or to transport it more easily, carrying it with the provided handle.
In Short:
Made with 3, 7, 9, and 11 gauge wire
Can be used to crate train dogs
Comes with a divider for housing puppies
Has a front and side entrance
Can be folded flat either for storage or for transport
BEST TRAINING FRENCH BULLDOG CRATE
Carlson Pet Products Dog Crate
Fold And Unfold Simplicity
When you receive this crate, it'll come folded down. This doesn't need to worry you because assembly is only required in a sense where you simply need to unfold the crate. This can be done quickly and you'll get to fold it back down just as fast. You could either take advantage of this by storing it or traveling with it.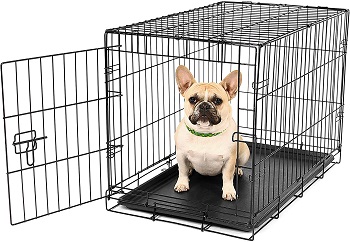 Door And Pan On First Sight
The very first things you'll see when you're done unfolding it are its single access door and its cleaning pan on the bottom. What you won't get to see at first sight but should know is that this french bulldog crate has a single door that locks in 5 places so that it is a safely locking dog crate.
Safety For Both Puppies And Adult Dogs
As a whole, this crate is certified to both the JPMA and the ASTM standards. What this means is that it's incredibly safe for both adult dogs and puppies. It doesn't come with a puppy crate divider but you can still use it as a french bulldog training cage.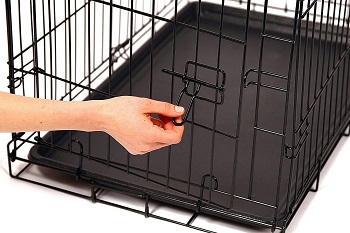 Size And Cleaning
The pan on the bottom for cleaning can easily be slid out for you to clean it. It's made out of plastic composite materials so that you'd know that it'd durable even though it might not seem like it. Just like the crate before it, it's sized as a 30-in dog crate since this is the typical crate size for french bulldogs.
In Short:
The single door locks from 5 points
Can be used to crate train dogs
Has a certificate for JPMA and ASTM standards
Can be unfolded and folded down fast
It's 30-in long
The bottom holds a composite cleaning pan
BEST PUPPY CRATE FOR FRENCH BULLDOG
MidWest iCrate Starter Kit
Simplified Crate Training
If you want to simplify your dog housing experience even more you might want to consider checking out this one. The first step to simplifying your dog's crate training journey is to get a medium wire dog crate that features a divider in case there's a puppy involved. This crate offers much more.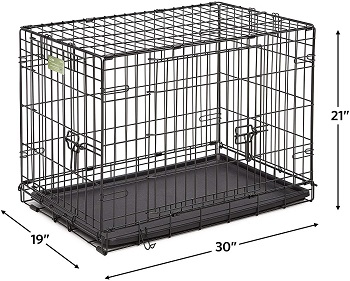 Start Kit Stuff
It's simplified because you'll get a crate housing starter kit with this dog cage. This kit includes a privacy cover and a fleece bed. Its exterior is made out of soft fleece and has both a poly-cotton filling and polyester bolsters on the edges. It's also machine washable and you'll also get two attachable food and water bowls with it.
Crate Build
This crate is made out of steel wire-like both crates for french bulldogs we reviewed before it. It has rounded corners so you can be safe that your dog won't hurt himself while inside and it even comes with a divider that you'll use to adjust its size to the puppy as he grows.

Convenient For Indoors Use
To make it more convenient for indoor use, it features 2 doors for versatile in-home placement. It has a cleaning pan that will keep dog urine on it and away from your floors and rubber feet for the bottom that will prevent the crate from scratching your floors. You can also fold it down if you need to store it away or travel with it.
In Short:
Comes with a divider for puppies
Its corners are rounded for safety
Has 2 entrances and rubber feet to protect floors
Can be folded down for storage or for traveling
Comes with a crate cover, bed and water, and food bowls
BEST BED CRATE FOR FRENCH BULLDOG
Unipaws Pet Crate End Table
Build Materials Durability
Primarily, this crate is made with wood that's not chew-proof. for proper ventilation and some chew-proof features you will have to turn to its steel bar sides. Altogether, you should not house a dog that has not been crate trained inside this french bulldog crate.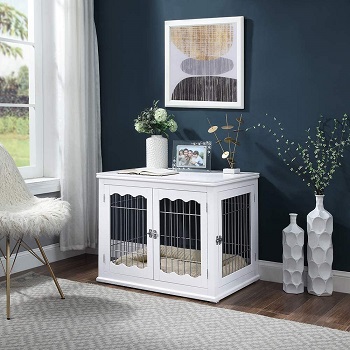 Bed Details
We do consider the bed that comes with this crate to be one of the best crate bed for french bulldog. This is not just because it's really comfortable and can be used outside the crate as a stand-alone bed. It's mainly because it's a waterproof bed that can easily be washed.
Function And Looks
If this isn't the perfect indoor dog crate we don't know what is. We boldly made this statement because this is white dog crate furniture. What this means is that it looks and acts as a furniture piece. It acts like one thanks to its wider top that has a weight limit of 200 lbs.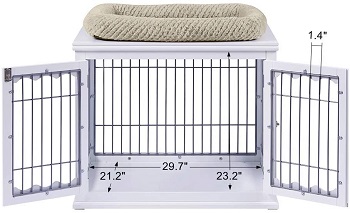 Entries, Doors, And Their Functions
There are three doors on this crate but only 2 entrances. This is due to the fact that the side door is actually a double door. Their amount is not the only thing that will allow you to place the crate inside your home however you want. What also might help is that you can place these entrances however you want during assembly.
In Short:
The metal sides are chew-proof, the wood is not
It functions as furniture thanks to the top
The top has a 200 lbs weight limits
Should only house crate trained dogs
Comes with a waterproof and washable bed
Has 2 entries, and 3 doors
BEST INDOOR FRENCH BULLDOG CAGE
Cardinal Gates Sliding Door Dog Crate
Door Design
If this wasn't a sliding door dog crate we definitely wouldn't go with the indoor category recommendation. Both the front and side door are sliding crates with some differences. The side door is a double door that slides open to the side while the front door slides open upwards. They are space-saving doors in case you want to leave the crate open.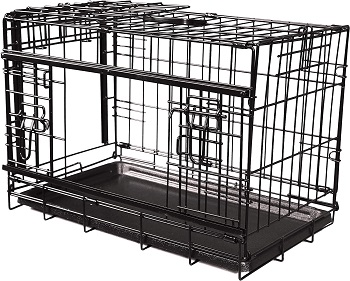 Durability Through Gauged Wire
It's just as durable, if not even more durable, as the first crate we reviewed for the exact same reason, it features a heavy gauge wire build. The doors have a 6 gauge steel wire build while the rest of the crate has a 10 gauge steel wire. Its colored finish makes it a black dog crate.
Folding Design Advantage
Like with any wire crate, this one is also a folding metal dog crate. We think that you'll benefit a lot from this feature because the french bulldog crate is durable enough to be used as a travel crate and the folding design will make its transport from point A to B easier. You can also take advantage of this feature if you want to store the crate away.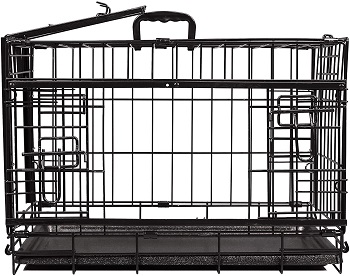 Plastic Parts
The pan that rests on the bottom is made out of plastic. Another part that's made out of plastic is its carrying handle located on top. The pan can be used for easy crate cleaning. It's deeper because of its raised edges that will help prevent dog urine from overflowing and ending up on your floor.
In Short:
Built with 10 and 6 gauge wire
Has 2 sliding door entrances
Can easily be folded down and carried with a handle
The bottom holds a cleaning pan
The doors are space-saving
BEST TRAVEL FRENCH BULLDOG CRATE
Noz2Noz Soft-Krater
How The Cover Is Made
Although this crate is only to be used by crate-training dogs, this definitely doesn't mean that it's not durable. The proof of its durability is in its cover that's tightly woven together. You can also remove the cover and wash it when you need to in more than one way.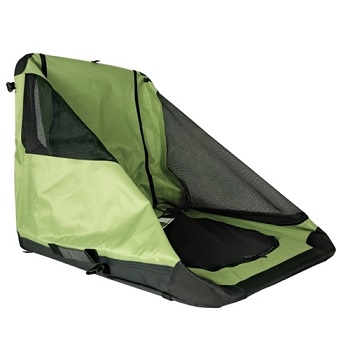 Cleaning The Crate
For quick cleaning, you'll get to use a product like a stain remover to clean it. for a more extensive and better cleaning job, the cover of this french bulldog cage, like we said, can be taken off and thrown into the washer with the rest of your stuff that needs cleaning.
Primary Use Reasoning
You should primarily use this as a soft travel dog crate and it's because of more than one reason. The first reason is that this is a lightweight dog crate which means that it's easy to lift, carry, and transport. The second reason is that it has a foldable frame. The third reason is that your dog shouldn't be unattended when inside because he might easily destroy it otherwise.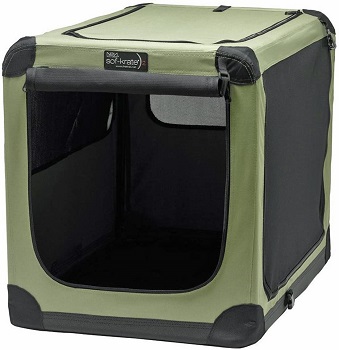 Car Protection
The crate's base is water-resistant which means that there's less of a chance that your dog's urine will end up on your car's floors. Its corners are also rounded to better protect your car's interior from damage. This french bulldog travel crate has 4 ventilation windows and 2 entrances.
In Short:
Has a tightly woven fabric cover
The cover is machine washable
The crate's base is water-resistant and the corners are rounded
Can only house crate trained dogs
It can be folded down for traveling and storage
Has 2 entrances and 4 ventilation mesh fabric windows
How To Pick A French Bulldog Crate
The best crates for french bulldogs all have one thing in common and it is their size. This is the first thing you should look out for when buying your dog a crate but of course, that's not all there is to it. You'll want to keep an eye on the crate's materials, function, durability, and many other features to figure out which one is the best for you and your dog.
Choosing The Size – Each and every one of these crates is around 30-in long and that's exactly the dog crate size for french bulldog you should be after if your dog is a french bulldog. They are a medium-sized dog breed and typically weigh around 28 lbs. Medium crates of any type are usually designed to house dogs from 25 up to 40 lbs so they fit perfectly into this size category.
Making Sure It's Right – If you think or know that your bulldog is a bit larger or smaller, there's a way to generally make sure you're getting the right crate size. The first thing you should do is take your dog's height and length. The second thing to do is to compare it to the crate and if the crate is around 4-in larger than the dog, you've found the right crate size.
Crate And Puppy Training Crates – Out of all the french bulldog crates we reviewed medium wire dog crates are the most abundant and this is not accidental. These crates can both be used as training cages for dogs and as potty train crates. The potty train crate bit is true for puppies if the crate comes with an adjustable divider and most wire crates do.
Moving Away From Crate Training Crates – If the crate you're picking out is your dog's first crate, you'll want to get a sturdy wire crate. Later on, you can move on to indoor dog crate furniture and soft collapsible dog crates because they can both only contain crate-trained dogs.
To Sum Up
Out of all the different best crates for french bulldogs, we see the Ultima Pro MidWest Dog Crate as the one we should recommend. It's able to house both puppies and adult dogs, it has a durable heavy gauge wire build, it can be folded down with ease and transported just as easily. If your dog happens to be larger but not large enough for a large crate, you might want to check out the article about intermediate dog crates and if you want to look more into the wooden dog crates then the article about medium wood dog crates might interest you.