Are you having trouble moving your heavy crate or you just need a highly portable one and you want to solve it by getting a dog cage with wheels?
We will help you solve the problem of finding one but only if you continue reading this article because we found and reviewers our top picks. You won't just be reading about each dog crate that's here, you'll also get a guide on how to pick one and we even placed the crates into different categories like puppies, travel, and more. You don't have to read through the things that don't really interest you.
The Summary
Best 6 Dog Crates On Wheels
BEST OF BEST DOG CAGE WITH WHEELS
Itori 42-in Heavy Duty Dog Cage
Main Construction Parts
There are two main components that we have to mention when talking about how the crate is constructed. It's made with 20 gauge steel and has a reinforced built because it's entirely made with 0.5-in diameter steel tubes. To top it all off, each part of the crate is welded together to create an even more durable dog crate.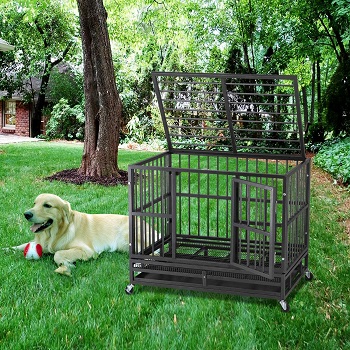 Outdoor Use
The finish makes this dog cage with wheels even more durable but its focus is on durability when it comes to different weather elements. It's treated with corrosion and rust-resistant materials so you can safely use it outdoor as well. Just don't make a habit out of it and use this rolling dog cage outdoor too much.
Wheels And Other Bottom Functions
Typically, you'll find the wheels on the bottom since it's only logical that they are placed there. There are 4 wheels and 2 of them are lockable. The wheels are here to help you move the crate more easily since it's quite heavy. You'll also find a cleaning tray below the floor of the crate.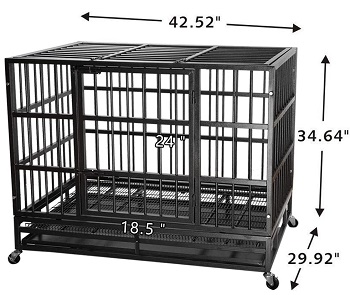 Doors And General Size
The locks on the crate's doors are anti-escape locks. You'll find them on both the front entrance door and the top door that's there for you to interact with your dog. It's 42-in long so it's fit for use by large dog breeds like huskies and golden retrievers.
In Short:
Made with 05-in diameter 20 gauge steel tubes
Each metal part is welded together
It is treated with materials that are resistant to rust and corrosion
Two of the four wheels are lockable
Built to house large dogs like huskies
The wheels are there to help you move the crate
Has a top and front access door that both lock with anti-escape locks
Has a tray for cleaning below its floor
BEST HEAVY DUTY ROLLING DOG CRATE
PawHut Heavy Duty Dog Crate
Size First
This is the second and last heavy-duty metal dog crate that we are reviewing that is somewhat different than the one before it. Right off the bat, the first difference is that it's smaller. It is a 36-in long dog crate which means that it can contain dogs that are mainly medium-sized.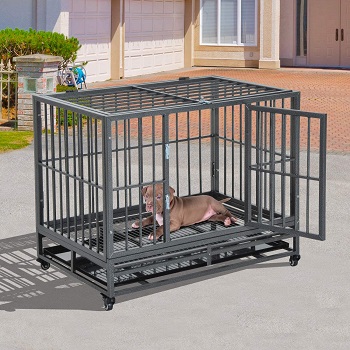 Heavy Duty With A Twist
Although it doesn't necessarily say what gauge of steel it uses for its build, it's definitely still durable. The steel used is a high-quality one but although this is all true, one of the tips that the manufacturer provides is that you don't use it with aggressive dogs because it's just not designed to handle it.
Top And Front Lock Difference
There's a difference between the lock featured on top and the two locks for the door feature in the front. There are two bolted locks on the front door while the top door of the PawHut heavy duty steel dog crate kennel features only one located in the center. That's because there's no need for an additional one.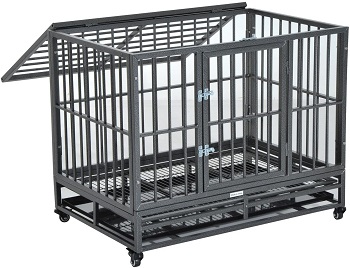 What The Bottom Holds
Just like the previous dog crate on wheels, The crate's wheels are there to make moving it easier. Two of them are lockable and another thing that you'll find on the bottom is a cleaning tray that will dog excrements that fall through the gridded floor so that cleaning it is made simple and easy.
In Short:
Designed for housing medium dog breeds
It is heavy-duty but can't handle aggressive dog behavior
Made with high quality gauged steel tubes
Feature a front door that locks with 2 bolted locks
The top door locks with one lock
2 of the 4 caster wheels are lockable
BEST FOR PUPPIES DOG CRATE ON WHEELS
Diggs Revol Dog Crate
Built-In Things
This dog crate combines wheels and handle for better portability. Both are built-into the crate and you can even utilize them when the crate is collapsed. It might cause some carrying troubles for some although it weighs around 31 lbs so it's definitely good that you can rely on the option of rolling it to your car or elsewhere.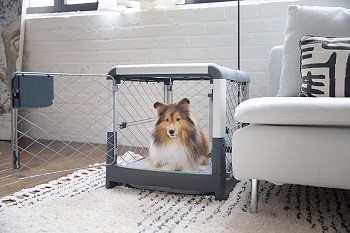 Materials And Inside Safety
The material that makes the crate's frame is plastic but it is reinforced while on the sides, you'll find a aluminum mesh wire that is definitely high-grade. It's built around safety for puppies because it complies with baby industry standards. There will be no pinched paws, that's for sure.
Puppy Crate Must Have
This wouldn't be a puppy crate if it didn't come with a puppy crate divider. The divider will help you with potty training your puppy by adjusting to his size as he grows. if your dog does urinate in this dog crate on wheels, the urine will end up on a slide-out tray below so that you can clean that instead of your floors.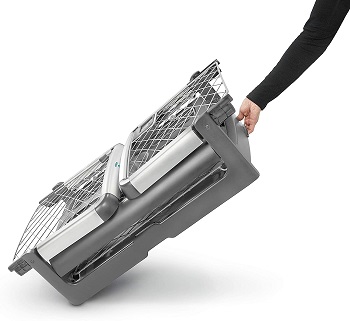 Traveling And Door Use
You don't have to limit its use to just indoors. You can easily use it as a dog travel crate with wheels because it can be collapsed easily and if you happen to block one entrance with the stuff you'll also put in your car, you can always access your through another door since it features a front and top door, and also a side entrance door that opens in an upwards direction.
In Short:
Built out of reinforced plastic and aluminum steel wire
Made to comply with baby industry standards so it's safe for puppies
Features a puppy crate divider
Ca be collapsed
Has built-in wheels and a handle
Has a top, front, and side access door
The bottom holds a slide-out cleaning tray
Can be used for traveling
Weighs 31 lbs
BEST INDOOR DOG CAGE WITH WHEELS
Pet Gear 4 Door Steel Crate
A Lot Of Doors
The single most important reason why we're reviewing this large dog crate on wheels as a large indoor dog crate is because it features 4 doors. They are located on the top, in the front, and two are located on the sides of the crate. The large front door slides open so it will save you space if you leave it open. All doors lock with steel locks.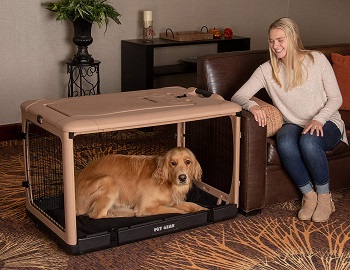 Safety Build
The plastic that is used to make the crate's frame is actually a heavy-duty plastic that is blow molded. This manufacturing process allows the crate to have rounded corners while the steel wire that's used to make the sides doesn't leave any exposed steel edges so the interior is really safe for dogs and puppies.
Transport Options
Since it's a foldable crate, you won't have to go through the troubles of assembling it. You'll be able to store it inside its own travel bag and put the built-in wheels to good use because the bag utilizes the wheels. Another way you can transport the crate from your home to your car is by dragging it with a built-in handle and again, built-in wheels.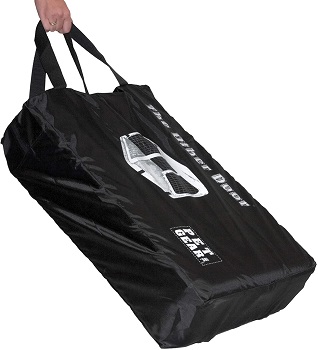 Comfort Solutions
When you're traveling, you want to make sure your dog is comfortable and when you're not you steel want to make sure your dog has a comfortable place to sleep in. That's exactly why the crate also comes with a plush bed. You'll get to keep a large dog comfortable inside since it's a 42-in long dog crate wheels model.
In Short:
Built out of blow-molded heavy-duty plastic
Has steel wire sides
The interior corners are rounded and sharp edges aren't exposed
Has 4 access doors, one slides open
Built to house large dogs
Comes with a plush bed and travel bag
Can be collapsed for transport
Has a built-in handle and wheels
BEST FOR TRAVEL ROLLING DOG CRATE
SportPet Designs Plastic Kennel
Easy Snap-On And Off Wheels
The wheels on this XL dog travel crate can easily be attached to it and off it because you can use it to travel by air and you want your job of taking them off to be as easy as possible since airline approved dog crates can't have wheels when they are on an airplane for safety reasons.
Size Of Crate
You won't find wheels on smaller models of these crates since smaller versions can easily be carried. To fit inside this crate comfortably and safely, your dog shouldn't be taller than 33-in and longer than 44-in. it should be fit to house an extra large dog.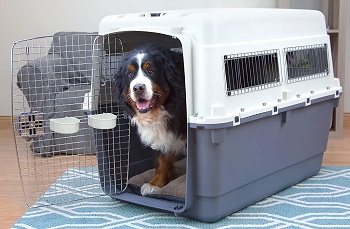 Shell Connection
This rolling dog crate is made out of 2 plastic shells that you can connect with plastic locking clips and you can also secure the connection with nuts and bolts. The nuts and bolts come with the crate and are one of the requirements by airlines that a dog crate that travels as cargo should have.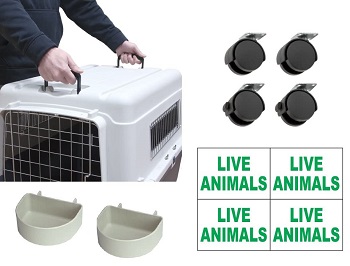 Airline Requirements
Other things that come with this crate that are requirements by airlines as well are "live animal" sticker, detachable food and water bowls, and tie-down holes for bungees. There are a lot more requirements but should feature most, if not all of them since it's built in such a way. Make sure you check with your specific airline about other regulations for dog crates as well
Other Requirements And Features
It features a single steel wire door for access that has a lock that won't slide open accidentally. Other sides of it have windows covered with steel wire for proper ventilation of the crate You'll also get 2 carrying handles on top of this rolling dog crate in case you ever need to lift it.
In Short:
Made with a top and bottom plastic shell
The shells connect with plastic clips and nuts and bolts
Features tie-down holes for bungees
Comes with live-animal stickers and detachable water and food bowls
Made to house extra large dog breeds
Features a single steel wire access door
The wheels easily snap on and off
The top has 2 carrying handles
BEST PLASTIC DOG CRATE ON WHEELS
Midwest Skudo Plastic Carrier
Exception To The Plastic Build
The crate's almost entirely made out of durable plastic. The only exception is the steel wire door that locks with a special type of lock that might even be impossible for your dog to open. There's a top and bottom plastic shell and you can easily connect the two with plastic snap locking clips.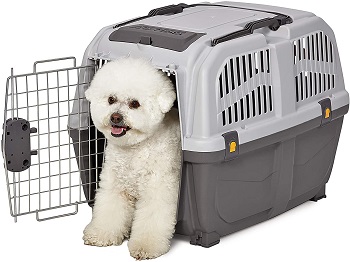 Things Sold Separately
There are two things that you'll need to buy separately if you want the crate to work as small airline small dog travel crate. You'll have to buy an airline kit that includes the most typical requirements by airlines and you'll also have to buy the wheels separately if you really want it to be a dog kennel on wheels.
Unique Top Features
The top of the Skudo dog crate on wheels has 2 unique things that make it stand out from the crowd. There's a plastic cap on it that you can open to reveal an accessory compartment where you can store virtually anything from leashes to treat and there's also a swivel handle on top that you'll use to drag the crate when you install the wheels on the bottom instead of carrying it.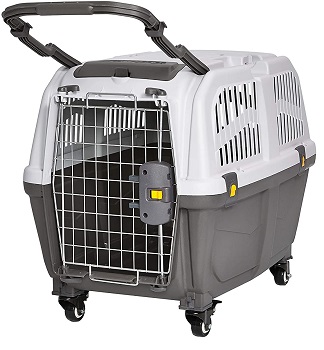 Preferred Dog Height And Length
This is a medium-sized crate that's 27-in long. You should measure your dog before buying this crate. The dog should be no more than 24-in long and 20-in tall. If you're using it to travel with your dog, the dog should also be crate trained because of safety reasons.
In Short:
Made with durable plastic
Features a steel wire door
The crate's wheels need to be bought separately
Can be used to travel by air with the addition of an air kit
Can house dogs up to 24-in long and 20-in tall
Has a storage compartment on top
The swivel handle is used to drag the crate
How To Pick A Dog Crate With Wheels
If you're here, looking for a dog crate with wheels it is either too heavy for you to move or you have problems lifting heavy things. No matter what the reason is, we can help you choose the right crate depending on your and your dogs' needs. We will help you do that by talking about some of their differences like weight, size, and construction materials.
Metal Crates Wheel Purpose – AS we've said, there are differences as to why some crate require wheels. With heavy duty metal dog crate it's a necessity because they are so heavy and large that you can't really carry them around so you'll need to get one with wheels so you can move it more easily. Typically, some of the wheels are going to be lockable for more stability.
Plastic Crates Wheel Purpose – Although plastic crates are light, some of them require wheels because they can be used as traveling crates. This is especially true for large dog airline crates and portable dog crates large. Some crates even have built-in wheels so you don't have to go through the hassle of attaching them to the crate.
Materials Durability – Metal crates are designed to keep an aggressive dog at bay. They are tough and are hard for your dog to destroy so they don't require you to crate train your dog and you can use them to help with that. Plastic crates, on the other hand, are flimsier. It's not that they can't handle chewing but you'll be better off with a crate-trained dog. This is especially true if you're planning to travel with your dog since a dog should always be crate trained before traveling.
Size Help – These are all crates of different sizes so what you want to do first is make sure you're getting a large enough crate. You'll do that by making sure the crate is at least 4 inches longer and taller than your dog. You'll measure your dog's length by measuring from the tip of his knows to the back of his rear and you'll measure his length from the top of his head to the floor.
Dog Cage With Wheels VS Kennel – You won't really find a kennel that sits on wheels and that's probably the hugest difference between the two. Kennels are made to be static. Once you assemble them and place them where you want, you won't be looking to move them anytime soon because they are made to be placed outdoors and they are often a lot larger than even the biggest of dog crates.
To Sum Up
We've decided to go with multiple functionalities when choosing Diggs Revol Dog Crate as the one dog crate with wheels we would recommend. it's highly portable and durable even though it's partially made out of plastic, you can use it to travel with your dog, house him indoors and it can even house puppies. If you're looking to get a crate on wheels for more aggressive dogs, we advise you to check out the article about heavy-duty large dog crates and if you believe plastic can be just as durable as metal, then we suggest you read the article about heavy-duty plastic dog crates.