Have a lovely golden retriever that you want to get the best dog crate for golden retrievers but can't find or decide on one?
We can help you both find and choose one if you simply continue reading this article. We made this article so that there are a lot of different crates to choose from. You'll find plastic crates, metal crates, heavy-duty crates, and a lot more. It all depends on your needs and wants and we'll help you figure that out as well with the useful buying guide at the end of this article.
The Summary
Best 5 Crates For Golden Retriever
BEST OF BEST CRATE FOR GOLDEN RETRIEVER
MidWest Ultima Pro Dog Crate
Durable Construction
Although this is not exactly a heavy-duty metal dog crate we can still think of it as one. primarily it's because it's made with a steel wire gauge that ranks as a professional one. If your golden retriever is strong and not on its best behavior, this is definitely a crate that might solve the issue.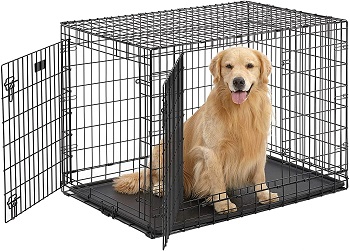 Puppy Golden Retriever Crate
If the dog in question is a puppy that's rowdy, the crate can handle that behavior as well. Not only that, but you can even potty train the pup with this dog crate for golden retriever because you'll get an adjustable divider panel with it that will adjust to the size of your puppy as he continues to grow.
Indoor Crate Benefits
It's mainly an indoor crate and what will help you keep your house clean and free from damage are the rubber feet that you can attach to the bottom so that your floors don't get scratched and the plastic pan that's leak-proof that will contain dog urine and other dirt. The point is that the dirt won't end up on your floors.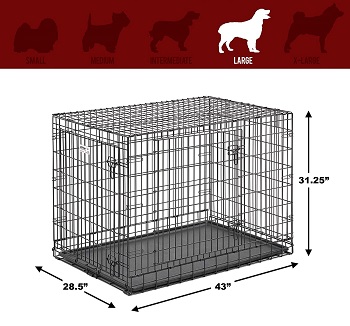 Car And Indoor Positioning
There are two doors on this golden retriever cage. One is located in the front and one on the side of it. Both can lock with 2 sliding bolt locks. The door amount will allow you to position it more freely inside your home and car if you're traveling with it. You can easily fold it down and carry it with a handle when you're transporting it someplace.
In Short:
Constructed out of professional gauge steel wire
Comes with an adjustable divider for potty training puppies
Has a side and front access door
The door lock with 2 sliding bolt locks each
Can be folded down for storage or transport
Features a carrying handle for transport
Feature rubber feet on the bottom for floor protection
The cleaning pan on the bottom is leak-proof
BEST FOR PUPPIES GOLDEN RETRIEVER CAGE
Precision Pet Two-Door Great Crate
Safe Locking System
If you happen to know that your dog is an escape artist but not really aggressive this might be the crate to help you solve the problem of your dog constantly getting out of his crate. it's mainly because each of the two access doors, the front and side one, can be locked with a sliding bolt lock and from 4 other points as well. it's definitely a safely locking dog crate.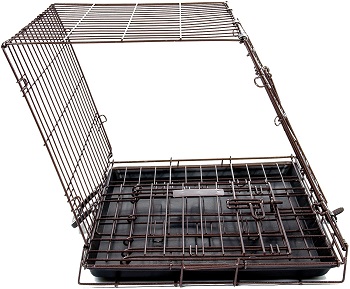 Build And Safety
Same as the crate before it, it's made with a heavy gauge steel wire so it can stand up to abuse coming from a dog. It's even coated with a black e-coat that makes it resistant to corrosion. Each panel is rounded so they can create interior rounded corners so your dog doesn't get hurt.
Puppy Housing
If your puppy is just starting out his crate training journey, you will definitely find that this is the best crate for golden retriever puppy. Not only is it made durable and safe, but also because an adjustable divider comes with it. Essentially, the divider will help you with potty training your dog.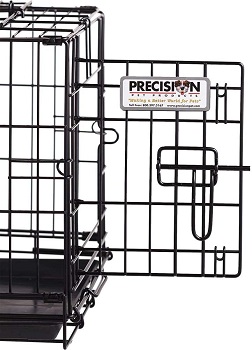 Typical Wire Crate Supplies
Just like any wire dog crate, you can easily fold this dog cage for golden retriever down. You can then either store or transport it by carrying it with a provided handle like a briefcase. Cleaning this crate also won't be a problem since there is a cleaning plastic slide-out tray on the bottom that will also keep your floors clean.
In Short:
Has a heavy gauge steel wire build
It is coated with a black e-coat that makes it corrosion-resistant
Comes with a puppy adjustable divider panel
Can be folded down for storage or transport
You can carry it with a handle when it's folded down
The bottom holds a slide-out plastic cleaning tray
Has 2 doors that lock from 5 different points
BEST HEAVY DUTY GOLDEN RETRIEVER CAGE
Luckup 38 Inch Heavy Duty Cage
Smaller In Size
Sometimes with these crates, you can get away with getting a smaller crate than 42-in. This depends on the size of your dog, breed type and if the dog in question is male or female. to be on the safe side, we decided to review this crate that's 38-in long. You'll have to figure out whether or no tit's right for your dog by measuring his height and length and comparing it to the crate.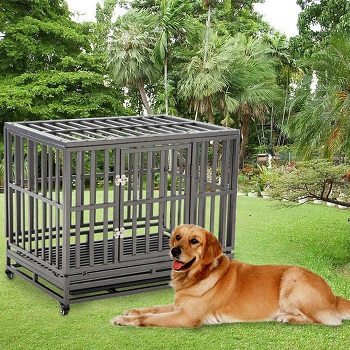 Finish And Build
Instead of having a corrosion-resistant finish, the steel itself is corrosion-resistant although the spray paint finish also makes it resistant to rusting. With these two build features, you'll be allowed to use the crate outdoor as well but only partially, of course.
Access And Cleaning Access
It has a top and front access door. With the front access door, your dog will be able to enter and exit the crate while the top door is there for you to interact with the dog, without him getting out, or trying to. Both doors feature 2 solid metal locks. You won't have to access the inside of the crate to clean it since dirt will fall through the gridded floor and onto the slide-out cleaning tray that's located outside this dog crate for golden retriever.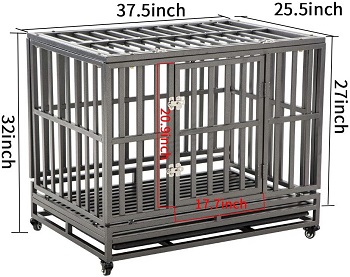 Standing Up To Agressive Dogs
This definitely a heavy duty large dog crate so if you happen to have a golden retriever that breaks his crates most of the time and is aggressive, this is the type of crate to get. You won't get to travel with it since it's heavy and you'll need to use the provided wheels to move it. Each wheel can also be locked.
In Short:
Has a corrosion-resistant steel build
The spray paint finish makes it rust-resistant
It's 38-in long
Can be moved using the lockable wheels
Comes with a slide-out cleaning tray located outside it
Has a top and front door
Both door lock with 2 solid metal locks
Made to house aggressive dogs
BEST SOFT DOG CRATE FOR GOLDEN RETRIEVER
EliteField 3-Door Dog Crate
Soft Build
The crate is the total opposite of the heavy-duty metal crate we reviewed before it. To start, it's made to house only crate-trained dogs because it's built with soft materials like its oxford fabric 600D cover. They are easy to damage if the dog is nothing short of calm and well behaved.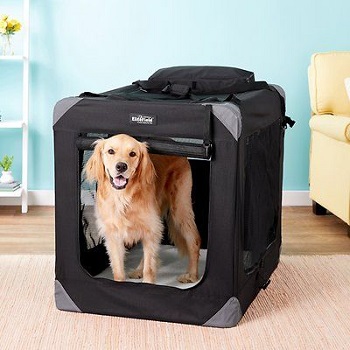 Carry Options
If you do have an already crate-trained dog, you will find that this is the best travel crate for your golden retriever. it's incredibly light and easily portable. You can carry and transport it either by using the carrying handles or with a shoulder strap that's located on its carrying bag.
Frame Features And Use
Thanks to the strong steel tube frame, this soft travel dog crate holds its shape nicely. You can even fold down the frame to store the crate for golden retriever whenever you're not using it without it taking up much of your precious storage space. The cover can be taken off the frame for washing as well.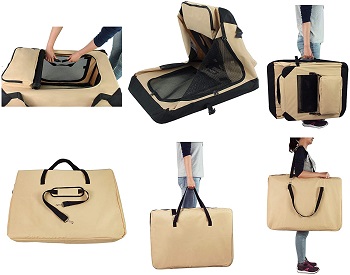 Door And Window Description
It features 3 access doors, one on top, one in the front, and one on the side. Each door, along with the other mesh fabric windows, functions as a mesh fabric window as well. They will help properly ventilate the crate. You can close the doors with zippers. if you can to leave it open, you can roll up the door and attach it to a velcro fabric piece and if you want to prevent the door zippers from accidentally opening you can attach it to a plastic clip.
Larger Rest Space
One of the more important features of this crate is that while it is a 42-in long dog crate, it is made so that it's 2-in wider and 4-in taller than other crates of this type. This will give our dog more room on the inside so he feels more comfortable. Another comfort feature is the bed that you'll get for the bottom that is also washable.
In Short:
Has a foldable steel tube frame
Features a 600D oxford fabric cover
The cover is removable and washable
The bed for the bottom can be removed and washed
Comes with its own carrying bag with a shoulder strap
it's 2-in wider and 4-in taller than most 42-in soft crates
Has three access doors that close with zippers
Gets ventilated from all sides through mesh fabric windows
Can be used for traveling but with crate trained dogs only
BEST PLASTIC GOLDEN RETRIEVER CAGE
Pet Gear Steel Dog Crate
2 Material Construction
When it comes to construction, there are two main materials that make the crate. The first one is plastic that's heavy-duty and blow molded and the second one is stell wire that can be found on the sides of the crate. The steel wire will provide the crate with the same amount of airflow as a regular large wire dog crate.
Interior Features
The inside of this crate features amazing things. The plastic is shaped in such a way so that the inside has rounded corners and the steel sides don't have exposed steel edges that are sharp. Both will keep your dog safe and if you want your dog to be comfortable inside, you can do that by placing the soft plush bed that comes with it on the bottom.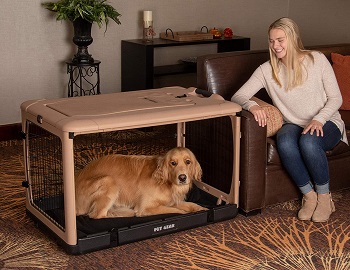 Travel Extras
You can easily use it as a travel crate since it can be collapsed and it comes with a travel bag where you can store it. the last two features that will help you travel with the crate are the built-in wheels on the bottom and a built-in handle on top.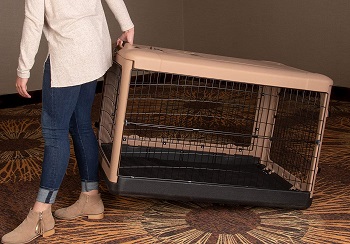 Size Explanation
As we've mentioned in another review, to house golden retrievers, you'll typically want to choose a 42-in long crate but this one is a 36 inch crate for golden retrievers because as a dog breed, they can differ largely in size and you can sometimes get away with getting a smaller crate.
Number Of Doors
There's a total of 4 doors on this crate which is not the number of doors we are used to seeing on dog crates in general. There are a top, front, and two side doors. The large front access door can slide open. Think about how a garage door opens and that's exactly how this one does too.
In Short:
Mainly built out of heavy duty blow-molded plastic
Has steel wire sides
Features 4 doors for access in total
The large front door slide open like a garage door
The crate is 36-in long
Can be collapsed and stored inside its travel bag
Has a built-in handle and wheels
Comes with a plush bed
How To Pick A Crate For Golden Retriever
Any dog crate can the best crate for golden retriever, it's just a matter of what you need and that largely depends on how your dog acts and how big he is. These are the two main things we are here to talk about in this guide and the things we learned about these crates along the way.
Typical Crate Size For The Dog Breed – If you're looking for the right size of crate for a golden retriever, you'll typically want to buy a 42-in long dog crate. This of course depends on if the dog is male or female and how they're bred. To not make a mistake, you should make sure that the crate is at least 4-in longer and taller than the dog. That being said, you might even get away with buying a 36 inches long golden retriever crate.
An Abundance Of Crate Types – There are a lot of crates that can house golden retrievers. They can be flimsier like soft crates, or sturdier like heavy-duty crates. It's important to know that a soft crate will only survive a dog that has been crate trained, while sturdier crates can handle aggressive dog behavior. Wire crates are the middle ground between the two and can be used as training cages for dogs while plastic crates will either require you to have a calm dog, or they will handle aggressive behavior that really depends on the plastic material type.
Housing Puppies – If you want to house a golden retriever puppy then your best bet is to get a 42 dog crate with divider and start crate training the dog right away. this is definitely the best time to start and you'll be thankful for that adjustable divider because it will adjust to your puppy's size and help potty train him because puppies and dogs, in general, don't usually like to soil where they sleep.
Travel Crates – If you wish to travel with your dog after he's been crate trained, you should look for dog crates for golden retriever that can be collapsed, that are lightweight dog crates, and that allow you to carry them with no problems. Although travel crates can do a good job of containing your dog, it's important that the dog is crate trained because he might distract you otherwise and put you and himself at risk.
To Sum Up
If you're new here, you might want to get used to us recommending a middle ground crate so for the best crate for golden retrievers we decided to recommend the Precision Pet Two-Door Great Crate. each door locks from 5 different points, it can house puppies because of the divider it comes with and it's made with a heavy gauge steel wire so you know it's durable. If you happen to have a rrottweiler that needs a crate as well we would suggest you read the article about dog crates for rottweilers and if the dog in question is a Pitbull, you might want to read the article about dog crates for Pitbulls.