Do you have a Great Dane that's too big for any crate you've searched for so you need suggestions on what to buy?
Then you are in the right place to find only the best dog crates for a Great Dane!
We reviewed the best but we went a step further and made a buying guide at the end of the article so that you can find the best on your own. We've reviewed travel crates, XXL crates, and even airline crates.
The Summary
Best 7 Crates For A Great Dane
BEST OF BEST DOG CRATE FOR A GREAT DANE
Lucky Dog Ginormous Crate
Stable Build
Giant crates need a little extra support to be stable and in this case, the top corner stabilizers do the job. They also reduce crate rattling noise. It's 54-in long and comes with a divider that allows you to potty train puppies. This Great Dane dog cage features 2 entry points, one is a double door that slides open.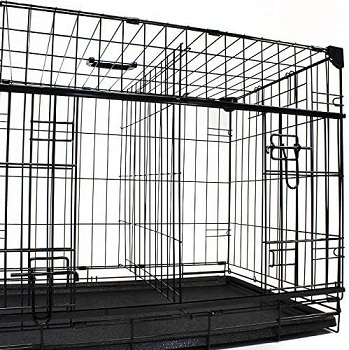 Finish And Build
It's fully made out of wire and has a Tyger drylac finish for extra durability in terms of fighting against rust and corrosion. You can fold it down as well when you take the corner stabilizers off. This is just one out of many crates for giant breed dogs so if you need one that serves a different purpose, check out others.
In Short:
It's 54-in long
Made out of wire
Has a tyger drylac finish
Comes with a divider for puppies
Has 2 entry points
The side door is a double door that slides open
It can be folded down
Comes with corner stabilizers
BEST XXL CRATE FOR A GREAT DANE
Go Pet Club 54 Inch Crate
Crate Size
An XXL dog crate for great Dane is most likely going to be 54-in long. That is the case with this crate that's also 40-in wide, and 45-in tall. It's perfect for both female and male dogs since it's an extra tall dog crate. If that's what you need, read about others in the article linked below.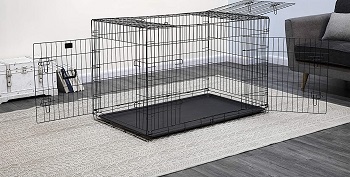 Doors And Transport
It's made out of wire and has a front and side entrance. For security, the doors lock with 3 sliding bolt locks each. The crate can be folded down and you can then carry and transport it using the plastic carrying handle. It weighs around 60 lbs so it might be hard to carry.
In Short:
It's 54-in long, 40-in wide, and 45-in tall
Made fully out of wire
Has 2 doors that each lock with 3 sliding bolt locks
Weighs around 60 lbs
Can be folded down
Comes with a plastic carrying handle
BEST AIRLINE DOG CRATE FOR A GREAT DANE
SportPet Designs Plastic Kennel
Length And Extras
The recommended crate length for great Danes is 54-in but this one is 48-in long. Your dog should do just fine inside because it's made for traveling by air so it's only for temporary dog containment. It comes with stickers, bowls, and nuts and bolts, all of which make up the basic air travel extras.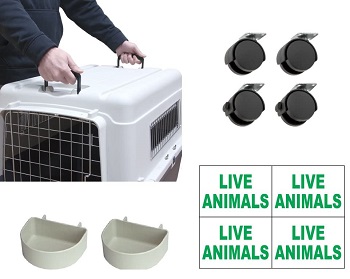 Crate Construction
It's made up of 2 plastic shells that connect securely with plastic clips but also with the provided nuts and bolts. It has a wire door and wire side windows as well. You can carry this great Dane airline crate with 2 handles and drag it with removable wheels. If you'd like to learn more and check out more Xl dog travel crates, you can read next the article linked.
In Short:
It's 48-in long
Made out of 2 plastic shells
The shells connect with nuts and bolt and plastic clips
Comes equipped with the basic air travel kit
Has a wire door and wire vent windows
Features 2 carry handles and 4 removable wheels
BEST TRAVEL DOG CRATE FOR A GREAT DANE
Zeus Deluxe Crate
Unique Size
When searching for a giant crate, especially if it's a soft travel dog crate, you might run into some problems. Luckily, we found this 48-in long crate and it doesn't get bigger than this. It's made out of water-resistant fabric and has a frame that allows you to fold it down.
Important Notes
Your dog should be crate trained for this crate since it won't survive chewing or scratching. The sides hold an accessory pocket and a bottle holder, and it gets ventilated with 4 mesh fabric windows, 2 of which are also entrances. It's a great Dane travel crate that's fairly a cheap xl dog crate so check out others to never break your budget with these.
In Short:
It's 48-in long
Made with water-resistant fabric
Has a frame that allows you to fold it down
Features an accessory pocket and a water bottle holder
Has 4 mesh fabric windows, 2 are doors
BEST LARGE CRATE FOR A GREAT DANE
MidWest Giant Dog Crate
Build Stability
Its sheer size of 54-in in length, 37-in in width, and 45-in in height make it so big you'll need two people to assemble it. After that's done, this large dog cage for great Dane will be more stable with its drop pins on the corners and L bar hooks that prevent the sides from bending in.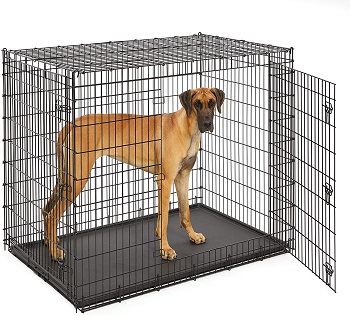 Home Placement
The doors are located in the front and side and allow for more versatile placement inside the home. They lock with three locks each ad you can easily fold it down when you want to store it away. it's great for crate training so check out other xl wire dog crates if that's what you need.
In Short:
It's 45-in tall, 37-in wide, and 54-in long
Made out of wire
Requires two people for assembly
Has a dropping pin construction
The sides won't bend in because of L bar hooks
Can be folded down
Has 2 entrances
BEST HEAVY DUTY DOG CRATE FOR A GREAT DANE
Homey Pet 49 Inch Dog Crate
Female Dane Crate
The height of 44-in and width of 37-in inches match the recommended measurements for Great Danes. it's not as long though with the 49-in in length so it might be best used for female Great Danes. It's made with metal tubes and wire and features a front door and a feeding door, the front door locks with a 2 chain lock.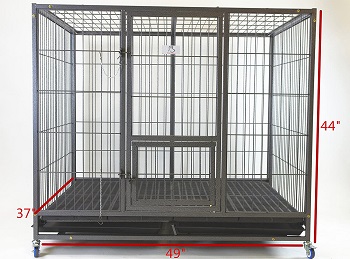 Bottom Details
This Great Dane dog cage is suitable for dogs up to 150 lbs and great Danes, in most cases, don't go heavier than 140 lbs. The floor grid is plastic and will let through dog excrements and onto the tray. It's also a stackable extra tall dog crate so if you'd like to check out what others have in store for you, read the article about them here.
In Short:
Made with metal tubes and wire
It's 49-in long, 37-in wide, and 44-in tall
Can house dogs up to 150 lbs
The floor grid is plastic
Below the grid, there is a cleaning tray
Has a front and a built-in feeding entrance
The door locks with a 2 chain lock
You can stack more crates on top
BEST TALL CRATE FOR A GREAT DANE
Smonter 48 Heavy Duty Dog Crate
Extra Tall Reasoning
This is anything but a standard extra-large 48-in crate and it's because of its house rooftop that this is true. This top makes it a whopping 51-in tall. It's also 29-in wide and it's completely made out of corrosion-resistant steel tubes. The top of this Great Dane cage features an entrance and the front has one as well.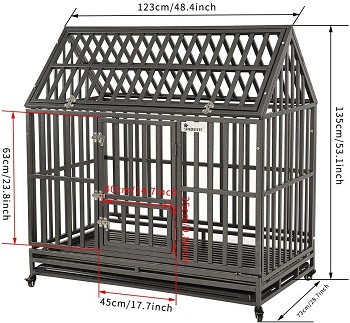 Lockable Features
You'll get to move it using the 4 wheels on the bottom that you can lock so that the crate sits in place. The front door locks with 2 hasp latch locks. If you're interested in dog house crates and perhaps want one made for outdoor use, you'll find them all in the article we linked below.
In Short:
HAs a house rooftop
It's 51-in tall and 48-in long
Fully made out of steel tubes
The crate is rust and corrosion resistant
Sits on 4 lockable wheels
Has a top and front entrance
How To Pick A Dog Crate For A Great Dane
The problem with any Great Dane cage is the fact that there aren't many of them available so you'll have to try hard to find one on your own. Even if you do find one, you'll still want to make sure it's truly fit for your Great Dane. Therefore, read this buying guide where we'll provide the information necessary for ease of buying.
Great Dane Crate Size – Great Danes are considered giant dog breeds and the recommended crate size for them is going to be a 54-in long crate. Since they're also very tall, this should be the next dimension you look at. Generally, a 54-in long, 37-in wide, and 45-in tall crate should do the job just fine.
Crate Training A Great Dane Puppy – For any dog that needs to be crate trained, you'll want to get a wire crate with the addition of a divider. What the divider does is help adjust the crate size to a growing puppy which allows you to potty train them. We wouldn't recommend you get a smaller crate but instead, get one that will get to house a fully grown Great Dane inside.
Great Dane Dog Kennel – Although we could argue that a kennel could be the size of a Great Dane dog cage kennels are still going to be bigger than them. They're designed to be used outdoors and typically you'll find them used by dog care professionals so we can't say that any of the crates reviewed is a kennel.
Female And Male Great Danes – The size between male and female great Danes is menial but still important when it comes to choosing the crate fit for both. Female great Danes are typically shorter in both length and width so some might fit inside a 48-in long crate but you should make sure it's an extra tall crate.
Precise Crate Sizing – If you want to make sure your great Dane is fit for the crate you're looking at, you can always rely on checking their height and length, add at least 3-4 inches to those dimensions, and you've got yourself an approximate crate size for your dog.
Great Dane Traveling – If you're traveling by air, you have to check with your airline whether or not they allow giant dog breeds and you should also be careful with sizing charts for these crates. They are smaller than the indoor dog crates, but should still be large enough for the dog to be comfortable. As for dog car crates, if you have a big enough trunk to fit a 54-in long crate inside, you can travel with great Danes but it's highly unlikely that it's going to be the case.
To Sum Up
The dog crate for a Great Dane you'll get depends on their gender, size, age, and behavior so really, we can't recommend just one. You should be on the lookout for all of the previously mentioned factors and you'll have no problems getting the right one. If you'd like to go smaller, the next articles we advise you to read are the post about the large dog crates and extra-large dog crates. For reviews of all dog sizes and types like travel crates, indoor crates, and more, check out the dog crates post next.