Are you running low on money but still want to good your dog a quality cheap XL dog crate?
Find one fast by continuing to read this article about our top 6 picks for these crates. Although we mainly focused on price our other interest to ensure quality through reasonable prices. You will easily find crates for puppies, traveling, foldable crates, and many more.
The Summary
Best 6 Cheap XL Dog Crates
BEST OF BEST CHEAP XL DOG CRATE
MidWest Homes for Pets Dog iCrate
Surprising Price
Extra-large dog crates are going to be more expensive than smaller crates. It makes sense because they require more materials in their manufacturing process. This is an XL wire dog crate and you would think that its price is at least 100 dollars but surprisingly, it's only around 80 dollars.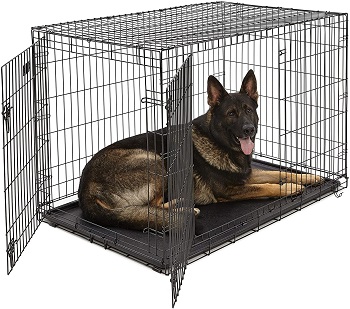 Build And Its Safety
No matter the price, this is still a quality-made crate. It uses steel wire for its build that's coated with a black satin e-coat finish. The finish even makes the whole crate resistant to rusting. The panels are not rounded out but there are side corner clips that are to create rounded corners for your dog's safety.
Home Features
Ideally, you'll want to use this crate as an indoor one because it does come with roller feet that protect your floors from damage. It also comes with a plastic slide-out pan that will prevent liquids from going onto your floors and a two-door design for easier placement inside your home. You'll also get a divider for potty training puppies with it.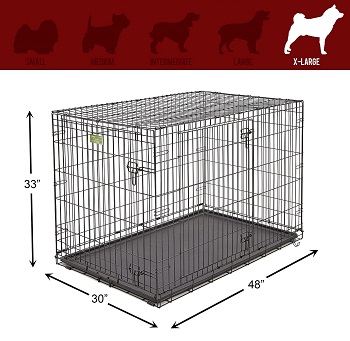 Travel Use
You don't have to strictly use this cheap XL dog crate indoors. You can also travel with it mainly because of its foldable design. You'll get to fold it easily and unfold it just as easily. There's even a carrying handle that comes with it. You can use the folding metal dog crate design to store it as well.
In Short:
The steel wire e-coat finish make sit rust-resistant
Comes with a puppy divider
Costs less than $100
Has roller feet and a cleaning pan for home use
Can be folded down for traveling or storage
Has 2 entrances
BEST METAL CHEAP XL DOG CRATE
Cardinal Gates Sliding Door Pet Crate
Price To Feature Ratio
We tried to be versatile when it comes to pricing and functions of these and that's how we came to the conclusion that we should review this one. It does cost around 150 dollars but it's well worth the price and can be considered a cheap XL dog crate when you compare its price to its features.
Wire Thickness
The steel wire that makes the entirety of this sliding door dog crate has a gauge. Gauge determines the thickness of materials like wire and the lower the gauge the better the thickness. This crate has a 10 gauge steel wire and an even thicker 6 gauge wire on its doors.
Space-Saving Door Design
The doors are located in the front and on the side and there are three of them. It's three because the side door is a double door that slides open to the side. The top door slides open upward and can rest on the top of the crate. These doors will be a space-saving tool if you leave them open.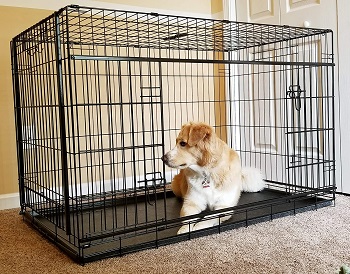 Weight And Movement
It comes as no surprise that this crate weighs 38 lbs. It's a 48-in heavy-duty dog crate so it is to be expected. No matter its weight you can still transport it easily because of the fact that it can be folded down in a matter of seconds and carried with its own handle.
In Short:
Has a 10 and 6 gauge steel wire
Features 2 entry points and 3 sliding doors
Weighs 38 lbs and can be folded down for transport
Costs around 15o dollars
Comes with a carrying handle
BEST INDOOR CHEAP XL DOG CRATE
Precision Pet Great Crate
Justified Price
This is the last and most expensive crate in this category but considering its features, it's not expensive at all. The first thing that comes to mind to justify its price of around $170 are its two doors. They do lock with a sliding bolt lock but also from 4 other different points for more safety.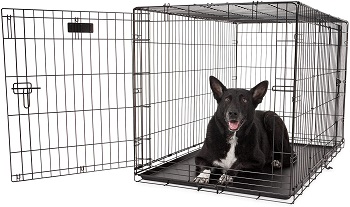 Versatile Dog Housing
It's incredibly versatile and the thing to prove is the fact that it can house puppies. this is possible due to the adjustable puppy crate divider. Dividers are usually used to potty train puppies and this one is can be too. If you're getting it for a puppy, make sure you get the right size according to the dog's adult size.
Rust-Resistant Finish Use
The steel wire of this cheap XL dog crate is coated with an e-coat finish. E-coats typically give the materials they cover rust-resistant properties and it does that with this crate too. You won't have to worry about it catching rain when you transport it from your home to your car for a trip.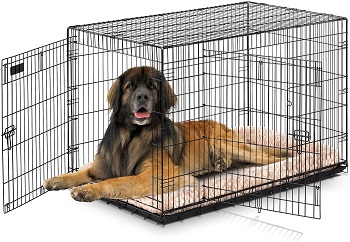 Thriving Indoor Use
For better indoor use, the doors located in the front and on the side will help you with crate placement. this is especially great since it is a 48-in long crate. The cleaning pan that you can easily slide out of it will help with keeping your floors clean from dog urine because of its raised edges.
In Short:
The e-coat on the steel wire makes it rust-resistant
Can house puppies because of its dividers
The 2 doors lock from 5 different points
Comes with a slide-out cleaning pan
Can be used for transport
Costs around 170 dollars
BEST SOFT CHEAP XL DOG CRATE
EliteField 3-Door Soft Dog Crate
Category Reasoning
Soft-sided dog crates large are typically 42-in long. This goes for almost any crate and it's true for this one as well. The only reason why it's in the cheap but extra-large category is that it's designed to be 2-in wider and 4-in taller than the standard large soft crates. It can be considered a cheap XL dog crate easily.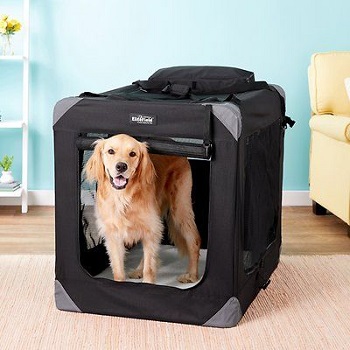 Durability Opposite
If the crates we reviewed prior to this one were all training cages for dogs then this one and the rest are total opposites. You can only house a crate-trained dog inside it because it's made with fabric materials. the fabric in question is 600D oxford fabric. It also has a steel tube frame that makes it hold its shape well.
Only For Traveling
The steel tube frame not only helps it hold its shape well but also makes the crate easily fold-down for storage. You can use this feature for traveling as well, but we'd advise you to contain your dog inside it when traveling since you'll have almost no use for it indoors. The simple reason why is that you just can't rely on it to house your dog without your supervision.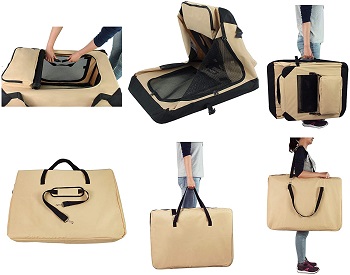 Travel Benefits
Since it's a soft travel dog crate there are some advantages to traveling with it. The first thing is that it's incredibly light and can easily be carried with a handle or a shoulder strap on its own carry bag. The second thing is that it comes with 2 accessory pockets for storing your dog's things inside. It even features a washable comfort pad on the bottom for those long trips. it costs around $90.
In Short:
Made with fabric and a steel tube frame
It's 42-in long but 2-in wider and 4-in taller than most
can only house crate-trained dogs
It's best to use it for traveling because it's very portable
Comes with 2 accessory pockets
Can be folded down
BEST FOLDING CHEAP XL DOG CRATE
Objoy Soft Pet Crate
Different Frame Design
Instead of having a typical steel tube frame that folds down, this crate has a different frame that can easily be unfolded and unfolded. It connects easily because the frame has a magnetic structure and properties and that's how it stands tall securely.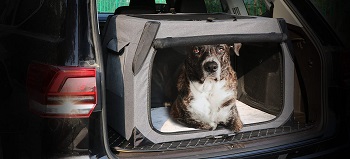 Traveling With Your Dog
This soft collapsible dog crate is perfect for using on a car trip not just because of its foldable design. This is true also because the bottom is designed to be non-slip so that this cheap XL dog crate doesn't move around when traveling. It also has rounded corners that will protect your car interior from damage.
Entrance Features
The zippers on the three doors can be locked to both ensure that the zipper doesn't accidentally open and so that the dog can't open it. The doors are located in the front, on the side, and on top. All three are also ventilation windows made out of mesh fabric.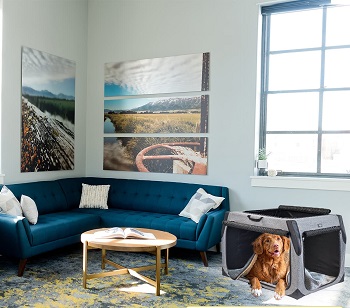 Safety, Build, And Price
It also has a safety rope that will allow you to connect the crate to a seatbelt for even more safety. It's made with 600D oxford fabric so you'd know it's durable. Nonetheless, you should only get it for an already crate-trained dog. It costs around $90 dollars.
In Short:
Can be connected to a seat belt and it doesn't slip
Has a magnetic construction frame
Has a 600D oxford fabric cover
Three access doors – vented windows
Costs around 90 dollars
Should be used with crate trained dogs only
You can easily travel using it
BEST FOR TRAVEL CHEAP XL DOG CRATE
ZEUS Deluxe Soft Crate
Camping Out
You won't have to hesitate for a second if you're considering using this crate as a dog tent crate if you ever want to camp out wiht your dog. This is true because the fabric cover of this cheap XL dog crate is water-resistant so your dog won't get wet if it rains while you're out.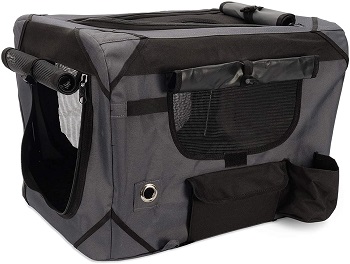 Outdoor Use Feature And Comfort
It even has some features that typical human tents have and those are the tie-down stakes and loops. They are used to make the crate more stable when you're using it outdoors. Your dog will also be very comfortable while inside because of the soft bed that you can put on the bottom. The bed is washable.
Accessory Pocket And Accessories
If by any chance you want to hide the crate and store it away, you can fold it down and put it in its own carry bag. The cover also has an accessory pocket. There is an accessory pocket on the crate's cover as well. It's located on the side and you'll also find a water bottle holder there.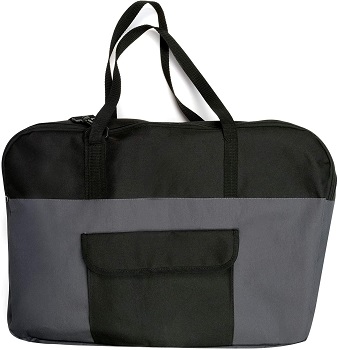 Questioning Indoor Use
We wouldn't go as far as to recommend it as a large indoor dog crate but if you feel comfortable enough in using it like that, you can. it is a bit more expensive than the rest but considering its features, it's well worth the price and you can think of it as cheap because of it.
In Short:
Perfect for camping out
Comes with tie-down stakes for stable outdoor
The cover is water-resistant
Has an accessory pocket and one on its carrying bag
Costs around 200 dollars
Be careful with housing a un crate trained dog inside it
How To Pick A Cheap XL Dog Crate
Cheap is a term that means different things to different people so, in order to try and please everyone, we decided to review cheap XL dog crates from different categories and at different price points. We weighed out their advantages according to price and came to the conclusion that they're quality crates and most importantly, cheap. We want to point out these advantages and maybe some of their disadvantages in this buying guide for you to easily decide on one.
Price Points – Any dog crate can be a cheap one if you're getting a quality product that's why the price range for these crates is so large because one crate can be cheap and have weaker features and another can have a higher price but have excellent features. Typically, you'll be looking at a price range of around $70-$200.
Cheapest Crate Types – If you haven't noticed we only reviewed XL metal dog crates built out of wire and xl dog travel crates built out of fabric. These are definitely the cheapest crate type overall and it's excellent to combine the two because both go their separate way when it comes to what they're good for.
Crate Purpose – Wire crates that we reviewed are definitely more durable than soft ones. Often they come with dividers for housing puppies and they are durable enough to be used as potty train crates and house training crates in general. Soft dog crates on the other hand are not as reliable indoors but because they're lightweight dog crates, foldable, and have some other unique features, they are amazing for traveling. Note that your dog should be crate trained before you get him a soft crate.
XL Size Explanation – Most of the cheap XL dog crates are 48-in long. This is the exact length that a crate needs to have to be considered an extra-large one. Soft crates tend to be smaller and you'll rarely find a 48-in long one among them so try and search for a 42-in long or a 43-in long one. Extra-large crates are also more expensive than smaller ones.
To Sum Up
We have no doubts recommending the Cardinal Gates Sliding Door Pet Crate as the best cheap XL dog crate due to the fact that it's built with thick gauged wire, has 2 sliding doors that are space-saving because of it and it can be used both indoor and for traveling. If you have a little more money to spare and what a beautifully designed dog crate indoor you might want to check out the article about indoor dog crate furniture and if you happen to have a large dog that you want to get a cheap crate for, we suggest you look into the article about large dog crates cheap.