Are you tired of having to buy a new crate every time your extra-large dog breaks one so you're looking for a 48-inch heavy-duty dog crate?
You're in the right place then and if you continue reading this article you might just even find a long-lasting solution to your current problems. We made sure to review only the best and we also categorized them into categories like folding, plastic, metal, and even cheap.
The Summary
Best 6 48 Inch Heavy Duty Dog Crates
BEST OF BEST 48 INCH HEAVY DUTY DOG CRATE
Confote 48" Heavy Duty Dog Cage
Stainless Steel Build
If you like your dog's cage material to be unique and one of a kind you might want to read into detail about this stainless steel dog crate to see if it fits you and your needs. Each part of this crate has been welded together to create an even more durable dog crate that will stand up to dog abuse.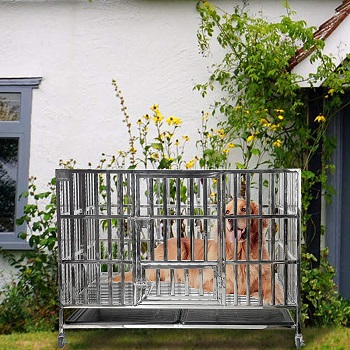 Fight Against Damage
It fights well against corrosion and rust and will even look nice long-term because your dog won't get to scratch it so easily. You can use it indoors and we do recommend you use it there primarily but outdoor use every once in a while is also an option you can consider.
Heavy Weight Solution
One of the problems that you may encounter with this and other types of these crates is that they are very heavy. This one weighs around 60 lbs. The solution to this problem is the caster wheels found on the bottom that can be locked and that rotate at a 360-degree angle.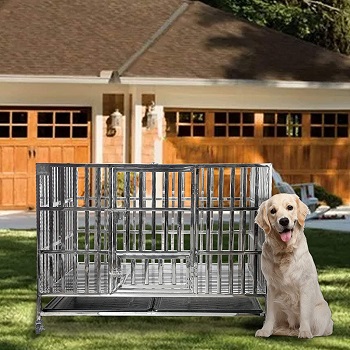 Floor Grate
The floor of this crate is also made out of metal. It is a gridded bottom that has a bar spacing of 0.5-in. This bar spacing is enough to let through dog excrements onto the cleaning tray below but not large enough for your dog's paws to fall in or make your dog uncomfortable in this 48-inch heavy-duty dog crate.
In Short:
Made out of stainless steel
Resists corroding, rusting, scratching
Can be used outdoors as well
Weighs around 60 lbs and sits on wheels
The bottom is metal and gridded
Below, there is a cleaning tray
BEST METAL 48 INCH HEAVY DUTY DOG CRATE
HomeyPet Open Top Heavy Duty Cage
Off Dimensions
Right from the start, you'll notice that this crate is 1-in longer than what you signed up for. It is actually a 48-in dog crate because it's true for its interior. It can house the same dogs and can be considered a dog crate for rottweiler since they are a breed that's typically housed in a crate of this size.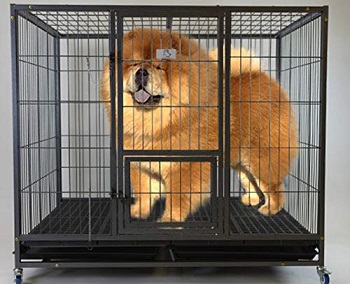 Build And Finish
It's made with heavy-duty steel tubes and has a non-toxic finish. This is really important because the general rule is that if you're getting this crate, you're probably getting it for a chewing dog. The finish in question is a hammer tone finish that gives the 48-inch heavy-duty dog crate anti-rusting properties. It's also built to be a stacking dog crate. You can stack up to three crates on top of each other.
Plastic Things And Why
The two plastic bits on this crate are its floor and the cleaning tray below it. The floor is gridded and tat will let dog urine and other dirt fall onto the cleaning tray. Because the bottom is made out of plastic, you won't have to worry about having to clean it as often because it's less likely it will get damaged if not.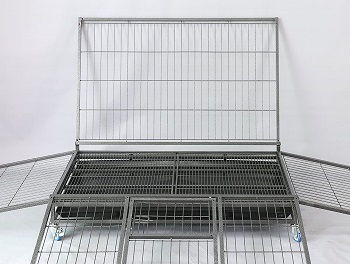 How To Move It
It sits on 4 lockable wheels for easier movement since it's heavy. Your dog will get to access it through the single door found on the side. The door also has a smaller door built into it that is actually a feeding door. The door locks with a lock and chain to make it a more safely locking dog crate. You'll also get a top access door for easy interaction with your dog.
In Short:
Made with heavy-duty metal
Has an anti-rusting and non-toxic finish
Features a built.in feeding door inside the access door
You can attach lockable wheels to it
The floor is plastic and gridded
You can stack multiple crates on top
Has a top access door
BEST TRAVEL 48 INCH HEAVY DUTY DOG CRATE
Cardinal Gates Sliding Door Pet Crate
Category Reasoning
The reason why we're reviewing an XL wire dog crate as a heavy-duty one is simple. The wire that makes this crate has a heavy gauge so it's easy to conclude that it really is a heavy-duty dog crate. It has a 10 and 6 gauge wire build. The thicker, 6 gauge wire, is used solely for the doors.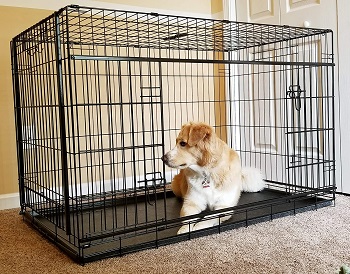 Excellent Portability
The thing that's so different about this 48-inch heavy-duty dog crate and the other ones is that this one is much lighter and easier to carry. It weighs 38 lbs and you can easily fold it down flat and carry it with the provided handle when you need to. This feature can also be used to store the crate away when it's not in use.
Door That Saves Space
It's an excellent choice for a large indoor dog crate because of its door. The side double door makes it a sliding door dog crate. The door slide open to the side and they will save you space in the crate's area if you leave it open. You'll also find a regular opening door in the front.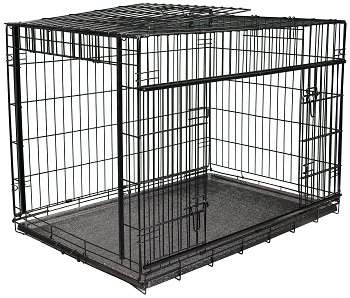 Cleaning The Crate
The pan for cleaning is made out of plastic and is located inside the crate. You can still take it out just as easily by sliding it out when you need to clean it. Like the rest of them, it has raised edges so that liquids don't overflow as much and protect the floors inside your home.
In Short:
Made with 10 and 6 gauge steel wire
Has a double sliding door and a single regular one
Can be folded down and carried
Weighs 38 lbs
Has a cleaning slide-out pan on the bottom
The sliding door is space-saving
BEST PLASTIC 48 HEAVY DUTY DOG CRATE
SportPet Designs Plastic Kennel
Plastic But Durable
These crates don't exclusively have to be made out of metal to be considered tough dog crates. You can just as easily get a heavy-duty plastic dog crate and rely on it to do the job well. That's exactly what this crate is. It's made out of 2 rigid plastic shells that connect with plastic locking clips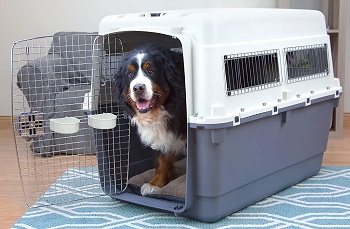 Crate-Trained Dog Requirement
Although this is a 48-inch heavy-duty dog crate you can only house crate trained dogs inside it. The reason why is because it's a large dog airline crate. It's IATA approved and having a crate-trained dog is one of the requirements for generally traveling with your pet, especially when it's by air.
Air Travel Kit
It comes with most things needed that are just other requirements by airlines for a dog to travel as cargo aboard an airplane. These things are nuts and bolts to secure the connection of the 2 shells, "live animal" stickers, tie-down holes for bungees, and detachable water and food bowls.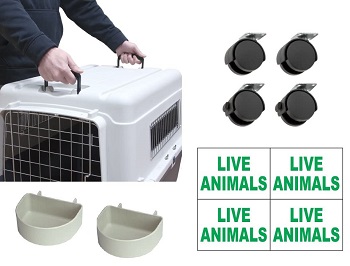 Extra Large Crate Accessories
Since it's designed to house extra large dogs, it comes with wheels that you can easily put on or off. You'll also get two handles on top to lift it easily when needed. It does have a steel wire door and steel wire ventilation windows on its sides. The door gets locked with a vault lock so it doesn't slip or slide.
In Short:
Made for air travel
Made out of heavy-duty plastic
Comes with a basic travel kit accessories
Comes with 4 easy snap-on wheels
Has 2 handles on top for carrying or lifting
It is IATA approved
Can only house crate trained dogs
BEST CHEAP 48 INCH HEAVY DUTY DOG CRATE
SmithBuilt Heavy Duty Dog Crate
Build Intention
The steel used to make this crate is 20 gauge steel. Steel gauge determines the thickness of metal and if we were to rank it, this would be commercial quality steel. It's built with steel tubes that have a 0.75-in diameter. It's designed to house aggressive dogs that tend to break their crates.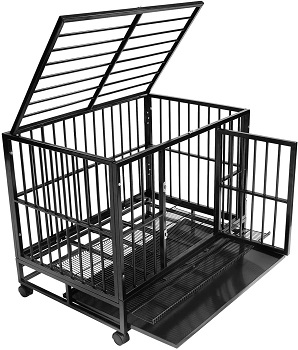 Different Door Functions
Conveniently enough, the crate has two doors that both have different functions. The first door in question is the front door that can be locked with 2 sliding bolt locks. The second door in question is a top door that will allow you to interact with your dog no matter how you position this 48-inch heavy-duty dog crate inside your home.
Outdoor Use Explanation
This crate is not only a durable dog crate because of its steel tube build. It's also durable because it has multiple layers of hammertone finish that make it resistant to rusting, corroding, and also fading. Because of this, this large cheap dog crate is great for outdoor use.
Moving And Cleaning It
It weighs an astonishing 106 lbs. That's why you'll get to attach 4 caster wheels on the bottom to move it more easily. There's also a cleaning pan on the bottom and it's located outside the crate. Dog dirt and urine will easily end up on it because the floor is gridded.
In Short:
Has a 20 gauge steel tube build
Has multi-layered hammertone finish
Resistant to corrosion, rusting, and fading
Sits on wheels because it weighs 106 lbs
Has a cleaning pan outside and below
BEST OUTDOOR 48 INCH HEAVY DUTY DOG CRATE
Dkeli Crate Heavy Duty Strong
Steel Tube And Metal Bars Build
Instead of having a steel tube build, this crate has a steel tube frame and the rest of its construction materials are metal bars. The frame can both be licked and chewed on by your dog without him risking his health because the crate's finish is non-toxic.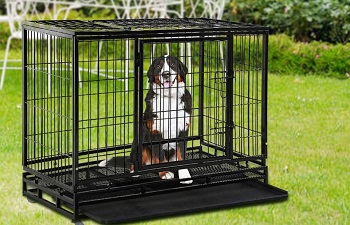 Different Wheels
Not all of the wheels that are included with this crate are lockable. Two can be locked to make it more stable when you're not moving it. The wheels are here mainly because this 48-inch heavy-duty dog crate weighs a lot and would be hard to move around without them.
Ensuring A Durable Build
Each bar of this crate is welded together to really ensure that it is an indestructible dog crate. It's even treated with materials that make it resistant to both corroding and rusting. That is precisely why you'll get to use it outdoors as well.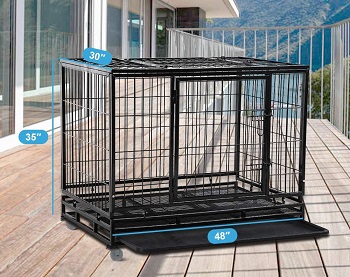 Cleaning Access
You won't have to access the interior of the crate through the front or top door to clean it. Instead, this crate will be kept clean for the most part because do dirt will fall through the grided floor and end up on the dog crate plastic liner located below it.
In Short:
Treated with corrosion and rust-resistant material
Has a steel tube frame and the rest is metal bars
Has a top and front access door
Below the gridded floor is a cleaning pan
The crate's finish is non-toxic
How To Pick A 48-Inch Heavy-Duty Dog Crate
To get the best 48 heavy duty dog crate possible we would like to share in detail what makes them what they are, what types of different crates that fit the description are, and some problems that might occur so continue reading to really choose the best one for your dog and yourself.
What 48 Stands For – When saying a crate is a 48-inch dog crate it's mainly talked about the crate's length. This is the measurement that determines the size of the crate and determines how big of a dog can fit inside. These are dog crates for rottweilers and can typically house extra large dogs.
Heavy Duty Metal Crates – Heavy-duty metal dog crates are made to house aggressive and highly active dogs that tend to chew through their crates. These crates should be bought if your dog has gone through crate training but unsuccessfully with a training cage for dogs like wire crates.
Heavy Duty Plastic Dog Crates – These crates are usually sold under reinforced, rigid, or durable plastic names. The one we reviewed specifically is designed for traveling but the rest of them are also usually made for that. The only reason why it's advised you house a crate-trained dog is that it's much safer to travel with a dog that has been.
Heavy Duty Wire Crates – The 48-inch heavy-duty dog crates typically have a heavy gauge wire build. Gauge determines the thickness of the wire and other materials. Compared to metal crates, they are far more portable and lightweight. They can typically be folded down as well either for storage or for traveling. Their most common purpose is to crate train dogs.
To Sum Up
We would most definitely recommend the Confote 48" Heavy Duty Dog Cage as the best 48-inch heavy-duty dog crate. It's because it has a stainless steel build and is resistant to corrosion and rusting so it will definitely last you for a long time. If you're interested in checking out a slightly smaller version of these crates we would advise you to read the article about heavy duty large dog crates ad if you want to know more about and check out your options for these wire crates, we advise you read the article about large dog crates with divider.