Do you want to get your dog a heavy-duty plastic dog crate but are still not convinced of their durability?
We can change your mind about that so keep reading this article if you want to learn more about them. We reviewed every crate and made it so that there is a crate for everyone since we tried to review a large variety of crates like the ones that are made for puppies, small dogs, for traveling, and a lot more.
The Summary
Best 5 Heavy Duty Plastic Dog Crates
BEST OF BEST HEAVY DUTY PLASTIC DOG CRATE
Diggs Revol Dog Crate
Other Build Material
Apart from having a heavy-duty plastic build, or reinforced if you will, other materials that this crate is made out of don't disappoint as well. The sides are made out of high-grade aluminum steel wire that's shaped like a diamond. You'll also find this material on top of the crate.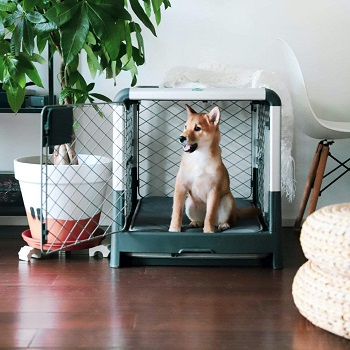 Durable But Also Safe
This heavy-duty plastic dog crate is as durable as it is safe. To put it more specifically, it is designed to comply with baby industry standards so that if you were to house a puppy inside, your pup won't get hurt in any way. This is also true for grown-up dogs as well. When your pup is fully grown, he should be a small dog to fit inside well.
The Ease Of Potty Training
You'll get a puppy crate divider with it so that potty training your dog is much easier. Another thing that might make potty training easier is the slide-out tray held on the bottom of the crate so that if accidents do happen, it will be easier for you to clean it.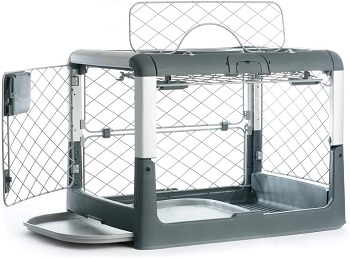 Types Of Openings
The crate features 3 doors. There's one on top, one in the front that your dog won't be able to open, and the side door opens upwards so if you were to leave the crate open, the door won't get in your way and will save you space around the crate.
Ready, Set, Travel
We've already mentioned that the crate is versatile. So far we've covered that it can safely house puppies but you can also travel with it. The reasons for that conclusion are the built-in wheels and a top handle for carrying and the fact that the crate can be collapsed for transport.
In Short:
The crate has aluminum steel wire sides
Safe for puppies and grown-up dogs as well
Comes with a divider for potty training
Can be cleaned easily by cleaning the slide-out plastic tray
Has three doors for access
Can house puppies and small grown-up dogs
Has built-in wheels, a carrying handle and can be collapsed
BEST INDOOR HEAVY DUTY PLASTIC DOG CRATE
Pet Gear 4 Door Steel Crate
4 Entrances Benefits
The 4 entrances can really help you when you're deciding on where and how to place this heavy-duty plastic dog crate inside your home because you'll have multiple choices. In fact, you can even leave the large front door open without it getting in your way since it slides open in an upward direction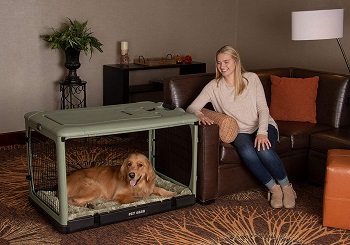 Safe Plastic And Steel Build
Apart from the plastic being heavy-duty, it is also blow-molded. This leaves the inside of the crate with rounded corners that are much safer for your dog. The steel wire sides are made in a way so that there are no exposed sharp edges so this is another way that the crate is safe for your dog. The crate is a large collapsible dog crate which means it's made to house large dogs since it's 42-in long.
The Two Bonuses
There are two bonuses that the crate comes with. One is the padded bed that you can place on the inside for more inside comfort. You can also easily remove and wash the bed when needed. The other thing is the travel bag that you can put the collapsed crate in.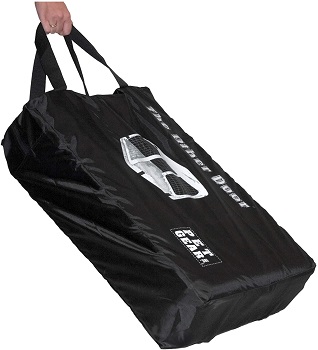 Built-In Wheels Utilization
You can utilize the built-in wheels on the bottom with the travel bag to drag the crate rather than carry it when it's inside. Another way that you can put the built-in wheels to good use is by combining it with the built-in top handle to drag the crate when it's fully assembled.
In Short:
The heavy-duty plastic is blow-molded
Has steel wire sides
The inside has rounded corners and no sharp exposed edges
Can house large dog breeds
Comes with a travel bag and a padded soft bed
The crate can be collapsed
Has a built-in handle on top and wheels on the bottom
Has 2 side, 1 top, and 1 large front entrances
BEST SMALL HEAVY DUTY PLASTIC DOG CRATE
Petmate Ultra Vari Kennel
Small Dog Travel Advantages
If you want to travel by air with your small dog this is the crate for it. If you're a small dog owner it'll definitely be much easier for you to travel by air since large dog airline crates are listed as cargo while small dog kennels and carriers, in most cases, can be brought onboard a plane with you.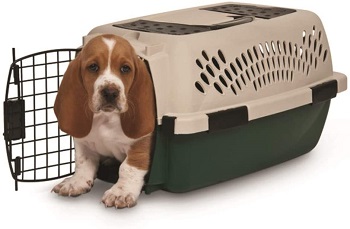 Plastic Pieces
The heavy duty plastic dog crate is made of two heavy-duty plastic shells that can be connected with plastic clips. These are found on the edges of the crate. The sides of the crate's top shell feature holes for proper air circulation and the back has them as well.
Single Door And Lock Description
There's a single door on this crate that's made out of steel wire and is colored black. The lock on the door should be easy to unlock because you have to pinch it with your fingers to open it. The lock on the door won't slip or slide open because of the way you have to unlock it.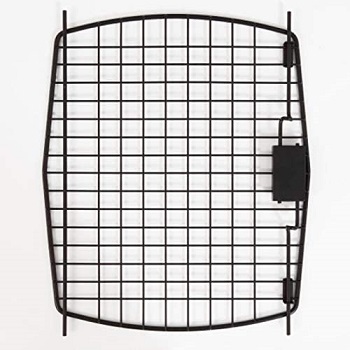 Carrying Abilities And Size
Since it's a small dog travel crate, the crate comes with a carrying handle on top that you can easily hide because of the indent on the top that fits the handle perfectly. It is a 19-in crate that can house extra small dogs up to 10 lbs.
In Short:
Made out of 2 heavy-duty plastic shells
The shells connect with last clips
The crate's 19-in long
It's able to house dogs up to 10 lbs
Comes with a carrying handle that you can tuck into the top indent
Has a single steel wire door
The door locks with a pinch to open lock
BEST AIRLINE APPROVED HEAVY DUTY PLASTIC DOG CRATE
SportPet Designs Plastic Kennels
Traveling As Cargo
The crate finds itself on the other end of the spectrum when it comes to airline-approved dog crates since it's a crate made to house large dogs and your dog will travel as cargo instead of aboard the airplane with you. What this means for you is that the crate has to comply with more airline regulations.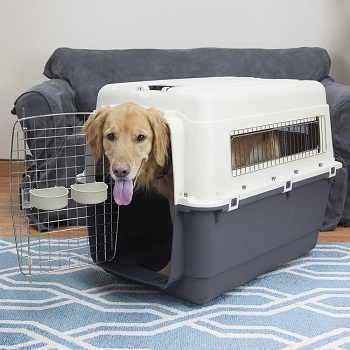 IATA Requirements
The nuts and bolts, 2 water and food bowls that are detachable, "live animal" sticker,s and tie-down holes for tying the crate down with bungees are all things needed for a crate to be an IATA approved dog crate. All of the things listed are the thing that the crate already has. There are more airline requirements than you'd think so make sure you contact and check with your specific airline about any additional regulations.
Connecting The Pieces
The two plastic shells of this heavy-duty plastic dog crate can either be connected with the already attached plastic clips or if you want double security, with the nuts and bolts. You won't have to make the holes yourself since the crate already has them.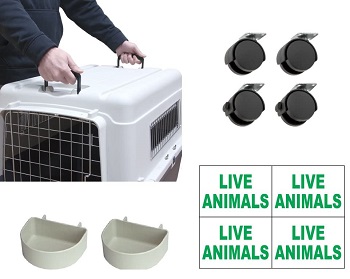 Additional Transport Features
The two additional features of this crate that will make it a lot easier for you actually get the crate to the airport and move it while you're there are the 4 easily detachable wheels found on the bottom and the two carrying handles located on top of it.
In Short:
Тhe crate is IATA approved
Made up of 2 plastic shells
The shells connect with plastic clips and nuts and bolts
Can house large dogs
Has holes for tying down with bungees
Comes with water and food bowls and "live animal" stickers
Comes with 4 wheels and 2 top handles
BEST FOR TRAVEL HEAVY DUTY PLASTIC DOG CRATE
Lucky Duck Lucky Kennels
One Plastic Piece Build
This crate just might be a winner when it comes to how much of a heavy-duty plastic dog crate it is. Probably the most important reason for that is the fact that it's made out of a roto-molded single piece of plastic which means there are no pieces that need connecting.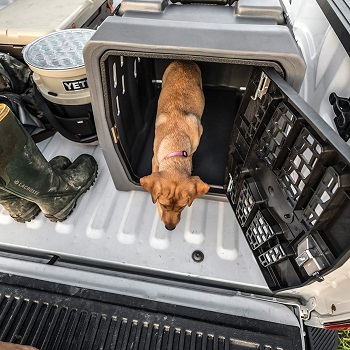 Safe Car Traveling
It might just be that this crate is one of the safest dog crates for cars. The fact that it is crash tested and rated 5 stars from the center for pet safety is a stand-alone reason for that claim. Your dog also won't overheat inside it since the air vents are placed in a way to keep your dog cool during warm weather.
Distinct Top Features
The top holds two things. One is the two heavy-duty handles for carrying and the other one are the tie-down holes for tying the crate up that are powder-coated and made out of metal. The thing that has a similar function to the tie-down holes is the rubber feet on the bottom that will prevent the crate from sliding.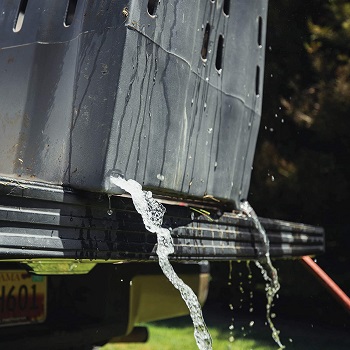 Plastic And Metal Door
The single door on this crate is made out of plastic and metal. They are of course separated and the metal part of the door can be found on the inside. The door is reversible and has a single metal lock that requires a key to unlock. The door also has pins for locking that give you even more locking safety.
In Short:
Made out of roto-molded plastic
The crate is crash tested
Will keep your dog cool during warm weather
Has 2 heavy-duty carrying handles
Has metal tie-down holes
The bottom holds non-slip rubber feet
The door can be reversed open
HAs an additional metal door on the inside
How To Pick A Heavy Duty Plastic Dog Crate
If you're not convinced that heavy-duty plastic dog crate do exist and they're very durable and tough we might convince you by talking about their differences, common purpose, the processes they go through to be made, and with other additional information. We know they're durable, it's time you start believing it as well.
Most Common Use – If there's one thing we know for certain it is definitely the fact that these crates are amazing travel crates. Either it's due to the way they can easily be transported because they are either light or easily carried because of the collapsible design, or it might just be because some of them are crash tested.
Main Benefits – The first thing that comes to mind if we're talking about some of the benefits of owning either a small, medium, or extra-large plastic dog crate is definitely their transportability. portable crates, especially large portable dog crates are light and if not, they have either wheels or carrying handles and are sometimes even collapsible so that transport is a breeze.
Crate Sizing Method – We didn't really mention how to properly size a heavy-duty plastic dog crate for your dog because it is a process that needs explaining so we'll do it now. Dog crates are generally sized in a way where you take your dog's height and length and compare it to the crate. The crate should alwayss be at least 3 or 4 inches taller and longer than the dog.
Travel Warnings – Since most of these are crates made for traveling we must give of a warning. You should only ever travel with your dog if the dog is crate trained. If not, you're putting your dog's ad your own life in danger mostly because of distractions, or in some cases, the crates just won't put up with abuse coming from a dog.
To Sum Up
The heavy-duty plastic dog crate that we would recommend is definitely the Diggs Revol Dog Crate. It's very much safe because its made with baby industry standards in mind and can be used to house puppies because of the divider it comes with. If you figured out that you need to crate train your dog then you might be interested in checking out the article about training cages for dogs and if you need a crate that's designed to house aggressive dogs then the article about heavy-duty metal dog crates might be the one for you to read.