Do you believe that plastic can be a great and durable material so you set off to find an extra-large plastic dog crate?
Are you having trouble finding one?
Don't worry about it because we sought out to find and review only the best ones so you can be sure you're getting a high-quality crate if you continue reading this article. If you decide that you don't like our top picks like the one made for traveling, for indoor use and so on, you might benefit from the buying guide for these crates that we provided you with at the end of this article.
The Summary
Best 4 Extra Large Plastic Dog Crates
BEST OF BEST EXTRA LARGE PLASTIC DOG CRATE
SportPet Designs Plastic Kennel
Dimensions Size Perspective
If we were to look at this crate from a dimensions perspective we would easily come to the conclusion that this is not a crate designed to house extra large dogs since they are much larger than the recommended height and length of dog able to fit inside this crate that is 32-in long and 24-in tall.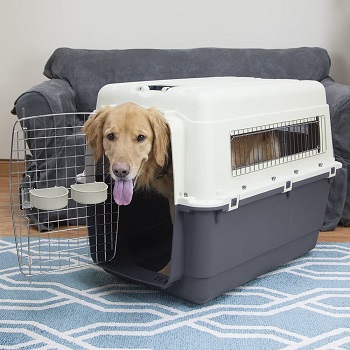 Size Options
Don't worry though, you will still be able to get larger versions of these crates like an XXL one and an XXXL one that can really house extra large dog breeds. Keep in mind that this crate should only be used to house crate trained and calm dogs, because it's designed to be a giant dog crate airline-approved, and crate training your dog for air travel, is a requirement by airlines.
Things Needed For Air Travel
As we've mentioned before, this is an airline-approved dog crate that meets most of the requirements by airlines for dogs to travel with you aboard an airplane. These things are detachable water and food bowls, nuts and bolts, holes for tying down the crate with bungees, and stickers with "live animal" printed on it.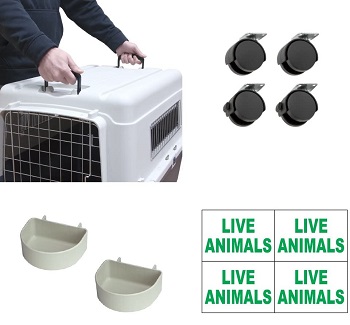 Other Travel Features
Although the extra-large plastic dog crate features most if not all things needed for air travel you should still check fit your airline about other regulations. It features a single steel wire door for access that, along with the steel wire-covered windows on the sides of the crate, ventilate the crate to give it ample airflow. You'll get snap-on wheels for it as wheels and 2 handles on top.
In Short:
The crate can house dogs up to 32-in long and 24-in tall
Designed to be airline approved
Water bowls, tie-down holes for bungees, and live animal stickers are included
The included nuts and bolts can double connect the plastic shells
Comes with 4 easy snap-on or off wheels
Features 2 handles for carrying on top
Has a single steel wire door for access
BEST AIRLINE APPROVED XL PLASTIC DOG CRATE
Petmate Sky Kennel Pet Carrier
 Shell Connection
The crate is comprised out of 2 shells made out of heavy-duty plastic that need to be connected. The way you connect the two is with winged nuts that are non-corrodible. The rest of the crate is made out of steel wire, specifically the single door and ventilation windows.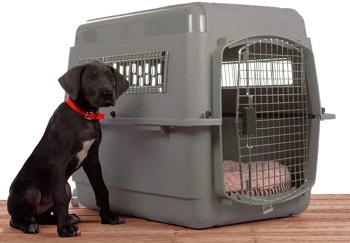 Door And Lock Type Reason
As we've already mentioned, there's only a single door for access to the crate but seeing as this is another large dog airline crate the single door is intentionally a single door because crates should only have one door if they're made for traveling by air. The door can be locked with a vault-type lock that won't slide or slip during air travel and accidentally open.
Necessities For Travel
Since it is an air travel crate this extra-large plastic dog crate comes with most things needed for air travel but as always you should check with your specific airline about other requirements. For now, the things needed that the crate has are "live animal" stickers and ID stickers, and bowls that can be clipped on or off for food and water.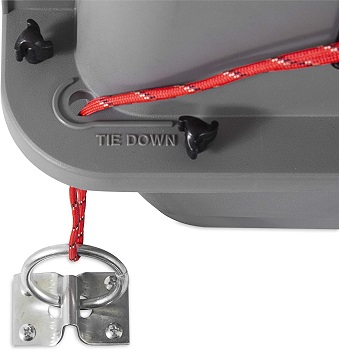 Length Sizing Method
Instead of being sized as an extra-large plastic crate, it is sized in how long it is and that's 48-in. 48-in dog crate are made to house extra large dogs so this is the exact reason why this crate is here. This crate can house dogs like German shepherds and any dog that weighs up to 125 lbs.
In Short:
Made out of 2 heavy-duty plastic pieces
The 2 pieces can be connected with winged nuts
The winged nuts are non-corrodible
Comes with ID and "live animal" stickers and clip-on bowls
The crate is 48-in long
Made to house dogs like German shepherds and dogs up to 125 lbs
Features a single wire door
The door locks with a vault lock type that won't open accidentally
BEST FOR TRAVEL EXTRA LARGE PLASTIC DOG CRATE
Dakota283 Extra Large Kennel
Convenient Transport Ability
There's a reason why this is the third crate we're reviewing that is an XL dog travel crate. It's because plastic is the perfect material for easy transport since it's so light. This crate may not be as light since it does weigh 60 lbs but it's still very portable since it can conveniently be carried using the built-in handle on top.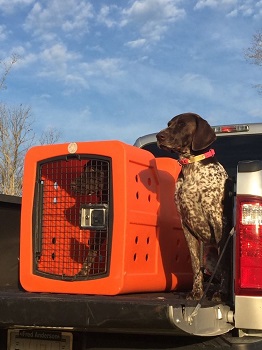 Single Plastic Piece Build
The handle for carrying is actually a part of this crate. It is made out of a single piece of plastic so there's nothing that needs to be connected. This way of build makes the crate automatically more durable and safer for your dog. It's said to be a military strength dog crate.
Lock Types And Safety
Again, this extra-large plastic dog crate features a single door in the front that's made out of steel wire but what's so special about it is the way that you lock it. You'll have to use a key to do so and it even has an additional lock for even more security. The door is spring door type.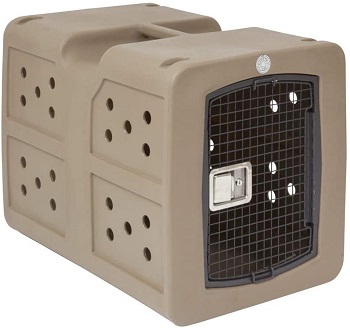 Airflow And Inside Cleaning
The door and the punctured hole in the plastic frame of the crate serve the purpose of air vents. They are specifically designed to keep your dog away from direct sunlight so that he doesn't overheat. The inside of the crate will be quite easy to clean since the sides have draining channels where dog urine will go until you are ready to release it out with a rear drain plug.
In Short:
Made out of a single plastic piece
Has a carrying handle that's built to the crate's frame
Features a single steel wire door
The lock on the door can be opened with a key
Features an additional door lock
Made to house dogs over 75 lbs
BEST INDOOR EXTRA LARGE PLASTIC DOG CRATE
Pet Gear 4 Door Steel Crate
Frame Build And Size
Although this is a large dog plastic crate we had to include it in this article because it's just at the border between an extra large plastic crate and a large one. The frame is made out of heavy-duty blow-molded plastic so that its inside edges are rounded and safe for your dog.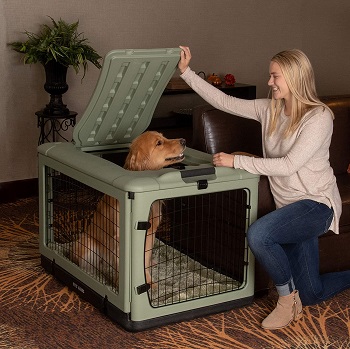 Steel Sides
The sides on the other hand are made out of steel wire but will steel be safe enough for your dog on the side because it's made to have no shard edges exposed. The crate's bottom which's also made out of plastic is insulated so that it doesn't crack if it's subjected to cold temperatures.
A Lot Of Doors
A thing that's special about this extra-large plastic dog crate is the number of doors that you won' typically find in other crates. There's a total of 4 doors on the crate that are located on the sides, in the front, and on top. The main entrance door is one that slides open in an upwards direction so that it doesn't get in your way when you leave it open.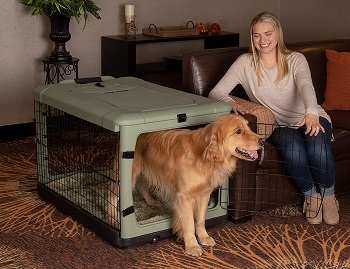 Travel Help Features
If you thought that this crate is not built for travel you would be wrong. It is a collapsible plastic dog crate and it can be stored inside its own travel bag. It also comes with built-in wheels and a handle for easy carrying and if you want your dog to feel comfortable during traveling, you can place a padded bed on the inside that you'll get as a bonus.
In Short:
Made out of heavy-duty blow-molded plastic
Has steel wire sides
The inside is made to be safe for the dogs
Features 4 doors in total
The front door slides open upwards
Can be collapsed and stored inside a travel bag
Has built-in wheels and a handle
Comes with a padded bed
How To Pick An Extra Large Plastic Dog Crate
Extra-large plastic dog crates really come in all shapes and it is because of the different manufacturing processes that this is true so in order to pick the right one you should know about what each crate brings with it. Whether it's a travel crate or an indoor one, the differences are there and we're here to talk about them.
Main Function – Most, if not all plastic dog crates can be used for traveling exceptionally well. Mainly it's because they are somewhat light and made to be easily transportable. They either come with carrying handles or wheels as well which makes them even easier to transport.
Crate Troubles – Since they are mostly made for traveling you should know that most of these crates can only house crate trained dogs. Either it's because it's much safer to travel with a dog that is crate trained or it's because the crate is just not that durable to survive a dog that's not.
Size Specification – Some of the extra-large plastic dog crates we reviewed are said to be extra-large while in fact, they cannot house extra large dogs while others are said to be large but can house extra large dogs. To know for sure you should always check the crate's length first. Crates that can house extra large dogs will typically have a length of 42-in and up.
How Safe Are They – To determine how safe the crate is for your dog we must first look at how they're made. What you want to look for are rounded corners and if the crate has steel parts so that these edges aren't exposed. You can be certain that crates that are made out of a single piece of plastic or blow-molded plastic are safe as it is.
To Sum Up
We've decided to recommend the SportPet Designs plastic crate as the one extra large plastic dog crate we think you should get. It's definitely made durable and can be used to safely travel with your dog either by car or even by air. If you're looking for a smaller plastic dog crate then your next stop should be the article about medium plastic dog crates and if you want a crate that will surely be a safe one to travel with then you best option is to check out the article about safest dog crate for car next.