Have you tried really hard to find a dog containment tool that's extra large dog crate furniture but haven't actually had any luck in finding one?
Put your worries and bad luck to rest by continuing to read this article where we listed our top picks and reviewed them for you. We even made sure to include multiple types of crates so some of the crates that you'll find here are plastic, metal, and indoor. Bottom line is, there's something for everyone's taste.
The Summary
Best 4 Extra Large Dog Crate Furniture
BEST OF BEST EXTRA LARGE DOG CRATE FURNITURE
Casual Home Wooden End Table
Hard To Find Durability
If you were to look for an XL wooden dog crate that can stand up to chewing coming from a dog you would find it extremely difficult to find one since most wood types are just not that durable. On the other hand, this crate definitely proves otherwise since it's made with solid wood that's chew-resistant.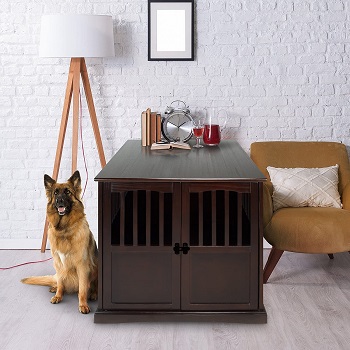 Wooden And Metal Parts
Everything you might see on this extra large dog crate end table is made out of wood. That includes even the wooden bars placed on the crate's windows for ventilation. The only exception is, of course, the single lock on the double door for access that's a hasp latch lock.
Weight Limits
The crate wouldn't be in this category if it didn't have a solid top where you can put your stuff so that it functions as furniture. The top does have a weight limit but it's so large you might find it difficult to go over that limit of 200 lbs. The crate's weight limit for the inside is 90 lbs.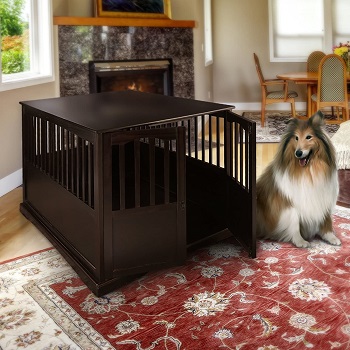 Size Warnings
This extra-large dog crate furniture is sized a bit differently than other crate types like wire. This is an extra-large dog crate but looking at its length of around 42-in makes us conclude that it's made to house large dogs instead of extra-large ones so this is exactly why the weight limit is 90 lbs instead of higher.
In Short:
The whole crate is chew-resistant
Made out of solid wood
Can house dogs up to 90 lbs
Features a double door in the front
The weight limit for the top is 200 lbs
Gets ventilated through windows with wooden bars
BEST INDOOR DOG CRATE FURNITURE EXTRA LARGE
Polar Bear's Pet Shop Wooden Dog Crate
Chewing Dog Warning
If you were to take a glance at this crate you'd notice that it's pretty much the same when you compare it to the crate we reviewed prior to it but the reality is far from that. This extra-large dog crate end table is definitely not chew-resistant and should only be used to house crate trained dogs.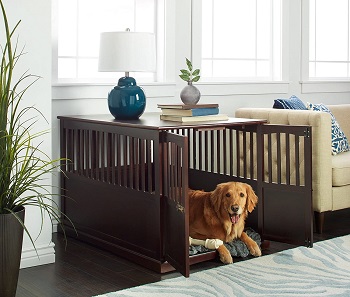 MDF Wood Clarification
Probably the most important reason why this extra-large dog crate furniture is not chew-resistant at all is that it's made with MDF wood. Medium-density fibreboard is a type of wood polymer that you get by combining wooden fibres with some sort of a connecting glue typically epoxy or wax so it's definitely not solid although it is still durable, just not in that specific area
Vent Placement
All around the extra large wooden dog crate you'll find wooden bars placed on the top sides of the crate. These windows act as air vents that will properly ventilate it and even give your dog good enough visibility on the outside of this dog crate furniture extra large. The bars ar located on the door as well.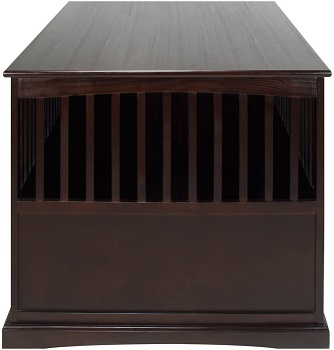 Size And Assembly
You will have to assemble the crate upon getting it but you shouldn't go through oo much trouble in order to do it properly. Unlike the one before it, this crate is over 42-in long so it truly is a crate for extra large dog breeds. To be more specific it is almost 45-in long but please make sure your dog is still small enough to fit inside comfortably.
In Short:
Made out of MDF wood
It is suitable for non-chewing dogs
The crate is 44.5-in long
Features a double door for access
Has wooden bars placed around the crate for ventilation
BEST PLASTIC EXTRA LARGE DOG CRATE END TABLE
New Age Pet ecoFLEX Pet Crate
Wood And Plastic Polymer Build
With almost absolute certainty we can say that there isn't such a thing as plastic dog crate furniture so onto the explanation why we categorized it as such. It's because ecoflex that is used to make the crate is actually a wood and plastic polymer composite material that's pretty durable.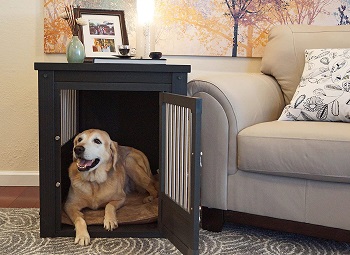 Material Benefits
We did mention that ecoflex is a durable material but to tell just how much it's best we just say that it won't split, warp or even crack. Another indication of it's durability is that it won't absorb liquids and moisture so your dog can safely have an accident inside without the material getting damaged.
Metal Parts
As most extra large wooden doog crate furniture, this one also features a single door for access that's located on the front side of it. You can lock this door using 2 hasp latch locks that are actually shaped like cute dog bones. Other metal parts that you will find on the crate are steel tubes placed on the windows for ventilation.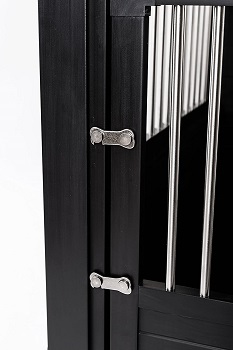 Cleaning Access Points
When you want to clean this extra-large dog crate furniture you can in one of two ways. You can either access the inside through the access door or you can remove the furniture style top to access it more easily. You would typically clean a crate like this with a damp cloth or piece of fabric.
In Short:
Made out of ecoflex material
Ecoflex doesn't abosrb liquids or moisture
The material won't split, crack, or warp
The crate should be used to house crate trained dogs
The top can be taken off for cleaning access
Features a single door with 2 locks
BEST METAL EXTRA LARGE DOG CRATE FURNITURE
Zoovilla White Dog Cage
Material Use Reasoning
The wooden parts of this extra-large dog crate furniture make it look so that it's more appropirate to be inside your home although it's mostl there for decorative purposes. The wooden top will allow you to place your personal things on top whil the rest o fthe crate can easily be considered a XL wire dog crate.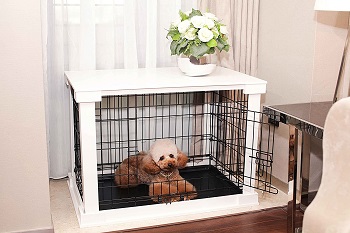 True Sizing
When you look at the crate's size description it is said to be large but when you look a little further and compare it to the other crate's we reviewed you will easily conclude that the crate is just another etra large dog crate end table because of it's length of almost 44-in.
2 Steel Wire Doors And Locks
You will have no problems with this crate's placement because of the two door design, along with the furniture function, will help you with that. The door is a wire door that features sliding bolt lock typically found on wire crates. The two doors will allow you to easily place the crate in corners as well.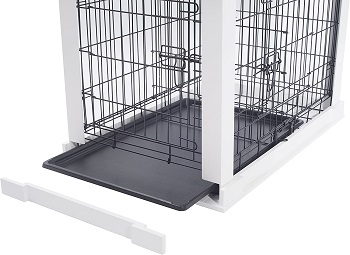 Typical Wire Crate Cleaning
Another typical feature of wire crates is that the have a plastic cleaning tray on the bottom and this one has it as well. The tray is well hidden and won't compromise the exterior look and feel of the crate. The tray can easily be pulled out to clean and placed back. We would still recommend you use this crate with crate trained dogs.
In Short:
Made out of steel wire and wood
The wood is there for decorative purposes only
Features two wire doors that lock with sliding bolt locks
Has a slide out pan for cleaning on the bottom
It is 43.4-in long
How To Pick An Extra Large Dog Crate Furniture
The number one problem that you might have when picking out an extra large dog crate furniture is the issue of finding one since not all extra large ones are marketed as such so it's imporatant for you to really understand what makes them extra large. Other worries that you might have are prefered dog behavior and build materials so keep on reading to figure out what crate will best suit you and your dog.
Different Kind Of Durability – hese crate sare definitely durable but it's not the kind of durabilit that you're used to. The durability of extra lagre wooden dog crate furniture is typically measured in how stable the crate is and how much weight it can hold on top as a furniture piece. Of course it's important t pick out a strong material but we will touch upon that later on.
Out Of Question Dog Behavior – Although some of these crate liek solid wood ones are chew-resistant it is advised that you only get these crate for crat trained dogs since they lack some basic features of training cages for dogs. Even if a crate like this were to have some training cage features other parts might easily get damaged.
Size Problems Solution – Since finding an extra-large dog crate furniture is rare you'll have to work around it a bit. it's quite simple to do it since all you need to do is focus on the crate's dimensions, specifically the crate"s length. If a wooden dog crate is over 41-in long it can be considered an etra large dog crate since large models are usually just over 36-in long.
Common Feature – Defintely one of the most common features and benefits of these crates is the fact that the save space extraordinarily well because you don't really need a separate space to place the crate because of their top So in case you have little room to spare in your house, these are the crate's to get.
To Sum Up
We focused more on the extra large dog crate furniture functions when we decided that we should recommend the Casual Home Wooden End Table as the best one and the one we would get. It's primarily due to the solid wood build that makes the crate chew-resistant. If you don't really care about size and want to see more options for these crate check out the article about indoor dog crate furniture and if you want to learn more about training cages for dogs we suggest you read the article about large wire dog crates.