Are you stuck trying to pick an xl wire dog crate because there's just so much of them on the market?
You've come to the right place because we've reviewed the best ones out there and put them into categories like the ones with a divider, wooden and many more so keep on reading to decide on one that is best for you.
The Summary
Best 6 XL Wire Dog Crates
BEST OF BEST XL WIRE DOG CRATE
Midwest Single Door Folding Crate
The Looks Of It
This wire dog crate looks pretty simple. It's colored black to give it a more sturdy look. It has a divider panel, one entrance door, rolling feet on the bottom, and on the entrance door, you'll also find located the clips. It's extra-large so it can fit large dog breeds inside this metal XL dog crate.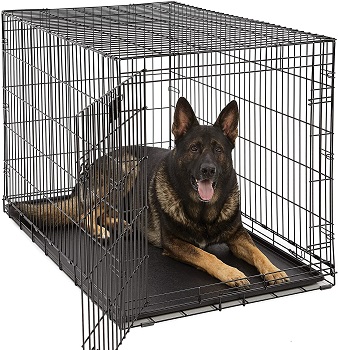 Travel Option
The xl wire dog crate is collapsible so that you can easily put it away without it taking too much space but also to use it as a travel crate. It's easy to assemble as well and doesn't require any tools for you to do so. The rolling feet on the bottom are here to prevent scrapes on your floor.
Puppy training
The divider panel can be used to train your dog if he's a puppy. The crate might be too big for him when you first buy the crate so this is where the panel comes in but choosing a crate of appropriate size when he reaches his full size is crucial because you don't want to buy another crate when he grows and you realize he's too big for the one he has now.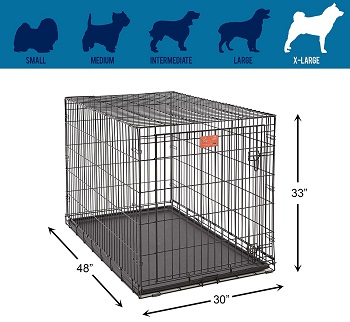 Rounded Design
To keep your dog safe, the locking clips on the entrance door are rounded to make sure that your dog doesn't escape and the edges of the crate are rounded as well. This will not only keep our dog safe but you as well.
In Short:
Collapsible construction that is good for travel
Rounded clips make sure that the doors stay locked
Rounded edges keep your dog safe
Divider panel included
Roling feet prevent scratches on the floor
BEST HEAVY DUTY XL WIRE DOG CRATE
BestPet Large Dogs Heavy Duty Cage
Assembly And Storing The Crate
It will require you to assemble it but most of it is already preassembled. One can count on assembling it in less than 10 minutes and when it's done, the crate easily collapses to be put away into storage or to be used as a travel cage if need be.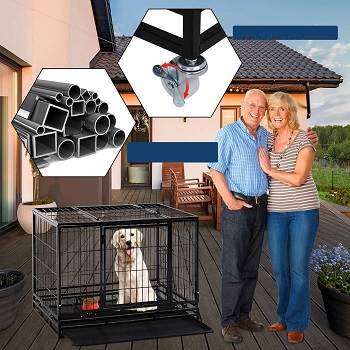 Movement Around The House
If you don't want to collapse every time you feel the need to move it, this XL wire dog crate sits on wheels that can be locked into position so that the crate doesn't move around without you wanting it to do so. There are 4 wheels and two of them are lockable on this unbreakable dog crate.
Materials And Their Abilities
The materials that this cage is made out of that make it so durable and sturdy are steel that is corrosion and rust proof and the finish that is nontoxic to keep your dog safe. Since the steel is heavy duty, it's a tough dog crate.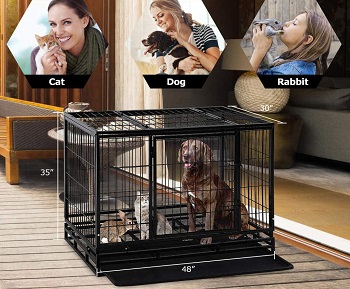 Access Doors And Locking Clips
The crate features two access doors, one on the side of the crate for your dog to be able to enter it and one from the top. The top door can be used for a variety of things like feeding your dog. The clips on the door have safety buckles to prevent your dog from opening the door and possibly escaping the crate
In Short:
Made from steel that is corrosion and rust-resistant
The finish coating is non-toxic
Sits on 4 wheels 2 of which can be locked
Allows for access from the top and side of the cage
The locking clips on the door are secured with safety buckles.
BEST INDOOR XL WIRE CRATE
MidWest XXL Giant Dog Crate
For The Largest Of Dogs
This crate is an xl wire dog crate and by that, we mean that it fits the biggest of dog breeds like great danes, cane corsos, and even dogo argentinos. It has almost 14 square feet of space for your dog to move in and it measures 54-in in length, 37-in in width and 45-in in height. It weighs around 80 pounds.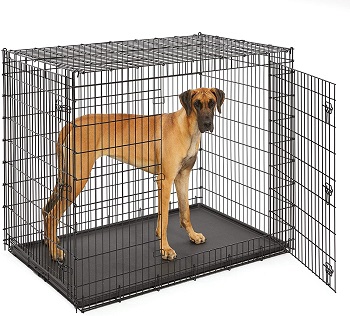 Access Doors On the Sides
It has two access doors, one on the lengthier side and one on the side that measures width. Both access doors have 3 locks that are heavy-duty and very secure and have a slide bolt so that the dog doesn't escape.
2 People Assembly
For the assembly, you'll need 2 people since it's an extra-large crate and tall dog crate. When you assemble the crate, the crate will stay in place and it will be made sure that it doesn't collapse with drop pins that are located on each edge of the crate.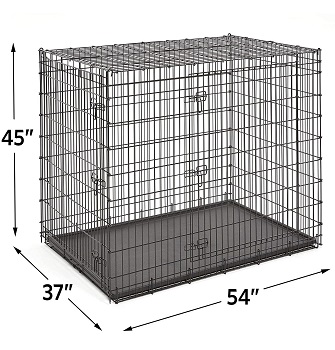 Top And Bottom Of The Crate
On the top sides of the crate, you will find located an L-hook that, since the crate is so big, will prevent the sides from bending inwards, which would, in turn, make this cage, less of a safe option because it wouldn't be as sturdy.
In Short:
 L-hook on the top sides prevent the sides of the cage to fold inward
Assembly requires 2 people because of its size
When assembled, the cage will be made sturdy with drop pins on the corners
Made for extra large dogs like great Danes and Argentino dogos
BEST FOR TRAVEL XL WIRE DOG KENNEL
Paws And Palls Dog Crate 36-in
Heavy Duty Steel And Wire Construction
This cage is made from heavy-duty steel and wire is strong and it has high tensile strength meaning that it can take a lot of force/stress before it would fail and get damaged. The coating finish is black electro meaning that it protects the steel and wire that it is coated with while also giving it a great appearance.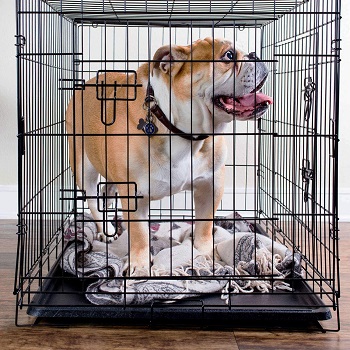 Assembly And Disassembly Is A Breeze
It is designed to be assembled with ease and you don't have to use any tools to do so. The design will also save you space and when the cage is collapsed it will take up minimal space. It is very easy to do so and it's even easy to completely disassemble it if need be.
Access Doors And Carry Handle
This XL wire dog crate features a handle on top of it to be used as a travel crate. Considering this function it might as well be an SUV dog crate. You can carry it around wherever you need. For access, you'll get two doors and each has two large locking clips to ensure that your dog can't escape the crate without you letting him out.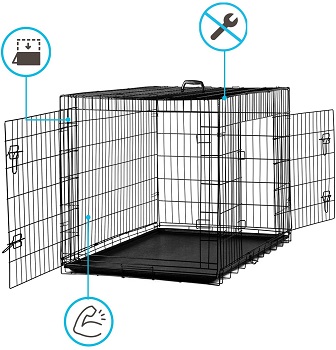 Cleaning The Crate
If you wish to clean the crate you will simply do that because of the two access doors and a tray on the bottom that you are able to pull out so dog hair and other dirt and dander will be contained mostly inside the crate and on the tray. It is made of plastic and is deep so even urine can be contained inside to an extent.
In Short:
The pullout tray is deep and made of plastic so it is able to contain even urine
features a carry handle on top for easy transfer
Can be collapsed if you need to store it or move it elsewhere
Requires no tools for assembly
The wire is high tensile and the material used in building it is heavy steel
BEST FOR PUPPIES XL WIRE DOG CRATE
Precision Pet Great Crate
Purpose Of A Divider Panel
If you're wondering what use would you have from a divider that this wire dog crate has, it is the perfect tool to use if you have a puppy of a larger dog breed and need a cage to accommodate him while he's still small. The reason for a divider to keep the cage small is because a puppy with enough space might feel like it's a good idea to litter in one area and still live in another.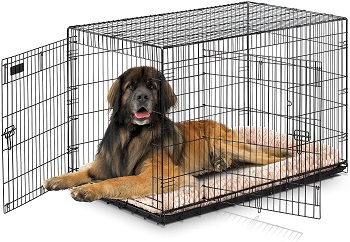 5 Point Locking Doors
The doors of this XL wire dog crate have 5 points from which the doors are locked. That means that it has 5 locking clips and 2 are located on the top side of the door, 2 on the bottom side, and 1 right in the middle. There are two doors on the sides of the cage.
Plastic Pan
The pan on the bottom is made of plastic and can be pulled out of the crate to be cleaned. It's not very deep but still, if your dog accidentally urinates inside it will hold urine well and not get on the floors before you see it and clean it.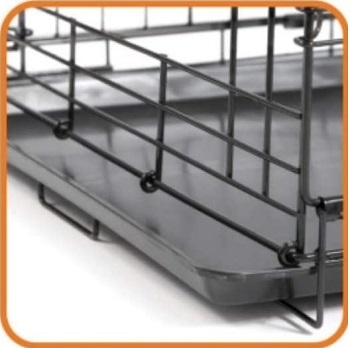 Use Of The Collapsible Feature
The training dog crate can collapse for you to transport it elsewhere. The height of the cage when it's collapsed is about 2-in so it can really be tucked away almost anywhere. For traveling, it also has a handle on top for even more easy transfer.
In Short:
pullout tray that is made of plastic is not as deep as it could be
The doors lock from 5 points to provide more than enough safety
Collapsible to 2-in of height
Has a handle on top for even easier transport
has a divider to make the space smaller if need be
BEST WOODEN XL WIRE CRATE
Merry Pet 2-in-1 Configurable Pet Crate
Blends Into Your Household
Although this crate is wooden it does have some metal wire pieces to be considered an XL wire dog crate. The wooden design is here to blend into your household with ease and elegance and it has a solid wood layer on top to perhaps serve you as a place to put your personal belongings on it.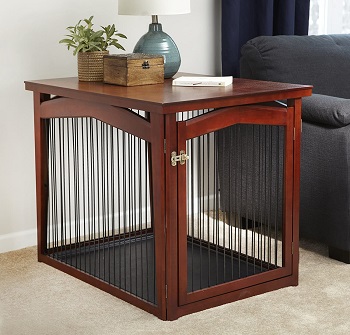 Multi-Functional
This furniture style dog crate doesn't have to only act as a crate, it can also serve the purpose of a playpen, the four corners are completely detachable to fit smaller door openings if need be. With it, you can completely control the movement of your dog around the house.
Dog Breeds That Can Use it
Although it is large to fit inside large dog breeds, it might not be as sturdy enough to take the pressure the dog can put on the cage so using it with medium and small dog breeds like french bulldogs or Russel terriers might be best, and the safest option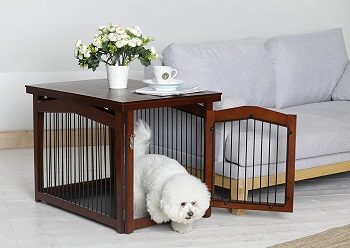 Tray To Prevent Damage To Floors
When used as a crate, it has a pullout tray to collect hair and perhaps other dirt and dander. It also serves the purpose of protecting your floors so that they don't get damaged if your dog stretches the floor.
In Short:
Can be used as a crate or a playpen
Each side is completely detachable
Not as sturdy so it's best to use it with medium or small of breeds
The wooden design makes it blend into your household well
The top solid wood cover can be used for you to place personal stuff on it
How To Pick An XL Wire Dog Crate
XL wire dog crates have their specific purposes and differ from crates of different materials in terms of durability, size of dog they can fit, and even how well ventilated they are and how much visibility they give your dog outside the crate. There's a reason for all of this so if you'd like to know more about it make sure to read this guide on how to choose the crate for you.
Crates VS Kennels – Crates are usually used indoor and kennels are used outdoor. The purpose of crates is to give you control over your dog indoor and to provide him with a den to satisfy his need for his own place to live in. XL wire dog kennels are so big that they can fit crates inside and they are usually made of more durable materials to withstand outdoor conditions. Often times, they are used by dog shelters, breeders or other professionals.
Ventilation And Visibility – For dogs that fear being alone and want constant supervision of their owners it's smart to get a wire cage seeing as this way, your dog can see you at all times. It will satisfy his need for having his own denning place but they will feel more secure if they can see you.
Crate Durability – For larger dog breeds or dogs that are prone to destruction a sturdy dog cage is the way to go but regular wire cages will do just fine as well since they will often have high tensile wire which means that the wire can withstand a lot of force before being rendered useless and broken.
House And Puppy Training – Crates are great if you want to house train your dog or puppy. For puppies, you should consider getting a crate that has a divider panel to fit the size of the pup before he grows into his full size. The reason for a divider is that the puppy might litter in the crate because he will have enough room to live normally on the other side so a divider is a good option to prevent that.
Crate Size And Dog Size – When choosing a crate for your dog it's important to know the height and length of your dog and the dimensions of the cage. Dogs should have enough room to move around so you should always add 3-5 inches to your dog's height and length and choose a crate based on that. Dog height is measured from the nozzle to his rear(not including the tail) and height from the floor to the top of his head.
To Sum Up
There are many things with which you can go wrong when choosing an xl dog wire crate, the first one being that you get a kennel instead, but not to worry, these are all crates, and the one that we think is best is the Midwest Single Door Folding Crate. It's the perfect middle ground for larger dog breeds and medium ones, it protects your floors with rolling feet down below, it's sturdy enough to handle large dogs and it is collapsible and can be used as a travel crate.If you're interested in getting a crate that better fits our home decor we suggest you check out the post about wooden dog crates and if you just need a travel crate look into this post about xl travel dog crates.