Is your dog usually a bit rowdy and has destructive tendencies so you wish to get an unbreakable dog crate?
Don't worry because we gathered the best ones, reviewed them, and even placed them into categories like heavy-duty, stackable, for travel, and others that will make the choice of choosing the best and right crate for you even easier.
The Summary
Best 6 Unbreakable Dog Crates
BEST OF BEST UBREAKABLE DOG CAGE
ProSelect Empire Dog Cage
20 Gauge Steel Build Material
The crate is made out of 20 gauge steel. Steel gauge measures the thickness of the steel. The bigger the gauge, the smaller the thickness will be. 20 gauge steel is still pretty tough and it still makes it a sturdy dog crate. Apart from being made from 20 gauge steel, the steel tubes also have a 0.5-in diameter.
Weight And Transport
This unbreakable dog crate weighs around 75 lbs which would make it hard to move around the house or elsewhere but it does sit on wheels that make the transport easier. You can easily remove the wheels whenever you feel like it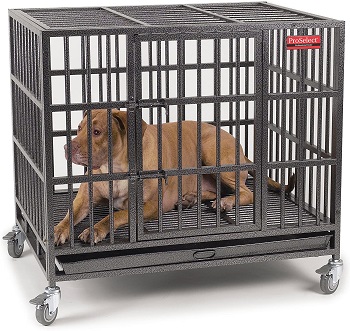 Tray For Cleaning
Underneath the bottom, you'll find located a slide-out tray that is deep enough to contain liquids without them spilling all over your floors if this ever happens. It will also serve well if your dog sheds a lot. It is a steel tray and it's easy to clean.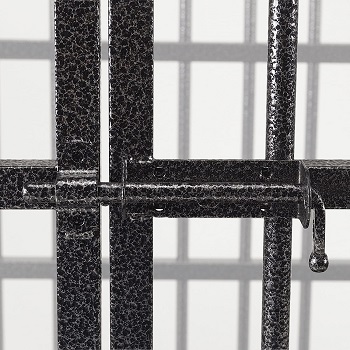 One Access Door And Locking It
Your dog will be able to enter his crate through one door and it's the same door that you'll get access to the crate and your pet. The door lock with a double lock that is a sliding bolt type lock.
Crate Dimensions And Dogs To Fit Inside
The only thing to worry about when thinking of the dog you're buying it for is the dimensions of this crate. They are 33.75-in in Height, 37-in in Width, and 25.13-in in length. This makes it good to be used by medium dog breeds. The weight of the dog shouldn't matter since it's a heavy-duty crate. 
In Short:
Made out of durable and  strong 20 gauge steel
It weighs 75 lbs and can be moved with detachable wheels
Has one access dor that locks with 2 sliding bolt locks
Has a deep slide-out tray below the bottom
Made for medium-sized dogs
BEST HEAVY DUTY UNBREAKABLE DOG CRATE
Haige Pet Heavy Duty Dog Crate
Materials Used And Coating Finish
The materials used to make this unbreakable dog crate are steel that is corrosion-proof and that same steel is coated with a strong and durable finish that is safe for your dog if he's a chewer since it is non-toxic and it also makes the crate anti-rusting.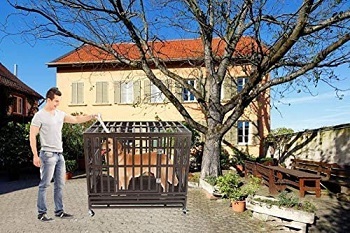 Locking The Access Door
It only has one door that is located on the side of the crate. The door can be locked with two locks that are patented. they will be useful if your dog performs well in unlocking doors because it also has safety buckles to further better these locks.
Moving The crate And Assembly
The wheels on the bottom can be locked to make the crate stay in place. this is useful seeing as the crate weighs 83 lbs and can't be collapsed once assembled unless you disassemble it. As for the assembly, you'll get everything you need for it with the crate and it comes partially assembled.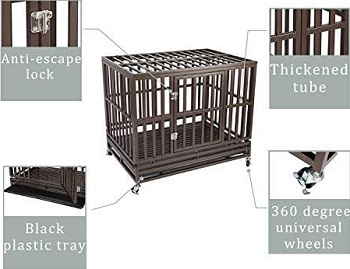 Dogs That Fit Inside And Cleaning It
The plastic tray below the bottom can easily be pulled out to be cleaned if your dog dirties it. As for what dogs can fit inside, It is made for medium and large dog breeds because of its dimensions. This means that a german shepherd and dogs smaller than that can easily and comfortably fit inside.
In Short:
Made out of corrosion-proof steel
The coating finish is non-toxic and makes the crate rust proof
Easily Fits inside medium and large dog breeds.
Has a plastic pull out tray on the bottom that cleans easily
Stands on wheels for easy transport that can be locked into place
BEST FOR TRAVEL UNBREAKABLE DOG KENNEL
4×4 North America MIM Safe VarioCage
Safe Traveling
Not only does this crate do well as an unbreakable dog crate but it also does extremely well as an XL dog travel crate. The reason for it is because this crate is crash-tested in a variety of different crash scenarios like roll over, front and rear crashes and can protect your dog and you if a crash occurs when traveling.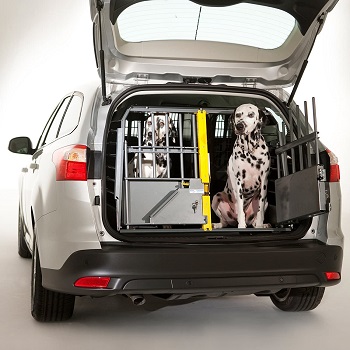 The Way It Compresses Energy
The crate absorbs and compresses the energy accumulated when a crash occurs. The way it does that is through its shape and the steel tubes that will help you adjust the length of the cate but also serve as the energy absorber. The adjustable crate length will also serve you well if you need to adjust the crate length according to the size of your car trunk.
Access And Escape Door
This crate has one access door and in the back, you'll find an escape door. The front access door locks with a key so there's no chance that your dog will unlock it by himself and they are also pneumatic so that opening them would be easier.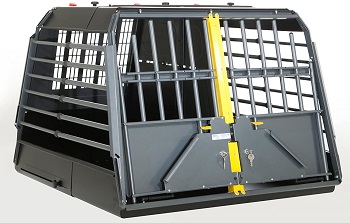 Adjustable Crate Length
Although the crate length is adjustable, you should check the manufacturers' size chart to see what dog fits best in what crate. They offer 14 sizes so you are sure to find something for your dog and your car. For assembly, you'll get instructions but it will take some time to do it properly
In Short:
Passes the front, rollover, and rear crash tests
The door locks with a key
Has an escape door in the back
The metal steel tubes on the sides are of adjustable length
BEST CHEAP UNDESTRUCTIBLE DOG CRATE
AmazonBasics Heavy Duty Crate
Iron And Polypropylene Material Construction
It is made out of durable iron and also polypropylene. Polypropylene is the advancement in plastic materials because it is more durable and more a more environmentally option than other types of plastic are like PVC. It is colored all black like most crates of this type.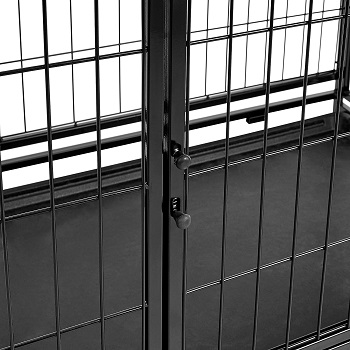 Easy Transport
You can choose to place wheels on this unbreakable dog crate. They will do well if you're moving the crate around a lot. It is a bit lighter, weighing around 41 lbs on its own but you also have the option of not using them. They have a lock on them to make the crate stay in place.
Front And Top Access
The crate features a side front access door that locks with a spring lock. The top can also be opened for you to access your dog. You'll get everything you need for the assembly and it's easy to do so. You'll also get a few additional screws to stack up to 3 crates on top of one another.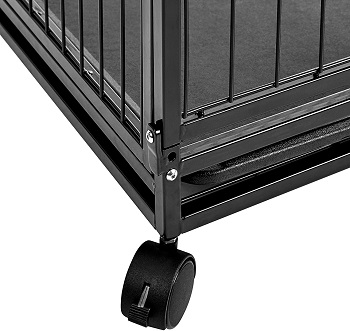 Measurements and Bottom Addition
It measures out at 37-in Length,  25.6-in Width, and  29.5-in Height which makes it suitable for use by medium and large dog breeds. It also features a plastic tray on the bottom that you can easily pullout, clean, and place back into place.
In Short:
Made out of iron and polypropylene
You can stack up to 3 crates on top of each other
It's easy to assemble and has a collapsible construction
Stand on lockable wheels for easy transport
Medium and large dog breeds can fit inside
BEST STACKABLE UNBREAKABLE DOG CAGE
Homey Pet Stackable Heavy Duty Cage
Heavy Duty Steel Build
This unbreakable dog crate is made of durable and heavy-duty steel. The hammer spray finish is to give it a nice and smooth look since hammer spray paint isn't very durable on its own and its practical use is, for the most part, purely esthetic.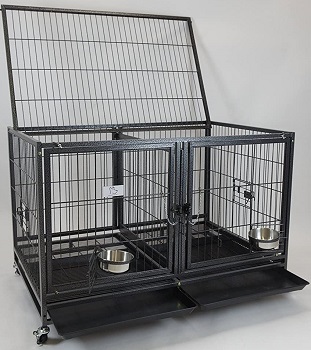 Crate Divider Use
The crate features a divider to house more than one pet or it can be useful if you're going to use it as a training cage for dogs. It is also stackable and you can stack up to three crates on top of one another but you should be careful because there are some differences between the upper and lower crates.
Housing Two Dogs
It is primarily a crate for housing two dogs seeing as you have 2 access doors on one side of the crate and a top access door, you get two stainless steel bowls for feeding, and it has 2 pullout ABS plastic trays on the bottom for cleaning. For feeding, you'll also get a special door for it.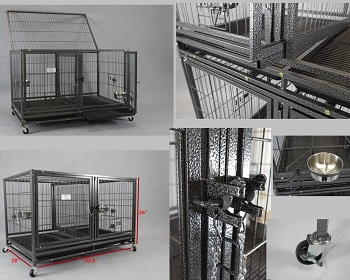 What Dogs Fit Inside
It's made to fit inside 2 medium-sized dogs or one larger dog. The crate's dimensions, when used without a divider, are 42.5-in in Length, 28-in in Width, and 26-in in height. to get the dimensions of each crate with the divider you simply have to half the length of the crate.
In Short:
Comes with a divider
Can house two dogs at once
Fit for use by 2 medium or 1 large dog
Comes with 2 stainless steel food bowls
Has doors for feeding
How To Pick An Unbreakable Dog Crate
What really makes these unbreakable dog crates is the material but that's not the only important thing, You should also consider crates dimensions, the way they lock because you don't want your dog exiting the crate if you don't want him to so here are a few things to consider before buying and the reasons why.
Materials Typically Used – For a crate to be considered unbreakable, some materials like plastic or wire fall right off the wagon. The main focus for these types of crates is metal and steel that is more often than not corrosion and rustproof as well.
How The Crate Locks – For a crate to be unbreakable you also have to think about how it locks since dogs can be very clever and easily make their way out of the crate by unlocking it so getting a lock that has safety buckles and doesn't unlock so easily should be considered.
Crate Dimensions – Since they are unbreakable you won't have to worry about how much your dog weighs. The primary focus will always be the length and height to figure out if our dog fits inside and they will usually be marketed as crates for large dogs, medium dogs, and so on…
Unbreakable Dog Crate VS Kennel – You might confuse these types of crates as kennels seeing as they're strong and durable, but these crates are too small to be considered kennels since kennels are made big and would easily fit inside and of the listed unbreakable crates.
To Sum Up
Unbreakable dog crates really live up to their name but of course, there's always going to be some issues that will occur along the way and the one that might just avoid them all together long-term is the 4×4 North America MIM Safe VarioCage. The thing that says best why this crate is so indestructible is the fact that it went through crash tests and passed well with flying colors. If you still want a durable cage but you don't need to go extreme look into XL wire dog crates and if that's not your cup of tea and just want the crate to blend well with your home unlike these crates, read the post about XL wooden dog crates.