Have you been looking far and wide for appropriately sized and appropriately looking dog crate furniture but can't seem to find it?
You won't ever have to leave this article to find the best one that'll suit your home decor and fit your dog in size if you continue reading. We've reviewed only the best and we also made sure to include most crate types available like indoor crates, medium crates, nightstand crates, and more.
The Summary
Best 12 Dog Crate Furniture
BEST OF BEST DOG CRATE FURNITURE
Crown Pet Products Wood Crate
Wood, Top, And Door
You'll notice that the wood that makes this crate looks like teak but is hardwood. It's 30-in long, can house medium dogs, and features a single entrance. This door can be pushed inside to save space as well. The top is wider and will allow you to store your things there.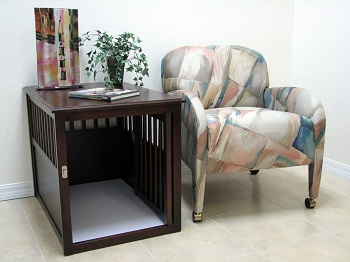 Panel Connection
The panels are connected with joints called mortise and tenon. They make it more stable and its panel connection strong. If you'd like the benefit of a unique space-saving indoor dog crate furniture, you can next read the article we wrote about them.
In Short:
Made with hardwood but looks like teak
It's 30-in long
Panels are connected with mortise and tenon joints
The wider top can hold your thing
The single door can be pushed inside
BEST LARGE DOG CAGE FURNITURE
Casual Home Wooden Crate
Wood Resilience
Although it's sized as extra-large, the Casual home end table dog crate is 44.5-in long which allows you to house large dogs inside. It's made out of solid wood that's chew-resistant. If you'd like to understand this crate sizing system better and get a different crate model, read the extra large dog crate furniture article next.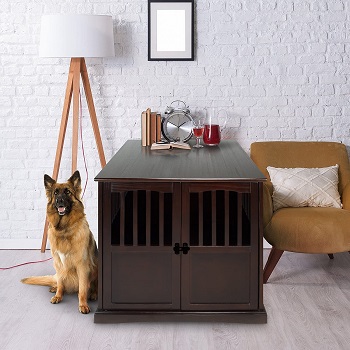 Doors, And Ventilation
The front has a single entry point but a double door. This door locks with a single hasp latch lock. It's colored with an espresso color, has wooden bars for ventilation placed on three sides, and the top can hold the weight of up to 200 lbs so you can get creative with it.
In Short:
Made with solid wood
It's chew resistant
It's 44.5-in long
Has a double door entrance
Can house large dogs
The top weight limit is 200 lbs
BEST WOODEN FURNITURE STYLE DOG CRATE
BarkWood Pets Crate
Durable Wood Construction
Other wood variants are flimsier than the solid wood chosen to make this crate. It has mortise and tenon joints, a door that can be opened fully to the side, and the bottom on the interior is rubberized. It's 30-in long and allows you to house medium dogs.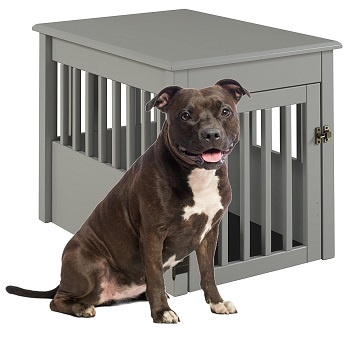 No-Slip Or Slide
Each panel of this grey-colored crate has rubber feet so that it doesn't slide away without you wanting it to. Indoor dog crate furniture tends to be uniquely designed for indoor use and if you'd like to see how else it does this, read about other crates in the article linked.
In Short:
Made with solid wood
Has mortise ad tenon joints
The bottom is rubberized
Each corner features rubber feet
It's 30-in long
The door opens fully to the side
BEST BARN DOOR DOG CRATE END TABLE
Ecoflex Homestead Dog Crate
How It Functions
A barn door is nothing more than a sliding door. This crate features one that slides open to the right. It locks from the bottom with a sliding bolt lock. It's 42-in long, made out of ecoflex, and features metal bars all around for both visibility and ventilation.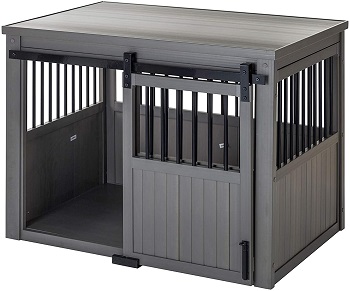 Material Details
Ecoflex is a unique, plastic and wood-polymer material. It won't crack or split and it also won't get damaged by liquids or warp. This barn door dog crate furniture is just one good example out of many contemporary dog crates so you can read the article linked next to find more.
In Short:
Made with ecoflex
It won't absorb liquids
It's 42-in long
Can house large dogs
Can metal bard all around it for ventilation
The door slides open to the right
You can lock the door with a sliding bolt lock
BEST CORNER DOG CRATE SIDE TABLE
Birdrock Home Decorative Dog Crate
Wood And Wire Build
The frame and sides are made of different materials. It uses MDF wood for the frame and has wire sides. It's 32-in long but can still only house medium dogs. It has a front single and a side double door that all lock with hasp latch locks. Because of these doors, it's a corner dog crate furniture.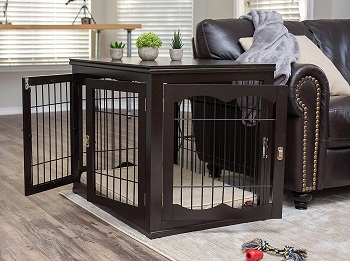 Interior Extras
You can rely on this crate to keep your dog comfy because of the padded bed it comes with that you can easily wash. If you don't need your crate to be a furniture style crate but want the benefit of multiple doors, read the triple door dog crate article next to find them
In Short:
Has an MDF frame and wire sides
It's 32-in long
It can house medium dogs
Comes with a washable bed
Has a double door and a single door
The doors lock with hasp latch locks
BEST CREDENZA DOG CRATE FURNITURE
Pinnacle Woodcraft Amish Wood Crate
Doors And Bars
The Amish dog crate furniture door is located in the center of the wide side and away from it are thick wooden bars. The backside is fully wooden so that's why it acts as a credenza dog crate. For more crates like this, read the article we linked before and below to find them with ease.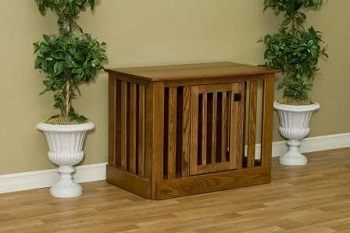 Customizable Build
We can't say for sure what it's made out of because it's completely customizable. It is chew proof and can be made out of oak, maple, or hardwood. You can then choose one of the 6 colors it comes in. It weighs 69 lbs and is 41-in long which allows you to house large dogs inside.
In Short:
Can be made out of oak, maple, or hardwood
Comes in 6 different colors varieties
It's chew proof
Has a single door in the front
The backside is a wooden panel
It's 41-in long
BEST BEDSIDE DOG CAGE FURNITURE
Unipaws Furniture Dog Crate
Crate Placement
When placing the Unipaws dog crate end table alongside your bed, you can choose to do it in multiple ways thanks to the double side door and the single front door. The doors lock with a combination of 3 different types of locks for additional safety. It has an MDF wooden frame and chew-resistant wire sides.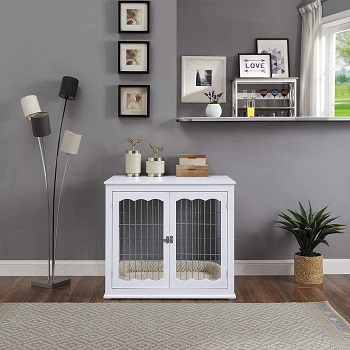 Interior And Top
You'll get a washable and waterproof bed with this crate. You can place up to 200 lbs worth of stuff on top as well. It's 36.5-in long and can house mostly large dogs but some medium dogs as well. This dog crate bedside table is white, but you can get a different colored one if you read this article.
In Short:
Has wire sides and an MDF frame
The wire is chew-resistant
Can hold up to 200 lbs on top
Comes with a waterproof washable bed
Has a double door and a single door
It's colored white
Can house larger dogs
BEST CABINET FURNITURE STYLE DOG CRATE
Feandrea Wooden Dog Crate
Sides And Bottom
When or if placed alongside a wall, you won't risk reduced ventilation since the back is made with a wooden panel. Other sides feature a steel wire build and the bottom frame is metal. The interior floor is also made out of wire and below it, there is a cleaning plastic tray.
Weight Limit And Doors
The wood used is particleboard. It has a side and a front wire entrance that both lock with 2 sliding bolt locks. The top can hold up to 154 lbs of stuff. This cabinet dog crate is truly an impressive contemporary dog crate but you can check out others in the linked article below.
In Short:
Made with particleboard
Has a wooden panel backside
The rest of the sides are made out of wire
Has a bottom metal frame and a plastic cleaning tray
The top can hold up to 154 lbs
BEST CONSOLE DOG CRATE END TABLE
Zoovilla Medium Dog Crate
MDF and Wire Build
The MDF frame is colored white while the wire sides are black. The wire of the Zoovilla slide aside crate and end table is placed vertically so that your dog can't chew on them if they try to. It has a door in the front that you can slide inside to save space. It's around 36-in long and can house intermediate-sized dogs.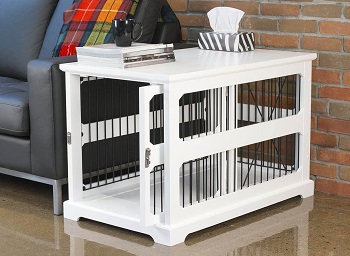 Weight Limit
The top is what makes it a cabinet dog table with its impressive 300 lbs weight limit. If you'd like to read more about white wooden dog crates and know all of your options, you can read the article we linked next. The bottom is solid to create more stability.
In Short:
Made with white MDF wood and wire
The wire sides are placed only vertically
It's around 36-in long
Can house intermediate-sized dogs
The top has a 300 lbs weight limits
Has a solid bottom
BEST MEDIUM DOG CRATE SIDE TABLE
PawHut Decorative Dog Cage
Size And Doors
The single front door is hinged so it can open like a regular door. It locks with a hasp latch lock and your dog will get to be medium to large-sized to enter and be comfortable inside this 36-in long crate. The top is wider so more things can be placed on top of this medium wood dog crate. Read about others similar to it to learn more.
Dog Behavior Allowed
The MDF wooden panels are 0.5-in thick. It's a material made out of wood fibers and resin or epoxy that act as glue, Your intermediate dog should be crate trained so that you can prolong the lifetime of this crate without it looking and getting severely damaged.
In Short:
Has an MDF wooden frame
The wire sides are vertically placed
It's around 36-in long
The top is wider to fit more things
Has a single front entrance
BEST NIGHTSTAND DOG CRATE FURNITURE
Newport Dog Crate Kennel
Entry Points And Placement
The solid wood build doesn't just make it more stable but also makes it look nicer with the espresso finish it has. Even the ventilation windows have solid wood bars that have plenty of space in between them. This furniture crate for dogs has one entrance so you'll only get to place it in one certain way.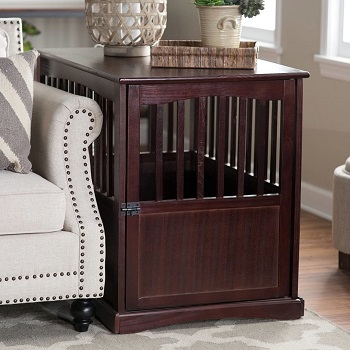 Crate Assembly
When assembling this crate, you'll get all the tools necessary for you to do it successfully. It's 36.5-in long and can house medium to large dogs. This is just one out of many types of dog crate nightstands so check them all out if this one isn't the right fit for your dog and you.
In Short:
Made with solid wood
Has one front entrance
Has spaced wooden bars for visibility and ventilation
It's 3365-in long
Has an espresso-colored finish
Comes with all tools necessary for assembly
BEST MODERN DOG CAGE FURNITURE
Staart Wooden Indoor Crate
Crate Looks
This crate is raised from the ground with 4 legs that will prevent it from sliding and moving too much. This and its bottom rounded corners, mocha walnut color, and metal mesh windows make a mid-century modern dog crate furniture at least in terms of looks. For more like this, read the article linked below.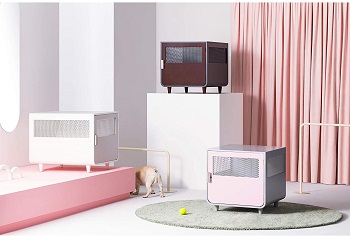 Safe Interior
The bottom corners are rounded for dog safety inside. It also features a waterproof coating that will prevent liquids from damaging the solid wood it's made out of. It's precisely 36-in long so it's truly an intermediate dog crate as well. The furniture dog cage features one entrance in the front.
In Short:
Has a raised legs design
It's 36-in long
Has bottom rounded corners
The interior has a waterproof finish
Has metal mesh windows
Made out of solid wood
Has a mocha walnut finish
How To Pick A Dog Crate Furniture
There's a lot to unpack with dog crate furniture and we'll do it all in this buying guide to make your shopping experience more pleasant and so that you get it right the first time around. Some of the things we'll talk about include size, material durability, furniture function info, and more.
How They Act As Furniture – Any dog crate reviewed here will act as furniture due to their top where you can place your things. They're also all made out of different types of wood, either fully or partially so that they could blend in with the rest of your furniture nicely.
Weight Limits – The only weight limit on crates you should be concerned about is the top weight limit that will determine just how much stuff you can put there. Some crates don't have one so you should go off by feel but if you want to use it for a console or a tv, make sure you get one that has weight limits specified, Most will go up to 200 lbs but some can climb up to 300 lbs.
Sizing Details – We won't talk about standard sizes here mostly because very few of them are standard sized. These sizes also won't help you determine whether or not your dog fits inside but what will help is to look at the crate's length and height. If your dog is at least 3-4 inches shorter in both dimensions, he should fit inside just fine.
Materials Durability – Many crates that look like furniture have wire sides and even though in most cases these sides are chew-resistant, the wood is not. Solid wood crates may be chew-resistant but MDF wooden crates are certainly not. The wood might not be damaged beyond repair, but visually, you won't be able to not notice the damage done.
Dog Behavior Allowed – At all costs, you should avoid housing non-crate trained dogs inside. For reasons we've already talked about and more. If your dog isn't crate trained you should first opt on getting a wire dog crate or a dog crate with a divider. Divider crates will also help potty train your dog which is important since wood can easily get damaged by liquids if it's not protected with waterproof finishes, rubberized materials, or if the bottom is metal and features a slide-out cleaning tray.
To Sum Up
The best dog crate furniture for your dog will depend on his size, behavior, needs, and home decor. For these reasons and more, we can only recommend you watch out for crate dimensions and to make sure your dog is crate trained before buying one. If you'd like to check out more indoor dog crates, you can read the article about or about wooden dog crate furniture next. For travel crates, indoor crates, and many other crate types reviewed all in one place, you can read the dog crates article next.