Have two dogs that you'd like to house in one crate to save space and money so you figured you'd get a double dog crate?
You've come to the right place for those. All you need to do from here is to continue reading this article where we only reviewed the best crates that match the above description. We've got plenty of crates like large ones, travel crates, car crates, and even aluminum crates.
The Summary
Best 8 Double Dog Crates
BEST OF BEST DOUBLE DOG CRATE
Lucky Dog 54" Double-Door Crate
Unique Dog Housing
This wire crate has a unique ability that allows you to house 2 dogs because of three things, its length of 54-in, the wire divider it comes with, and the fact that it has a double side sliding entrance along with the regular front door. This dual dog crate is made to house giant dog breeds.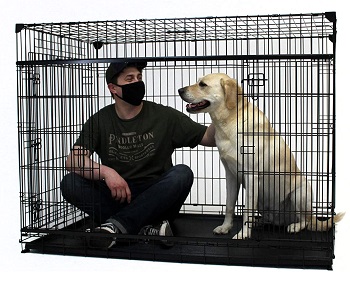 Crate Stability
The top corners feature plastic stabilizers that both reduce rattling noise and make it more stable. Even with these, you can still fold this crate down easily and carry it with the provided top handle. For more unique entrance and adjustable divider crates check out the dog crate divider with door article next.
In Short:
Made out of wire
Has top corner stabilizers
It's 54-in longs
Can house giant dog breeds or 2 medium dogs
Comes with an adjustable divider
Has a double sliding, and a single regular door
Can be folded down
BEST 42 INCH DOUBLE DOG CRATE
Homey Pet 43 Inch Crate
Dog Size Details
It's 43-in long but the interior is 42-in and allows you to house large dogs inside. If you remove the non-adjustable divider that is. When the divider is on, it can house 2 smaller dogs because of the 28-in in width and 29-in in height. It's made out of metal tubes, has wire sides, and you stack multiple crates on top.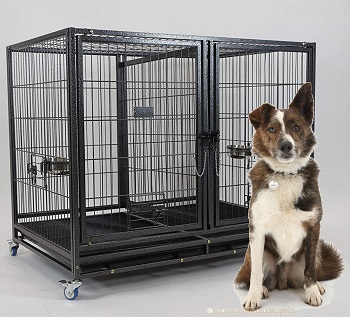 Weight And Movement
It weighs around 60 lbs so it's good that you'll get to rely on wheels to move it. Each crate part has an entrance, a built-in feeding entrance, and comes with a bowl for food or water. If you'd like a crate bigger than this 42-inch double door dog crate, check out the dog crate for 2 large dogs article.
In Short:
The exterior is 43-in long
Made with metal tubes and wire sides
It weighs around 60 lbs
Can house one large or 2 smaller dogs
The divider is non-adjustable
Each crate has a feeding and regular entrance
Comes with 2 bowls
You can stack more crates on top
BEST LARGE DOUBLE DOG CRATE
4×4 North America Variocage
Travel Crate
This crate is perfectly designed for traveling mainly because it's crash-tested for rollover, front, and rear crashes. Its length is adjustable and the divider it comes with can't be removed nor adjusted. Although it's a unique dog crate for 2 big dogs, you can find others similar to it in the article linked.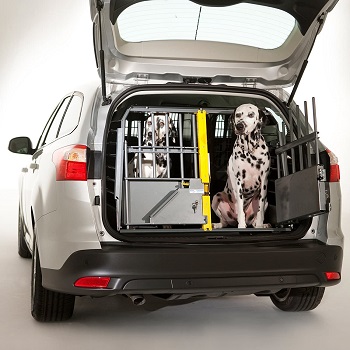 Doors And Interior
In the back, you'll find space that acts as crumple zones and escape doors. The front of this double cage for dogs is where the two entrances are found that safely lock with a key. On the bottom inside, you'll find rubber removable mats that'll make cleaning easier for you. It's large but check the sizing chart for the correct sizing for your dog.
In Short:
Made for traveling
It's crash-tested for rollover, rear, and frontal crashes
Has a non-adjustable, non-removable divider
Can house 2 large dogs
Has an adjustable length
The back has crumple zones and escape doors
The front doors lock with a key
BEST DIVIDER DOUBLE DOG CRATE
Go Pet Club Heavy Duty Crate
2 Dog Housing Details
In most cases, the divider is to thank for double dog housing abilities. This divider is removable but can't be adjusted. With it on, you can house 2 smaller dogs and without it, one large dog. It's a 42-inch dog crate with a divider and if you find it suitable for your dog, you can learn more in the article linked below.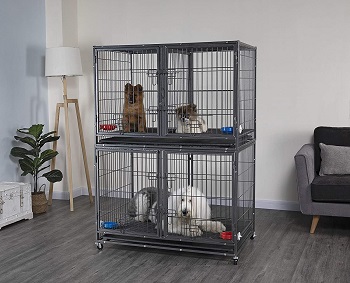 Doors And Bottom
The 2 front doors lock with 2 sliding bolt locks each. Both have a smaller built-in feeding door and comes with bowls. You can stack more crates on top since it weighs around 66 lbs. For ease of moving, you'll get 4 wheels to place them on the bottom. In the package of this dual dog crate, you'll also find a cleaning tray.
In Short:
The divider is on-adjustable but removable
Can house a large dog or 2 smaller dogs
Has 2 front doors and built-in feeding doors
Comes with bowls
It weighs around 66 lbs
Can be moved easily with wheels
BEST ALUMINUM DOUBLE DOG CRATE
Uws Deep Dog Box
Rust And Corrosion Free
Since it's a double aluminum dog crate, it allows you to travel with this crate worry-free that it will rust. It's a box and features front doors that act as single ventilation points. You can't remove the divider to house 1 dog inside either. It's 48-in long and wide and 31.5-in tall.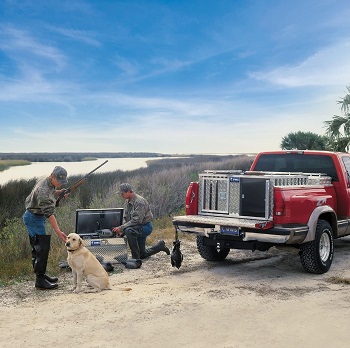 Traveling Features
The top lid is insulated so that your dogs can be kept warm if you use it as a hunting dog crate for trucks. If it peaked your interest, you can check out other models in the next article. On top, you'll get to store more things because of the rail along its edges. The door locks are made out of stainless steel.
In Short:
Fully made out of aluminum
Has top rails that allow for extra storage space
it's 48-in long, wide, and 31.5-in tall
The door locks are made out of stainless steel
The top lid is insulated
BEST CAR DOUBLE DOG CRATE
One for Pets Portable
Car Safety
Instead of being safe because of its build, it's safe because you can connect it to a seatbelt. Other than that, it's very light since it's made with polyester fabric materials. The divider is also fabric and can be removed by you unzipping it. In the one dog housing and 2 dog housing case, you can house small dogs inside.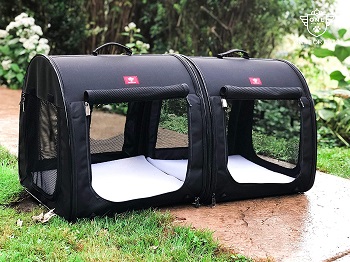 Portability And Storage
This double dog crate for the car has 3 vent points for each crate side. The interior is equipped with a soft mat and you can even place a hammock on each side. It's easily foldable and you can store it inside its travel bag. For more easily portable backseat dog crates, check out the article linked.
In Short:
Made with soft fabric materials
Can be folded down
it's very light
The divider is removable and made out of fabric
Can house 1 or 2 small dogs
Can be connected to a seatbelt
BEST TRAVEL DOUBLE DOG CRATE
PawHut 39" Soft-Sided Crate
Proportions And Dogs It Can House
The crate is 39-in long and 20-in wide and tall. Because of these dimensions, it allows for small dog containment only and the dogs should be crate trained since it's made out of polyester fabric. If you'd like an indoor housing crate, you can find other double-dog crates for 2 dogs in the article linked.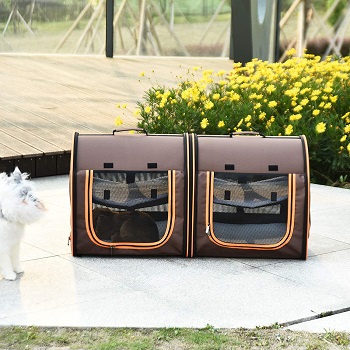 Divided Crate Parts
Each double dog travel crate part has 2 doors that, with the addition of the back mesh fabric window, acts as ventilation points. You can roll these doors up and your dogs will be comfortable either by you placing a soft mad inside or a hammock. Both of these are removable and you can easily fold the crate down as well.
In Short:
It's 39-in long and 20-in wide, and tall
Made with polyester fabric
The crate is divided with a fabric zippered divider
Each part has 2 doors and 3 ventilation points
Comes with soft mats and hammocks
BEST METAL DOUBLE DOG CRATE
ProSelect Stainless Steel Crate
Build And Size
We don't need to go into detail about why this stainless steel wire crate is rust and corrosion-resistant. The divider that lets you split the cage is made with a stainless steel sheet instead of wire. It's around 48-in long, 24-in wide, and 32-in tall. When the crate is split into two, it can house two smaller dogs.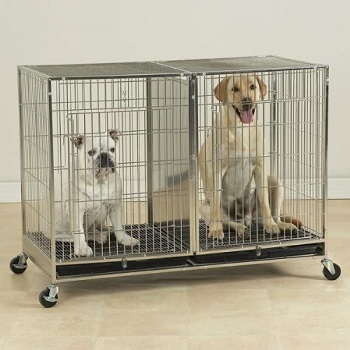 Crate Bottom
On the bottom of this double crate for dogs, you'll find wheels to move this around 60 lbs crate easily. It also features a wire grid and below, you'll find two cleaning trays that you can easily slide out for cleaning. It's also extra tall so if you'd like to read about them more, read the extra tall dog crate article next.
In Short:
Made out of stainless steel wire
The divider is made out of a metal sheet
Weighs around 60 lbs
Sits on wheels
It's around 48-in long, 24-in wide, and 32-in tall
Has 2 cleaning trays below the wire grid floor
Can house one extra-large or two small dogs
How To Pick A Double Dog Crate
Although the description of a double dog crate is very specific, there are still numerous differences from product to product. In this buying guide, we'll help you understand these differences and what they mean for you and your dogs. Some of the things we'll mention are size, materials, divider types, and more.
2 Dogs One Crate Housing – Under no circumstance should you ever house two dogs in a crate that doesn't divide them. This also reigns true for dogs that are litter mates and on their best behavior with each other. You're going to need a specialized crate because others will just be too small and that's just the beginning of why's.
How They're Split – Most of the dual dog crates are split into two parts using a removable divider. Some have an adjustable divider while others don't. We won't exclude the possibility of a divider that is both non-adjustable and non-removable either. Adjustable dividers are more unlikely in this case because they specialize in potty training puppies but with other important factors present, some can house 2 dogs.
Metal Crates – Double metal dog crates are commonly heavy-duty dog crates. They're made to house aggressive dogs or dogs prone to anxious behavior and that easily destroy their wire crate training crates. They most likely have a non-adjustable divider but a removable one which then allows you to either house one dog inside or 2 smaller dogs inside.
Travel Crates – We reviewed soft dog crates and crash-tested dog crates as well. Soft crates shouldn't house dogs that haven't yet been crate trained and shouldn't house dogs permanently. They are incredibly light and easily portable though and you can easily store them away with their folding designs. Crash dog crates are highly durable, often quite heavy and of course, expensive.
Sizing It Right – To determine a proper size for your dog. You should learn about your dog's height and length and compare it to the crate. The crate should be 3-4 inches longer and taller than the dog at least. You should also make sure you check the crate's dimensions when it's split into two because the length then becomes the width and vice versa.
To Sum Up
We wouldn't say it's unfortunate that we can't recommend one double dog crate to you because it just goes to show how much variety there is and that anyone can find a crate that fits the description for their dog. Be careful with sizing according to dimensions and you should do just fine. If you'd like to see single dog crates but larger models, we advise you to next read the large dog crate furniture article or the large plastic dog crate article. For full-blown reviews of all crate sizes and types out there read the best-rated dog crates article next.