Tired of all the metal and wire crates and would prefer a lighter alternative like a large plastic dog crate?
You're on the right path if you're here and you just got to keep on reading to go through reviews of the best ones that match the description above. We made sure to review different models with different functions and build so you'll find the crate that meets your needs.
The Summary
Best 10 Large Plastic Dog Crates
BEST OF BEST LARGE PLASTIC DOG CRATE
Pet Gear 4 Door Steel Crate
Durability And Safety
If the heavy-duty plastic build with blow-molded plastic isn't enough durability for you, it even has steel wire sides. About safety, it has rounded interior corners and you will find no exposed sharp wire inside either. It has 4 doors and the side one slide open to save space.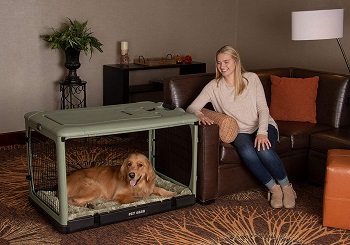 Size And Other Abilities
The bottom of the crate is insulated so that it doesn't crack when in cold weather. You can collapse it and carry it in its own travel bag or drag it with built-in wheels. It's 42-in long so if you'd like to get an even larger XXL plastic dog crate, check them out as well.
In Short:
Made with heavy-duty blow-molded plastic
Has steel wire sides
Can be collapsed and has built-in wheels
Has 4 doors with one that slides open
It's 42-in long
Has an insulated base
Has rounded corners for interior safety
BEST XL LARGE PLASTIC DOG CRATE
Petmate Sky Kennel
How It's Made
You'll find 2 plastic shells, the top and bottom one, that can be connected with winged nuts that are non-corrodible. It has one wire entrance that locks with a vault lock and features 2 wire windows for ventilation. Since it's made for airlines, it's a bit smaller than standard so check out the xl plastic crate article to find bigger ones.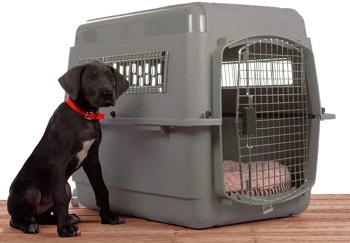 Air And Car Travel
For air travel, you'll get the most common things needed like live animal and ID stickers, 2 bowls for food and water, and holes for tying it down with bungees. This big plastic dog crate can house large dogs and you can even use it for tor traveling by car since it only weighs around 25 lbs.
In Short:
Has a heavy-duty plastic build
The shells connect with winged nuts that don't corrode
Has a single wire door
The door lock is a vault type lock
It's 40-in long
Comes with basic air travel accessories
BEST CARRIER PLASTIC DOG CRATE
Dakota Large Kennel
Single Plastic Piece Build
This crate is made out of a single piece of plastic so it's considered to be a far more durable dog crate. The carrying handle is molded into it and is found on top. This is not the only uniquely designed extra large plastic dog crates so we do advise you to read the article about them to find one that will fit you and the dog.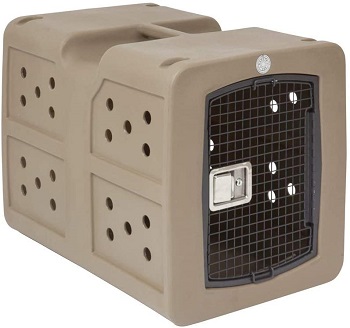 Locks And Dog Size
The lock on the wire door in the front is a spring-type lock and it's also a double lock. This big and plastic dog crate is 38.5-in long so it falls into the category of intermediate dog crates. It can house both medium and large dogs that weigh up to and around 75 lbs. It's easy to clean with the drainage system inside.
In Short:
Made out of a single plastic piece
Has a molded handle on top
it's 38.5-in long
The single door locks with a double spring lock
Has a cleaning drainage system inside
Can house medium and large dogs up to 75 lbs
BEST INDOOR LARGE PLASTIC DOG CRATE
Iris Usa Wire Open Pet Pen
Build And Missing Bits
It's able to fall into the plastic crates category because of its top and bottom frame. They look wooden but they're actually made out of plastic. The rest is covered with white epoxy coated wire and it doesn't feature a top so it's a dog crate playpen. Check them all out if it appeals to you.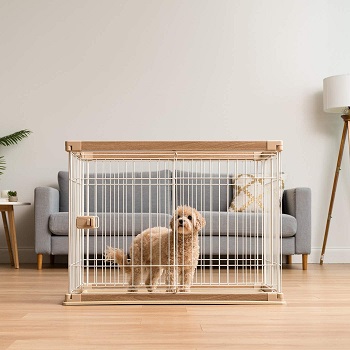 Length And Dogs It Can House
The large plastic dog cage is around 48-in long so it can be considered as extra-large but it's only able to house medium-sized dogs like beagles and french bulldogs. On the bottom there is a plastic molded tray so that dog litter stays inside and that the crate doesn't move around as much. it even has a space-saving sliding door.
In Short:
Has a wood-looking plastic frame
The wire is coated with a white epoxy finish
It's around 48-in long
Can house medium-sized dogs
Doesn't features a top
Has a sliding door for access
On the bottom, there is a plastic molded try
BEST FURNITURE LARGE PLASTIC DOG CRATE
Ecoflex Dog Crate
Plastic And Wood Build
The wood and plastic polymer composite material called ecoflex is the one that allowed us to review it as plastic. It has better properties than wood and plastic as separate materials since it won't get damaged by liquids and also won't split or crack nor warp.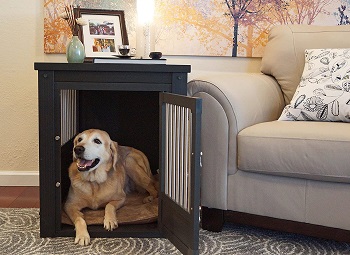 Double Function
The top allows it to function as furniture but as a dog crate at the same time. This big plastic dog crate is 42.5-in long which is similar size to the extra-large dog crate furniture models you can check in the article that talks about them. The top can easily be taken off when you want to clean it and it features stainless steel tubes for ventilation and visibility.
In Short:
The top can hold your personal stuff
Made out of plastic and wood-polymer called ecoflex
It's 42.5-in long
Can house large crate trained dogs
Has stainless steel tubing for visibility and ventilation
The top comes off for cleaning
Ecoflex doesn't get damaged when in contact with liquids
BEST CAR LARGE PLASTIC DOG CRATE
Gunner Kennels G1 Intermediate
Dog In Car Safety
There's no need to think long and hard as to why this crate is great for cars. It's because it's successfully crash tested and the roto-molded, double-wall plastic build is mostly to thank for that. It can act as a hunting dog crate for trucks and there are more similar to it that are less expensive so check them out.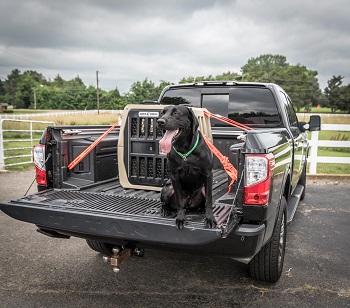 Weather Protection And Lock Safety
This large plastic pet crate will keep safe dogs up to 75 lbs. It will protect them from UV rays, humidity, and even rain. the door is made out of metal and reinforced with an aluminum frame. it's also welded and powder coated and features 2 additional locks to make sure your dog doesn't escape. It can even house dogs that haven't been crate trained.
In Short:
It's crash-tested
Made out of double wall roto-molded plastic
Can house dogs up to 75 lbs
Has a welded, reinforced aluminum frame door
The door locks from 3 different points
Protects dogs against UV rays, rain, and humidity
BEST TRAVEL LARGE PLASTIC DOG CRATE
Primos Hunting Kennel
Plastic Build Details
Instead of double-wall plastic, this crate is made out of single-wall roto-molded plastic meaning it uses one piece to form. You'll easily get to tie it down with bungees or rope because of the aluminum tie-downs. It's lighter than most plastic and metal camping dog crates since it weighs 37 lbs but it's heavy compared to soft crates that you can read about in the before mentioned article.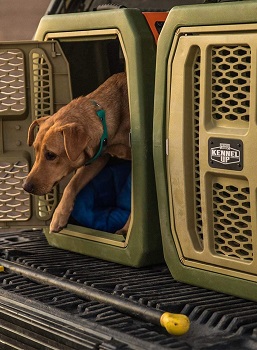 Cleaning And Door Safety
In the back, you'll find drains where dog urine will go through and out of the crate when it needs cleaning. The single door in the front is reversible and locks with a key for escape-proof safety. Just like the previous big plastic dog crate, it can house intermediate dogs meaning both some medium and some large dogs.
In Short:
Made with single wall roto-molded plastic
Weighs 37 lbs
Has aluminum tie-down on top
Can house intermediate dogs
The single entrance is reversible
The door locks with a key
BEST HEAVY DUTY LARGE PLASTIC DOG CRATE
Sportpet Designs Plastic Kennel
Shell Connection
Although sizes as large, the crate is 32-in long 22-in wide, and 23-in tall. Your dog should be only up to 28-in long, and 20-in tall to fit inside comfortably. It's made out of heavy-duty plastic shells that can either connect with plastic locking clips or be double connected with nuts and bolts.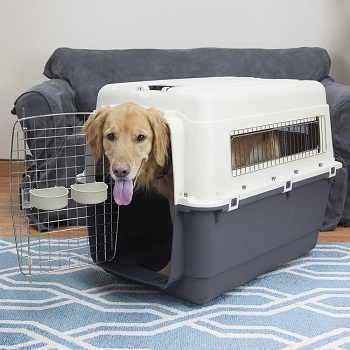 Carrying And Use
This large-sized and plastic crate for dogs has 2 handles on top and can feature 4 wheels on the bottom. You'll easily transport it to the airport where you'll have the opportunity to put live animal stickers and bowls onto it for air travel. A heavy-duty plastic crate will commonly be made for air or car travel so check them all out.
In Short:
It's 32-in long, 22-in wide, and 23-in tall
Can house dogs up to 28-in long and 20-in tall
Made out of heavy-duty plastic
The 2 shells connect with clips and/or nuts and bolts
Comes with basic travel necessities
Has 2 handles and 4 wheels
BEST 36 INCH LARGE PLASTIC DOG CRATE
MidWest Skudo Crate
Top Crate Features
You will have to buy wheels for this crate separately but it will be worth it cause then you can put to good use the top pulling handle. On top you'll also find a plastic compartment where you'll get to store dog treats and accessories and you'll get two instead of one.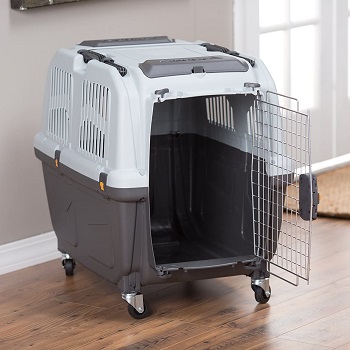 Construction, Vents, And Door
The plastic large crate is made up of two plastic shells that connect with quick snap-on buckles. It's a plastic dog crate with an intricate design able to house large ad medium dogs so for more, make sure you read the article about them. it has vents on all sides for visibility and air circulation and the single front door is made out of wire.
In Short:
Made with durable plastic
Has a pulling handle on top
Features 2 plastic accessory compartments
Wheels are sold separately
Has a single wire door
Can house medium and large dogs
BEST AIRLINE APPROVED LARGE PLASTIC DOG CRATE
Petmate Ruffmaxx Crate
Ease Of Transport
Like many airline travel crates, this one is also made up of 2 plastic shells. These two connect only with non-corrodible wing nuts though. This big plastic cage for dogs doesn't feature wheels or a carrying handle on top so you'll have to carry it with your hands for transport to the car and airport.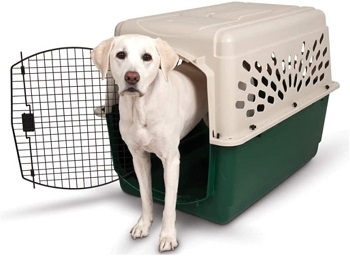 Ventilation And Size
It has ventilation points on 4 sides. The front one is a wire door and the rest are simply punctured holes in it. It's 40-in long meaning it can house large dogs. It's considered to be appropriate for air travel though so check other air conditioned dog crates out and find the models made from different materials.
In Short:
Has a 2 plastic shell build
The shells connect with winged nuts that don't corrode
It's 40-in long
Has vent points on 4 sides
The front door is a wire door
Can house large dogs
How To Pick A Large Plastic Dog Crate
Although every one of these is a large plastic dog crate, there are still some size variations that we have to go through for you to pick out the best one for your dog. Apart from that, we will define crate types and what they're most commonly used for, and if you should get one in the first place.
Large Dog Plastic Kennels – There was a lot of mentions of kennels in this article but none of these crates actually are. Kennels are much larger and they can fit a crate like this easily inside them. They're also designed to be used outdoors and withstand harsh weather conditions.
Most Common Uses – The best use for these crates is to use them as travel crates. Plastic is a light material depending on the way it's made. They'll often have wire sides if they're made to be used indoors. They are also the most common airline crates. When traveling, the dog should always be crate trained first though.
Sustainability Problems – The problem with plastic, in general, is the fact that its production emits carbon dioxide and it's hard to recycle. What you can do is check if the plastic is sustainably sourced and recycled or you can make sure you get one that will last long.
Plastic Types – We found that roto-molded plastic is the most durable plastic production type. It makes a crate out of a single sheet of plastic and some are even crash-tested because of it. Next in line are reinforced or heavy-duty plastic dog crate types like blow-molded plastic.
Sizes Mentioned – We reviewed crates that range from 36 to around 42-in in length. All of these crates are considered to be large since they can all house large dogs. In terms of weight, a large dog is defined as a dog weighing from 55 lbs up to 90 lbs.
Measuring Your Dog – The way you'll make sure that a crate is the right fit for your dog is to measure his length and height. After that, you'll want to add at least three or four inches to these proportions and see if they match with the crate.
To Sum Up
It might be easier to recommend one large plastic dog crate as the best because they're all large but even so, they differ in size and function as well so you'll have to choose one for yourself so that it can be tailored to your dogs' needs. For more sustainable dog crates we advise you to read the articles about wire dog crates or steel dog crates and for an overview of all the crate types out there so that you can understand what are all of your options, check out our dog crates article.