Want to travel with your dog but more specifically, you want to camp with him so you'll need a dog camping crate that you can't find?
We found it for you. To be specific, we found our 5 top picks for these crates and reviewed them so that you'll know what you're getting with each crate in detail. Continue reading if you want to decide on a crat in a matter of minutes. We made sure to include crates like folding, travel, and even plastic crates.
The Summary
Best 5 Dog Camping Crates
BEST OF BEST DOG CAMPING CRATE
MidWest Portable Tent Crate
Weather Elements Protection
The emphasis with these crates is on how well they will protect your dog from different weather elements. This one in particular will do that by acting as a tent itself. It's made with fabric materials that are water-resistant. It holds its shape well because of the steel frame it has and that's exactly the reason why you can also fold it down.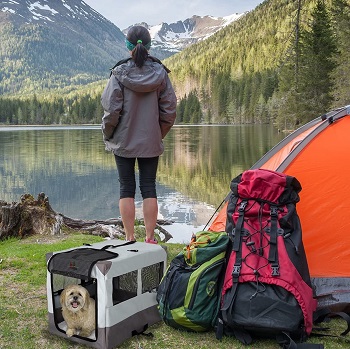 Dog Behavior And Size Requirements
Because it's primarily made out of soft materials, you will have to crate train your dog first if you want it to be of good use for many years. It's 42-in long so the crate-trained dog in question can easily be a large breed of dog to fit nicely and comfortably inside this camping crate for dogs.
Comfort And Stability
To ensure that this dog camping crate really is stable, it's supported with a wire that has a U-shape. To make it a cozy dog crate, especially when there's lots of traveling involved, you'll get a pad that's made out of fake sheepskin for the interior. The pad can be removed and washed.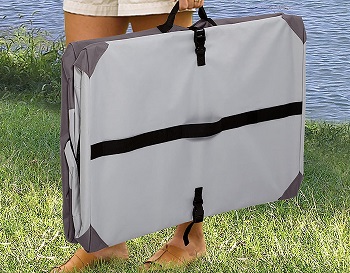 Door And Windows
You'll find that there's only one door to access the crate. This door is located upfront and is made out of mesh fabric. You'll find this material all around the crate because the windows made out of this material will ventilate the crate properly and give your dog some much-needed visibility outside.
In Short:
Made with water-resistant fabric material
Has a folding steel frame
For more stability, it has a u-shaped wire
The inside is equipped with a pad made out of fake sheepskin
Suitable for housing large dogs
Can only be used to house calm and crate trained dogs
Has a single mesh fabric entrance door
Features vent windows on all sides
BEST INSIDE TENT DOG CAMPING CRATE
Petnation Port-A-Crate
Tight Firm Fabric
Although it might not be visible from the very first look, the durability of this crate is visible right from the start, beginning with its fabric cover that's been tightly woven to create a much firmer, more durable, and stable crate.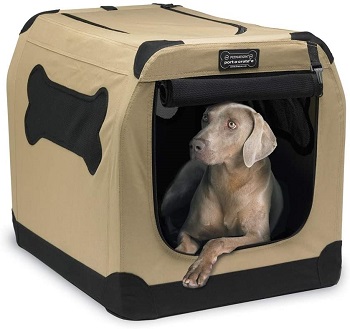 Preferred Dog Behaviour
You'll either need to have a crate-trained dog housed inside, or you'll need to constantly supervise your dog. The dog in question can weigh up to 70 lbs since this is an intermediate dog crate. it's 36-in long and 25-in tall and wide. This camping dog crate suitable for inside tent model is best used inside a tent especially at night.
Window And Door Placement
Luckily enough, the top doesn't feature mesh fabric windows although it features an access door so that rain doesn't leak through and into the crate. You'll find another door in the front made out of mesh fabric and on the sides, you'll get windows shaped like dog bones that will make the dog camping crate look cute as well as make it functional.

Storage/Transport Ease
The steel tube frame that holds the waterproof fabric can be folded down as well in case you ever need to store it or save some space in your car when you're transporting it. You can also take it off and wash it by hand or by using a machine washer. With a machine washer, you'll do a more extensive cleaning though.
In Short:
Made with tightly woven mesh fabric
Has a foldable steel tube frame
The fabric is water-resistant
You can take off the cover for cleaning
Suitable for housing dogs up to 70 lbs
Can be folded down
Has a top and front access door
BEST FOLDING DOG CAMPING CRATE
A4Pet Soft Collapsible Dog Crate
Car Protection
You'll have to think about how you're going to get to your campsite as well and if it's by car, you'll definitely want to have this crate. It has a leakproof and waterproof bottom that will prevent urine from ending up on your car floors. The rounded corners will help protect your car interior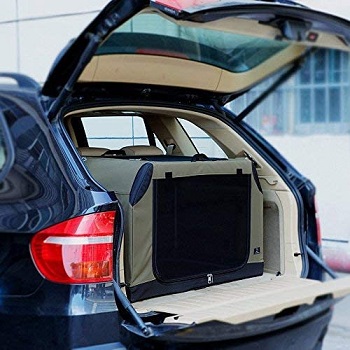 Bottom Benefit
The leakproof, waterproof bottom works both ways, you'll get to keep your dog as dry as possible if you accidentally place the crate on a wet area on your campsite. The cover of this dog camping crate is one that you can remove and easily wash. The frame that holds the fabric in place is foldable.
Side Contents
You'll find three doors for access to this camping crate for dogs. One is found in the front, one on the side, and one on top. Each and every one of these doors also functions as windows since they're made out of mesh fabric. You'll find another window like that on the other side while the back features only an accessory pocket.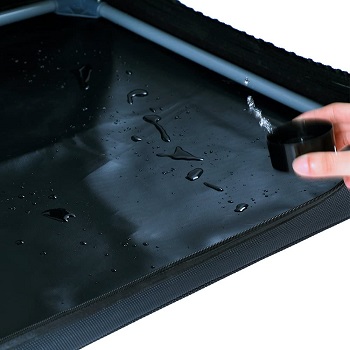 Important Notices
This soft collapsible dog crate can only house dogs that have been crate trained but even so, you should always keep an eye on your dog while he's inside. For this reason, this camping dog crate is not suitable for indoor use. You'll get to house a medium dog inside it that can weigh up to 70 lbs.
In Short:
Made with oxford fabric that's washable
Has a waterproof and leakproof bottom
The steel tube frame is foldable
Has rounded corners for interior car protection
Can house dogs up to 70 lbs
The dog should be crate trained
Has 3 access doors
Gets ventilated from all sides except for the back
The back features an accessory pocket
BEST HEAVY-DUTY CAMPING CRATE FOR DOGS
Lucky Duck Lucky Kennel
Safe From Car Crashes
All of these crates are great travel crates either because they're light and highly portable or because they take up little space because of their folding design. This one is neither but it's still an amazing travel crate because it has been crash-tested so it's one of the safest dog crates for car.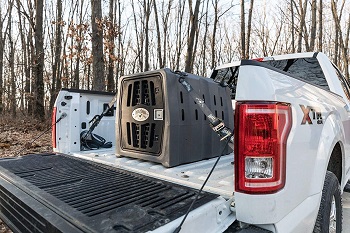 Weight And Build
You can expect a lot from this camping crate for dogs even though it's made out of plastic. The plastic has been roto-molded which means that it has a single piece of plastic as its build material and it's also seamless. It's still not as heavy as you'd expect with only 38 lbs to it.
Weather Protection And Crate Cleanliness
Because of the way that the ventilation holes are placed, your dog will be kept cool during warm weather and warm during cold weather. You also won't have a problem with rain getting into it. It has an elevated design so that it can have drain channels on the interior sides. This will keep the crate and your dog as clean as possible and when you're ready to clean it, all you need to do is plug out the drain so the urine can run out of it.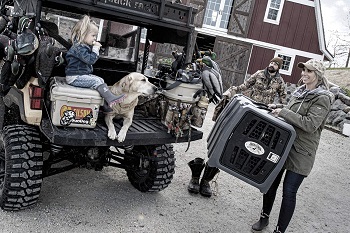 Door, Top, And Bottom
The door of this dog camping crate is a story on its own. You can reverse it so that it opens in a different way if your stuff is getting in its way, it locks with a key and it even has additional locking pins for more locking safety. The bottom features feet that will prevent the whole crate from slipping while the top has heavy-duty holes so you can tie the crate down. Typically, this crate is built like a hunting dog crate.
In Short:
Safe for traveling because it's crash-tested
Made out of a single piece of roto-molded plastic
Has a reversible door
The door locks with a key and with additional pins
The vents protect the dor from cold and warm weather
Features non-slip rubber feet on the bottom
The inside has drain channels for cleaning
On top, there are heavy-duty tie-downs
BEST PLASTIC CAMPING DOG CRATE
Primos Hunting Kennel Up
Primary Use
This is another crate that's built of roto-molded plastic that has a single wall build. Roto-molded plastic crates are typically made as hunting dog crates for trucks but oftentimes, their unique features make them suitable for use as camping crates for dogs.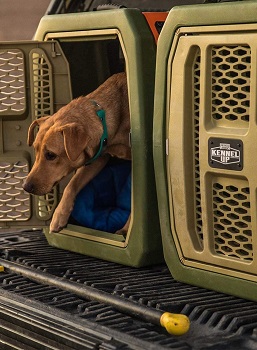 Vent Types, Location, And Functions
The vents found on the sides of this camping dog crate are adjustable and can protect your dog from cold and warm weather. There's an additional air vet found in the back that's removable. This vent will provide the crate, and with it, your dog with more airflow.
Cleaning The Crate
The built-in drain holes on the bottom are there so that you can release the liquids, typically urine, from the inside of the crate. The way that this is made possible is due to the fact that there are deep channels on the interior sides of this camping dog crate where liquids will go to.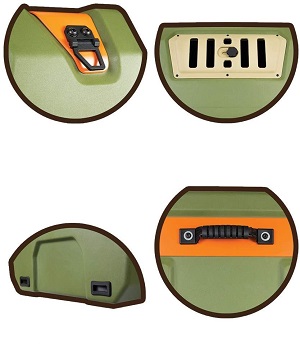 Metal Bits, Weight, And Door
Every metal piece on this crate is made out of stainless steel. That includes the lock on the door that you can open in more than one way. The door requires a key to open. The dog camping crate weighs 37 lbs and comes with 2 heavy-duty handles so you can lift it with more ease when you need to.
In Short:
Made with roto-molded plastic
Weighs 37 lbs
Has a door that opens in more than one way
The lock opens with a key
Each metal bit is made out of stainless steel
Has adjustable side air vents for hot and cold weather
The vent in the back is removable
Has drain holes where liquids from the inside will be released
Features 2 heavy-duty handles for carrying
How To Pick A Dog Camping Crate
If you don't really know to choose the right dog camping crate this useful guide might help you pick one. here, we'll go through all the things that make these crates good for camping and we'll even mention their differences because not all of them are made the same. These differences include size, materials, and more.
2 Types – Here you'll find two types of crates. You'll find soft travel dog crates and heavy-duty plastic dog crates. The plastic crates are much more durable and could handle a dog that's not yet been crate trained while soft crates will not only require you to crate train your dog, but they should also be kept under constant supervision. Either way, if you want to travel with your dog, the dog should be crate trained no matter the crate type.
Weight Importance – You won't be having much fun if these crates are not easily portable. The first thing that you should make sure of is that the crate is a lightweight dog crate. All these crates are light but some are heavier than others. Plastic crates that we reviewed are definitely heavier with the weigh ox approximately 40 lbs while soft dog crates can be as light as 7 lbs.
Weather Protection – Whether or not the dog camping crate can protect your dog from rain, warmth, or cold while he's inside has got to be one of the most important features of these camping crates for dogs. A soft crate will usually only protect your dog from wind and rain because the fabrics are built to be water-resistant while plastic crates will make sure of that with how their vents are made and positioned.
Travel Safety – You'll have to get to your campsite somehow and it's usually by a car or RV so if you want your dog to be safe while you're traveling, you'll either want to get a crash-tested crate or you'll want to crate train him to be as calm as possible so that he doesn't distract you while you're driving.
To Sum Up
We took to account the safety of the Lucky Duck Lucky Kennel when we've decided to recommend it as the best dog camping crate. Not only is it crash tested so it's safe for travel but it will also keep your dog safe from too hot or too cold weather. If you want to read more about crash-tested dog crates we advise you to read this article about them and if you want an all-around safe crate you might want to check out the article about safe dog crates.