Looking for the right crate for labrador but don't know what size to pick or what type to get?
if you continue reading this article you'll have chosen one in no time. That's because this article is dedicated to exactly these crates. We picked out and reviewed only the best. We've also decided to change it up a bit and also include wooden, soft, and even heavy-duty crates ad that's just the beginning.
The Summary
Best 6 Crates For Labrador
BEST OF BEST DOG CRATE FOR LAB
MidWest iCrate Starter Kit
Beginner Crate
If you happen to be new to the whole housing your dog in a crate thing this crate might help you start right because it comes with everything needed for beginners. For starters, you'll get a steel wire crate that's coated with a black finish. This alone is a good starting point because wire crates in general are the perfect middle ground in dog housing.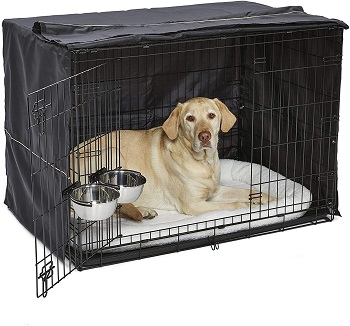 Starter Kit Stuff
Additional things that come with this crate for labrador that'll let you start right on your crate training journey are a bed made out of fleece, a cover with which you can cover the crate to give your dog more privacy when he needs it, and two food and water bowls that you can snap on the wire that are made out of stainless steel.
Indoor Dog Housing Accessories
It features two doors so you'll get to easily decide on how you're going to position this lab dog cage inside your home. The doors lock with 2 sliding bolt locks each. Other things that will become useful with having this crate indoors are the rubber feet that'll protect your floors and a plastic pan for cleaning that's leakproof.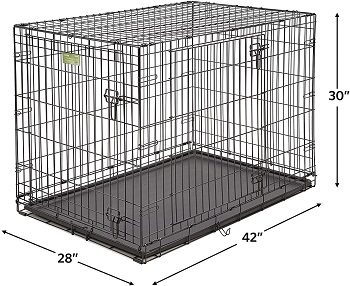 Divider Use
You can even house a puppy in this versatile large wire dog crate since it comes with an adjustable divider that'll make the crate's size adjust easily to your growing puppy. You can easily collapse the crate as well and either store it away or transport it by carrying it like a briefcase because of the detachable handle.
In Short:
Made with black coated steel wire
Comes with a fleece bed, crate cover, and water and food bowls
The water and food bowls are made with stainless steel
Built with 2 access doors that lock with 2 sliding bolt locks each
Has floor-protecting rubber feet ad a leakproof cleaning pan on the bottom
Can be collapsed for traveling or storage
Features a detachable carrying handle
Comes with a divider for housing puppies
BEST LARGE DOG CRATE FOR LABRADOR
Precision Pet Great Crate
Size According To Gender
Normally, you'll get to house a female labrador inside a 36-in long crate while a male labrador dog will fit well inside a 42-in long crate. This is, of course, susceptible to change but it's not that common. Still, you should measure your dog first to see if he can fit inside this 42-in crate.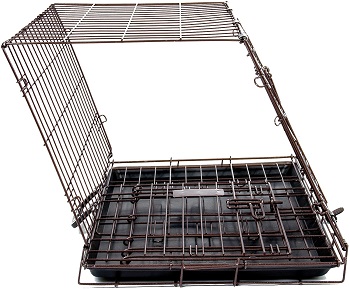 Durability And Safety
It's made with steel wire that has a heavy gauge and it is coated with a black finish, to be specific, an e-coat that makes it resistant to rusting. From the very start, it's easy to conclude that this is a durable dog crate but it's also safe because it has rounded corners on the inside so that your dog doesn't hurt himself.
Doors And Their Features
Another indication of how durable and safe this dog crate or labrador is can be found if we go into detail about its door locks. There are two doors, one on the side and one in the front that both lock with a single sliding bolt lock. That's not all you're getting from its locks though. The doors also lock from 4 other points.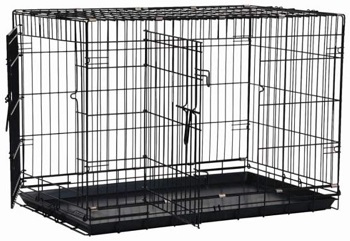 Puppy Housing And Traveling
You'll either get to house a grown-up dog inside this large dog crate for labrador or you'll get to house a puppy because it comes with a divider for them. You can also travel with it and to make this bit true the manufacturer made sure to make the crate so that it easily folds down almost flat. this will allow you to carry it with ease. On the bottom, you'll find a cleaning pan that you can easily slide out for it.
In Short:
it is 42-in long
Constructed out of heavy gauge steel wire
Has a rust-resistant black e-coat finish
Can be folded down easily
Can house puppies because of the divider it comes with
Features 2 doors that both lock from 5 different points
Has a cleaning pan on the bottom
Has rounded corners for more inside the safety
BEST 36 INCH CRATE FOR LABRADOR
Lucky Dog Sliding Door Dog Crate
Build And Size
Since it's 36-in long and belongs in the medium-sized crate category, it's far more likely that you'll only get to house a female labrador dog inside. It's made with steel wire just like the other crates for labs we reviewed so far and features an e-coat finish that makes it resist rusting.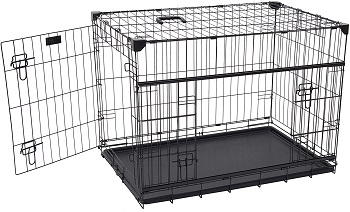 Low Noise Producing
Usually, wire crates tend to produce a lot of noise. to put it simply, they rattle a lot but with this 36-inch crate for labrador, the rattling is significantly reduced because of the stabilizers that can be found on corers and the way that the doors open. The corner stabilizers will also help with preventing accidental collapses.
Puppy And 2 Dog Housing
Most wire crates that feature a divider are only ever puppy crates but thanks to the fact that this is a sliding door dog crate that features a double door on the lengthier side, if you were to place a divider right down the middle, you'd have access to two separate crate parts. What we're trying to say is that you'll get to house two dogs inside it. With the double sliding door, you'll also get a front access door that swings open.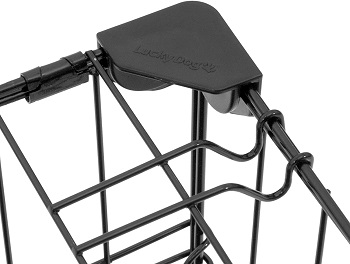 Clean And Safe Floors
The bottom of this crate holds two noticeable and mention-worthy things. The first one are the rubber feet that you can attach to the bottom to prevent damage to floors and to keep your floors as clean as possible, you'll get a cleaning slide-out pan as well so that most of the dog's urine stays in the crate.
In Short:
Made with steel wire
Has a rust-resistant black e-coat finish
Features a double sliding door, and single front door
Comes with a divider for housing puppies or two dogs
The corner stabilizers reduce rattling and prevent collapse
It is 36-in long
Comes with rubber feet and a cleaning pan for clean and safe floors
BEST HEAVY DUTY CRATE FOR LABRADOR
Itori Heavy Duty Metal Dog Cage
Who Needs It
We were going back and forth with the decision on whether or not to review this heavy-duty metal dog crate but we've decided to go for it because any dog might be aggressive enough to need a crate like this and any dog can just as easily be taught of this behavior.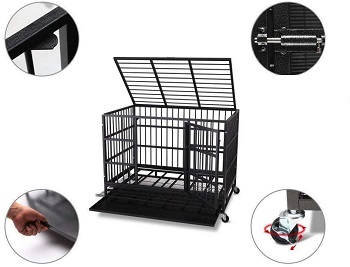 Main Construction Features
Not only is this crate made out of 20 gauge steel that can be found on the 0.5-in diameter steel tubes, but it's also a dog crate for lab that has all parts welded together for even more security and durability. The manufacturer didn't stop there because he also made sure that the whole crate is treated with rust and corrosion-resistant materials.
No Traveling Option
As expected from a crate that's built like this, it is very heavy. With its weight of around 83.6 lbs you definitely won't get around to traveling with this crate any time soon. For you to move it more easily from room to room you'll get wheels for it. Two of the four wheels are also lockable.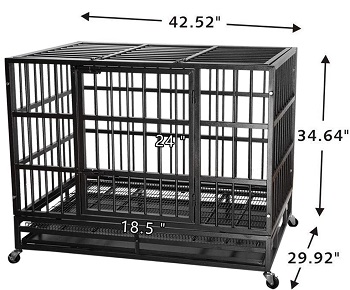 Cleaning Pan Location
Normally, on a wire crate, you'll find that the cleaning tray is located inside the crate itself but with this one, the tray is located outside. This is so that you don't have to let the dor out to clean it. How it works is that dog urine will fall through the floor that's gridded and onto the tray found below it.
In Short:
Has a 20 gauge, 0.5-in diameter steel tube build
Each part is welded together
it is corrosion and rust-resistant
Made to house aggressive dogs
It weighs around 83.6 lbs
You can move it by attaching 4 wheels to it, 2 are lockable
The cleaning tray is located below the floor
BEST WOODEN DOG CRATE FOR LABRADOR
New Age Pet ecoFLEX Pet Crate
True Size
Wooden crates are sized a bit differently. for example, this is said to be an XL wooden dog crate, but you'll only get to house a large dog inside it because it's 42-in long which is the perfect size of crate for an adult male, and in some cases but rarely, female labrador dogs.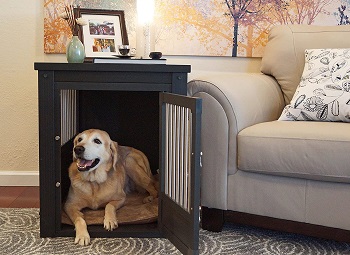 Material Details
It's made with ecoflex and it has so many properties that we can't fit into one sentence. For starters, it's a material that won't warp or crack, and it'll even not split. It's a composite material that's made with wood and plastic polymers which means that it has better qualities than wood and plastic as separate materials.
The Most Common Double Function
You can almost always expect a wooden dog carte to function as furniture as well and that's true for this dog crate as well. The way it works is that you'll get to put your stuff like lamps, pictures, and magazines on top that's a bit wider than the crate. It blends well into your home because it looks like a piece of furniture as well.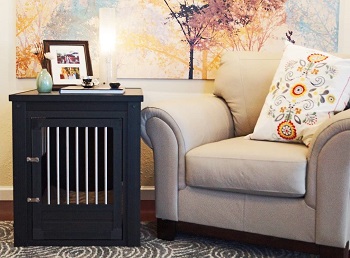 Access Points For Cleaning
The top can be removed and you'll most likely want to use this feature to access the dog crate for labrador retriever for cleaning. If that's not the case, you can always access it through the single front door that locks with 2 hasp latch locks. Conveniently enough, ecoflex as a material won't absorb moisture or odors so it's much easier to clean.
In Short:
Made with a composite wood and plastic polymer
Ecoflex material won't warp, split, or crack
The build material won't absorb odors or moisture
The top can be used as a piece of furniture
You can take the top of for cleaning access
It is 42-in long
Feature a single door for access
BEST TRAVEL CRATE FOR LABRADOR
EliteField Soft Dog Crate
Traveling Advantage
If you've crate trained your dog and now wish to travel with him this is the perfect crate to make that happen. The crate is incredibly light and has multiple carrying options so that transporting it from your house to your car is easy and hassle-free. You'll get to choose from 16 different color varieties so you can truly carry it as a fashion statement as well.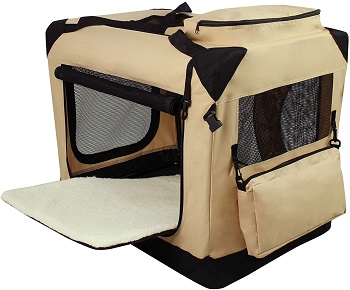 Crate Training Notice
We mentioned that you should crate train your dog before traveling with this soft travel dog crate and it's true because of two reasons. Since the crate's built out of an oxford fabric cover and has a steel tube frame, it will get destroyed easily if your dog is not calm. The second reason has to do with traveling. It's much safer to travel with a crate-trained dog because the one that's not might distract you while you're driving.
Door And Vent Points
This crate for labrador features three doors for access that double in function as ventilation windows. This is because they're made out of mesh fabric. You'll find them on top, in the front, and on one of the sides. The rest of the mesh fabric windows are smaller and don't feature a zipper. Additionally,  this labrador travel crate comes with 2 pockets for accessories.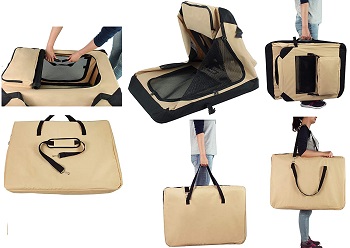 Spacious Crate Design
You'll get a carrying bag for it and a removable and washable comfort pad for the inside. You'll get to carry it in its bag using the shoulder strap. we must mention that this is a far more spacious crate than the other ones of this type because it's made to be 4-in taller and 2-in wider than most.
In Short:
Made out of oxford fabric cover
Feature s foldable steel tube frame
Come with its own shoulder strapped carry bag
It's 2-in wider and 4-in taller than most
Has 3 access door that are also ventilation windows
Has 2 pockets for accessories
It's 42-in long and very lightweight
How To Pick A Crate For Labrador
Whether you have a male, female, or puppy labrador we can help you pick the right dog crate for labrador by talking about some of their different functions, size, and durability. After reading this useful guide, you won't have to hesitate to buy one because you'll know all about these crates
Size First – The first thing you need to figure out when buying a dog crate, in general, is what size you need to get. The right size can make a big difference in how comfortable your dog is inside the crate. Typically, this is done by adding 3 to 4 inches to your dog's height and length and finding a crate that matches these proportions.
Size According To Breed And Gender – Typically, with labradors, you'll want to look for crates that are either 36-in long or 42-in long. This can vary, so you should always measure your dog first but a general rule of thumb on how to figure this out is that female labradors will typically fit inside a 36-in long crate while male ones will fit in a 42-in long crate.
Required Crate Training Crates – We mainly reviewed large wire dog crates here and these won't require you to crate train your dog first because they are actually used as training cages for dogs. With an addition of a divider, you'll get to use them as a labrador puppy cage. The crateS for labrador that will require you to crate train your dog first are wooden and fabric crates because these materials just won't handle a chewing dog or puppy.
Aggressive Dog Behavior Solution – If you're already experienced with crates but have a dog that chews on ad destroys most of his crates, you'll want to try and get a heavy-duty large dog crate that will survive this. If you think this is cruel you don't have to because dogs tend to like it when they have their own personal space to call their own because they possess natural den instincts
To Sum Up
The crate for labrador that we find to be the most useful and versatile is the Lucky Dog Sliding Door Dog Crate and that's exactly why we recommend it. It produces fewer rattling noises, comes with a divider for puppies, features sliding doors, and it's all-around a durable crate. If you have a crate-trained dog and can afford to get a beautiful indoor crate, we suggest you look more into them by reading the article about indoor dog crate furniture and if you're more focused on safely traveling with your dog, then reading the article about safest dog crates for car might also help you find one.