Had no luck so far in finding a dog crate under stairs that will look elegant and modern?
We might help you find one if you keep on reading this article. In it, we made a list of our top picks that do what they're intended to do best. We didn't just review them, we also made sure to include all sorts of crates like wooden ones, small ones, and many more. Don't miss out on the opportunity to find the best almost immediately.
The Summary
Best 6 Dog Crates Under Stairs
BEST OF BEST DOG CRATE UNDER STAIRS
PawHut 2-Level  Wooden Treehouse
Play And Rest Area
You can think of this like you're getting a crate with a rest and play area for your dog in one. This means that the crate is almost like a little house. It's thanks to the crate's design that this is made possible. The top has a large play area where your dog will climb to using the stairs on the side.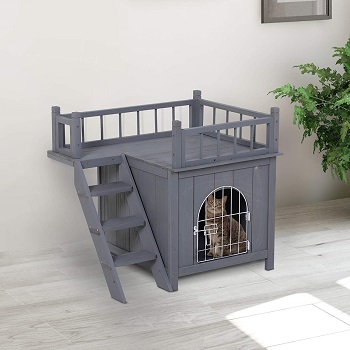 Crate Size And Entry
There is a dog crate under stairs and the roof. It's not as big, but you can still manage to house small dogs inside it. It features an entrance that can be closed off with a white color coated steel wire. the locks on this door is similar to locks often if not always found on small wire dog crates.
Wood Construction Properties
The crate's fir wood material is stained with a beautiful grey finish that is bound to fit inside any home. Of course, you don't have to use it inside only. Luckily, the wood is stained with a water-resistant finish so that you can easily use it outdoor as well.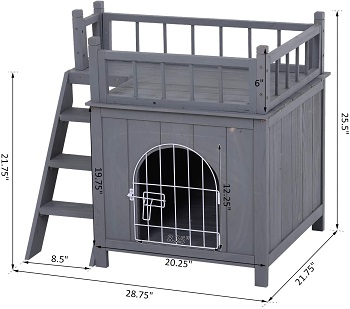 Indoor/Outdoor Transfer And Benefits
Since it's made to be used outdoors as well, this under stairs dog cage is raised to keep away small animals and insects and to prevent moisture from accumulating on the bottom. You won't have any problems transferring the crate indoors since it's light. It does require assembly though.
In Short:
Features a large play area on top
Has a small dog crate below the top and stairs
Has a lockable steel wire door
Made with fir wood
Requires assembly
Has a water-resistant finish
It's light so you can easily carry it indoor
BEST WOODEN UNDER STAIRS DOG CAGE
Petsfit Small Dog House
Suprisingly Light
You would think that a crate like this should weigh a lot but you would be wrong. The exact weight of this built-in dog crate under stairs is 24.8 lbs which makes it lighter even than some medium plastic dog crates. Its weight will make you move it with ease when you need to.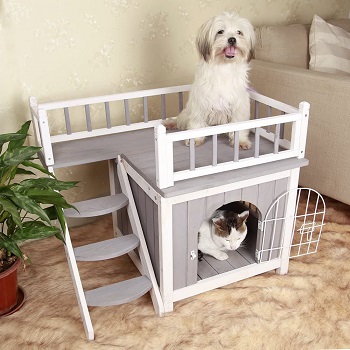 Inside And Outside Size
Unlike the crate before it, this is an indoor dog crate. It might look like it's big, but it's really not since the longest measurement is only 28-in. Because of it, the crate is small as well and can only house extra small dogs up to 20 lbs. It has a lockable steel wire door as well. You can lock it with a sliding bolt lock.
Getting Creative With The Top
You can either use the top as a play area for your dog that he will easily climb to with the designated stairs for it or you can get creative and store your stuff on top of it. The play area is only 21-in wide which just proves the fact that it's not big so we're not really sure how much of the play area will be useful to your dog anyway.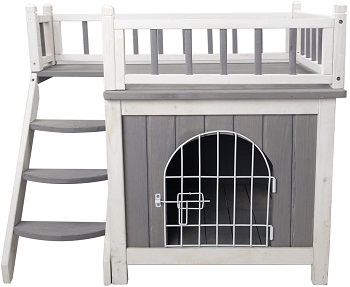 Wood Type And Assembly
It's made with kiln-dried cedarwood and it's stained with a water-based finish that's grey and white. You will need to assemble it yourself but don't worry if you not exactly a handyman. It comes with predrilled holes so you'd know exactly where each screw goes.
In Short:
Made with kill dried cedarwood
Has a water-based gray and white finish
Fit for indoor use only
Feature a play area top
You can use the top for storing personal things as well
It is small so it can house only dogs up to 20 lbs
Weighs 24.8 lbs so it's easy to move around
Has predrilled holes for easy assembly
BEST SMALL UNDER THE STAIRS DOG CRATE
Panow Pet Dog House
Roof Top And Crate Design
We can divide up under stairs dog cages into 2 categories. This is the last one we will review from the first, play area dog crate category. Like the rest of them, it features a rooftop that can act as a little play area and an under the stairs dog crate that doesn't feature a door, just an entry point.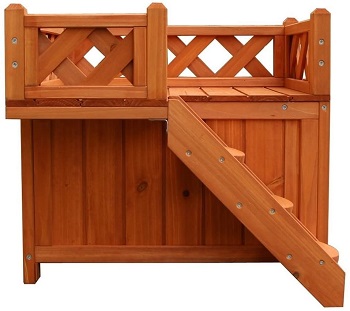 Weather-Proof Crate
It's made with fir wood and another great thing about its build is that it's stained with a finish that's resistant to weather like rain and it's a water-based finish. Water-based finishes definitely protect wood better and make it look like its brand new and freshly bought for longer.
Extra Small Crate
The dog crate under stairs and top are only fitted to house small dogs. The top can handle the weight of up to 20 lbs. The crate itself is 20-in long, 14-5-in wide, and 12-in tall. This just proves what we've already said that it can only be used to house small dogs. In fact, it's more of an extra small dog crate.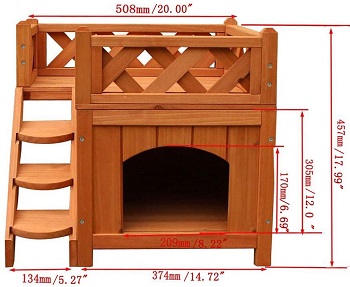 Assembly And Outdoor Protection
You will have to assemble the crate yourself. Don't worry, though, it comes with everything needed for easy assembly and you'll even get instruction on how to do it. If you were to use the crate outside, you won't have to worry about insects damaging the wood since it has insect protection.
In Short:
Has a rooftop and a crate below it
Fit for use by extra small dogs and go breeds
Stained with weather-resistant water-based finish
Comes with instructions and all things needed for assembly
The wood features protection from insects
The top's max load weight is 20 lbs
BEST INDOOR DOG CRATE UNDER STAIRS
Pjddp Wooden Dog Stairs House
Max Supported Weight
We wanted to start out this review by mentioning that all the other crates we will review now are indoor dog crates. This one is constructed out of quality pine wood that can easily support the weight of a dog up to 30 lbs. This places it in the medium wood dog crate category.
Under Stairs Space Use
There isn't a staircase that leads to a roof with the crate. The stairs are what you get and under the stairs dog crate is as well. Although technically the space under the stairs can be used as a dog crate, since it's small and doesn't have a door it might be best if you used it as a storage space.
Main Function
The main purpose of this under the stairs dog kennel no-door model is to help elderly pets or puppies climb to taller constructions like beds when they don't have the strength or aren't as tall yet to jump on it on their own. It features two stairs with a height of 11.8-in. If that's too short for you and need a taller crate to assist your dog with climbing, you can also get a 3 step one that's 18-in tall.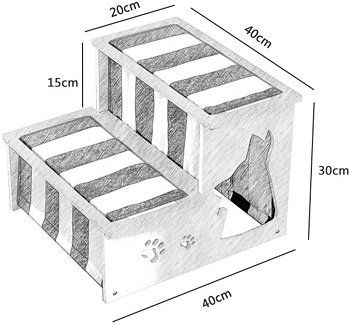 2 Part Construction
We have mentioned that this dog crate under stairs is made out of wood and that is true to an extent. Its frame is made out of wood while for the rest, you'll need to cover it with a piece of fabric that you get with the stair. It's really easy to do so and all parts come together quite nicely.
In Short:
Made out of fir wood
Helps dog climb to tall spaces
Has 2 steps
Features a small space below that can be used for storage
The highest point is 11.8-in tall
The maximum supported weight is 30 lbs
BEST FOR TRAVEL UNDER STAIRS DOG CAGE
Made4Pets Pet Steps Dog Stairs
3 in 1 Design
This is a three-in-one, under stairs dog crate. Just like the one before it, it will help dogs with arthritis or that are just a bit older climb up to reachable places that usually require the dog to jump up and will also help puppies with climbing if they're still too small to reach some areas of your home.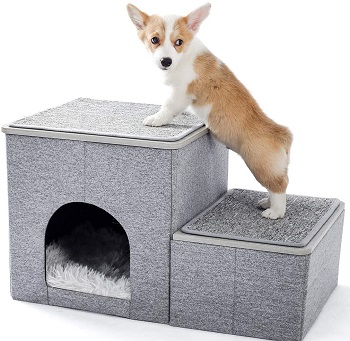 Clever Use Of Space
The space of this dog crate under stairs is cleverly used. The first, smaller step holds a storage space underneath it where you can place virtually anything as long as it's small enough to fit inside while the large step holds a crate beneath it. You'll even get a soft cushion for the crate to keep your dog more comfortable.
Size And Proportions
Keep in mind that this is a small crate. Its proportions and size let us come to the conclusion that it's built to house primarily small dogs up to 25 lbs. There isn't a max load limit for the stairs but it's plenty sturdy. Just don't overdo it with the weight. Your dog's weight definitely won't break it though.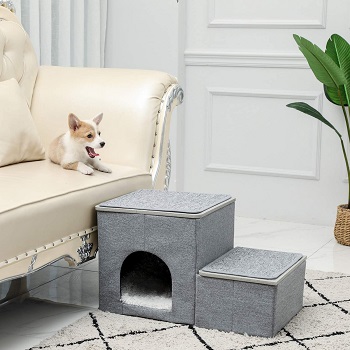 Environmentally Friendly Materials
It's made with particle boards that are CARB certified. What this means is that the material produced fewer toxins and emissions during its manufacturing process. The stairs are covered with mats that you can remove and wash easily. the mats give the crate a softer minimalist dog crate look.
In Short:
Made out of CARB certified particle boards
Made to house small dogs
Under the first stair, there is a storage space
Comes with a soft cushion for the crate
Helps elderly dogs and puppies climb onto things
The stairs are covered with removable and washable mats
BEST FOLDING DOG CRATE UNDER STAIRS
Petsfit Stairs With Inside House
Entrance Location
Other indoor built-in dog crate under stairs models we reviewed had a side entrance so that only some of the space is used while the rest was reserved for other things. This one features a door right in the front so that each inch under it is used for the crate.
Stairs And Crate Weight Max Difference
It's said to be plenty sturdy so that it can hold a dog weighing up to 65 lbs but that's only true for the actual stairs. The inside is small so you can only house a small dog inside it. The entrance doesn't have a door but it does feature an entrance on each stair that closes with a zipper.
Soft Crate And Stairs
This is the only model of under the stairs dog crate we are reviewing that's not made at least partially out of wood. It's made with oxford fabric and it features some mesh fabric points that will ventilate the crate if the front entrance isn't enough already.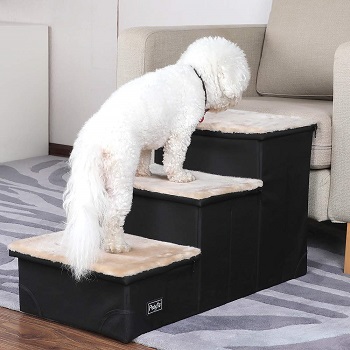 Storage And Transport
Because it's made out of oxford fabric, it is a soft collapsible dog crate that you can even use for traveling. We wouldn't recommend this becoming a habit since a crate should have a door for when you're traveling with the dog. Each of the three stairs features a comfortable pad for your dog to walk on while the inside features a fleece bed that's easily removable and washable.
In Short:
Made with oxford and mesh fabric
The mesh fabric is used to properly ventilate the crate
Features an entrance with no door
Has 3 stairs in total
The stairs can handle the weight of a 65 lbs dog
The crate below can only house small dogs
Comes with a washable fleece bed
How To Pick Dog Crate Under Stairs
Most people think of under stairs dog crates as crates under stairs for humans and while this is true, these crates need to be customer made and DIYed but there is a solution to it. We've recognized two types of crate under this description and we're here to talk about their use and other differences.
1st Category – The first category of under stairs dog crates mostly fits into the description of outdoor dog crates. The stairs on these crate lead up to the roof that can either be used as a play area or for you to store stuff on top of them
2nd Category – The second category of stairs are made to assist your elderly dog or puppy with getting to places they no longer or yet can't. Either it's because they're too old and can't jump anymore or it's because they're too small to jump to certain areas in your house.
Typical Proportions – What you won't find here are extra large wooden dog crates nor medium ones. these crates are specifically designed to house smaller dogs. It's probably because they would either be too big if they were made for larger dogs or because they just aren't as sturdy as they should be house a large dog.
No door Issue – Most of the dog crate under stairs models aren't really crates but dog crate houses. Typically these crates don't actually feature a door. You might find some who do but it's rare. These houses are not meant to crate train your dog so you'll mainly use them for decorative purposes, depending on the type you get.
Under Stairs Dog Crate VS Kennel – You might think that these crate are actually kennels but they're far from it. Firstly, kennels are much larger than crates. They're so large, in fact, that they usually can't even fit inside your home. They're usually used by professionals and are designed to endure all sorts of outdoor weather conditions. We might even say that a kennel can eat a dog crate for breakfast since they can easily hold one inside them.
To Sum Up
We've decided to pick out Made4Pets Pet Steps Dog Stairs as the best dog crate under stairs because it not only features a dog crate under the stairs but also a storage space under the first stair. It definitely uses the provided space cleverly. If you want a crate that might blend even better into your home check out the article about indoor dog crate furniture and if what you're after is a training crate, check out the article about puppy crates with divider.