Do you love traveling with your dog but want to make your trip save as much as they're fun so you're now looking for a car crate for large dogs?
we can help you find both safe and fun dog crate if you continue reading this article where you'll find reviews of our top picks that fit the category. We tried to review as many crate types as we could so you could find plastic, metal, and even soft dog crates. Of course, there are a lot more.
The Summary
Best 6 Car Crates For Large Dogs
BEST OF BEST CAR CRATE FOR LARGE DOG
Midwest Side-by-Side SUV Crate
More Cargo Space
If you normally travel with a lot of cargo and a crate is just going to take away the precious cargo space you might want to consider getting this one. It saves you cargo space by simply having a narrow design. Don't get confused though, your dog will still feel comfortable inside.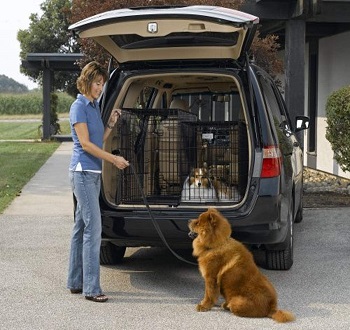 Durable But With A Warning
This specific car crate for large dogs is made out of steel wire. Technically speaking, you could contain a dog inside it that has not been crate trained because it will stand up to that kind of abuse. We wouldn't recommend it just because you'll be traveling with this crate.
SUV Crate Door Placement
Because it's specifically designed as an SUV dog crate, it has a front access door and a back access door. This way you can let your dog in or out of the crate in multiple ways. Both doors can be locked using 2 sliding bolt locks that you'll typically find on large wire dog crates.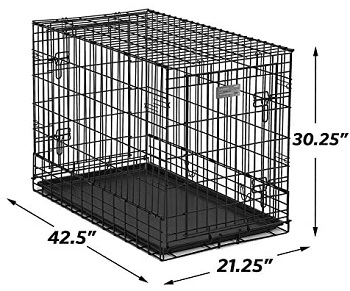 Transport And Cleaning Help
You don't have to worry about the crate getting into contact with rain when you're carrying it from point A to B because the e-coat finish makes it rust-resistant. The way you'll get to carry it easily is with a carrying handle when it's folded down. To clean it, all you need to do is slide out the plastic cleaning tray on the bottom.
In Short:
Has a steel wire build coated with an e-coat
Can be folded down and carried with a handle
Has a narrower design to fit most vehicles
Has a back and front access door
Features a cleaning tray made out of plastic
BEST INDOOR CAR CRATE FOR LARGE DOG
MidWest Homes iCrate
Roomy And Transportable
You can use this crate both indoor and for traveling. It has a similar build to the crate before except for the fact that it's not as narrow so your dog will have more space while he's inside. You will get to transport it just as easily because it can be folded down and comes with a handle for carrying.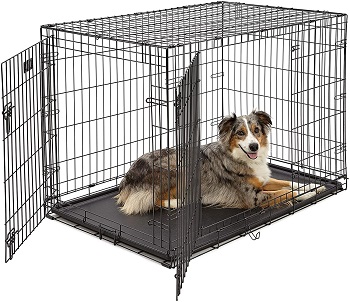 Indoor Crate Features
The most distinguishing feature that makes it a large indoor dog crate is its roller feet that will help protect your floors from damage. The plastic cleaning tray will also protect your floors but not from damage. Instead, it'll prevent dog urine from winding up on your floors.
Safety Is Important
Both adult dogs and puppies will benefit from the fact that this car crate for large dogs has rounded corners. The rounded corner clips make it happen and what they will do is keep your dog safe from pinched paws. We mentioned puppies because it comes with a puppy crate divider that'll help you potty-train puppies.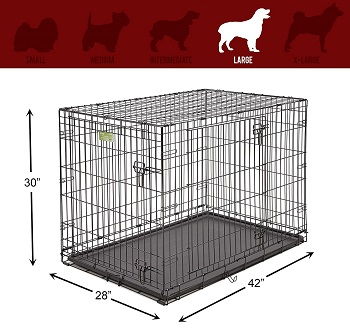 Door Location Assistance
The front and side door will help you with crate placement indoors and inside your car. You won't have to worry so much about blocking one of the entrances with your stuff since you can count on the other door. They lock with 2 sliding bolts locks.
In Short:
Can be folded down and carried with a handle
Comes with a plastic slide-out pan for cleaning
Has a front and side access door
Comes with a divider for potty training puppies
Has rounded corners for safety
BEST FOLDING CAR CRATE FOR LARGE DOG
Pet Gear 4 Door Steel Crate
Two Materials
Instead of focusing on making a crate out of just one material, this crate combines the best of both worlds by using plastic and metal. The plastic is heavy-duty and blow-molded and you can find it being used as the crate's frame. The sides are made out of steel wire.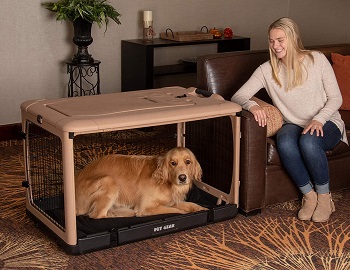 Interior Features
The interior has rounded corners ad there aren't any sharp exposed edges made out of steel wire. The base of this car crate for large dogs is insulated which means that it won't crack if it gets really cold. The interior is also equipped with a removable and washable bed.
Indoor Traits
The most notable indoor feature on this crate manifests itself in the number of doors. There's a total of 4 doors located on the sides, on top, and in the front of this heavy-duty plastic dog crate. The large front door opens upwards to make it space-saving if you leave the door open.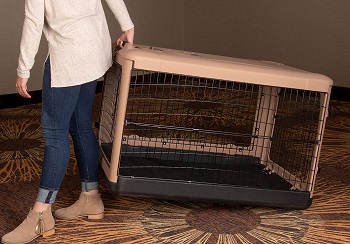 Travel Traits
There are a lot of travel features on this crate. The first two are the built-in wheels and a handle that will help you drag the crate to the cart. If you want to fold it down to do so, you can do that as well and you'll even get a storage bag for it. The travel bag has its own carrying handle.
In Short:
Has a heavy-duty blow-molded plastic build
The sides are made out of steel wire
Has 4 entrances, one opens like a garage door
Comes with built-in wheels and a handle
Can be collapsed and stored inside a travel bag
Comes with a washable bed
BEST CAR CARRIER FOR LARGE DOGS
A4Pet Soft Collapsible Dog Crate
Crate-Training Warning
If you want to travel by car with a dog inside a crate, you should make sure your dog has been crate-trained. All of the crates we reviewed before this one can generally house a dog that has not been crate-trained but with this one you'll have to do it no matter what.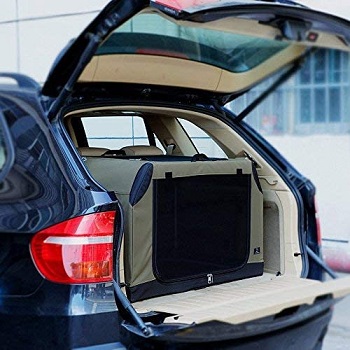 What It's Constructed Of
The reason why this crate, like all the other dog car carriers for large dogs, can only house crate-trained dogs is that it's made out of oxford fabric. It's used as the crate's cover and the frame is made out of steel tubes. You can take the cover off of this car crate for large dogs to clean it. The steel frame is foldable.
Travel Crate Accessories
It's the perfect soft travel dog crate because of two things. The first one is its leakproof and waterproof bottom that will present dog urine from winding up on your car floors and the second one are the rounded corners that will protect your car interior.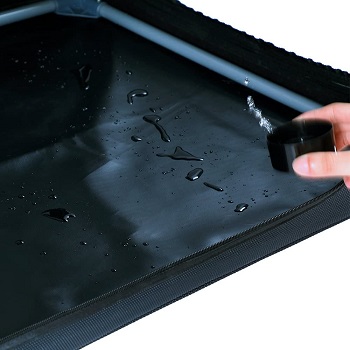 Sides Contents
It has 3 entrances, on top, in the front, and on one of the sides. All three entrances are made out of mesh fabric windows so they serve the purpose of ventilation windows as well. There's a smaller vent window on the other side while the back doesn't feature one. Instead, the back has an accessory pocket.
In Short:
Маde out of oxford fabric and a steel frame
Can only house crate trained dogs
Has 3 access door and 4 vent windows
The back features an accessory pocket
The bottom is leakproof and the corners are rounded
BEST PLASTIC CAR CRATE FOR LARGE DOG
Gunner Kennels G1 Large Dog Crate
Completely Safe
Most of these crates are safe dog crates, but not the safest dog crates for car. This one is because it is actually a crash-tested dog crate. It's made for traveling and to be more specific, it's even made to be used as a crate for housing hugging dogs inside a truck.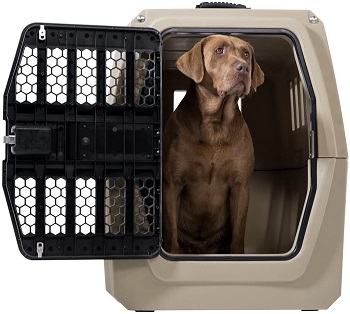 Build Process
It's made out of plastic that has been roto-molded and features a double wall. This means that it's constructed out of a single piece of plastic. the double wall on this car crate for large dogs will protect your dog from UV rays, the cold, and even humidity.
Weather Protection
The vents are positioned and built into the crate so that they protect your dog from the rain because they will repel it. Another way it protects your dog from different weather is by having an elevated design that will minimize heat transition so your dog will be kept cool when needed.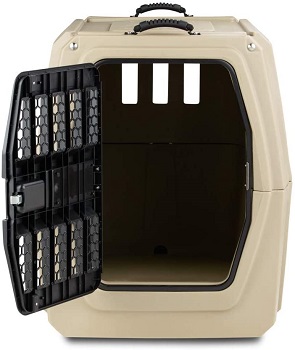 Door Description
Every metal part on the crate is made out of stainless steel so you won't have to worry about rusting. The single door made out of plastic is reinforced with a metal aluminum frame. The door locks with a key and opens with a piano hinge. It features additional top and bottom locks for added safety.
Cleaning Method
The interior is equipped with drain channels found on the sides. This is where dog urine and liquids will go to. They will keep your dog as clean and dry as possible and make cleaning easier. All you need to do is plug out the drain on eh outside to release the liquids and wipe it down.
In Short:
The crate is crash-tested
made with roto-molded double wall plastic
Protects your dog from rain, UV rays, cold, and heat
The single door is reinforced with an aluminum frame
The door locks with a key and additional top and bottom locks
Cleans easily because of the inside drain-channels
BEST METAL CAR CRATE FOR LARGE DOG
4×4 MIM Safe VarioCage
How Much For Safety
We definitely saved the best two for last and if not the best, the safest. You will pay for safety, that's for sure. Specifically, you'll pay more for crash-tested dog crates since this one is crash-tested for rear, roll-over, and frontal crashes as well. This crate costs around $1200 depending on the size you get.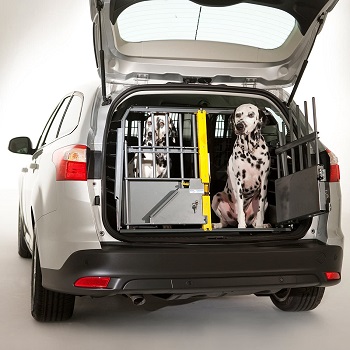 Double Dog Crate
This is a car crate for large dogs but it's also a multi-dog crate and a dog crate for 2 large dogs. This is due to the divider that's located in the center. Both crates have their own access doors that lock with 2 step locks. They lock with keys and there's an additional escape door in the back.
Crash Protection
It even has an adjustable length due to its metal rods on the sides. The rods will absorb some energy in the event of a car crash by retracting back. The crate also imitates crumple zones on cars. What this means is that the crate won't turn into a safety hazard for you in the event of a rear, frontal, or side collision.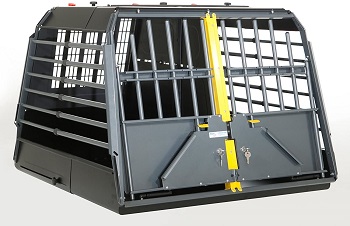 Size According to Dog And Car
Although we know this crate is made to house large dogs, you should also think about the fact if it can fit inside your car. To make it easier for you to pick a size that both fits your dogs and your vehicle, we advise you to check out the sizing chart that the manufacturer has on his official website.
In Short:
It is crash tested for rear, frontal, and rollover crashes
Has an adjustable length
Can house 2 large dogs
Both crates have their own entrance that locks with a key
Mimics the car's crumple zone that keeps you safe
Has an escape back door
How To Pick A Car Crate For Large Dog
Since picking a dog crate for a large dog is mostly about getting a safe crate, there are a lot of things to consider and worry about before buying. We'll go through all the things you need to do before going on a trip with your dog and go through some of the differences between these crates like material durability to make sure you get the crate that fits your needs best.
Ensuring A Safe Trip – You can't predict what's going to happen when you're on the road because it's not just about what you're doing on the road but what others are doing as well. If you're untrusting and want to keep you and your dog safe you should try and get a crash-tested crate. There are plenty of them and not all are the same. some are made out of metal and some out of plastic that automatically makes them lighter.
Safe Traveling Price – If you want your crate to be crash-tested and safe, you have to be prepared to spend a good amount of money on it. Plastic crash-safe dog crates are going to be somewhat cheaper. You're looking at the price of around $700 while metal ones are going to be over $1000. The rest of the crates are cheaper and can cost anywhere from $70-$300.
Large Size Explanation – Typically, you'll want to get a 42-in long dog crate if you want a crate for housing large dogs but that's not necessarily always true. Sometimes you might get away with a 36-in long crate. These crates are sized as intermediate dog crates for when your dog is neither large nor medium.
Crate Training – You should always crate train a dog before traveling. Soft collapsible dog crates will require you to crate train your dog before using them while others can be used to crate train dogs. This is especially true for large wire dog crates since they're typically training cages for dogs. this means that you can use them for traveling and indoor housing as well.
To Sum Up
We've decided to recommend the 4×4 MIM Safe VarioCage as the best car crate for large dogs. It is more on the expensive side but you'll get to house 2 dogs inside it, it has an adjustable depth and it's crash-tested for the rear, frontal, roll-over crashes. If you're looking for safe crates in general you might want to check out our article that talks about safe dog crates and if you're looking to get an amazing-looking crate for indoor use, you might want to check out the article about indoor dog crate furniture.