Do you want the possibility to see your dog clearly at all times inside his acrylic dog crate?
Make sure you keep an eye on him by choosing to get one of the crates we reviewed since we only reviewed the best. Continue reading and you'll not only find their reviews but also different crate categories like folding, travel, and even airline-approved crates.
The Summary
Best 4 Acrylic Dog Crates
BEST OF BEST ACRYLIC DOG CRATE
Lyn's Pet Carrier
Two Materials Used
The best way to describe the shape of this crate is to say that it's shaped like a capsule. It's rounded out at the top and all-clear with exception of the two sides. It's made out of PC which is short for polycarbonate and acrylic material that has a high density.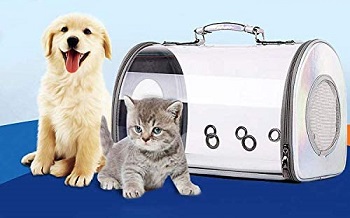 Material Details
If you're not convinced that this is a tough dog crate you might be when we tell you a little bit more about PC. It is a material that has great heat resistance, has high impact resistance and it's extremely light but almost 250 times stronger than glass.
Vents, Entrances, And Carrying
The clear part of this crate features 8 holes in total for ventilation while the sides have small mesh fabric windows to help additionally ventilate this acrylic dog crate. Both sides have zippers and these are the entrances that you'll get with the crate. you can easily carry the crate with the provided top handle.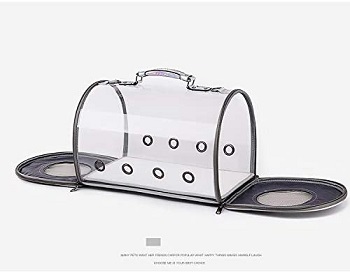 Small Size Travel Benefit
You'll find that this crate is small enough to go aboard an airplane with you. That's because it's so small it can fit under airplane seats. Since these two facts are true, it's only able to house dogs that weigh up to 10 lbs. We would also recommend that the dog is crate trained before traveling.
In Short:
Made out of PC ad acrylic material
Has a capsule shape
Has 2 entrances and mesh fabric windows
Features 8 holes for ventilation
Can house dogs up to 10 lbs
Allowed to go aboard an airplane with you
BEST SMALL ACRYLIC DOG CRATE
Lucite Acrylic Dog Crate
Box Design
This crate has a boxed-in design which makes it look more pleasant but also makes it blend in better in your home If you want to place it somewhere cramped. Since it's boxed, all of its dimensions are the same. The dimensions in question are 25-in in length height and width.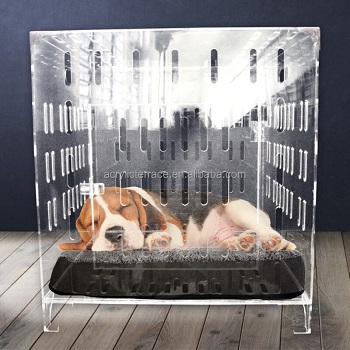 Ventilation Of The Crate
This acrylic dog crate is entirely made out of acryl. It has holes all around it for ventilation and that should prove to be enough for your dog to get enough air inside. The holes have a capsule shape and are small enough for your dog not to stick his head out and chew on the crate.
Crate Access
It's got a single access door for your dog to enter it and you'll find it in the front. This is the door that you'll have to go through to access it for cleaning. The lucite dog crate is made out of clear acryl so you'll have to clean it often since every single dirt particle will be visible.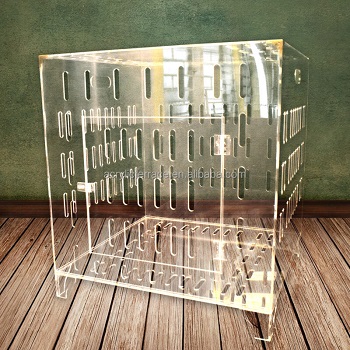 Furniture Function
This is not just a dog crate. It might not look like it but it's actually indoor dog crate furniture. You can use it as a bedside table or dog crate nightstand and put your stuff on top of it. There isn't a weight limit to it so be careful with just how much you put on top. The crate will be a perfect addition to a minimalist home.
In Short:
Entirely made out of clear
Has a single access door
It's 25-in long, wide, and tall
Can house small dogs
Can be used as a bedside table
BEST OUTDOOR ACRYLIC DOG CRATE
GaoJian Sliding Door
Sizes Available
You can choose to get this crate in all the standard sizes.  These sizes include the 24-in version for small dogs, the 30-in version for medium dogs, the 36-in version so that it's an intermediate dog crate, the 42-in version for large dogs, and even the 48-in version for extra large dogs.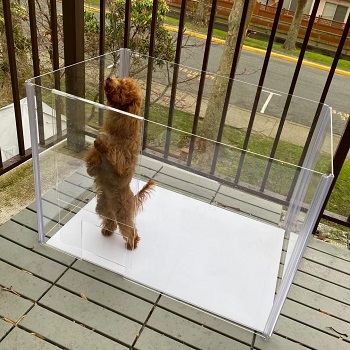 No Top Design
This acrylic dog crate doesn't feature a top so it's better you consider it a dog crate playpen. It's got tall sides but we wouldn't recommend you use it or buy it if your dog hasn't been crate-trained yet. It's pretty stable and creates a safe playing environment for your dog.
Keeping An Eye On Your Dog
It's made out of clear acrylic material so you'll get to keep an eye on your dog at all times. This is the requirement if you want to get it since you shouldn't leave your dog alone and unattended while he's inside. You can connect it to a crate to get a dog crate and playpen combined.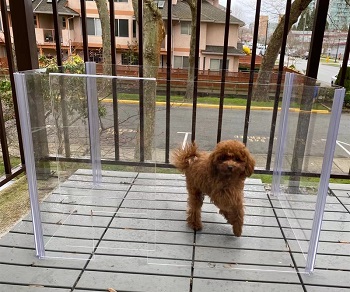 Door Opening Type
Your dog will get to access it through the single door located on the lengthier side. This is a sliding door dog crate and what this door design will do is save you space if you choose to leave it open. It also has a smaller door built into it that serves as a feeding door.
In Short:
Made out of clear acrylic material
Has a single sliding door for access
Features a built-in feeding door
Has no top so it acts as a playpen
Comes in most standard crate sizes
Your dog shouldn't be left unattended inside it
BEST CLEAR ACRYLIC DOG CRATE
Baolujie Pet Clear Dog Backpack
Backpack Design
These crates have been really popular lately so we couldn't miss out on an opportunity to review one. The reason why they're so popular is that they are actually backpacks. This one has 2 shoulder straps and it's roomy so that your dog can feel comfortable while inside.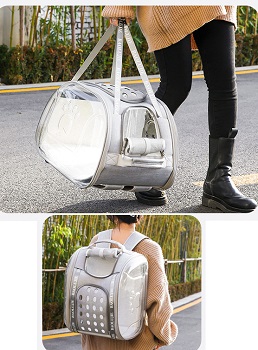 Sides And Front Contents
The sides of this backpack make it a clear acrylic dog crate while the rest is made out of a combination of both soft and hard materials. Think of it as a capsule-shaped crate. The front features two openings that close with zippers. One is made out of mesh fabric while the other one has holes for extra ventilation.
Comfortable Wear
Both the shoulder straps and the back of this dog crate have perforated and thicker padding. This is done in this way to make it more comfortable for you to wear it. Your dog will also be comfortable while inside this crate because you'll get a bed pad for the inside as well.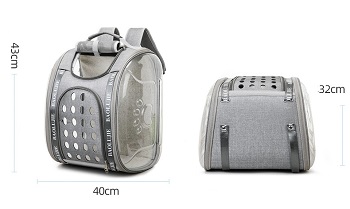 Multiple Uses
You'll get to use it as more than just a backpack dog crate. It's definitely the perfect soft travel dog crate because you can also carry it with handles like a soft-sided dog crate carrier. That's when the front entrances become stop entrances but the acrylic sides are also entrances so you'll have entrances on all sides
In Short:
Designed to be carried like a backpack
Has clear sides and a soft front
The shoulder straps and back feature backpack padding
Can be converted into a carrier
Able to house extra small dogs
It features 4 entrances in total
How To Pick An Acrylic Dog Crate
Because an acrylic dog crate is so hard to find, your options will be limited so it's good to know what you're in for, what sizes exist, how durable they are, and what are their main functions. All of this and more will be explained in this simple buying guide on how to pick out the best one.
Common Size – If you came here looking for a medium or large acrylic dog crate, unfortunately for you, you won't find one here.  These are for the most part extra small dog crates. These crates don't go over 20-in in length and can typically house dogs that weigh below 20 lbs.
Extra Small Size Benefits – There are benefits to having extra small dogs. The biggest one we can think of is that they can easily go aboard an airplane with you if you get the right crate. These crates should be able to fit below most airplane seats. They're also extremely light with not one weighing over 5 lbs.
Material Durability – Although these crates are made out of some unique and extremely durable materials we wouldn't advise you to use them with dogs that haven't been crate trained yet. The main reason why is because they are all travel crates and dog should always be crate trained when traveling with your for safety.
Correct Crate Size – IF you're unsure what size o crate our dog can fit in we'll offer you some tips on how to do it properly. You'll have to measure your dog's length from the tip of his nose to his rear and his height from the floor to the top of his head. After you get these measurements you'll want to see if the crate you want o buy is at least 4 inches longer and taller than your dog.
To Sum Up
The acrylic dog crate we'll recommend is classy since it's almost completely made out of acrylic material, has 2 side entrances, and it's the perfect travel companion since it can be taken aboard an airplane and it's the Lyn's Pet Carrier. If you're looking for larger crates that can be used indoors then we'd recommend you check out either the article about medium wire dog crates or the article about large wire dog crates.